---
How to Pick a Winner
Strategies for Identifying Studs and Duds


THE DUDS

Sarah Evers, owner of Dancing Bear in Asheville, N.C., was certain that the re-issue of Dream Pets by Applause in 2004 would set off a Beanie Baby-type craze. It didn't. Another nostalgic item that bombed that year in at least one specialty store was Lincoln Logs: Collector's Edition by K'Nex Industries.





THE STUDS

Sometimes, too, you can miss big opportunities by being overly cautious. While speaking with TDmonthly, 66 specialty retailers weighed in on the products they were once wary of ordering ... but now are awfully glad they did.

Uglydolls by Pretty Ugly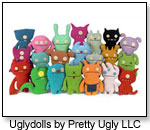 "We really liked [Uglydolls] when they first debuted, but felt that the design and appeal was less toy and more gift — which can sometimes be a harder sell for us," explained Kim Emigh, vice president of e-commerce at Growing Tree Toys in State College, Pa. "But, we decided to bring them in and they have done great."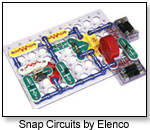 Snap Circuits by Elenco

Marianne Kearns of Second Star to the Right in Bridgehampton, N.Y., said she thought the packaging was "boring," but she's been pleasantly surprised to see that Snap Circuits "sells really well." It's been selling that way for more than 10 years, and was even named a TDmonthly Classic in 2007.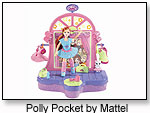 Polly Pocket by Mattel

Though most specialty retailers avoid mass-market toys, Polly Pocket by Mattel is just one example of a mainstream toy that can generate profits for small stores.

"People seem to love those things!" said Marilyn Walker, owner of Play Fair Toys in Denver, Colo.

Items That Contradict Your Philosophy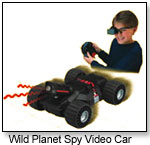 Carol Knight, owner of The Toy Store in Ketchum, Idaho, was at first reluctant to bring in products offered in big-box stores, but she recently told TDmonthly, "I'm in an isolated area. I can sell that stuff."

Raymond DeRouin, co-owner of Ouray Toys in Ouray, Colo., said his store used to avoid toys or games that required batteries, "because when I was a child, batteries were poor quality and ruined the toys."



He has since found success, however, with battery-operated options from Wild Planet.

One regret mentioned by Idanna Smith, former owner of Juggles in Wakefield, R.I., was avoiding Ganz's Webkinz craze because the online/plush toy didn't fit in with her philosophy about good, non-electronic play.

"We're here to make a profit, not save the world," she ruefully shared with TDmonthly a few months after she closed her last store in late 2007.

IT'S ALL ABOUT...TIMING



"Can we make money? Can we get the toy from our source if it does get hot?" — Fred Meyer, Meyer's Toy World/USA

So, let's say you missed the first wave of a hot toy that you didn't think would interest your customers. Is it too late to catch up? Depending on your situation, you may not want to.

Check the Competition

"We decided not to carry Webkinz when we moved to our new location because a competitor was already doing that," said Cathy Gabay, owner of The Toy Parade in Salina, Kan. "It just didn't make sense."

Predict Behavior

"Can we make money? Can we get the toy from our source if it does get hot?" Fred Meyer asks himself when he spies a potential hit. Fred's the owner of Meyer's Toy World USA in Battle Creek, Mich., which has been in business for more than 60 years. "So often we turn people on to something before the majors, and then once they bring it in, we can't get it," he told TDmonthly.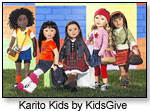 The Ty Beanie Babies phenomenon, a huge success for Melody's Choices in Fayetteville, Ark., also taught a valuable lesson.

"That was a fun ride, but in the end we had a lot to sell very cheaply," said Owner Steve Melody. "Today, Webkinz have run a similar course, and luckily we were able to have a better sell-through as we watched the positioning of the product in the marketplace and pulled back accordingly. We have a non-existent stock issue to worry about in comparison with the Beanies."

Look at Your Mix

"We need to make sure each toy fits with the others we carry, that they blend in well," said Katie Frederick, owner of The Wooden Rainbow in Cedar Rapids, Iowa. "We have Karito Kids [by KidsGive] (Fig. 8.9) and those are hot, but they fit with our other lines."

Choose Your Headaches

Cathy Albrow, owner of Creative Learning in Grand Rapids, Mich., said that since Ty's Beanie Babies craze, she's been more careful with collectible toys. "We don't like to see our customers spending a fortune to get each piece," she told TDmonthly. "We stand for conscientious consumerism."

Be Conservative

Conscientious buying applies to the storeowner as well. Mary Ellen Cerney of Dear Friends & Children in Duncan, Okla., shared a strategy with TDmonthly in 2004. She advised storeowners not to over-order hit products so you don't get caught with merchandise whose time has passed.

"You should ask yourself if you really need to re-order it ... or just order something different," she said.

TOYS TAKE RESEARCH



"If...you can't explain what it is to somebody in about three seconds, it's probably not that great." — David Silverglate, president and CEO of Rhino Toys

What if you could recognize a product destined for success before your competitors? David Silverglate, president and CEO of Rhino Toys, has advice for toy and game inventors to help them evaluate the viability of their products, and it could apply for buyers, too: "If ... you can't explain what it is to somebody in about three seconds, it's probably not that great."

Compare to Past Hits

"When you have a tried-and-true play/usability pattern, and you find a way to make a product that capitalizes on that pattern — yet brings something unique and imaginative to it — it generally results in a big hit," according to Patti Saitow, vice president of global marketing services for Radica USA Ltd.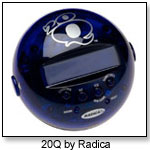 Saitow cites Radica's 20Q, which was popular in specialty for several years. Based on the childhood game in which a player is allowed to ask an opponent 20 questions to ascertain a particular noun that the opponent is visualizing, 20Q uses the algorithmic functions of a computer to "read" players' minds, in 20 questions or less.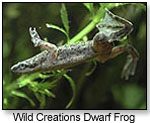 Another example would be the recent example of Wild Creations' Eco Aquarium kits, which update hard-to-maintain aquariums by providing kids frogs that live in a container that needs water changes only once or twice a year. The recent craze of collectible animal-shaped silicone bands, too, capitalized on kids' tendencies to wear rubber bands on their wrists. And, of course, CEPIA LLC which moshed kids' love for real hamsters, parents' loathing of cleaning and caring for the little rodents, robotics and cute plush (see Recent Specialty Toy Crossover Hits).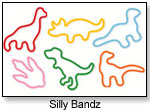 Analyze

Frank Armbruster, the man who is Colorado Bootstrap Inc., has even worked out a mathematical equation for puzzles and toys that calculates which product has the best chance of success. Among other successful products, he created Instant Insanity (made famous by Parker Brothers in the '60s). (see Calculated Hits)

Look to the Oscars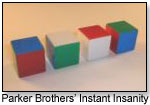 TDmonthly's Hollywood ToyBoy claimed that Tinseltown insiders have noticed a correlation between a high-grossing Best Picture and an uptick in "Play Sales" (i.e. toys).

"When pictures grossed big, people spent on higher-ticket items and more of them. Whether it's the cart or the horse, one can only guess," said one of his sources.

So if an indie film wins the Oscar for Best Picture, be conservative in your toy orders, the theory goes. But when the top prize has gone to a Blockbuster hit, "pull out the big-ticket items."

If you've kept track of your annual sales, you can compare them to the Hollywood Hits chart to test whether the theory works in your demographic.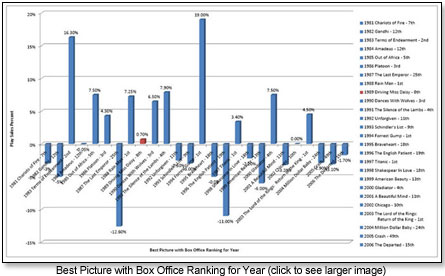 CONSIDER THE LINEAGE

Who makes the toy can be just as important as quality and playability. Some manufacturers are so difficult to deal with that retailers willingly give up profits just to avoid the headaches.

In late 2008, TDmonthly asked 52 specialty retailers to share their preferences for vendors. Which companies can they not live without? And which ones incite groans from the stockroom? Melissa & Doug walked away with the gold for being named a favorite by nearly half of the retailers surveyed. Toysmith and International Playthings were next in line in terms of favorable suppliers, while LEGO and Ganz headlined for disappointment. Take a look at the chart below to see how many retailers said they consider the following manufacturers their favorite or least favorite. Vendors had to have at least two favorable or two unfavorable mentions to be included.

See below for a summary of what retailers thought: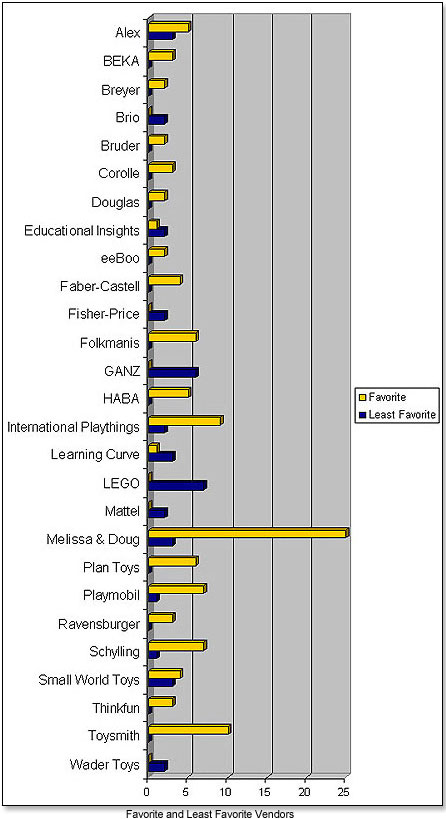 WHEN TO TRUST CUSTOMERS' GUTS

Though specialty toy-store owners spend care and time selecting the right products for their customer base, they still get requests for items they don't carry. However, they don't bring all the toys in. How do retailers decide which requested products to order?

Calculate Interest

"As a rule of thumb, if three customers have requested it over a week or two, we'll try to bring it in," Diana Gisolfu, co-owner of Sisters Kids in Springfield, Mass., told TDmonthly.

"I'll research the item and base my decision on the same things that I base all my decisions: quality, playability, that sort of thing," Alicia Smith, owner of Juneau's Imagination Station in Juneau, Alaska, told TDmonthly.

To gauge interest in a particular product, "the manager will poll people as they check out," said Julie Frost, co-owner of Giggles for Kids in Suwanee, Ga.

Investigate First

"I try to not order things I don't see, because when I do I'm always disappointed and then try to return it," said Patti Tepper-Rasmussen, owner of Learning Tree Toys, Books & Games in Oklahoma City.

Bob and Mary Sisson, owners of Kazoodles in Vancouver, Wash., network through the American Specialty Toy Retailing Association to learn about products from other stores before ordering items themselves. Michael Ziegenhagen, owner of five Playmatters stores in Ohio, said he had been hearing about Ball of Whacks by Creative Whack Company in early 2008, but hadn't had any requests and didn't jump on it. Once he began hearing from other stores that it's a must have, he brought it in. Other retailers found monster hits such as Webkinz, Bakugan Battle Brawlers and rubber-band animals through TDmonthly and TOYDIRECTORY.com. Our videos can help you determine whether a toy is right for your store. (see TDmonthly Top Seller Awards, 2010)

Fred Rosenberg, owner of On the Park in Kingwood, Texas, asks the following: "Is it something we would like to carry per case quantity?" and "Can I meet the minimum if it's a manufacturer I'm not dealing with?"

"If I can get into it for less than $100, I'm way more open to it than something more expensive," Hardy of Magpie Toys told TDmonthly.

Avoid Prejudice

"I've learned quickly not to just buy what I like," Andy Detling, owner of Whoops & Co. in Madison, Wis., told TDmonthly. "A long time back, someone came in and asked about the game LCR after they returned from Arizona or Texas. Now, it's a staple in our store."

"In general, if people are asking for it, and others are carrying it, it's likely a good choice," summed up Kathleen McHugh, president of ASTRA. Nobody intentionally buys a dud toy. But it happens! While retailers often advise one another to "trust your gut," sometimes the very toy you know will be a hit nose-dives, while the toy you didn't like makes your fortune (see Recent Specialty Toy-Store Crossover Hits).


Other contributors to this article may have included: Julie Adrian • Michaele Birney Arneson • Leigh Au • Christina Chan • Julia Ann Charpentier • Elizabeth Chretien • Virginia Davis • Laurel DiGangi • Zan Dubin Scott • Lisa Durante • Cicely Enright • Margaret H. Evans • Doug Fleener • Diane Franklin • Janie Franz • Dennis Foley • Dennis Furlan • Rosette Gonzalez • Elizabeth Greenspan • Mort Haaz • Sharri Hefner • Terri Hughes-Lazzell • Kyle Hall • Pennie Hoover • Sheri Jobe • Julie L. Jones • Candyce Kornblum • Christine Lebednik • Susan Ledford • Chris Lundy • Susan Maddela • Hans C. Masing • J.D. Meisner • Adeena Mignogna • Catherine Jo Morgan • Claudia Newcorn • Willow Polson • Marie Raven • Kara Revel • Andrew Robinton • Greg Rock • Brenda Ruggiero • Tamara Schuit • Brent Turner • Vanessa VanderZanden • Jodi M. Webb • Stacy Wiebe• Mark Zaslove • Alex Zelikovsky







Writer's Bio:
ALISON MAREK is an award-winning writer, director and cartoonist whose work has been published by Fairchild Publications and DC Comics (Piranha Press), broadcast on Showtime and other cable networks, and viewed worldwide in film festivals. See her short films and print work on www.alisonmarek.com. Watch her nefarious villains in the web series www.MuggsMovers.com. Get inspired by her cartoons "Daily ARFFirmations to Unleash Your Inner Fido" at www.ARFFirmations.com. Phew! And then ...
Read more articles by this author
THIS BANNER IS AN AD:
---
---