---
Toys in the News: 04-29-11
SUBMIT your news to TDmonthly.
See previous toy industry news.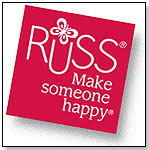 The Encore Group Files for Chapter 7 Bankruptcy. April 29, 2011 — The Encore Group, currently holder of the license to use the Russ Berrie brand name, has filed for Chapter 7 bankruptcy. The company has already closed one of its warehouse facilities in New Jersey, and lay off 247 workers, according to NorthJersey.com. Russ Berrie changed its name to Kid Brands Inc. in 2008, then licensed the Russ Berrie name to The Encore Group. The may be able to re-license the Russ Berrie name if the court terminates their agreement with The Encore Group.

Wildflower Group to Rep Cut the Rope. April 29, 2011 — The Wildflower Group signed an agreement with Chillingo and ZeptoLab to represent mobile video game Cut the Rope.

TechFaith's 17Vee Signs Three Games. April 29, 2011 — China TechFaith Wireless Communication Technology announced it has signed three major content licensing agreements to bundle and market popular video games with its motion gaming capable mobile phones, 17Vee motion gaming controllers and 17Vee console box.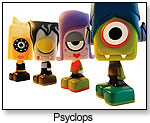 HIP Brands to Rep Psyclop. April 29, 2011 — HIP Brands, a third-party licensing partner of The Jim Henson Company, has acquired global licensing rights excluding the Philippines for Psyclops, a multi-platform property for tweens, teens and young adults, featuring funny, contemporary one-eyed characters that embrace the world of music, art, dance and technology.

Funrise Toy Corporation Announces New President. April 29, 2011 — Shirley Price of Funrise Toy Corporation has been promoted to the role of President. Price began working at Funrise in 1987, according to a press release.

Sanrio Helps Red Cross Help Japan. April 28, 2011 — Sanrio has announced that it will work with the American Red Cross to help raise money for victims of the Japan earthquake and tsunami disaster, and will donate 65-75 percent of proceeds from its Hello Japan Tote, Hello Japan T-shirt and Hello Japan Chocolate Bars to the American Red Cross to assist in the relief effort.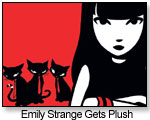 Cosmic Debris Inks Strange Plush Deal. April 28, 2011 — Cosmic Debris and Kellytoy USA announced a multi-year agreement to develop a range of Emily the Strange plush dolls and toys for kids, teens and cat lovers everywhere.

Wild Pumpkin Wins Angry Birds Down Under. April 28, 2011 — Wild Pumpkin Licensing International announced that it has obtained the licensing and merchandising rights for Rovio's Angry Birds for Australia.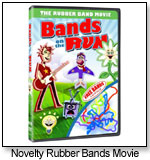 Novelty Rubber Bands Movie. April 28, 2011 — Foundry Communications has announced in a press release the launch of "Bands on the Run," an animated movie that follows the exploits of five novelty rubber bands. The bands fall off a delivery truck, then have to find their way back to the toy store. Each 50-minute DVD includes 10 rubber bands featuring characters from the movie.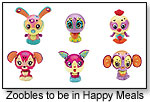 Spin Master Delivers Toys to McDonald's. April 27, 2011 — Toy maker Spin Master is teaming up with McDonald's USA to provides Zoobles and Liv toys for McDonald's Happy Meals starting April 29.

Study Finds Early Interaction Improves IQ, Reduces Violent Behavior. April 27, 2011 — A study done by Dr. Susan Walker at the University of the West Indies in Jamaica found that children who were more stimulated as toddlers had 6-point higher IQs at the age of 22 than their counterparts in the study, reports Reuters. The stimulation program involved a weekly visit from a woman who left toys and books at the children's homes, and who taught the mothers how to play with and engage their toddlers in everyday activities. "Children who were stimulated were also 65 percent less likely to be involved in fights and violent crime as adults, and they performed better in math and reading tests," the report said. The study was done on 129 Jamaican toddlers who had stunted growth and lived in extreme poverty. Other groups in the study received supplementary formula, formula and stimulation, or nothing. Having the extra formula did not affect the children's IQs, size, or disposition. Dr. Walker suggests that the study shows that early-intervention stimulation programs should become a standard part of pediatric care for families living in poverty, where children may be deprived of stimulation and/or nutrition.

THQ Extends Warhammer Agreement. April 27, 2011 — THQ and Games Workshop announced a multi-year extension to their video game agreement, expanding THQ's current exclusive rights to publish video games based on the Warhammer 40,000 universe across all relevant platforms including core, social and mobile.

Cribs Recalled by ducduc Due to Fall and Entrapment Hazards. April 27, 2011 — The following product safety recall was voluntarily conducted by the firm in cooperation with the CPSC: About 330 fixed-side cribs by ducduc llc, sold at the ducduc New York showroom, online at www.ducducnyc.com, at specialty stores and through interior designers nationwide from January 2009 through February 2011 for between $1,500 and $1,800. The bottom rails on the crib sides can separate from the sides when the mattress is in the lowest position, causing the spindles to separate and the mattress to drop. This poses fall and entrapment hazards for young children. Consumers should stop using these cribs immediately if the mattress is in the lowest position. Consumers should contact ducduc, if the company has not already contacted them, for a free repair kit which includes new crib sides. Ducduc is contacting each customer directly.

Toy Industry Association Names Alan P. Kaufman as SVP of Technical Affairs. April 27, 2011 — The Toy Industry Association (TIA), a not-for-profit trade association for the producers and importers of toys and youth entertainment products sold in North America, announced today the appointment of industry veteran Alan P. Kaufman as Senior Vice President, Technical Affairs.

Larian Not Intimidated by Competition. April 26, 2011 — Now that MGA has full control of the Bratz brand again, CEO Isaac Larian is ready to get back in the game. "There is a lot more competition now, but competition is good. Bratz has its own niche. We're going to put a lot of effort and resources to try to rebuild it and bring it back to glory," he told the Associated Press. Larian also went on the record today to praise MGA's lawyer, Jennifer Keller of Keller Rackauckas LLP. "She came to this case three weeks before trial, compared with Quinn Emanuel who has been on this case for about seven years - and she still won," he said in a press release. Mattel attorneys have reserved the right to appeal and have said they will file a motion for retrial within two weeks. Nonetheless, the latest ruling may help MGA establish Bratz in stores again, where some retailers have been wary about stocking such an unstable brand.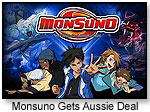 Jakks Pacific Signs Distributor for Monsuno. April 26, 2011 — Jakks Pacific has appointed Hunter Products as the exclusive marketing and distribution partner in Australia for Monsuno toys based on the animated television series.

American Academy of Pediatrics Calls For Stricter Chemical Regulations. April 26, 2011 — The American Academy of Pediatrics has released a statement calling for new policies concerning toxic substance control. "A growing body of research indicates potential harm to child health from a range of chemical substances," the statement said. It went on to decry the current Toxic Substances Control Act, the Los Angeles Times reported. The problem, they say, is a general lack of evidence as to which chemicals are harmful, because only a few chemicals have been studied very thoroughly. The statement says that "the regulation of chemicals must be based on evidence," but that companies shouldn't wait for reports of negative health effects after distribution to limit or ban toxic substances. Rather, the decision to replace or eliminate certain chemicals "should be based on reasonable levels of concern and not depend on demonstrated negative health effects after release."

JAKKS Pacific Announces First Quarter 2011 Results. April 26, 2011 — JAKKS Pacific, Inc. reported results for the Company's first quarter ended March 31, 2011. Net sales for the first quarter of 2011 were $72.3 million, compared to $77.3 million reported in the first quarter of 2010.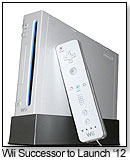 Nintendo Announces Wii Successor. April 26, 2011 — Nintendo announced in a brief press release that they will be launching the successor to the Wii in 2012. The new console will be shown at the E3 Expo in Los Angeles this June. The company gave specifications about the new console, according to the New York Times.

National Museum of Play Announces Winners. April 25, 2011 — The National Museum of Play in Rochester, N.Y. announced in a press release the winners of their "America at Play: Play Stories Video Contest." Contestants were asked to submit two-minute videos that captured their memories of playing. Out of 85 videos, three were chosen as winners, along with a "Curator's Choice" video and six honorable mentions.

Walmart Acquires Social Media Company. April 25, 2011 — Wal-Mart Stores announced that it will acquire Kosmix, a company that developed a social media technology platform to filter and organize content in social networks and connect people with real-time information.

Mattel Disputes Jury's Findings. April 25, 2011 — According to Businessweek, Michael T. Zeller, a lawyer for Mattel, claims that the company will ask the judge to disregard the jury's findings and rule in favor of the Mattel claims that were rejected. Zeller said, "There is clear and compelling evidence that overwhelmingly proves that Carter Bryant made these drawings and sketches while he was employed at Mattel."

Baby-Proofing Reduces Injuries By 70%. April 25, 2011 — A study by researchers at Cincinnati Children's Hospital found that in two groups of families, one which had properly installed and maintained child safety devices in their homes and one which did not, children acquired 70% fewer injuries in the houses with the devices installed. The study followed the groups over two years, according to a press release.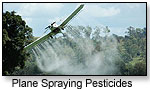 Scientists Report Pesticides Lower IQ In Children. April 22, 2011 — Three independent studies published in the journal Environmental Health Perspectives have show that children who are exposed to certain, commonly used pesticides before birth, can have lower IQ levels than those with less or no exposure, reports NPR. The pesticides, called organophosphates, are used in agriculture. The study looked at mothers and children living near or on farms where pesticides were sprayed. They were then monitored and tracked, and the results so far are showing that those children whose mothers had higher levels of pesticide byproducts in their urine have lower IQs at the age of seven than those with little or no exposure, with IQs an average of 7 points lower. Another study tested urban children and found that those with the highest levels of the once-common, now banned, pesticide chlorpyrifos in their umbilical cord, scored lower on tests of working memory and IQ when they were seven years old than children with lower to no exposure. A spokesperson from the EPA has told NPR that they will take these studies into account as they re-examine the risks of chlorpyrifos.

Nintendo, JetBlue Bring 3D Fun to JFK. April 22, 2011 — Nintendo of America and JetBlue announced an agreement to provide air travelers hands-on time with an interactive Nintendo 3DS grandstand in JetBlue's Terminal 5 of New York's John F. Kennedy international airport April 22-May 30.

Marvel Announces Marvel vs. Capcom Program. April 22, 2011 — Marvel Entertainment today announced a variety of licensing programs for its Marvel vs. Capcom video game franchise. Products include apparel produced by two different companies, figurines, statue-sets from the Hollywood Collectibles Group, a new edition of the video game itself, and an art book featuring imagery from the game.

Mattel Announced Barbie On Demand. April 22, 2011 — Mattel has announced that it will be working with Avail-TVN to provide Barbie entertainment on demand in English and Spanish. The launch begins with Barbie of Swan Lake and Barbie Fairytopia, with two new Barbie titles being added every month.

Hasbro Seeks Rhode Island Tax Breaks. April 22, 2011 — Hasbro is seeking a state tax break for their expansion in Rhode Island, where they plan to add 300 jobs. Rhode Island offers a tax break that gives sales tax exemptions on purchases related to corporate expansion and relocation, according to the Boston Herald.

75 Drownings and Near-Drownings in 15 Weeks. April 22, 2011 — With the summer swimming season just around the corner, the U.S. Consumer Product Safety Commission's (CPSC) Pool Safely: Simple Steps Save Lives campaign is releasing its 2011 television and radio public service announcements (PSAs) highlighting various water safety steps that can be taken to save a life. In the first few months of 2011, there have been 37 drownings and 38 near-drowning incidents reported by the media across America. Developed with the campaign's national partners the American Red Cross and the Y, the PSAs are being released nationally today urging parents and children to adopt as many safety steps as possible in and around pools and spas. The Pool Safely campaign is the federal government's first-of-its-kind national public education effort to reduce child drownings and near-drownings in swimming pools and spas.


Disney Princess Plastic Trikes Recalled by Kiddieland Due to Laceration Hazard. April 22, 2011 — The U.S. Consumer Product Safety Commission and Health Canada, in cooperation with the firm named below, today announced a voluntary recall of the following consumer product: About 9,000 in the U.S. and 700 in Canada Disney Princess Plastic Racing Trikes by Kiddieland Toys Limited. They were sold at Target, JCPenney, Meijer and H.E.B. stores nationwide and on the Web at www.target.com from January 2009 through April 2011 for about $50. The plastic castle display and the princess figures protruding from the top of the handle bar pose a laceration hazard if a child falls on it. Consumers should immediately take the trikes away from children and contact Kiddieland for a free replacement handlebar with an enclosed rotating display.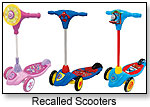 Children's Scooters Recalled by Kiddieland Due to Laceration Hazard. April 22, 2011 — The U.S. Consumer Product Safety Commission and Health Canada, in cooperation with the firm named below, today announced a voluntary recall of the following consumer product: About 16,000 in the United States and 700 in Canada Lights and Sounds Children's Scooters from Kiddieland Toys Limited. They were sold at Toys R Us and JCPenney from January 2009 through February 2011 for about $40. A child's finger can get caught in the hinge mechanism between the steering column and the platform, posing a laceration hazard. Consumers should immediately take the recalled scooters away from children and contact Kiddieland for a free repair kit.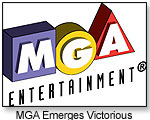 Jury Rejects Mattel's Accusations. April 21, 2011 — According to the Los Angeles Times, a jury has awarded Mattel zero damages in a copyright infringement case against MGA Entertainment. The jury also found that MGA did not steal any trade secrets. MGA CEO Isaac Larian and his family embraced as the judge read from the 28-page verdict. UPDATE: The jury said that Mattel has to pay $88.4 million for misappropriation of trade secrets to MGA, according to the Associated Press. MGA was forced to pay Mattel the comparatively small sum of $10,000 for interfering with designer Carter Bryant's contract with Mattel, according to Forbes. You can see the final verdict form in its entirety here.

2waytraffic Launches 'Dragons' Den' Game. April 21, 2011 — Sony Pictures Television's 2waytraffic signed a deal with DR Studios to launch the first ever mobile game to be based on hit reality TV show "Dragons' Den."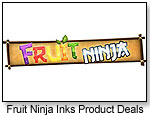 Aussie Game Inks Deal. April 21, 2011 — Australian game developer Halfbrick, designers of popular game Fruit Ninja, have signed several licensing deals. Products will include apparel, accessories, and sleepwear.

Toys"R"Us Opens Nevada E-Commerce Center. April 21, 2011 — Toys"R"Us is opening an e-commerce distribution center near Reno, Nevada, in order to assist with the number of online orders received from Western states. The new center is expected to employ 120 workers year round, with an additional 230 seasonal employees to help fulfill holiday orders, according to a press release.

Verdict Reached in Bratz Trial, To Be Announced Today. April 21, 2011 — The jury in the Mattel vs. MGA case over who owns the rights to the Bratz Doll franchise has reached a verdict. It will be announced today, according to the Los Angeles Times.

Eric Karp Named Head of Licensing for Mind Candy in US. April 20, 2011 — Eric Karp has been named the head of licensing for Mind Candy's licensing program in the Americas. Karp will be responsible for developing and enacting a licensing program for the digital Moshi Monster property. Moshi Monsters already has several licensing partners in the US for toys, books, and other merchandise, according to Worldscreen.



Pacific Wins Angry Birds in India, SE Asia. April 20, 2011 — Pacific Licensing Studio announced an agreement with Rovio for the licensing and merchandising rights to Angry Birds in Southeast Asia and India.

Mattel Announces Sustainability Strategy. April 20, 2011 — Mattel Inc. has announced in a press release how it plans to continue to move forward with its "Design It, Make It, Live It" strategy for sustainability. These steps include reducing and improving packaging, composting, working with local organizations, and more.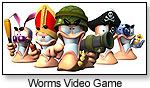 Sharpe to Rep Worms Video Game. April 20, 2011 — The Sharpe Company announced that AT New Media has appointed Sharpe as its North American representative of the Worms video game franchise on behalf of U.K.-based brand owner Team17 Software Ltd.

LEGO Opens iTunes Music Store. April 19, 2011 — LEGO Systems announced the launch of its official Duplo Jams iTunes channel where parents can subscribe to a library of free playroom music and its third Lego Duplo Jams song, "Sort out the Blues."

NY Bureaucrats Deem Classic Games Dangerous. April 19, 2011 — State officials in New York have added classic outdoor games to a list of activities that pose a "significant risk of injury." The games added to the list include freeze tag, wiffle ball, kickball, dodgeball, Capture the Flag and Red Rover. The Health Department created the list in compliance with a 2009 law that sought to crack down on improperly supervised indoor camp programs. Now, however, some are saying that the new regulations could shut down small recreational programs by making them pay $200 and register as a summer camp, as well as provide medical staff, if they offer two or more organized activities with one on the risky list. However, Health Department spokeswoman Diane Mathis said that the state will be flexible with how they enforce the law, according to the New York Daily News.

Shanda Begins Beta for Legend of Immortals. April 19, 2011 — China-based Shanda Games announced plans to commence open-beta testing for Legend of Immortals, an action massively multi-player online role playing game, in May.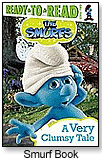 Simon and Schuster U.K. Adds Smurf Titles. April 19, 2011 — Simon and Schuster Children's Books announced a deal to publish the Smurfs movie tie-in book series this summer, as well as classic Smurfs titles later in the year.

Other Mattel Lawsuit Dismissed. April 18, 2011 — A lawsuit Mattel filed against MGA Entertainment has been dismissed. The lawsuit accused MGA of fraud, for transferring funds to avoid paying damages in the lawsuit over who owns the rights to the Bratz brand, according to the Associated Press.

Douglas Gets Me to You. April 18, 2011 — Carte Blanche Greetings has signed a deal with Douglas Cuddle Toys to produce Tatty Teddy plush toys from its Me to You brand. The line will include basic plush as well as seasonal items for major holidays.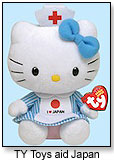 Ty Makes Beanies for Japan Relief. April 18, 2011 — Ty announced a collaboration with Sanrio and the American Red Cross to offer an exclusive Hello Kitty I Love Japan Beanie Baby to help relief efforts following the devastating earthquake and tsunami in Japan.

Zhu Zhu Pets Wins. April 18, 2011 — Zhu Zhu Pets, along with Unitoys, won the Russian Toy Association's Golden Bear Award for being the toy of the year. The brand also won the Czech Republic toy of the year award, according to a press release.

Disney and Egmont Launch Teen Magazine. April 18, 2011 — The Walt Disney Company and Egmont U.K. announced the launch of DYOU, the first editorially driven monthly magazine from Disney for girls ages 10–14. The magazine will hit stores April 20.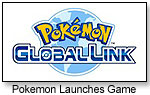 Pokémon Launches Multiplayer Site. April 18, 2011 — The Pokémon Company announced the launch of Pokémon Global Link, a website that facilitates a multiplayer experience for Pokémon Black Version and Pokémon White Version.

Mattel 1Q Net Income Falls on Higher Spending. April 15, 2011 — Sales of Barbie and other dolls helped Mattel Inc.'s revenue rise 8 percent during the first quarter. But higher spending on advertising and other expenses outpaced sales growth and the largest U.S. toy maker's net income fell 33 percent.

JPMA Selects New Board of Directors. April 15, 2011 — The Junior Products Manufacturers Association has elected Jason Macari of Summer Infant Products as the new Chairman of the board. There are four new directors on the board, and three directors who are leaving. You can see the full roster here.

Pacific Cycle will Make Nickelodeon Bicycles. April 15, 2011 — Under a new partnership with Nickelodeon, Pacific Cycle will manufacture bicycles featuring Dora the Explorer, Go Diego Go!, and iCarly, and bicycle accessories featuring those three and SpongeBob SquarePants, according to a press release.

Hasbro Profit Tumbles 71 Percent; Shares Fall. April 14, 2011 — Hasbro Inc's (HAS.O) first-quarter profit fell almost 71 percent as it spent more to develop its new television network, while demand for games, puzzles and preschool toys weakened.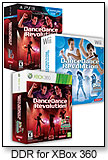 Konami Makes DDR for Xbox 360. April 14, 2011 — Konami Digital Entertainment announced the release of DanceDanceRevolution on the Xbox 360. The game is now available in stores.

StickerYou and LEGO Team Up. April 14, 2011 — StickerYou has announced in a press release that are now a licensed partner with LEGO. They will launch a LEGO Sticker Maker, where kids can access classic LEGO images and turn them into custom stickers.

Wrist Rattles and Baby Booties Recalled by Midwest-CBK Due to Choking Hazard. April 14, 2011 — The U.S. Consumer Product Safety Commission and Health Canada, in cooperation with the firm named below, today announced a voluntary recall of the following consumer product: More than 10,000 wrist rattles and 11,000 pairs of baby booties in the United States and 600 wrist rattles and 700 pairs of baby booties in Canada, by Midwest-CBK Inc. This recall involves the Monkeez & Friends styles, which were sold at Gift stores, drug stores, décor outlets and variety stores nationwide from June 2009 through March 2011. The wrist rattles sold for about $5 and the booties sold for about $13. The pom-poms attached to the wrist rattles and booties can detach, posing a choking hazard. Consumers should immediately take these recalled products away from children and return them to the store where they were purchased or to Midwest-CBK for a full refund.

CPSC Approves New Mandatory Standard for Toddler Beds. April 14, 2011 — The U.S. Consumer Product Safety Commission (CPSC) unanimously approved (5-0) a new mandatory standard to improve the safety of toddler beds. The new federal standard builds upon the ASTM voluntary standard for toddler beds (F1821-09) and adds additional protections to prevent injuries to children. The new federal standard requires the following: The upper edge of the guardrail must be at least five inches above the toddler bed's mattress; Spindle/slat strength testing for toddler beds must be consistent with the testing required for crib spindles/slats; Separate warning labels to address entrapment and strangulation hazards must appear on toddler beds. Cribs that convert into toddler beds also must comply with the new federal standard for toddler beds. The mandatory standard goes into effect six months after publication in the Federal Register for toddler beds manufactured or imported on or after that date.

Toys R Us IPO Likely in July-Source. April 13, 2011 — Toys R Us is targeting an initial public offering in July, a source familiar with the matter told Reuters on Wednesday.

Green-Our-Earth Contest Begins. April 13, 2011 — Eight manufacturers of eco-friendly children's products are working together to encourage children and families to "Green our Earth." People are invited to send in photos or written descriptions of what they are doing to help the environment and be eco-conscious, and in return will receive discount codes for all participating companies' websites, and be entered into a raffle where they can win earth-friendly prizes. The winners will be announced May 1st. More information can be found on the official website, http://www.green-our-earth-2011.com/

NRF Reports Sales Increase for March. April 13, 2011 — The National Retail Federation has announced that retail industry sales for March increased 0.6 percent from February, and 3.9 percent over last year. Those numbers exclude sales from automobiles, gas stations and restaurants. The U.S. Commerce Department's numbers, which include above categories, reported an increase of 0.4 percent from February and 7.3 percent over last year.

New Sesame Character at USO Show. April 13, 2011 — Sesame Workshop and the VEE Corporation announced the kick-off of the fifth installment of "The Sesame Street/USO Experience for Military Families," a free traveling USO tour exclusively for military families based on Sesame Workshop's award winning Talk, Listen, Connect (TLC) initiative.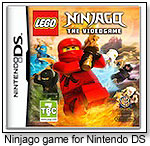 Warner Bros. Interactive Launches Ninjago. April 13, 2011 — Warner Bros. Interactive Entertainment and TT Games today announced that LEGO Battles: Ninjago for Nintendo DS arrives in retail stores across North America today to support the LEGO Ninjago product line.

Turner Broadcasting Europe Gets into Games. April 13, 2011 — TeePee Games has announced a partnership with Turner Broadcasting Europe in which Turner will back the development of TeePee Games' new games discovery platform.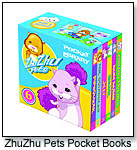 Lisle International and Egmont Team Up For ZhuZhu. April 13, 2011 — Lisle International has announced a partnership with children's book publisher Egmont to produce a line of products for ZhuZhu Pets. According to a press release, Egmont will publish sticker and coloring books, a pocket library, and a monthly magazine, to be distributed in the UK and the Baltic's.

Mattel Launches New Angelina Toys. April 13, 2011 — HIT Entertainment has announced a new line of Angelina Ballerina toys from Mattel to be sold at John Lewis stores in the UK. The line includes plush, play-sets, doll, and more.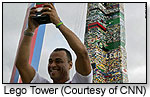 Record Breaking LEGO Tower in Brazil. April 13, 2011 — LEGO enthusiasts in Sao Paulo, Brazil, have built a LEGO tower that is 102 ft, 3 in tall. According to CNN, this makes it the tallest LEGO tower ever built, beating the record set by builders in Santiago, Chile, by about one foot.

Activision and Blip Announce Squinkies Game. April 13, 2011 — Activision and Blip Toys have announced the release of the first Squinkies videogame, available for Nintendo DS. Each purchase of the game includes four exclusive Squinkies, according to a press release.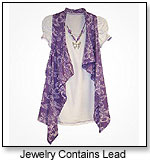 Girl's Clothing Recalled by My Michelle Due to Risk of Lead Exposure. April 13, 2011 — The U.S. Consumer Product Safety Commission, in cooperation with the firm named below, today announced a voluntary recall of the following consumer product: About 90,000 Girl's Tops by My Michelle, sold at Burlington Coat Factory, Dillard's, J.C. Penney, Kohl's, Army and Air Force Exchange (AAFES), K & G Fashion Superstore and other retail stores nationwide from January 2011 through March 2011 for about $38. The jewelry and decorative trim attached to the girl's garments contain high levels of lead. Lead is toxic if ingested by young children and can cause adverse health effects. Consumers should immediately take the recalled garments away from children and contact My Michelle for information on receiving a full refund.

Blogger Investigates Gendered Toy Ads. April 13, 2011 — A blogger has generated word clouds based on the language used in television ads for toys marketed towards boys versus those marketed toward girls. Word clouds visually show what words are used most often by presenting the most commonly used words in a larger size. The most used words in TV ads for boys toys were "Battle" and "Power," whereas for ads marketed towards girls the most commonly used words were "Love" and "Magic." You can see both word clouds here.

School Bans Bagged Lunches. April 12, 2011 — The Little Village Academy in Chicago has banned children from bringing lunch from home, asserting that the school-served lunch is healthier. Many parents and children are upset at this rule, especially as, for children who don't qualify for free or reduced cost lunches, the $2.25 price of a school meal is often more expensive than the meal a parent would make at home. According to the Chicago Tribune, many children either buy the school lunch and end up throwing it away, or not eating at all. While children with allergies may bring food from home, picky eaters are left to consume what the school provides. This leads to some children not eating at all. Government involvement in the food choices of children and adults alike have come into the spotlight recently with toy-bans for fast food meals and trans-fat bans for restaurants in many cities.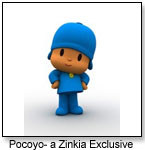 Zinkia Reclaims Pocoyo. April 12, 2011 — Zinkia Entertainment has reclaimed the rights to Pocoyo and will be the property's worldwide distributor. Zinkia formerly had an international co-distribution arrangement with ITV Global Entertainment, a co-producer of the show.

VIZ Media Imprint VIZ Kids Announces Acquisitions. April 12, 2011 — VIZ Media has announced that VIZ Kids will be producing a variety of products for five global properties. Hero 108 will get a DVD, Pokemon Black and White will have several items including a travel activity kit, and Mameshiba, Mr. Men and Little Miss, and Voltron Force will get graphic novels.

Team Hot Wheels Attempts to Bust Record. April 12, 2011 — Team Hot Wheels will be performing a stunt at the Indianapolis 500 mimicking one of the best-loved tricks by users of the Hot Wheels toy cars. One of the team's stunt racers will attempt to break the world record for distance jumping in a real car set up on a V-Drop track, the toy version of which is designed to be hung over a child's bedroom door. The real life version will be 100ft high and will be built in the infield of the raceway, according to the New York Times.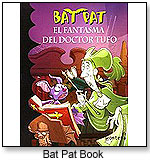 Atlantyca Inks Bat Pat Agreement. April 12, 2011 — Milan-based Atlantyca Entertainment has signed an agreement with Stone Arch Books for the worldwide English rights for the Bat Pat book series.

Tomy Co. Moves Forward With RC2. April 12, 2011 — RC2 Corp.'s 30-day "go-shop" period, during which it could try to find a better buy-out offer than that given by Tomy, is over. The boards of both companies have approved the acquisition and the deal is expected to close sometime in the second quarter, according to Businessweek.

Mattel and MGA Near End of Trial. April 11, 2011 — Closing arguments continue to wrap up today in the infringement case between MGA and Mattel, according to Businessweek. For more than six years the two companies have been tied up in court, arguing over who owns the rights to the Bratz dolls. This particular trial began in January, and is expected to be handed to the jury for deliberation within the next couple of days.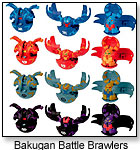 Turner Media Innovations debuts pan-European ad campaign for Spin Master. April 11, 2011 — Turner Media Innovations has teamed up with leading toy firm Spin Master to launch a pan-European advertising campaign for Spin Master's newest Bakugan Battle Brawlers toy range.

Bratz Copyright Trial Closing Arguments Begin. April 8, 2011 — While the country waits to hear whether there will be a government shutdown tonight, closing arguments have begun in the copyright trial of MGA Entertainment and Mattel. The trial has lasted three months. If there is a government shutdown, courthouses will remain open, and the outcome of the case will still be decided, according to the Beverly Hills Courier.

ABC Show Eliminates Specialty Retailer Day. April 8, 2011 — Saying "The ABC show has grown into an international event for the entire juvenile products industry," Jeff Seymour, Chairman of the Board of ABC, announced in a press release that the ABC Kids Expo will be open to mass-market retailers, publicly traded and e-commerce retailers on all four days of the show. Previously, the first day of the show was reserved for specialty retailers only.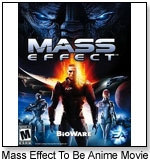 EA and FUNimation Plan Anime Movie. April 8, 2011 — BioWare, a division of Electronic Arts, and FUNimation Entertainment announced an agreement to create an anime feature film adapted from the Mass Effect video game franchise.

Late Easter Slows Sales. April 8, 2011 — Although a survey from the National Retail Federation predicted that Easter spending would increase from last year, Kantar Retail is reporting that the late Easter is harming overall retail growth. Same-store sales saw only 2.5 percent gain in March, down from February's 4.4 percent and the 9.2% growth same-store sales saw in March 2010. However, Frank Badillo, Senior Economist at Kantar, did say that the let up in sales was not as severe as expected.

Kate Middleton Dolls Abound. April 8, 2011 — London's Hamley's toy store is honoring Kate Middleton with its new Princess Catherine Engagement Doll. The doll was designed by seven British fashion designers and retails for about $57 US. The Franklin Mint has also produced a vinyl portrait doll of Middleton, featuring the future bride in the royal blue dress she wore on the official announcement of her engagement to Prince William. This doll retails for $185.

LEGO Announces Free Ninjago App. April 8, 2011 — LEGO Group has announced the release of a free iPhone/iPad app based on its new Ninjago series of toys and animated show.

CPSC Warns Against Windows. April 8, 2011 — It is National Window Safety Week, and the CPSC is warning parents of the dangers associated with open windows in the warmer months. It is estimated that a third of children who fall from a window require hospitalization- approximately 3,300 children each year. You can read more tips on window safety here.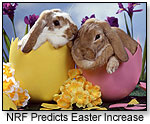 Easter Spending Expected To Increase. April 7, 2011 — According to a survey by the National Retail Federation, consumer spending on products for Easter will increase to $131.04, up from last year's $118.60. This includes food, clothing, candy, gift items, and flowers. It is expected that consumers will shell out $14.6 billion total on Easter-related items.

LeapFrog debuts on App Store with Scout's ABC Garden. April 7, 2011 — Educational product manufacturer LeapFrog has released its first application for the iPhone and iPod touch, Scout's ABC Garden.

Toys'R'Us to Enter Polish Toy Market. April 7, 2011 — The American toy retail giant Toys'R'Us already owns 1,560 stores in 33 countries, but it now wants to enter the Polish toy market, daily Puls Biznesu reports.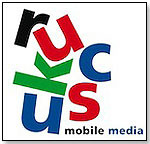 Ruckus Mobile Media to Produce Hasbro Apps. April 7, 2011 — Hasbro and Ruckus Mobile Media have announced a strategic licensing agreement to jointly develop original mobile interactive storybook apps based on Hasbro brands.

Discovery and Kingfisher to Release Animal Planet Kids Books. April 7, 2011 — Non-fiction publisher Kingfisher will publish 17 Animal Planet branded books for children over the next three years. The books will include reference volumes, chapter books for middle grade children, and picture books for younger children.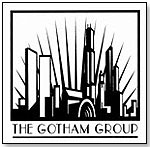 Scholastic Signs Gotham. April 7, 2011 — Scholastic has brokered a deal with Hollywood management company The Gotham Group, according to Publisher's Weekly. The Gotham Group will represent all of Scholastic's literary projects in the film world. Though Scholastic will continue to produce films through Scholastic Media, as it did with "The Golden Compass," Gotham, known for it's extensive publishing client list, will help structure new deals and produce films that aren't developed in house by Scholastic.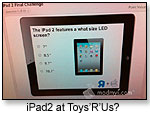 Toys'R'Us to Sell iPad? April 7, 2011 — Photos from a Toys'R'Us staff training program have been circulating the internet, and images from an employee training quiz featuring questions about the screen size of an iPad2 show the Toys'R'Us backwards R and the Mac symbol together at the bottom of the screen. Apparently website modmyi.com was tipped off by a Toys'R'Us employee, who sent them pictures from the quiz. Apple has been expanding the locations that sell the iPad2; with the recent influx in eBooks and apps for children, selling the tablet at Toys'R'Us could help Apple successfully target a new demographic.

Arizona Will Keep Toys In Kids' Meals. April 6, 2011 — While New York is in the news this week for trying to ban toys from being offered with unhealthy children's meals at restaurants, Arizona's state Senate has taken a preemptive swipe at such legislation. According to AZCentral.com, HB2490 prohibits any city or county from restricting incentive programs offered with meals, including toys or games for kids, senior coupons, club memberships, and more. The bill was widely supported by the Arizona Restaurant Association, who mentioned that such incentives are a useful marketing tool, especially in such tough economic times.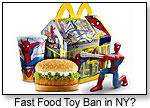 New York City To Consider Banning Fast-Food Toys. April 6, 2011 — Several New York City council members unveiled a bid on Tuesday to ban toy giveaways in fast-food restaurant meals for children, emulating a San Francisco city law that will be enforced later this year.

7-Eleven to Promote Thor. April 6, 2011 — This April customers of 7-Eleven will be able to collect ten different plastic cups adorned with images of Thor and other characters who will be seen in the Thor movie, to be released May 6. This will include two special edition plastic mugs featuring Thor and one of the villains from the movie. 7-Eleven, in return, will be shown in the movie.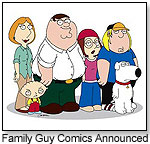 'Family Guy' Gets Comic Book Series. April 6, 2011 — Twentieth Century Fox Consumer Products and Titan Comics announced the U.S. launch of the "Family Guy" comic book series, based on the award-winning animated TV show from the mind of Seth MacFarlane.

April 7th Hearing of House Subcommittee to Review Discussion Draft Proposing Revisions to the CPSIA. April 5, 2011 — The House Committee on Energy and Commerce Subcommittee on Commerce, Manufacturing, and Trade has announced that it will hold a legislative hearing on Thursday morning, April 7th at 9:00 a.m. to consider the Discussion Draft of a proposed bill to revise the 2008 Consumer Product Safety Improvement Act (CPSIA).

House Appropriations Subcommittee on Financial Services & General Government Considers CPSC FY2012 Performance Budget Request. April 5, 2011 — On Thursday, March 31st, the House Appropriations Committee's Subcommittee on Financial Services and General Government held a hearing to review the FY2012 Performance Budget Request of the Consumer Product Safety Commission (CPSC).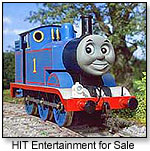 HIT Entertainment for Sale. April 5, 2011 — HIT Entertainment has been put up for sale by Apax, private equity owner of the company, and so the battle for control over properties such as Thomas the Tank Engine, Angelina the Ballerina, and Bob the Builder begins. HIT Entertainment has a rumored price tag of 1.4bn USD, and early interest from industry behemoths Disney, Mattel, Hasbro, Viacom, Chorion, and Haim Saban.

Toy Technology In The Real World. April 5, 2011 — Mattel's new Mindflex Duel game will be released in August. The game has two players wearing brainwave-reading headsets compete to see who can make a ball pass through an obstacle course first- using only the power of thought. The technology behind the game comes from NeuroSky, a company that makes headsets that can detect brainwaves and turn them into digital commands. Similar technology has been used by the Volkswagen car company, which had a driver successfully drive a car using only a brainwave-reading headset. The technology could also potentially be helpful for early detection of Alzheimer's disease, assisting children with ADD, and helping sleepy drivers stay awake, according to Businessweek.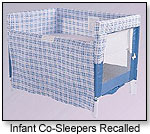 Arm's Reach Concepts Recalls Infant Bed-Side Sleepers Due to Entrapment, Suffocation and Fall Hazards. April 5, 2011 — The U.S. Consumer Product Safety Commission, in cooperation with the firm named below, today announced a voluntary recall of the following consumer product: About 76,000 Infant Bed-Side Sleepers ("co-sleepers") from Arm's Reach Concepts Inc. It was sold at Burlington Coat Factory, Babies R Us and other retail stores nationwide from September 1997 through December 2001 for about $160. When the fabric liner is not used or is not securely attached, infants can fall from the raised mattress into the loose fabric at the bottom of the bed-side sleeper or can become entrapped between the edge of the mattress and the side of the sleeper, posing risks of suffocation. Consumers should immediately stop using the recalled bed-side sleepers and visit http://www.armsreach.com/instructions to view and download assembly instructions and to make sure that the product is properly configured.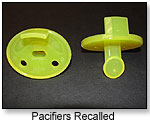 Pampers® Natural Stages Pacifiers Recalled by Key Baby Due to Choking Hazard. April 5, 2011 — The U.S. Consumer Product Safety Commission, in cooperation with the firm named below, today announced a voluntary recall of the following consumer product: About 29,000 Pampers® Natural Stages Infant Ortho and Bulb Pacifiers, imported by Key Baby LLC. The pacifiers fail to meet federal safety standards and pose a choking hazard to young children.They were sold at retail stores nationwide from April 2010 through February 2011 for about $6. Consumers should immediately take the recalled pacifiers away from infants and contact Key Baby for instructions on returning the product for a full refund or $10 coupon toward the purchase of any Pampers® Natural Stages products.

U.S. Toy and Game Companies Invited to Participate in Catalog Exhibition in Israel. April 4, 2011 — The U.S. Commercial Service in Israel has announced that it will organize a one-day Catalog Show on May 10th, 2011 in Tel Aviv to help U.S. toys and games companies identify new partners and direct buyers, increase international sales, and explore market opportunities.

Lionsgate Announces Release Date. April 4, 2011 — Lionsgate and the filmmakers of "The Hunger Games," the first movie in what is expected to be a trilogy based off of the popular book series, have announced the official release date for the film. Lionsgate will release "The Hunger Games" on March 23, 2012, according to a press release. The firm has also announced the actors who will play the three main characters: Katniss will be played by Jennifer Lawrence; Peeta will be played by Josh Hutcherson; and Gale will be played by Liam Hemsworth. The Hunger Games, which is the first book in the trilogy published by Scholastic, has sold more than 3 million copies in the US alone. Foreign rights to the book have been sold in 41 countries.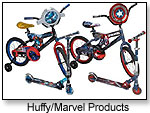 Huffy and Marvel Team Up. April 4, 2011 — Huffy Corporation, famous for its youth bicycles, today announced a partnership with Marvel Entertainment to produce bikes for five popular Marvel properties. Thor, Captain America: The First Avengers, The Avengers, Spider-Man Classic, and Marvel Heroes products will begin to hit retailers in May in support of the release of Thor. Products will continue to be released throughout the year.

UltiZen Games Acquires Red Entertainment. April 4, 2011 — UltiZen Games Limited announced the acquisition of Red Entertainment Corporation, a leading Japanese game developer and creator of popular game intellectual properties.

S&P Upgrades Mattel and Hasbro Credit Ratings. April 4, 2011 — Standard & Poor's announced they have raised the corporate credit ratings for Hasbro Inc. and Mattel Inc. from BBB to BBB+. Both companies are in stable standing, according to Market Watch.

New EU Toy Directive Focuses on Strict Product Documentation. April 4, 2011 — The EU 2009/48/EC Toy Directive includes greater technical documentation responsibilities, including the requirement that manufacturers draft an EC declaration of conformity (DoC) for each product they release in the European market. In addition, manufacturers must keep each DoC and all other technical documentation on file for ten years after their product has been released on the market. As expected, product instructions and safety information is mandatory for inclusion.

TIA And HMA Announce Partnership. April 4, 2011 — The Toy Industry Association (TIA) and the Hobby Manufacturers Association (HMA) have announced a partnership designed to help members of each association to cross-promote their businesses in the toy and hobby markets. Advertising in both of these complimentary markets may help manufacturers grow and expand their businesses by reaching out to new retailers and reps. The organizations will offer reciprocal member discounts for exhibitors at iHobby Expo 2011 and the American International Toy Fair 2012.

LF Products Acquires Techno Source as Platform to Expand Global Toy Business. April 4, 2011 — Toy maker Techno Source USA has now joined the family of Li & Fung Limited, following a March 14, 2011 agreement under which LF Products has acquired the business assets of Techno Source USA, Inc. The Techno Source business will continue to operate under the management of founders Rich Migatz and Wayne Nathan, and Eric Levin, and provide a platform for Li & Fung to continue to build and expand its toy business globally.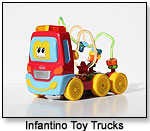 Infantino Recalls Toy Activity Trucks Due to Choking Hazard. April 4, 2011 — The U.S. Consumer Product Safety Commission and Health Canada, in cooperation with the firm named below, today announced a voluntary recall of the following consumer product: About 40,500 in the United States and 1,900 in Canada "Troy the Activity Truck" toys from Infantino LLC. It was sold at Babies R Us, Toys R Us, Meijer, TJ Maxx, Marshalls and other toy stores nationwide from September 2009 through February 2011 for about $15. The plastic beads on the activity truck's bead runs can detach, posing a choking hazard to young children. Consumers should immediately take the recalled toy away from children and contact Infantino to receive a free replacement toy.

Toys 'R' Us Names Former Mattel Executive as President, U.S. Business. April 4, 2011 — Toys "R" Us Inc. named Neil Friedman, a former Mattel Inc. executive, as president of its U.S. business to oversee the country's 866 stores and online business.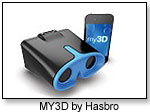 Hasbro Announces 3D Viewer. April 1, 2011 — Hasbro has announced that its hand held 3-D viewer for iPhone and iPod touch users, MY3D, will be available exclusively at Target stores beginning April 3rd. It will be available through other retailers in June. The device allows unique 3-D and 360-degree views during entertainment and gaming sessions on the iPhone and iPad.

IDW and Nick Work Together For Turtles. April 1, 2011 — IDW Publishing, the producers of the first Teenage Mutant Ninja Turtles comic books more than 25 years ago, announced an agreement with Nickelodeon to offer new installments of the TMNT comics and graphic novels. Nickelodeon will be premiering a CG-animated TMNT series next year, while new storylines from the original TMNT comic series will be sold starting this summer.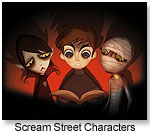 Coolabi and Walker Develop 'Scream Street'. April 1, 2011 — Coolabi and Walker Productions have entered into a major new co-development deal for Walker Books' comedy book series Scream Street. Development will begin this year, and production will start next year.

Turner Media Innovations Hires Simon Field as EMEA Account Director. April 1, 2011 — To support its growing business across Europe, the Middle East and Africa, Turner Media Innovations has appointed Simon Field in the newly created role of Account Director, Ad Sales Strategy and Planning.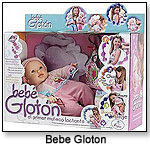 The doll that teaches girls to breastfeed. April 1, 2011 — The "Breast Milk Baby," made by Spanish toy company Berjuan Toys, comes with a bib for the child to wear, with two flowers positioned where nipples would be. When the doll's mouth is brought close to the top, it sets off sensors in the doll, causing it to move and make suckling sounds.

Activision's 'ZhuZhu Puppies' for Nintendo DS is Now Available. April 1, 2011 — In ZhuZhu Puppies, the player has the ability to bond with their own cute and personalized puppy. Different game components, including songs, games, and a full customization menu, make this one of the most personalized and specialized virtual pet experiences.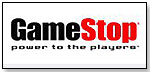 GameStop acquires Spawn Labs. April 1, 2011 — Multichannel video game retailer GameStop on Thursday announced its acquisition of Spawn Labs, a peer-to-peer game streaming technology company, as well as its agreement to acquire Impulse, Inc., a subsidiary of Stardock Systems. Founded in 2004, Spawn Labs will bring its unique streaming and virtualization technology to GameStop.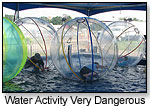 Consumer Alert: CPSC Warns of Deadly Danger with Water Walking Balls. March 31, 2011 — The U.S. Consumer Product Safety Commission (CPSC) is urging consumers to stop participating in a new type of water-related recreational activity, due to the potential risks of suffocation and drowning. The activity is called water walking and the water walking ball has numerous brand or ride names. The fact that the product has no emergency exit and can be opened only by a person outside of the ball significantly heightens the risk of injury or death when a person inside the ball experiences distress. Pre-existing medical conditions, such as heart, lung, or breathing issues, can be made worse by use of this product. . The product is most commonly used by children and is used mainly as a ride in amusement parks, carnivals, malls, sporting events and other high-traffic areas. The product is also sold directly to the public for personal use. PSC has informed state amusement ride officials of the risks associated with this product and encourages state officials not to permit this ride in their state. CPSC does not know of any safe way to use this product.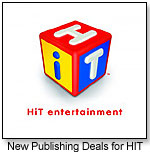 HIT Entertainment Announces Publishing Deals. March 31, 2011 — HIT Entertainment has announced that they have partnered with three South American publishing companies to publish Barney, Thomas & Friends, and Angelina Ballerina books and magazines in various countries. According to a press release, this will be the first publishing program in Latin America for Angelina Ballerina.

WBCP Becomes DC Entertainment Master Licensor. March 31, 2011 — Warner Brothers Consumer Products Global Publishing has become the licensor for DC Entertainment's licensed publishing business. DC Comics is separate from this venture, and DC will continue to handle all publishing and worldwide rights programs for their comics and graphic novels. The deal covers licensing characters for storybooks, chapter books, coloring books, drawing books, and more. Warner Bros already manages all of DC's properties in every category except publishing; the new arrangement "made sense from a strategic standpoint," Dave Rupert, svp of global publishing at WBCP, told Publisher's Weekly.

EBay and GSI Commerce Sued Over Buyout. March 31, 2011 — EBay Inc., which made an offer to buy GSI Commerce for $2.4 billion earlier this week, and GSI, are being sued by a shareholder over claims that GSI is worth more than EBay is purchasing it for. SEPTA (Southeastern Pennsylvania Transportation Authority) is suing both companies, claiming EBay's offer is a "bargain price," according to Businessweek. Michelle Fang, Associate General Counsel at EBay, said in an e-mail that "the suit is without merit."

CPSC Approves New Method Of Lead Paint Testing. March 31, 2011 — XOS Inc, in conjunction with the CPSC, NIST, leading third-party testing laboratories, and other, developed a new method of lead testing, "ASTM F2853-10," over the past two years. The method involves using HDXRF, an XOS-developed technique that measures lead and other regulated elements in coatings and substrates at much lower levels, and with greater precision and reliability, than traditional XRF analyzers. The CPSC's staff report now confirms that ASTM F2853-10 "…is expected to be as effective, precise and reliable as the current CPSC staff method and the methodology used by CPSC staff for compliance determinations…XRF methods other than those specified in ASTM F2853-10 are not considered effective for testing lead in paint and surface coatings for the purpose of conformity with 16 C.F.R. part 1303 at this time". Currently, ASTM F2853 identifies XOS as the sole equipment provider that is compliant with this standard test method.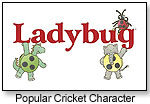 Synergy Licensing Signs Cricket. March 31, 2011 — Synergy Licensing has signed an agreement to represent Cricket Magazine Group, a division of Carus Publishing Company.

Mr. Men Author's Son Publishes Book. March 31, 2011 — Giles Hargreaves, the son of Mr. Men creator and illustrator Roger, has released his first children's book, Douglas.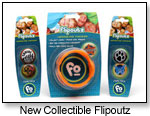 Wild Creations Picks Up Flipoutz. March 31, 2001 — Flipoutz, a kid-invented bracelet that includes tradeable coins and involves and online community, has announced on their website a partnership with Wild Creations. Wild Creations will manufacture and distribute Flipoutz. Flipoutz will also be appearing on ABC television show "Shark Tank," showcasing their invention to a panel of millionaire judges.

Toys "R" Us to Pay $1.3 Million to FTC. March 30, 2011 — The Federal Trade Commission said Tuesday that Toys R Us, the largest U.S. toy retailer, agreed to pay $1.3 million to settle civil charges that it violated an agency order barring it from discussing its discount-chain competitors with its suppliers.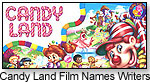 Universal Signs New Writers for Candyland. March 30, 2011 — Jonathan Aibel and Glenn Berger, writers on Kung Fu Panda and its sequel, inked a deal to write Candyland for Universal, according to The Hollywood Reporter

Hot Topic Restructures. March 30, 2011 — Hot Topic has announced several changes to its business structure and staff. The popular teen retailer announced that Amy Kocourek, the chief merchandising officer, has left the company, and Lisa Harper, CEO, will assume responsibility for Hot Topic merchandising. Harper became CEO on March 21 of this year, when Betsy McLaughlin, CEO at the time, resigned. Along with these staff changes, the company is restructuring their business structure, including stopping business at music/MP3 website shockhound.com, and writing down unproductive inventory.



Activision Releases NASCAR Game. March 30, 2011 — Activision Publishing and Eutechnyx announced the release of NASCAR The Game 2011 for Xbox 360 and PlayStation3.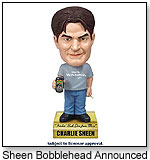 Entertainment Earth to Distribute Funko Sheen Bobblehead. March 30, 2011 — Distributed by Entertainment Earth, the 7" Charlie Sheen Talking Wacky Wobbler Bobble Head by Funko is slated to be available in July, though pre-order availability was announced in a press release today. The bobblehead seeks to immortalize Sheen's recent media antics, and speaks six of the phrases that Sheen has become known for in the past month.

TIF Welcomes New Members of Board of Trustees. March 29, 2011 — The Toy Industry Foundation (TIF) is pleased to announce that Søren Torp Laursen, President, LEGO Systems, Inc. and Kelly Gilmore, SVP, Global Toys and Themed Entertainment at Warner Bros. Consumer Products have joined the Foundation's Board of Trustees.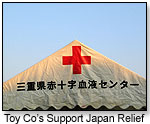 Toy Companies Help Japan. March 29, 2011 — Many toy companies have stepped up to send money and other items to aid the people of Japan as they recover from the earthquake, tsunami, and nuclear disaster plaguing the country. According to Licensmag.com, two of the most notable monetary contributions have come from Toys"R"Us, which has donated a total of $1 million, and Jakks Pacific, which are aiming to raise $200,000. They are matching any donation up to $100,000 by 100%. Build-A-Bear Workshop, Build-A-Bear's charitable organization, is donating $25,000 to the American Red Cross's relief efforts, according to their website.

Random House Children's Books to Release New Seuss. March 29, 2011 — Random House Children's Books will publish seven Dr. Seuss stories that appeared in magazines in the 1950's, but never made it to book form, according to Publisher's Weekly. The stories are slated to be released this Fall, and feature an enhanced color palette as well as an introduction by noted Seuss scholar Charles D. Cohen.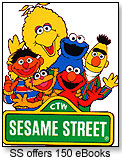 Sesame Street Opens eBookstore on iPad. March 29, 2011 — Sesame Workshop, in conjunction with Impelsys, has announced the launch of the free Sesame Street Bookstore app for iPad. There are more that 150 titles available, including eBooks, audio eBooks, and animated eBooks.

Mattel Can't Seek Damaged Against MGA for Duty of Loyalty Claim. March 29, 2011 — Mattel Inc. is unable to seek damages from MGA over claims that MGA encouraged Mattel employees to breach their duty of loyalty, a federal judge ruled yesterday in Santa Ana, Calif. According to Bloomberg, the judge said "In California, there is no tort for 'breach of duty of loyalty' that is distinct from the recognized tort of 'breach of fiduciary duty.'" This lets several MGA employees off the hook, who weren't fiduciaries. The breach of duty loyalty claims against Carter Bryant are superceded by charges of trade-secret theft.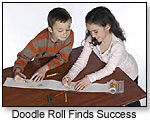 Schylling Associates to Distribute Doodle Roll. March 29, 2011 — The Doodle Roll, a product launched just 4 weeks ago by a husband-wife team of inventors, has been slated to be distributed by Schylling Associates, Inc. Jack Schylling, the company's President and co-founder, said in a press release that "We are very impressed with what Diana and Marc have accomplished so far. They've developed some great products. It will be a pleasure to bring them to the market."

The Hub Announces New Shows. March 29, 2011 — The Hub, a children's station run by Hasbro Inc. and Discovery Communications, has announced its new lineup. Several of the new shows are based on Hasbro toys. "Blythe Loves the Littlest Pet Shop" is based on the Littlest Pet Shop toy line. In "Clue", based on the board game, a group of youths is brought together after witnessing a terrible crime. "The Game of Life" and "Scrabble Showdown" are two new game shows based on classic Hasbro games. Several of their previous shows are based around popular toy lines as well.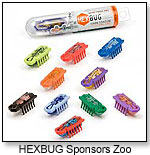 HEXBUG to Sponsor London Zoo Sleepover. March 29, 2011 — HEXBUGS and the London Zoo have teamed up to put on ZSL London Zoo's BedBUGS sleepovers for 2011, according to the ZSL website. This is one of many new marketing/PR initiatives HEXBUGS is taking in the UK.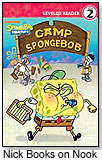 B&N Adds Nick to Nook. March 28, 2011 — Barnes & Noble has announced that it will be offering digital books by Nickelodeon available exclusively on Nook. Characters that will be featured in the e-books include Spongebob Squarepants and Dora the Explorer.


Wham-O Frisbee Flies Onto iPhone. March 28, 2011 — Kiloo announced its new Frisbee Forever app, a flying game for iPhone, iPod Touch and iPad. The app will be available in May.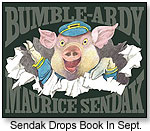 Sendak To Relase First Book in 30 Years. March 28 ,2011 — Maurice Sendak, of "Where the Wild Things Are" fame, will release his first book since 1981 this September, according to a press release. The book, "Bumble-Ardy," is being published by HarperCollins.

Lead Ban May Pose Danger. March 28, 2011 — Due to new restriction on lead in the Consumer Product Safety Improvement Act, child-sized ATV's, mini-bikes, and other children's vehicles have been classified as "banned hazardous substances" because of the small amounts of lead embedded in the metal parts. This is problematic, as many children are now riding adult sized ATV's, a practice which the CPSC and the ATV industry have decried for being unsafe. The CPSC seems to recognize this and has also said that the lead in the ATV's does not pose a hazard to children. According to the Star Tribune, the bill is being discussed in congress, where many manufacturers hope that some restrictions will be lifted.
THIS BANNER IS AN AD:
---
---