---
The Worst Advice Ever ...
Storeowners Share the Wisdom They Wish They Hadn't Heard
"I'm told to buy Silly Bandz because they're the biggest thing since Beanie Babies and Webkinz." — Steve Melody, Melody's Choices

With additional reporting by Chris Lundy and Brenda Ruggiero

Advice, n. The smallest current coin.
— Ambrose Bierce, Cynic's Word Book, 1906

Opening and running a small business not only creates anxiety in the proprietors, but in family, friends and total strangers. Sometimes, this superfluity of emotion erupts in well-meant advice that doesn't really do anyone any good.

TDmonthly Magazine asked 15 specialty retailers about the worst advice they'd ever received and how it had affected them.

Herewith, some words of wisdom about words of wisdom:

'' Not to go into business. I didn't follow it, because I am in business,'' said Joanne Farrugia, owner of JaZams in Pennington, N.J. Berardoni, owner of Pun's in Bryn Mawr, Pa., had a similar story.

''Probably to 'just go for it.' Doing anything in business without at least some kind of plan is a great way to lose a lot of money,'' said Mary Porter, owner of The Curiosity Shop in Ashburn, Va.

''Someone from ASTRA told my boss that he has a sale twice a year, and people line up for miles…that may happen where he is, but it won't happen here,'' shared Gwen Bowden, manager of Doodlehopper 4 Kids in Springfield, Va. ''You would have to sell things really cheap to get people to come for that, and you would lose everything.''

Sales reps, of course, are always eager to recommend new lines and four retailers cited their recommendations as falling flat. Steve Melody, owner of Melody's Choices in Fayetteville, Ark. got some advice on a hot trend ... just a little too late: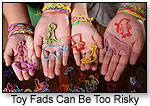 "I'm told to buy Silly Bandz because they're the biggest thing since Beanie Babies and Webkinz." He started writing orders every week, but they weren't available. Except, for some reason, Hallmark had them. Then, the orders all came in at once. He was inundated with thousands of Bandz just after school was out. So, now he's still got them, and no one wants them.

"You can be a buyer and not work on the store floor," was the worst advice ever given to Ginger Milligan, co-owner of Fantasy Island Toys in Fairhope, Ala.
"It doesn't work," she said. As a result, they changed staff responsibilities: "It doesn't matter what your job title is, you work the floor."

Sometimes, conventional wisdom doesn't suit your particular store or situation:

A store should turn a profit within 3 years: ''It depends on the economy and many other factors,'' said an anonymous store owner. ''There are some good years and some bad. You can't expect constant profit. You have to have enough to get through the bad times.''

Location is everything: ''My shop is off the beaten track and everyone thought we would not succeed there,'' said Jeannette Lauture, owner of Aunt Jean's Toys & Treats in Montclair, N.J. ''We are walking distance from a family YMCA, Little Gym and two new restaurants that have opened up since I opened our shop five years ago. I knew if 'I built it' they would come and they have come to shop each and every day. ... In addition all the social media I work on has helped too.''

Buy cheap: ''At Christmas time, we do get higher priced items, and they do sell,'' noted Mike DiAndrea, manager of Hardware Toys in Paoli, Pa.

Of all the store owners, Grafton Stine of Toys on the Square in Hummelstown, Pa., was perhaps the most sanguine about the topic: ''I've never received any bad advice about my business,'' he said. ''I like to try new ideas at least 1-3 times before rejecting them.''

Writer's Bio:
ALISON MAREK is an award-winning writer, director and cartoonist whose work has been published by Fairchild Publications and DC Comics (Piranha Press), broadcast on Showtime and other cable networks, and viewed worldwide in film festivals. See her short films and print work on www.alisonmarek.com. Watch her nefarious villains in the web series www.MuggsMovers.com. Get inspired by her cartoons "Daily ARFFirmations to Unleash Your Inner Fido" at www.ARFFirmations.com. Phew! And then ...
Read more articles by this author
THIS BANNER IS AN AD:
---
---