---
How We Reel 'Em In (and Keep 'Em)
Toy-Store Owners Share 8 Innovative Strategies
With additional reporting by Peter Fernbaugh, Chris Lundy, Claudia Newcorn, Marie Raven and Brenda Ruggiero.

If you own a specialty toy store, you know you have to scour the globe for unique merchandise. You know you have to gift wrap and give great customer service. You know you need to hold events and other activities — both online and off — to bring people into your store.

What else could you be doing? Here are a few ideas that your colleagues shared with TDmonthly's regional correspondents:

1. Give Your Toys Away ... Every Day!
At Toys & Co. in Greensboro, S.C., owner Marc Holcomb has set up a Silly Bandz roulette wheel. Each kid can spin it once a day for a chance to win one, two, three Bandz … or even a whole pack. "It keeps kids coming in and getting them," he told us.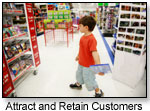 2. Use Old Dogs for New Kids
Tucker, an English springer spaniel, is one of the secret weapons at The Toy Store in Highlands, N.C. Owner (of Tucker and the store) Michelle Bears said, "People come in and have a relationship with him year after year. He's got a million best friends." She noted that her two-legged employees are also "super friendly."

3. Walk on the World
Visitors to Charleston, S.C. walk across a laminated map of that historical city when they visit the Wonder Works toy store. Owner Christine Osborne makes decoration a priority in her store. In addition to her colorful and educational floor design, she uses banners outside and is constructing 8-foot toy soldiers to flank her entrance.

4. Own Your Ark
After 10 years of renting generic locations, Susan Swickard of Estes Park, Colo. decided her toy store needed its own building. So she built an ark to reflect the shop name: Estes Ark and the Talking Teddy. "We knew we needed to own our own property in order to take a good financial position. Now we have a standout location," said Susan. Her ark's been reeling them in two-by-two for 11 years.

5. Be Gigantic!
Billboards are the most effective advertising strategy used by Cheryl Richmond, owner of Punkin Doodles in Havre, Mont. "They bring the customers in. ... Print is the least effective. Signs just keep on giving."

6. Youth-anize Your Clients
"We've been here 70 years ... This year, we opened a huge 3,000 square-foot model train exhibit," said Diana Gervais, owner of Amato's Toy & Hobby in Middletown, Conn. She believes that anything that moves — whether antique trains or RC helicopters — draws in customers and encourages them to buy. "We had an exhibit in the summer. We had seven operating train layouts. We had about 3,000 people come through — 800 on one Sunday alone." She likens her exhibits to "Mr. Magorium's Magical Emporium," and says they feature toys from every era. "People would say to me, 'Oh my God, this is like an elixir.' You just felt young again. It brought back so many memories, because we have a lot of different antique toys mixed into it."

7. Be Fishy
"I have five windows that form a fishbowl onto the sidewalk, and they are large, 6'-12' windows. ... There are always five separate vignettes, and in one window, there's always a spinner, " Catherine Higgins, owner of Stone Soup in Bar Harbor, Me., told TDmonthly.

8. Make Saturdays Super
"The one thing we do to try to build success is Kids Super Saturday, which is an arts & crafts program that we do with kids once a month. We average 50 to 60 kids," shared Mike DiAndrea, owner of Hardware in Paoli, Penn. "We are upstairs in a hardware store, and some customers have shopped at the hardware store for 50 years, and they don't know we have a toy store upstairs. [The event] really helps to get our name out."

Do you have an innovative strategy for keeping customers' interest? Write your comments below or email us at contact2@toydirectory.com and your store may be featured in an upcoming issue of TDmonthly Magazine!

Writer's Bio:
ALISON MAREK is an award-winning writer, director and cartoonist whose work has been published by Fairchild Publications and DC Comics (Piranha Press), broadcast on Showtime and other cable networks, and viewed worldwide in film festivals. See her short films and print work on www.alisonmarek.com. Watch her nefarious villains in the web series www.MuggsMovers.com. Get inspired by her cartoons "Daily ARFFirmations to Unleash Your Inner Fido" at www.ARFFirmations.com. Phew! And then ...
Read more articles by this author
THIS BANNER IS AN AD:
---
---