---
Talk to the Toy
How Playthings Help Challenged Kids Communicate
With additional reporting by Chris Lundy, Marie Raven and Brenda Ruggiero

Parents of developmentally challenged children are always on the hunt for toys and games that can increase verbal skills. However, speech specialists told TDmonthly Magazine that how toys are used is more important than what toys are used.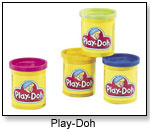 "In all honesty, you can adapt and modify any toy," said Denise DiCristofaro, instructor, clinical supervisor, and coordinator of graduate admissions at Mercy College, Dobbs Ferry, N.Y. She explained that the idea of toys is to encourage interaction. (See Table)

DiCristofaro tells her teachers that they need to be detectives to learn more about what their children will respond to.

"What is motivating to the child?" she asked. "Do they [sic] like sports? Then bring in sports toys. Do they like cars? Then bring in cars." The toy should stimulate reasons to talk.

Pam Angione, speech therapist for the Lakeland School District in Westchester County, N.Y., explained that one of the goals is to disguise work with play. Toys and games help create opportunities for interaction, rule following, role playing, categorization and more.

Some of the benefits of playing are:


Encourages babble and new vocabulary. Kathleen Alfano, senior director of child research at Fisher-Price, Inc., explained that toys that talk or have music encourage children to babble. They imitate the toy and that encourages speech. She pointed to the Smart Cycle as a toy that encourages interaction and has had a tremendous reaction from parents, especially those with children who have autistic spectrum disorders.
Engages the imagination. Angione explained that children work on their expressive language when they are using their imaginations. She said that children like to imitate others both with their actions and words, so when they pretend, they use language to create dialogue. If they are playing with a kitchen set, for instance, they can increase their vocabulary about foods, meals and general family conversation.
Stay on the child's developmental level. DiCristofaro encourages parents to forget a child's chronological age when selecting toys and consider his or her developmental age. "A lot people get caught up with chronologically age appropriate and they need to pay attention to the child's development in terms of the toy," she stressed. Parents should ascertain if the child is ready to follow the rules of the game, or can physically manage the pieces.
Encourage appropriate social interaction. Simple games can aid in speech development. Angione pointed out that turn taking is an important part of conversation: "I go, you go." Simple games, such as Candyland and Connect Four, are perfect for beginners, she said.
Take advantage of repetition. DiCristofaro said repetition is needed to reinforce speech skills. She explained that although parents sometimes get tired of saying or doing the same thing over and over, children thrive on it. Alfano echoed that by pointing to toys such the ring stacker, which children like to stack and dump over and over. The way parents can encourage new language is to talk about the size of the rings sometimes and the colors of the rings at other times. Take advantage of the repetition to add new vocabulary, Alfano said. "Don't be scared to use a big word sometimes to enlarge a child's vocabulary." If you usually describe a ring as "small," say it is "tiny" to mix it up a bit, for example.
Remember to read. Reading is another way that children learn vocabulary. When parents ask children about the pictures in a story and keep them interacting, children are listening and using speech at the same time. Alfano explained that toys and books can be interrelated. Fisher Price, for example, publishes a book series about their Little People toys.
Strengthen mouth muscles. Many children with speech delays need to develop their facial muscles. DiCristofaro said that blowing bubbles is a wonderful way to strengthen those muscles while playing.
To sum up, any toy that interests a child can be used to stimulate speech and develop the verbal skills they need. Just talk it up and have fun!

TABLE: Toys That Encourage Speech Skills

SKILLS
TOYS
Categorizing
Farm Animals by US Toy/Constructive Playthings
Deck of cards by United States Playing Card Company
Play-doh and accessories by Hasbro
Expressive Language
Kitchen Set by Melissa & Doug
Little People Toys by Fisher Price
Dress Up Clothes by The Blue Ladybug
Following Directions
Candy Land by Hasbro
Connect Four by Milton BradleyBingo
Muscle Development
Miracle Bubbles by Imperial Toy LLC
Babble and Articulation
Smart Cycle by Fisher Price
Alphabet Pal by Leap Frog
Resources: All of the experts in this story contributed to this table


Read more about each product below:







Each deck of cards can be used for a variety of games. Cards range from Ace to King in the four suits of Clubs, Diamonds, Hearts and Spades. Most decks also include two jokers that are used as wild cards for some games and eliminated for others. Cards are used for games for one or more players, sometimes individually and sometimes on teams.

.

AD
---






PLAY-DOH 50 COLORS gives children an endless number of creative options with 50 different-colored cans of compound, including six new colors. This product is special for 2006, Play-Doh's 50th anniversary.

.

AD
---






Made of heavy-duty, die-cast metal, this rebirth of the Kitchen Littles line showcases cookware in stylish miniature form. Suggested retail price for sets in the line is roughly $20 to $25. Launch date: 2008.

.

AD
---






Lights, sound, talking, and a fun sing-along song helps children's imaginations take flight as they learn about "high" and "low" with a little help from the Little People. The little figurines wiggle and wobble as kids spin the airplane wheel, and an easy-carry handle helps pretend flights soar through the sky. The plan comes with figures Mia, Roberto, and a pilot. It requires 3 AA batteries. This product received the Oppenheim Toy Portfolio Platinum Award for 2007.

.

AD
---






The floating toy boat comes with a moveable fishing rod, a fish scoop, a Captain Michael figure and a life ring. Kids can catch fish with the movable fishing rod, then use the fish as a scoop to pour water. Additionally, kids can press down on the sitting captain in his seat to activate a fun tune.

.

AD
---






Sarah Lynn rides her scooter with her dog pal in the sidecar, headed to a birthday party. Both friends wear helmets and goggles. The set even comes with a birthday present and balloons, which Sarah can actually hold in her hand. The scooter and sidecar measure approximately 7" in length.

.

AD
---






These capes and wings help children explore their creativity as they pretend to be wizards, dragons, fairies, princesses and more. Ranging in size from toddler to child, these dress up clothes allow children to play out many stories and fantasies as they play. The bright colors and initricate designs enhance their imaginative play. All these dress up clothes are made of natural fibers and are machine washable to be used over and over again.

.

AD
---






This game is for 2 to 4 players. Each player selects cards with colors or characters to determine where to move around the board. Players move their gingerbread pawn through a variety of confections and treats on their way to the castle. The first player to the castle wins. The simple rules and color-coded movement make this a great first game for young children.

.

AD
---






.

AD
---






Recently inducted into Parenting magazine's "Toy Hall of Fame," Miracle® Bubbles is a product of all amazing ingenuity, hard work and creativity. You will be blown away by Miracle® Bubbles cool long-lasting and superbly crafted bubbles. Just what makes these bubbles such a miracle? Well, the secret miracle bubble potion of course. Miracle® Bubbles secret non-toxic bubble solution provides hours of endless enjoyment for all ages.

.

AD
---






Using plug-and-play technology, parents simply plug this kid-sized stationary bike into their television's A/V jacks to bring the arcade experience home to enable kids to be active while learning. Kids pedal and steer to play fun learning games right on the TV. Launch date: March 5, 2008.

.

AD
---






The Alphabet Pal can giggle, sing, walk and flash its antennae. Four learning modes are designed to introduce letter names, letter sounds, colors and music.

.

AD
---
THIS BANNER IS AN AD:
---
---