---
Keep Cash Flowing Freely
Plan Ahead to Avoid Dangerous Blockage
Poorly managed cash flow and inventory can suck a store under, especially when business slumps.

Why Cash Is King

Cash flow - the amount of money going into and out of a business - can be calculated for any given period of time. Cash flow is normally calculated on both an annual and a monthly basis.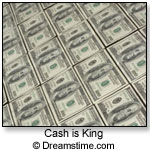 "Most failed businesses - up to 60 percent - say that all or most of their failure was due to cash flow problems," warns Rosemary Peavler, a financial consultant and About.com business finance guide. "Nothing matters more than cash. Making a profit is nice; cash flow is necessary. Cash management is the key to business success."

Agrees Susan Ward, co-owner of Cypress Technologies and About.com small business guide, "Cash flow is truly the lifeblood of any small business. When tight credit starts choking your cash flow, it's important that you act right away to remove the blockage and get your business' cash flow flowing again."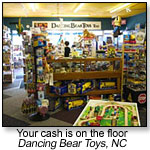 Bob Phibbs, author of "The Retail Doctor's Guide to Growing Your Business," points out that "it is important to understand cash flow in any business, but particularly toy businesses, because they often put on storewide sales (that) damage profitability. That often happens because they forget all their money is sitting on the sales floor."

Earl Morris, senior consultant at the Stanislaus County Alliance Small Business Development Center, advises that part of cash-flow management includes looking ahead and planning for changes. "Do you have a line of credit to operate month-to-month? If so, and (if) you use it, do you have sufficient business volume to repay draws on a monthly basis? Are major capital investments planned for and budgeted, or is the business in a position to take on loans for such and still be profitable?" Part of cash-flow management, he notes, is not simply reacting, but being proactive and managing revenue to help achieve long-term goals for the business.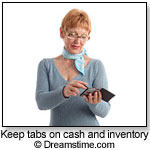 Kurt Clark, director of the Stanislaus County Alliance Small Business Development Center, who works regularly with small- to medium-sized businesses, counsels companies to have a simple but effective record keeping and financial reporting system in place.

"[Toy businesses] often put on storewide sales, which damage profitability." — Bob Phibbs, the Retail Doctor

He also suggests, "Proper cash-flow management is the single most important business management consideration once a business is generating a sustainable revenue stream. Develop a proactive relationship with a CPA who can train the business owner on how to manage cash flow and make appropriate financial decisions in the business."

Preparing monthly cash budgets can help retailers keep track of their funds. Peavler advises that these should be done in advance to project cash needs. "The cash budget will capture the timing difference between the profit you see on the income statement and the cash that is actually coming into and flowing out of the firm." She notes that the purpose of such budgets is not to set targets for cash, but to anticipate needs. "If you prepare cash budgets six to 12 months in advance and your needs change, then change your cash budgets. Keep them up to date because the cost of running low on cash in a business is high." An accounting software program can help store owners track cash flow. Fred Rosenberg, owner of On The Park toy store in Kingwood, Texas, recommends Retail Pro as a point-of-sale system and QuickBooks 2010 for backroom activities. "Keep on top of cash flow daily. I plan out cash flow in four time periods: yearly, monthly, weekly and daily. I make adjustments to the plans by changing my cash requirements due to current sales and spending activities."

Smart Ways to Improve Cash Flow

There are a variety of ways retailers can improve cash-flow management. Ward suggests taking the following steps.


Anticipate Storms: A key factor in weathering any storm is knowing that it is coming and in what direction it is moving. Keep an eye on the leading indicators for your business and be aware of changing economic conditions. Prepare cash-flow projections for the next year. This will help you to see what changes need to be made and when. If an unforeseen situation occurred and your predicted cash flow dropped X percent, what could you do to restore it? Answering this in advance will make you more nimble should these scenarios occur.

"I plan out cash flow in four time periods: yearly, monthly, weekly and daily." — Fred Rosenberg, On the Park

Stay Current: Know precisely how much cash you have on hand each day. This means keeping business accounting separate from personal finances and keeping books up to date. Always calculate your "burn rate" or negative cash flow. Total cash reserves divided by the burn rate equals the number of months you can continue in business if no new revenue comes in. Starting a business with less than a year's worth of cash in reserve is risky.
Embrace Lean Operations: Identify and eliminate duplication or wasted effort at all stages of your business. Re-examine each business process with a view toward removing bottlenecks. In the long run, this will save money and improve your cash-flow management.
Manage Terms: Most suppliers allow 30 days to pay, but you may be able to get them to extend that term to 60 or even 90 days, which lets you to keep the money in your cash-flow pipeline longer. (Fig. 5.4)
Employ Credit Judiciously: If you can't work out longer repayment terms from vendors, use your credit cards to their best effect. Charge business expenses to your cards at the beginning of the payment cycle. That way, you can delay final payment by as much as 45 to 60 days.
Renegotiate contracts: Landlords, lenders and contractors are not impervious to changing economic conditions, so try to renegotiate. For instance, if the lease on the premises of your brick-and-mortar business is ending, you may be able to wrangle a more favorable rate — especially when other retail property is standing empty. A less expensive lease will free up more of your cash each month.

Peavler adds the following pointers:


Extend Your Timetable for Making Cash Payments: Pay your bills on time and take advantage of any cash discounts suppliers offer you. However, hold onto your cash as long as possible. Don't pay bills weeks earlier than they are due. Your company can use that cash balance instead of giving it to your supplier.
Cut Back on Spending Wherever Possible: Cut back on spending until it is less than your revenue on a month-by-month basis. If an emergency happens, you will then be prepared from a cash standpoint.
Increase Your Sales: Instead of holding onto obsolete inventory, mark it down and sell it. Storing it is costing you money, and selling it at a lower price is better than not selling it at all. The longer you hold on to obsolete inventory, the less likely it is to sell.
Other contributors to this article may have included: Julie Adrian • Michaele Birney Arneson • Leigh Au • Christina Chan • Julia Ann Charpentier • Elizabeth Chretien • Virginia Davis • Laurel DiGangi • Zan Dubin Scott • Lisa Durante • Cicely Enright • Margaret H. Evans • Doug Fleener • Diane Franklin • Janie Franz • Dennis Foley • Dennis Furlan • Rosette Gonzalez • Elizabeth Greenspan • Mort Haaz • Sharri Hefner • Terri Hughes-Lazzell • Kyle Hall • Pennie Hoover • Sheri Jobe • Julie L. Jones • Candyce Kornblum • Christine Lebednik • Susan Ledford • Chris Lundy • Susan Maddela • Hans C. Masing • J.D. Meisner • Adeena Mignogna • Catherine Jo Morgan • Claudia Newcorn • Willow Polson • Marie Raven • Kara Revel • Andrew Robinton • Greg Rock • Brenda Ruggiero • Tamara Schuit • Brent Turner • Vanessa VanderZanden • Jodi M. Webb • Stacy Wiebe• Mark Zaslove • Alex Zelikovsky

Writer's Bio:
Claudia Newcorn has been a freelance writer and editor for over 10 years, after having spent more than a decade in marketing and product management. She writes for both businesses and individual clients, crafting copy, content and advertising. Her articles appear in newspapers, magazines and specialty publications nationwide (www.acornmarketing.com). She is also the author of an award-winning fantasy fiction book, "Crossover," and several published short stories (www.claudianewcorn.com).
Read more articles by this author
THIS BANNER IS AN AD:
---
---