---
Toy Fair Wrap-Up
The Trends, Toys, and Surprises
TDmonthly's seasoned toy experts were on the floor at Toy Fair 2011, looking out for the latest trends, hottest toys, and intriguing newcomers.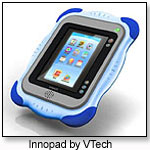 Top Trends
Many new toys are combining technology and communication with fun. For instance, Phone Frenzy by Buffalo Games has kids calling and texting their friends and family on their cell phones to complete challenges in the game. Other toys, like Fijit Friends from Mattel, use "chirp" technology to respond to online apps, social media websites, and television commercials. Even infants and toddlers are getting their electronic fix, with toys such as the Baby iCan Play by Fisher-Price enabling kids to start using technology like iPhones at younger and younger ages. As the social technology found in smart phones, electronic tablets like the iPad, and online networking sites like Facebook and Twitter become a part of everyday life for most Americans, we are seeing these trends trickle down into children's products. The InnoPad by VTech is another example of kids' toys mimicking those of their parents. While some remain wary of such high-tech toys, they were indisputably some of the most prevalent products at Toy Fair.

"Brain Games" were another trend— games and puzzles that stimulate the mind. For instance, Roman Town by Dig-It! Games uses an interactive computer game to teach kids about archaeology, while Science Wiz Cool Circuits by Norman & Globus, an electronic game that involves looping circuits, tests players' puzzle skills against 40 different challenges and various skill levels. You can read more about toy trends in our interview with the TIA's Toy Trend Expert, Reyne Rice, here.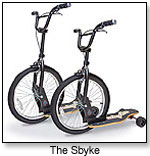 Outdoor Fun
Some speculated that the number of toys encouraging movement and outdoor fun were a result of Michelle Obama's "Let's Move" campaign to end childhood obesity. Whether or not that was the case, there were lots of innovative outdoor toys at the fair, particularly surrounding bicycles. Gyrowheel by Gyrobike was back, offering a gyroscopic self-balancing front wheel for beginning cyclers' bikes. Meanwhile, KaZAM was showing its more traditional balance bike, a bicycle without pedals that helps kids focus on balance when learning to ride. Zike LLC's new freestyle scooters are a combination of both a scooter and a bicycle. Kids pump the foot platforms to propel themselves, instead of using traditional pedals. Sbyke offered up a similar bike/scooter fusion product, but with a more scooter-centric movement system. Other items, like the Party Pumper by Puponator and new toys from Marshmallow Fun, put a less physical emphasis on outdoor play.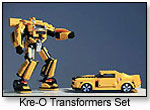 Overall Hits
Every year there are mass-market manufacturers who put out toys that get lots of attention, even before Toy Fair. This year, there were several mass-market products that stood out. Let's Rock Elmo by Hasbro strives to be more interactive than previous (yet nonetheless, successful) Elmo toys, by letting kids play music along with Elmo, not just watch and listen. Hot Wheels Wall Tracks were another hit, revolutionizing how kids play with this classic favorite. Licensed products based on this summer's anticipated blockbuster hits were big, like the new Pirates of the Caribbean offerings from LEGO, and Transformers building set from Hasbro's new, LEGO compatible Kre-O blocks. Pressman Toy's Green Lantern Power of the Ring Game also fell into this niche.


Specialty Standouts
In the specialty sector, new glow-in-the-dark items from Innovation First Labs' Hexbugs line built on the success of their previous, if less illuminated, robot bugs. Corolle introduced a new character in their multi-cultural Les Cheries dolls, and puppet company Folkmanis introduced Folkmonsters, brightly colored, furry monster puppets that will render children more delighted than scared. Mysterious Creatures by Education Outdoors uses mythical beasts from different countries to teach kids about world cultures and geography, while the new Chalkboard Matryoshka from Matryoshka Madness! lets kids design their own versions of the traditional Russian nesting dolls. The specialty toys all seemed to have one thing in common, which was their ability to inspire creative play and stimulate young, inquisitive minds.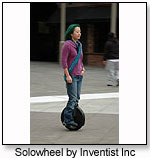 Surprises
There were a few toys that made a splash at Toy Fair without creating much buzz beforehand. William Mark Corp's Air Swimmers, remote-controlled, helium-filled balloons shaped like fish or sharks, created a stir while being demonstrated at the fair. Another company, Inventist Inc, created a buzz with their small personal transportation device that is certainly not just for kids. The Solowheel uses gyroscope technology to smoothly propel riders- at a fraction of the size and cost of competitor Segway.

The Year Ahead
This year's fair had a 2% rise in overall attendance, as well as a 10% increase in trade guests. In 2010, toy sales grew by 2%, largely helped out by a strong 4Q. Will the new toys shown at Toy Fair catapult sales again this year? We'll just have to wait and see. In the meantime, check out TDmonthly Magazine for the latest information on hot toys and industry news.

Writer's Bio:
Justina Huddleston graduated Magna Cum Laude from Emerson College with a BA in Writing, Literature, and Publishing in 2009. After graduating she was the on-site director of the Boston Children's Museum gift store for a year, selling educational, developmental, and creative activity toys that tied in with the museum's exhibits. Justina also interned at children's book publisher Candlewick Press before moving from Boston to Los Angeles, where she is now Editorial Director of
TDmonthly Magazine
.
Read more articles by this author
THIS BANNER IS AN AD:
---
---