Tools:








Watch Toy Videos of the Day (12/19/2011-12/23/2011)
We want you to see the toys we see, so you can determine if they're right for your store! Check this space every weekday to see brief video clips of new and specialty products.

In the spotlight today? You'll be raking in the green stuff when you carry high-quality products like School Bus from GREEN TOYS INC.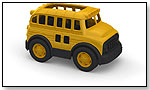 Wholesale Price: (Log in to view)Minimum Order: (Log in to view)Minimum Reorder: (Log in to view)Dropship Available?: (Log in to view)Ships From: (Log in to view)Terms: (Log in to view)

MSRP: $27.99

Age Range: 1 and upSpecialty: Yes (as of 2011)Made in: United StatesSKU or Item #: SCHY-1009Gender: Boys And Girls





School's in session with the planet's favorite new kid in class - the Green Toys™ School Bus. Made in the USA from 100% recycled plastic milk containers that save energy and reduce greenhouse gas emissions, this sturdy bus is ready to be loaded up for an earth-friendly ride to the classroom, a field trip, or whatever excursion little scholars see fit. The Green Toys School Bus goes to the head of the class for safety and eco-design, with no metal axels or external coatings. No BPA, PVC or phthalates. Packaged using only recycled and recyclable materials. "The Green Toys™ School Bus, like all Green Toys products, is made responsibly in the USA from 100% recycled plastic, and is still fun and appealing to youngsters of all ages," Cameron Passmore, marketing manager at Green Toys Inc., told

TDmonthly

. Launch date: October 2011.

— Bebe Feimster, manager of

Big Smile Toys/Hardware Center

in Paoli, Pa., told

TDmonthly

in a March 2015 survey that the Green Toys School Bus is one of their best-selling "green" toys.

ToyDirectory Product ID#: 32830

(added 9/2/2011)

.

AD
---




Wholesale Price: (Log in to view)Dropship Available?: (Log in to view)Ships From: (Log in to view)Terms: (Log in to view)

MSRP: $40.00

Age Range: 4 and upSpecialty: Yes (as of 2011)Made in: United States; ChinaGender: Boys And Girls





This adventure kit comes included with all the necessary tools to explore the amazing world of Bugs 3D. The kit contains a 3D book, 3D cards, magic costume card, software and Popar Reader. Kids will have an unforgettable experience as they grow wings and watch their favorite bugs leap from the pages or cards. "Popar® Toys use Augmented Reality (AR) technology to create an immersive reading experience that will allow the user to see incredible virtually "real" 3D objects and animations that will pop off the book or card," Scott Jochim, President of Popar Toys, told TDmonthly. Launch date: 2011.
Awards: 2012 Best of the Toy Fair - The View; 2012 National Parenting Center's Seal of Approval.

ToyDirectory Product ID#: 33316

(added 12/12/2011)

.

AD
---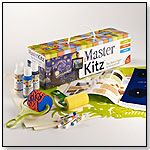 The Starry Night would have been just another landscape if it were not for van Gogh's swirling layered brush strokes that make the painting come alive. The Starry Night Master Kitz includes all the tools your child needs to create their own Starry Night masterpiece and learning materials to deepen their understanding of the original painting. Each Starry Night Master Kitz includes:A sturdy, re-usable art tool box with magnetic closures, 3 Custom Acrylic Paints (child friendly), 5 Custom Oil Pastels (child friendly), 1 van Gogh Roller specially designed to , replicate van Gogh's active stroke, 1 re-usable Starry Night Cyprus Stencil, 1 standard paint roller, 2 pieces deluxe art paper, 1 low tack "Mesmerizing Stars" sticker sheet, Fun, easy-to-understand van Gogh learning materials, Easy-to-follow step-by-step instructions. The Tree of Life by Gustav Klimt and Water Lilies by Claude Monet kits are also available. Fifteen percent of Kidzaw's profits are donated to programs that fund art for disadvantaged public schools in urban areas.
Awards: TDmonthly Top Toy Award, January 2012
— Why it won: This fun kit introduces kids to one of the most famous pieces of art in the world. Including educational materials about van Gogh, the kit also provides paint, stickers, and the tools necessary for kids to recreate, or re-imagine, the Starry Night painting.

ToyDirectory Product ID#: 32879

(added 9/8/2011)

.

AD
---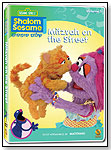 Wholesale Price: (Log in to view)Minimum Order: (Log in to view)Minimum Reorder: (Log in to view)Ships From: (Log in to view)Terms: (Log in to view)

MSRP: $14.95

Age Range: 3 to 8Specialty: NoMade in: United StatesSKU or Item #: 73713813251-7Gender: Boys And Girls





When a storm makes a mess of the neighborhood, everyone lends a helping hand. In the meantime, Grover is invited to a Bar Mitzvah in Jerusalem. Come join Matisyahu and Oofnik as they beat box the Hava Nagila. It's "Sesame Street for the Jewish American consumer - The Jewish Version of Sesame street with familiar Sesame Street characters and their Israeli furry friends," Haim Scheininger, president of SISU Home Entertainment, Inc., told TDmonthly. Launch date: January 2011.
Awards: 2010 Dr. Toy Best Pick Award; 2011 Hugo Television Award (for "It's Passover. Grover!); 2011 CINE Golden Eagle Award.

ToyDirectory Product ID#: 32895

(added 9/13/2011)

.

AD
---
Catalog Request Form
THIS BANNER IS AN AD:
---
---