---
Schoenhut's Warmth Flows Generously
Family-Owned Business Keeps Relationships at its Heart
Strong relationships are at the root of success for Len and Renee Trinca, CEO and President of the 140-year-old Schoenhut Piano Company. From the day in 1996 when the couple fell in love ''at first sight'' with the company's products and took over as Schoenhut's owners, they have built friendships and support systems throughout manufacturing, retailing, consumer, and artistic circles. In addition, central to their business philosophy is a strong commitment to ''giving back'' by sharing musical instruments with children who would otherwise not be exposed to them.



Commitment to Mom-and-Pop Retailers

Specialty retailers are an integral component of Schoenhut's success. Perhaps because theirs is a family-owned business, the Trincas have a special place in their hearts for small mom-and-pop stores that give neighborhoods character and provide parents with a fun, safe place to take their kids shopping.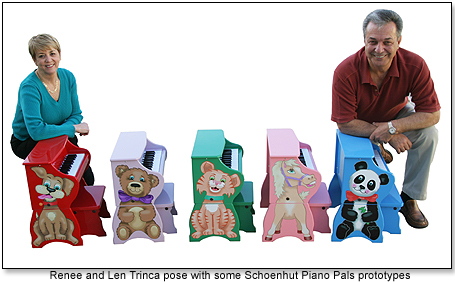 "Fortunately, the demand continues for stores where customers can get advice from shop owners about the merits of various products. Another advantage is being able to take a child along to provide ideas on favorite selections for a gift," pointed out Renee.

Continuing Innovation

The Trincas are intimately involved in every facet of their business. Of the new instruments offered each year to keep the product line fresh and exciting, most prototypes are designed and hand-built by Len. He then oversees manufacturing production to ensure the high standards and quality for which Schoenhut is known.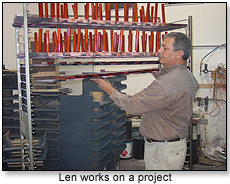 ''Len has a very creative mind,'' Renee proudly told TDmonthly. ''He became infatuated with building things in junior high woodshop. After completing a project, he would proceed to make something even more creative than what the teacher had originally assigned."

Generosity Pays

In addition to supporting local charitable activities, Schoenhut has partnered with TDmonthly for various giveaways across the nation. The first event in 2009 benefited ten charities, chosen by TDmonthly's Charitable Kid. The first of TDmonthly's 2012: A Year of Charity promotions last spring provided donations to seven charities; the three specialty toy store owners who served as liaisons received valuable publicity during and after the event. Schoenhut also donated generously to the current 2012 giveaway, extending into the New Year.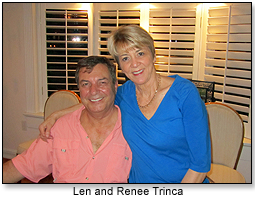 ''Len and I both had very generous parents who never hesitated to assist the less fortunate," states Renee. "That characteristic of helping people was ingrained into both of us. Our contributions result in a huge benefit, that of enormous satisfaction."

The Future Is Expansive

Despite the recession, Schoenhut continues to flourish. Plans are complete to enlarge their facility in March 2013, doubling the size of its current space. "Len is especially happy, since a good-sized area is designated for his woodshop," commented Renee.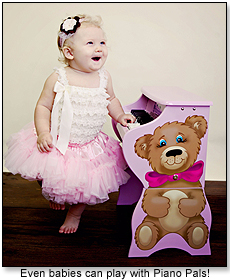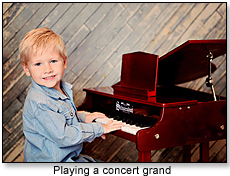 And Len continues his ingenious designs. He is nearing completion of a toy piano prototype with a patent-pending soundboard. In addition to offering yet another innovative product to children, a marketing target will be the many professional musicians who use Schoenhut toy pianos for performing, teaching, conducting, and just plain fun.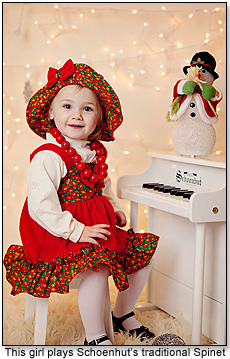 Schoenhut also continued its charitable giving straight into the new year. They signed up for the final TDmonthly's 2012: A Year of Charity promotion, offering 100 pianos and other instruments to our two winning retailers, Figpickels Toy Emporium in Coeur D'Alene, Idaho (see article) and Children's World in Sarasota, Florida. The generosity of Schoenhut and other donors resulted in so much local publicity that Figpickels had between 8000 and 10,000 people walk through their store during the holidays, and kept them busy from opening to closing, 7 days a week, for six weeks.

"We're still recovering!" said owner Brett Sommers gratefully.

Toy Fair 2013





Toy Fair visitors are invited to stop by Schoenhut booth #2239. It is a great opportunity to view the wide array of traditional and new instruments, including toy pianos, acoustic and electric guitars, ukuleles, harps, drum sets, and more. A partner in music and good friend, the very talented Hannah Reimann, will be on board to play piano for four to five hours each day of the show. "We promise it be will fun!" says Renee in closing.

Manufacturers: Follow Schoenhut's lead and leverage your charitable giving to make your company stronger. Retailers: Find out how TDmonthly can increase your visibility in your community! Email Alison@toydirectory.com.





Wholesale Price: (Log in to view)Minimum Order: (Log in to view)Minimum Reorder: (Log in to view)Ships From: (Log in to view)Terms: (Log in to view)

MSRP: $59.99

Age Range: 3 to 12Specialty: NoMade in: ChinaSKU or Item #: 605Gender: Boys And Girls





Little rock stars will take center stage playing Schoenhut's "next generation" guitar. Schoenhut's innovative design incorporating a molded composite body with dual curves greatly enhances sound and durability. The birch soundboard which offers excellent tone and resonance, hardwood neck (for rigidity), and molded composite fretboard ensure proper height and spacing of the frets. Six steel strings permit a wide range of rich sounds. Available in several vibrant designs. Includes: Pick and Extra String. Launch date: January 2012.
Awards: 2013 TDmonthly Seal of Approval



ToyDirectory Product ID#: 35560

(added 11/16/2012)

.

AD
---







Schoenhut's miniature version of a baby grand piano is designed to encourage a child to play and develop a love of music. Elegant in appearance with graceful spindle legs, yet extremely durable and sturdy, it makes a beautiful addition to any home. Lovely chime-like tones are produced by small hammers striking metal rods, the sound that makes Schoenhut toy pianos unique. The two-and one-half-octave span of full-width keys provides a good foundation for the transition to a larger model. Includes: Schoenhut's Learning System and bench.
Awards: 2013 TDmonthly Seal of Approval



ToyDirectory Product ID#: 34016

(added 3/29/2012)

.

AD
---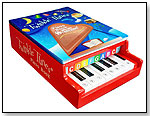 Twinkle Tunes features a 1-octave (8-note) keyboard that electronically produces lovely piano sounds, enhanced with a beautifully illustrated interchangeable songbook containing a collection of 12 familiar tunes. This instrument, designed for the child who has no previous piano study, is paired with Schoenhut's patented Tri-Play Learning System. Easily portable for young children, this unique toy provides hours of musical fun. Battery included. Additional books sold separately.



ToyDirectory Product ID#: 33481

(added 1/19/2012)

.

AD
---






These 49-key stringed pianos feature perfect pitch with true piano sound (without the use of electronics). The keys are the same dimensions as those on a full-sized piano, the keyboard half the width. Baby Grands are available in White, Black, Red; Upright in Black, White. Includes cushioned bench.

ToyDirectory Product ID#: 30947

(added 10/25/2010)

.

AD
---




MSRP: $105.00

Age Range: 3 to 9Launch Date: January 2007Gender: Boys And Girls





This versatile new little piano grows with your child! The main unit, decorated with a whimsical animal's head, is perfect for toddlers because it sits safely and squarely on the floor within easy reach of little hands. Later on, the sides with the animal's body can be attached, conveniently raising the piano to a comfortable upright height for an older child seated at the bench. Schoenhut toy pianos are noted for their excellent quality and unique chime-like tones. The width of the keys promotes proper finger placement, enabling an easy transition to a larger piano.
Awards: Dr. Toy 100 Best Children's Products - 2010

ToyDirectory Product ID#: 30766

(added 10/11/2010)

.

AD
---
My First Piano II
by
SCHOENHUT PIANO COMPANY
Other products from SCHOENHUT PIANO COMPANY
TDmonthly rating:





MSRP: $59.95

Age Range: 3 and upLaunch Date: January 2005Gender: Boys And Girls





Schoenhut's bright red, wooden, 25-key tabletop is the perfect choice for a toddler's first piano. Both fun and educational, it is an ideal instrument for developing eye-hand coordination and encouraging musical creativity. Chromatically tuned, the lovely chimelike notes are produced by little hammers striking precision-ground, German steel music rods. The tone never changes nor will the piano ever need tuning. Schoenhut's patented Learning System, with its play-by-color teaching method, makes playing simple and fun. A removable color strip fits behind the keys to guide small fingers from chord to chord. The chart also works on adult keyboards, since keys on Schoenhut toy pianos are of corresponding width. This teaches children proper finger placement from the very beginning. The accompanying Songbook contains a collection of familiar tunes. This Learning System has been specially designed to build a child's confidence and develop basic playing skills. It comes in red and white. Launch date: 2005.

- This model was Schoenhut's best seller for 2010. It was also the model given away by

TDmonthly's Charitable Kid, Kimberly

(then 14) of South Carolina -- 100 times over! As a reward for her charity and careful selection of institutions to receive the toy pianos, Kimberly was given a number of other high-quality Schoenhut instruments, many of which she shared with her younger sisters.

ToyDirectory Product ID#: 13823

(added 6/29/2007)

.

AD
---

Writer's Bio:
ALISON MAREK is an award-winning writer, director and cartoonist whose work has been published by Fairchild Publications and DC Comics (Piranha Press), broadcast on Showtime and other cable networks, and viewed worldwide in film festivals. See her short films and print work on www.alisonmarek.com. Watch her nefarious villains in the web series www.MuggsMovers.com. Get inspired by her cartoons "Daily ARFFirmations to Unleash Your Inner Fido" at www.ARFFirmations.com. Phew! And then ...
Read more articles by this author
THIS BANNER IS AN AD:
---
---