---
Toys in the News: 3-29-13
SUBMIT your news to TDmonthly.
See previous toy industry news.

Toys in the News is updated Mon-Fri at 9:15 am PST

New York Court Upholds Sales Tax for Online Retailers. March 29, 2013 — New York's highest court rejected arguments Thursday by two Internet retailers that...

Google, major retailers unite for same-day shopping. March 29, 2013 — Google Inc launched a same-day delivery service in the San Francisco Bay Area...

iCandy World Recalls Cherry Strollers Due to Strangulation Hazard. March 29, 2013 — This recall includes about 830 iCandy Cherry stroller only in the colors Fudge (light-medium brown) and Liquorice (red and black), sold at Buy Buy Baby and other juvenile product stores nationwide and online at www.buybuybaby.com and other online retailers from October 2009 through December 2012 for about $400. The opening between the bumper bar and seat bottom of the stroller can allow an infant's body to pass through and become entrapped at the neck, posing a strangulation hazard to young children when a child is not harnessed. Consumers should immediately remove the bumper bar from the strollers and contact iCandy America Inc. to receive a free replacement bumper bar. Consumers can continue to use the strollers while awaiting the replacement bumper bar.

BabyHome USA Recalls High Chairs Due to Strangulation Hazard. March 29, 2013 — This recall includes abut 1,100 Eat model high chairs in red, black, green, purple, navy, orange, and brown, sold at juvenile product stores nationwide including USA Baby, Magic Beans and RC Willey and online at Amazon.com, Babiesrus.com and Diapers.com from March 2012 through February 2013 for about $150. The front opening between the tray and seat bottom of the high chair can allow a child's body to pass through and become entrapped at the neck. This poses a strangulation hazard to young children when the child is not harnessed. Consumers should stop using the high chairs immediately and contact BabyHome USA to receive a free crotch restraint repair kit.

Tamagotchi L.i.f.e. brings the classic keychain toy to life on iOS. March 29, 2013 — Last February, we brought you a look at Tamagotchi L.i.f.e., the title that looks...

Why Retail Matters. March 28, 2013 — Is there a role for brick and mortar stores today? Does retail...

Bugaboo Cameleon3 Strollers Recalled. March 28, 2013 — The U.S. Consumer Product Safety Commission (CPSC) has announced a recall of about 9,200 (in the U.S., and 960 in Canada) Bugaboo Cameleon3 Strollers from Bugaboo Americas, sold at Buy Buy Baby, Toys R Us and other baby product stores nationwide, Neiman Marcus, Nordstrom, online at Bugaboo.com and other online retailers from September 2012 to March 2013 for between $889 and $1,600. Consumers should immediately remove the carry handle from the stroller's bassinet or seat and contact Bugaboo for a free replacement handle. While awaiting the replacement handle, consumers can continue to use the seat or bassinet when attached to the chassis but should not attempt to use the seat or bassinet separate from the chassis.

Soft console gaming category causes GameStop sales slip. March 28, 2013 — GameStop reported that total global sales for the fourth quarter of 2012 were $3.56 billion...

Detailed Run Down of Disney Infinity Cars Collectables. March 28, 2013 — Having posted earlier about the new release date for Disney Infinity and recently...

Toys may go high-tech, but not child's wonder. March 28, 2013 — As youngsters, we played with Cabbage Patch Kids and G.I. Joes, Etch a Sketches and dominoes...

Disney Toys with New Games Strategy. March 28, 2013 — When "Disney Infinity" launches later this summer, the videogame-toy hybrid will represent...

Sales taxes for all online purchases? Resistance in House is strong. March 27, 2013 — If a resident of New York State buys an Airzooka toy air gun from...

LeapFrog: 'Kiddie' tablets. March 27, 2013 — Imperial Capital was out with a bullish note on LeapFrog after its analysts...

Study Finds 'Retail Therapy' Actually Works. March 27, 2013 — Ever find yourself hitting the mall or clicking around on eBay to...

Yes, Personal Service At Retail Is Worth It - Again. March 26, 2013 — There has been much discussion about the value of in-store sales associates...

West Music Recalls Egg-Shaker Toy Instruments Due to Choking and Aspiration Hazards. March 26, 2013 — This recall involves about 6,500 Basic Beat BB201 standard egg shakers from West Music, sold at West Music stores, West Music Catalog, Westmusic.com, Amazon.com and at West Music booths at summer workshops from July 2012 through October 2012 for about $1.50 each. Consumers should immediately take the recalled egg shaker toy instruments away from young children and contact West Music for a free replacement product.

The Greatest Dot-to-Dot Puzzle Series Reaches "3/4 Million" Books Sold. March 26, 2013 — The World's favorite connect-the-dot puzzle books have reached a landmark milestone this month...

National Retail Federation Applauds Senate Vote On Sales Tax Fairness. March 25, 2013 — The National Retail Federation released the following statement from President and CEO Matthew Shay on the U.S. Senate's passage...

When Does a Toy Become Collectible? Here Come The Octonauts. March 25, 2013 — My son and his mother, ahem, have been obsessing over his favorite TV show, The Octonauts...

Abrams Announces Wimpy Kid #8. March 25, 2013 — Eight's the magic number (as in Magic 8-Balls) as Abrams Books for Young Readers...

New toy locks up smartphones, forces real 'facetime'. March 25, 2013 — Imagine you're in a restaurant with your family during dinner time. Now, look...

Two Decades In: Licensed Merchandise Continues To Reward And Challenge Suppliers And Operators. March 25, 2013 — Licensing has been an important product segment in bulk vending for 20 years now...

Consumer Insights Are Not Necessarily Good PR Strategies. Just Ask Mattel. March 22, 2013 — Hear about Mattel? Research told them that the flat sales of their toy car lines...

"Made in America?" Not Any Time Soon. March 22, 2013 — Allow me to be the group historian for a minute. Does anyone remember...

Glide Bikes Ride Into Charity Giveaway. March 21, 2013 — The third company to solidify their position in TDmonthly's Spring Giveaway promotion is Glide Bikes. They'll be donating 10 top-quality balance bikes of different sizes to the lucky retailers who win this year's contest to pass on high-quality toys to their local charities. Ed Mondello, president of Glide Bikes, is especially excited that many of the bikes will be donated to special needs kids. "Our bikes are singled out by physical therapists — particularly those who work with children with Down syndrome or who are on the autism spectrum," said Ed. "Though there are lots of balance bikes out there, ours are the only ones that feature a relaxed geometry that allows the bike to balance at lower speeds. Ours are also adjustable in the handlebars and seat. We are more recommended by professional who work with special needs kids than any other balance bike." Glide Bikes come in a variety of sizes for all ages, including adults. Glide Bikes joins Safari Ltd. and Infinitoys in this latest promotion. Retailers! Enter now! The contest ends March 28.

Chemical, toy industries oppose bill requiring phase out of children's products with potentially toxic chemicals. March 21, 2013 — Parents, public health advocates and small business owners squared off with representatives from the chemical, toy and retail industries...

2013 Toy Fair: ThinkFun Math Dice Powers. March 21, 2013 — No, not super-hero powers, but exponents. ThinkFun is always one of my favorite booths...

Chinese toymakers say Lego's new plant could affect competition. March 20, 2013 — Danish toymaker Lego Group plans to start building its first factory in China next year, but some local toy manufacturers...

Deloitte: Consumer Spending remains steady in February. March 20, 2013 — The Deloitte Consumer Spending Index remained steady in February primarily as a decline in initial...

Tablets Threaten Toy Story in Asia. March 20, 2013 — In the age of tablets and smartphones, traditional toy makers are struggling...

EEOC claims Toys 'R' Us discriminated against deaf job applicant. March 20, 2013 — The U.S. Equal Employment Opportunity Commission sued Toys "R" Us, alleging the company broke the law when...

Toy maker Lego plans to build first China factory. March 19, 2013 — Danish toy maker Lego said on Monday it plans to build its first factory in China...

Should Mattel or Hasbro Buy LeapFrog? (VIDEO). March 19, 2013 — While LeapFrog (NYSE: LF ) reported great earnings this quarter, shares have been somewhat stagnant...

Toy Industry Foundation Holds Record-Breaking Toy Drive at Toy Fair 2013. March 19, 2013 — The Toy Industry Foundation (TIF) held its most successful one-day toy collection in the ten-year history of The Toy Bank...

Easter Bunny Keeps Frugality In Mind This Year, According To NRF. March 18, 2013 — Americans will celebrate Easter in style and on budget this year according to NRF's Easter Spending Survey...

The ultimate age of retail. March 18, 2013 — Retail innovation cycles last approximately 20 years. As we take a look at retail history...

Breaking Rules In The Toy Business. March 18, 2013 — While kicking around the possibility of getting into the toy business, entrepreneur Nicholas J. Webb found...

Choco Treasure Eggs Avoid U.S. Ban On Toy-Filled Candy With New Design. March 18, 2013 — For the past 75 years, American children have been deprived of one of the great joys...

Save the Toy Store campaign raises more than $75,000. March 15, 2013 — A push to save an Edwardsville, Ill. toy store moved into its final hours...

Private Equity's $36 Billion Retail Bet Not Going So Well. March 15, 2013 — In the years before the recession, private-equity firms put so much faith in the future...

Disney and Warner are in a race down the Yellow Brick Road toward $$$ City. March 15, 2013 — The Walt Disney Co. struck it rich this past weekend with its "The Wizard of Oz" prequel "Oz the Great and Powerful"...

Top-Drawer Educational Sessions for Toy Inventors Added at ASTRA's Marketplace & Academy. March 15, 2013 — The American Specialty Toy Retailing Association (ASTRA) announced today that it is collaborating with the Chicago Toy & Game Group (ChiTAG) to provide toy inventors and specialty manufacturers with strategies for bringing new toy innovations to market...

Kid Brands names new CEO. March 15, 2013 — Kid Brands, a manufacturer of juvenile and infant products has announced the appointment...

Do Videogames Cause Stress in Kids? It's Complicated. March 15, 2013 — Last September at Stanford's Medicine X, a conference on the future of medicine...

Disney Expands Marvel Universe With Hulk and Avengers Series. March 15, 2013 — Avengers, assemble — for a new TV gig! Disney XD just announced plans to add two superhero-themed series...

Retailers Influence Strategic 'Disney Infinity' Delay To August. March 14, 2013 — In a move Disney Interactive's John Pleasants insists is not related to development...

Hasbro Hopes Girls Want Toy Guns Too. March 14, 2013 — The toy business isn't what it used to be, with kids in...

Lego Builds New Billionaires, Topples Mattel. March 14, 2013 — Lego A/S, the Billund, Denmark- based toymaker famous for its colorful building bricks...

INFINITOY to Take Zoob Challenge to Retailers' Favorite Charities. March 13, 2013 — Infinitoys, makers of the unique Zoob construction toy, is the latest company to sign on to TDmonthly's charity giveaway promotions. After 3 successful promotions last year, with more than $60,000 worth of high-quality specialty toys donated to dozens of schools and charities and thousands of kids, TDmonthly is holding a new promotion that runs through ASTRA Marketplace. Greg McVey of Infinitoy is excited about "helping needy kids further their skills," with his Zoob Challenge sets, which strengthen kids' STEM skills. Infinitoys joins Safari Ltd. as a sponsoring vendor for the spring giveaway. Vendors: There are only 8 more spots left! Retailers — win a chance to give away these toys! Read more.

U.S. Retail Sales Jump. March 13, 2013 — Retail sales in the United States rose more than expected in February...

Toys R Us Recalls Imaginarium Activity Walker Due to Choking Hazard. March 13, 2013 — The walker was sold exclusively at Toys R Us stores nationwide and online at www.toysrus.com from August 2011 through January 2013 for about $30. The small bolt and spacer that attaches each front wheel to the walker can detach, posing a choking hazard to young children. Consumers should stop using the recalled walker immediately, put it out of reach of young children and return it to a Toys R Us store for a full refund or store credit.

Job openings rise in January on retail bounce back. March 12, 2013 — A bounce back in vacant retail positions lifted the number of jobs...

Retail Imports To Increase 2.3 Percent In March Despite 'Sequestration' Delays At Ports. March 12, 2013 — Import cargo volume at the nation's major retail container ports is expected to increase 2.3 percent...

Disney Cancels Clone Wars on Cartoon Network, Postpones Star Wars: Detours. March 12, 2013 — After months of fan excitement and upbeat rumors following Disney's acquisition of Lucasfilm...

Which Is Better For Retail Sales, Online Or Offline Customer Engagement? March 12, 2013 — Now that online sales are growing at approximately 10 times the rate of brick...

Toddlers, Technology and the Well-Rounded Toy Box. March 11, 2013 — We have all seen the astonishing YouTube videos of babies masterfully using technology...

Retail sales expected to have increased. March 11, 2013 — Sales at U.S. retailers in February have been projected to have increased 0.5 percent...

Would Skylanders Toys Succeed Without The Video-game. March 11, 2013 — As Skylanders Swap Force promises to expand Activision's toy range, I test whether the...

U.S. Divers and Aqua Lung Sport Brand Youth Snorkeling Masks Recalled Due to Laceration Hazard. March 8, 2013 — This recall involves Santa Cruz Jr. single paned, tempered glass youth snorkeling masks sold under the U.S. Divers and Aqua Lung Sport brands. About 130,000 units were sold individually, with a snorkel or as a set with snorkel and fins, at Academy, Dick's, The Sports Authority and other sporting goods stores nationwide and online at Amazon.com and other Internet retailers from March 2011 through July 2012 for about $10 individually and $30 as a set. Consumers should immediately stop using the recalled masks and contact U.S. Divers for a replacement mask.

Barbie Celebrates 54 Years as the Number One Fashion Doll With Introduction of a New Doll. March 8, 2013 — In celebration of Barbie® doll's 54th birthday, dolls of all ages can commemorate their own special day with the new Birthday Wishes® Barbie® Doll...

Disney Mobile's Bart Decrem on Trying to Find a Happier Ending for Games Unit. March 8, 2013 — Ask Disney Mobile SVP Bart Decrem what Disney is doing with games...

Kids need to step up physical activity, report says. March 8, 2013 — Despite years of prodding from their parents, teachers and doctors, kids and teens...

Mind games: Using brain waves to play a video game. March 8, 2013 — Lat Ware placed the NeuroSky headset on my 10-year-old son's head...

SAFARI LTD. SIGNS ON FOR THIRD CHARITY GIVEAWAY. March 7, 2013 — Florida-based Safari Ltd., manufacturer of realistic animal and fantasy figures that come with educational hangtags in five languages, has just signed on for their third TDmonthly promotional Charity Giveaway. A family-owned company that employs U.S. sculptors, Safari Ltd. has demonstrated a commitment to charity, the environment, and social causes since the company was founded in 1980. "From the very beginning, the founders' mission was to educate children and adults alike about our fragile ecosystem and its inhabitants," explained CEO Ramona Pariente, who joined the company in 1985 and took over in 2003. (Read article). Only ten manufacturers and four retailers can sign on for this program, which runs from now til just after the ASTRA Marketplace ... and spots are going fast! Learn more.

U.S. Retailers See Tepid Growth. March 7, 2013 — U.S. retailers are posting moderate sales for February, dealing with mixed signals like...

Pawtucket-based Hasbro lays off 40 employees. March 7, 2013 — Pawtucket based Hasbro laid-off forty Rhode Island workers on Wednesday as...

How Disney Bought Lucasfilm—and Its Plans for 'Star Wars'. March 7, 2013 — One weekend last October, Robert Iger, chief executive officer of Walt Disney (DIS), sat...

Retail sales have case of the blahs after uninspired February. March 7, 2013 — Americans went about their shopping with a "meh" attitude in February, fretting...

Play important in brain development, expert says. March 6, 2013 — Playtime is just as important to early childhood brain development as proper nutrition...

Matchbox Celebrates 60 Years of Unstoppable Heroic Vehicle Adventures. March 6, 2013 — From fire trucks to dinosaurs to police cars in pursuit, Matchbox® has ...

Retail Investor Sentiment Near All-Time High: TD Ameritrade. March 6, 2013 — "Retail investors and professionals are both bullish on stocks," said Tom Bradley, president...

LEGO Thrives Amid Struggling Economy. March 6, 2013 — Budget cuts, layoffs, and furloughs. Between the struggling economy and government sequestration...

Can the iPad Rescue a Struggling American Education System? March 6, 2013 — Matthew Stoltzfus could never get his students to see chemistry like he sees...

Amazon: The Second Most Desirable Tablet Vendor. March 6, 2013 — Amazon (AMZN) has had a hell of a ride in the tablet market...

More and more apps are becoming physical toys with access to digital feature. March 5, 2013 — The beauty of app games is they are mobile and self-contained...

Bill bans retailers' credit card surcharge. March 5, 2013 — Washington may join 10 other states that now prohibit merchants from adding credit card...

Video Games May Improve Reading Skills In Children With Dyslexia: Study. March 5, 2013 — Think video games are bad for kids? You might have to reconsider. A team...

LeapFrog adds math and science to kids 'edutainment' products. March 5, 2013 — After 15 years, California is ditching its push for all eighth graders to take Algebra I...

What's new and what's worth keeping in the toy basket. March 5, 2013 — In a megabyte-driven world, you'd think kids would be playing solely with...

Hess Toy Trucks To Continue. March 5, 2013 — While Hess is getting out of the gas station business and ridding...

Mega Brands working on five-year plan to expand Canadian toy production. March 4, 2013 — Mega Brands is looking at further expanding its Canadian toy manufacturing capacity...

Classic Toys Redesigned to Traverse Generations. March 4, 2013 — To Hasbro, no one is too young or too old to play with a...

Toy Marketer Learns Digital Lessons The Hard Way. March 1, 2013 — Last week I sat down with Will Coleburn, a CMO employed most...

Improv Electronics Reports Strong Boogie Board LCD eWriter Sales Through Toy Channel. March 1, 2013 — The numbers are in for the 2012 holiday season and high volume sales of Boogie Board®...

Toys R Us CEO Talks Exclusive Disney Infinity Figures. March 1, 2013 — Talking to Gerald Storch, CEO and Chairman of Toys R Us, at the...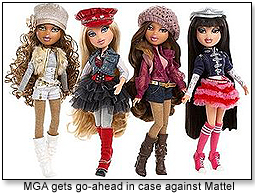 MGA's Trade-Secret Claim Against Mattel to Proceed. February 28, 2013 — A California District Court has ruled Bratz maker MGA Entertainment Inc. can proceed with a case...

Consumer confidence rebounds in February. February 28, 2013 — Consumer confidence rebounded in February, reversing three straight months of declines, according to...

A New Furby Toy. February 28, 2013 — Furby has a new little sister — or maybe brother. In stores this week...

Why retailers are pinning hopes on Pinterest. February 28, 2013 — After a tough day at work as a publicist in Minneapolis, Becca Bijoch would often...

The Surprising Retail Winner In Mobile Apps. February 28, 2013 — When it comes to mobile applications, an unlikely sector is crushing the big department stores...

Glass half full. February 28, 2013 — Sixty percent of retailers with at least two years of negative comps turn them positive...
THIS BANNER IS AN AD:
---
---