---
2013 New York Toy Fair Toy Trends, Toy Buzz, and Toy News
TDmonthly Magazine is keeping track of the latest Toy Industry news during the 2013 New York International Toy Fair and closely monitoring the hot new trends being spotted on the floor of the Javits center. Keep track of all the news and trends being spotted on the floor in our live coverage of the show.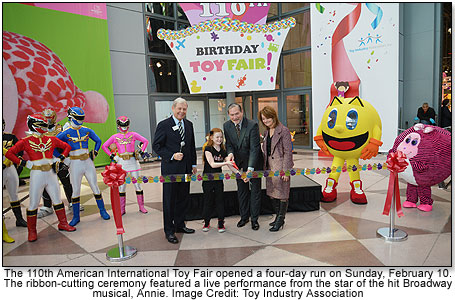 WATCH TOY FAIR VIDEOS - Day 1
WATCH TOY FAIR VIDEOS - Day 2
WATCH TOY FAIR VIDEOS - Day 3

2/18/2013
Industry analyst Lutz Muller spoke with 5 buyers for large retailers about Toy Fair. See what they had to say about the show, and read Muller's predictions for 2013, here.

TOY FAIR DAY 3

2/13/2013 11:34 AM EST

Popular Science has released their "Best of Toy Fair." Though they noted that "Appcessories" were everywhere, they decided to pretty much ignore those toys altogether. One exciting find? Innovation First's Hexbug Nano V2. This version of the Hexbug Nano is now faster and stronger, so it can climb through tubes. Expect to see new Hexbug habitats based on this feature in the Fall. See their other discoveries here.

2/13/2013 10:53 AM EST

Rody horses, a bouncy ride-on toy from TMI Toymarketing Intl, Inc., have been a favorite in specialty toy stores for years. We spoke with the company to learn more about their products, and what they have in store for 2013. You can see their line in person at NY Toy Fair Booth# 927 & 1028.

2/13/2013 9:43 AM EST

Are tablets still the hottest new toy for kids? Whereas last year tablets specifically made for kids abounded, this year's focus seems to be more on toys that can interact with iPads, rather than tablets themselves. There are a few notable exceptions (VTech's Innotab 2 Baby; Lexibook's Hasbro-licensed tablets), but the toys getting the most buzz are ones like Mattel's Barbie Digital Makeover Mirror, which digitally adds make up to a person's real reflection, and Fisher Price's Imaginext Apptiivity Fortress, elements of which are used as controls for actions in the connected App.

With toy sales essentially flat in 2012, it seems that toymakers are turning away from simple App-based toys, instead developing products that are physically essential to the digital or online games that kids so love, which now veer closer to the label of "augmented reality" than plain old App. ABC News explores this trend here.

TOY FAIR DAY 2

2/12/2013 3:53 PM EST

Saban Brands announced in a press release the continuance of their licensing partnership with Nickelodeon, as well as a newly-forged partnership with game company USAOpoly, which will be releasing Power Rangers Monoply and Trivial Pursuit games, to celebrate the 20th anniversary of the property.

2/12/2013 3:49 PM EST

Science/Pop Culture blog io9 has released their "40 Most Amazing Toy From Toy Fair." The list mainly features action figures and other licensed toys aimed toward the adult collector - you can see images and descriptions here.

2/12/2013 2:52 PM EST

Is lack of innovation the cause for flat toy sales in 2012? And will a "hot" toy, like Zhu Zhu Pets or Tickle Me Elmo, emerge at the 2013 New York Toy Fair? CNBC explores these questions in an article that seeks the route of the toy industry's lackluster growth. Read it here.

2/12/2013 1:00 PM EST

Children's tablet creator Lexibook announced in a press release a deal with Hasbro to release licensed kids' tablets. The first product to be released with be the LEXIBOOK® TABLET FURBY, which is designed specifically to interact with Furbys.

The Rock Father has the scoop on Playskool's Fall 2013 Sesame Street toys, which includes character-themed trains and Big Hugs Elmo.

2/12/2013 12:47 PM EST

MGA Entertainment has announced in a press release that they are partnering with Nickelodeon to produce a 52-episode Lalaloopsy™ cartoon for preschoolers, based on the bestselling toy line.

2/12/2013 12:30 PM EST

GIANTmicrobes, known for their plush virus and bacteria toys, has unveiled a new line of "Computer Virus" plush at Toy Fair.

Furreal Friends from Hasbro has a new character called "My Giggly Monkey." This life-sized interactive monkey makes more than 100 sounds and speaks phrases.

While much conversation surrounding gender in the toy industry has focused on girls toys vs. boys toys, The Rock Father brings up the disparity in toy advertising geared toward moms vs. dads. After receiving hundreds of Toy Fair press releases, the writer wonders why toy companies are ignoring Dads. You can read his post here.

2/12/2013 10:03 AM EST

Digital to Analog Games
Following the success of Mattel's Angry Birds Knock on Wood Game, several companies are creating card and board games based on popular online and video games. USAOpoly is releasing a Skylanders Monopoly in Summer 2013, and Hasbro is creating a "Bejeweled" board game and an analog version of the popular online game "Draw Something," according to the LA Times.

2/12/2013 9:50 AM EST

More New Tech Toys
CNet is reporting on some of the hottest tech toys at the show. BattroBorg from Tomy are wirelessly controlled fighting robots (like a high-tech Rock 'em Sock 'em Robot); Hot Wheels Triple Track Twister from Mattel hooks up to an iPad, and the app then captures the physical track and creates a digital landscape around it; and Ubooly are stuffed animals that come to life when inserted with an iDevice.

It seems like buzz-creating robotic dogs have been popping up a lot this year (there were two of note at the Tokyo Toy Show), and Toy Fair is no different. USA Today reports that Spin Master's "Zoomer" is "the runaway hit so far." The dog pees on command, responds to human voices, and features progressive learning (similar technology to what's used in Furbys), so the longer it is played with, the more responsive it becomes.

2/12/2013 9:38 AM EST

Douglas Company has unveiled a new line called Dreamy Dress-Up Wings™. There are 13 designs of the handmade, handpainted wings, including butterfly, bumblebee, dragon and bat wings. You can check them out at booth #639 at Toy Fair.

TOY FAIR DAY 1
2/11/2013 5:02 PM EST

Check out this Toy Fair 2013 day 1 recap video from ABC News, featuring Spin Master Ltd's Flutterbye and Boom Boom Balloon, Epic Bubbles from Be Amazing Toys and more.

2/11/2013 4:34 PM EST

Aurora World has announced a My Little Pony plush line for 2013, and has shared a picture of the new toys on their Facebook page. The line includes plush ponies along with purses and My Little Pony Fancy Pals Pet Carriers.

2/11/2013 4:07 PM EST

Video game site Kotaku is reporting that exclusive Skylanders figures that were given out at Toy Fair are already being put up for sale on eBay.

Publisher's Weekly reports that the majority of the 20+ publishers exhibiting at Toy Fair are "writing orders and having meetings as scheduled," in spite of the weekend's big storm.

2/11/2013 2:18 PM EST

NPR scoured the show floor and found that temporary tattoos and "extravagant fake mustaches" seemed to be emerging trends. During a tour of Crayola's booth, the reporter was shown a new set of markers that only write on a special, Crayola-made paper. He was also impressed by Sand Puff from MCA Sand which, according to the company's website, is a non-toxic, antibacterial sand with clay-like qualities that can be molded into shapes, but which "easily reverts back to sand."

ABC News has a photo slideshow featuring some buzzworthy tech toys, including the The Barbie Digital Dress Doll (create LED designs for her outfit), The Nerf N-Sports Cyberhoop (A classic basketball hoop that connects to an app to track a player's success), Fisher Price's Imaginext Apptivity Fortress, and more, all of which can be viewed here.

2/11/2013 1:51 PM EST

Want to see new toys from Toy Fair up close and personal? Then check out these 2013 New York Toy Fair Videos. Product shown include the Barbie Digital Makeover Mirror, Big Hugs Elmo, Spin & Skate Dora & Boots, LEGO Star Wars, and more.

2/11/2013 12:06 PM EST

The Toy Industry Association held its 13th annual Toy Of the Year Awards and named the following winners:

Toy of the Year - LEGO® Friends

"People's Choice" Award - LeapPad2™ by LeapFrog Enterprises, Inc.

Activity Toy of the Year - LEGO® Friends

Boy Toy of the Year - Teenage Mutant Ninja Turtles Shellraiser (Playmates Toys)

Connected Toy of the Year - Skylanders Giants™ by Activision Publishing, Inc.

Educational Toy of the Year - LeapPad2™ by LeapFrog Enterprises, Inc.

Game of the Year - Perplexus Epic™ by PlaSmart Inc.

Girl Toy of the Year - LEGO® Friends

Infant/Toddler Toy of the Year - Tranquil Turtle™ by Cloud b

Innovative Toy of the Year - Digital Light Designer by Crayola

Outdoor Toy of the Year - The Original Big Wheel™ by Kids Only, Inc., a division of JAKKS Pacific, Inc.

Preschool Toy of the Year - Doc McStuffins "Time For Your Check-Up" Doll by Just Play

Property of the Year - Teenage Mutant Ninja Turtles by Nickelodeon

Specialty Toy of the Year - LEGO® Architecture by The LEGO Group

You can learn more about the awards ceremony, and the winning toys, in the press release.

2/11/2013 10:26 AM EST

You can view a slideshow of LEGO's new offerings over at Geek Exchange.

New tech toys, as reported in a Fox News video, are getting some buzz at the 2013 New York Toy Fair. LEGO is introducing their new Mindstorms EB3 robotic toys, which can be paired with iPhone and Android apps to control the robots from your electronic devices.

2/11/2013 10:26 AM EST

Smart Toys and Games Inc. announced in a press release today a partnership with the popular Angry Birds license. Two game have been announced so far: Angry Birds Under Construction and Angry Birds on Top.

Pressman Toy will also be making physical games out of a video game property in its new partnership with Activision. They've announced several games so far, including a Skylanders Giants War Card Game, Skylanders™ Pop 'N' Race, and Skylanders Giants Block and Blast Game.

2/11/2013 9:50 AM EST

You can see a slideshow of photos from Hasbro's booth, featuring action figures and more, at ComicsBeat.

Coming off the boosted popularity of archery, in large part attributed to The Hunger Games, Hasbro has unveiled Nerf Rebelle, a line of Nerf toys designed specifically for girls. Equal in power to the products in the Nerf Elite line, the Rebelle product offerings feature designs in pink and other colors that will appeal to girls.

2/11/2013 9:39 AM EST

We spoke with one manufacturer who said that traffic seemed slow throughout the venue yesterday, likely the result of a major storm that thrashed the East Coast over the weekend.

MEGA Brands has announced a new Mega Bloks Hot Wheels line that will be released in 2013. They are also showing new additions to their Barbie line and Thomas & Friends line expansion.

Engadget reports that Hasbro is showing a new Furby called Furby Party Rockers, while Hasbro's Transformers Rescue Bots Beam Box takes a page from Skylanders' book. This toy gets put in a "beam" that sends it to the TV, where kids can play a game featuring that character.

2/11/2013 9:27 AM EST

Saban Brands has named Fisher-Price the master toy licensor for Julius Jr., a new property based on a series set to launch on Nick Jr., according to a press release. Fisher-Price has also unveiled a new line of Thomas the Tank Engine toys - a classic wooden railway set.

Meanwhile, with such a buzz over the popularity of construction toys, LEGO is giving everyone something to talk about with their new and expanded lines. Geek Exchange reports that building sets based on Disney's forthcoming The Lone Ranger and Teenage Mutant Ninja Turtles will be available in 2013, along with Marvel and DC Super Heroes line additions based on Spider-Man, Iron Man 3, and Man of Steel. You can see some pictures of the lines here.

2/11/2013 9:20 AM EST

The NPD group has released data on the toy categories that saw the biggest gains in 2012, and the list is led by building sets/construction toys, sales of which increased a whopping 19.7%. Arts & crafts, dolls, and infant/toddler toys also saw a boost in sales. This aligns with a couple of the TIA's predicted toy trends for 2013, namely, construction toys and arts & crafts.

Sales of licensed toys increased by 2%, and made up 30% of all toy sales in 2012. According to analyst Lutz Muller, licensed toys based on movies to be released in 2013, like Mattel's toys for the movie The Croods or Hasbro's offerings for Thor - The Dark World, are expected to sell very well in the coming year. You can see more of his predictions here.

2/10/2013 4:25 PM EST

The 110th annual New York International Toy Fair opened this morning, with an estimated 20,000 retailers, buyers, and other industry insiders expected to check out the 1,000+ companies exhibiting at the show, according to a press release from the Toy Industry Association.

The TIA also released a list of some of the major trends being spotted on the floor:

Retro/Nostalgic Toys - Specialty retailers have something to smile about, with classic toys being hailed as a top trend for 2013. These classic toys are simple but fun, and appeal to parents and kids alike, making them great options for family bonding.

Pop Culture - According to the TIA, these are "DIY toys inspired by the success of reality TV shows that celebrate the talent and skills of contestants." One example is Fashion Angels' line of Project Runway arts & crafts toys.

Immersive Virtual Play - These augmented reality toys allow kids to simultaneously play with physical toys and explore digital worlds. One example that's making a big splash in this category is Activision's newest iteration of its Skylanders game - Skylanders Swap Force (Watch Video)

Toys for Teens & Tweens - Toymakers are using hot licenses to bring teens and tweens back to toys and games. Zoofy International is making the most of this trend with their Lalaloopsy Earbuds and One Direction Alarm Clock.

Toys on the Go - Families seem to be on the go more than ever these days, and toymakers have responded by creating portable, dynamic toys and games that can entertain kids anywhere they go. The 2013 Game of the Year Award-winning Perplexus Epic is a perfect example.

Construction Toys - Always a classic, construction toys are increasing in popularity, thanks to licensing partnerships, tech innovations, and line expansions. LEGO's newLegends of Chima line is a budding hit, following on the heels of their 2012 Ninjago success, and a MEGA BLOKS/Skylanders construction line will appeal to parents who want to limit their kids' screen time.

What other toys and trends will rise to the top at the 2013 New York Toy Fair? Stay tuned to find out!

Writer's Bio:
Justina Huddleston graduated Magna Cum Laude from Emerson College with a BA in Writing, Literature, and Publishing in 2009. After graduating she was the on-site director of the Boston Children's Museum gift store for a year, selling educational, developmental, and creative activity toys that tied in with the museum's exhibits. Justina also interned at children's book publisher Candlewick Press before moving from Boston to Los Angeles, where she is now Editorial Director of
TDmonthly Magazine
.
Read more articles by this author
THIS BANNER IS AN AD:
---
---