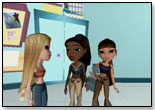 MGA Entertainment is propelling its hugely successful line of BRATZ fashion dolls into the home entertainment arena in a big way. The BRATZ characters already have a 2D animated feature under their fashion belts. This fall, they will take on a CGI animation look with the new "BRATZ Rock Angelz" feature-length DVD, produced in conjunction with 20th Century Fox Home Entertainment. The DVD is only one aspect of the upcoming Rock Angelz phenomenon. There also will be a full-length rock album through Universal Music Enterprises and a video game through THQ Interactive.
ToyDirectory Product ID#: 3539
(added 5/11/2005)
.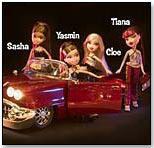 Paint the town red with Fabulous BRATZ. Sasha, Yasmin, Cloe and Tiana are ready for a night out with their F.M. Cruiser, sold separately. Each doll comes with an assortment of accessories and a pair of high boots. The dolls are sold with a collectible poster, key chain and stylish hand bag.
ToyDirectory Product ID#: 3195
(added 3/9/2005)
.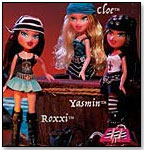 Pirate booty and treasure chest take on new meaning this season with BRATZ Treasures. The hip dolls - clad in jewels, high leather boots and head scarves, with silky long hair - come with Rouge-Vogue accessories like sunglasses and earrings. They can even go mobile with the Scorchin' Sea Scooter, sold separately.
ToyDirectory Product ID#: 3194
(added 3/9/2005)
.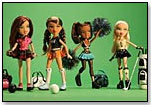 BRATZ dolls are bringing style and attitude to the world of sports this spring with BRATZ Sportz, when the girls we've come to love bring their own mojo to athletic pursuits. The girls come in four styles – Slammin' Soccer, Rockin' Cheerleadin', Groovin' Golf, and Bangin' Bowlin'. Don't let the girls' fashion sense disguise their competitive groove. They won a 2005 Dr. Toy award.

ToyDirectory Product ID#: 3193
(added 3/9/2005)
.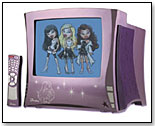 As part of its Electronic Funk Collection, MGA Entertainment will introduce a variety of BRATZ-themed products that extend from the doll world into the electronic realm. A lip-stick shaped MP3 player, video camera and TV/DVD combo player are three of the new products in this line. Now kids can enjoy their favorite multimedia products from their very own BRATZ player.
ToyDirectory Product ID#: 3015
(added 2/25/2005)
.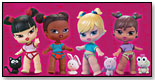 Make way for the younger sisters of the highly fashionable BRATZ dolls. BRATZ Babyz come equipped with an animal accessory and fashion pack for a Babyz night out, and feature the same vixen-like large eyes peering out from oversized heads as their older sisters. Attached to the packaging is a full-color memory book highlighting the Babyz line.
ToyDirectory Product ID#: 2286
(added 2/3/2005)
.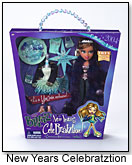 This limited edition, holiday-themed Bratz doll appeals to the collectors and general fans of the Bratz line.
-- The Yasmin doll comes with a host of accessories and clothing.
-- Ranked #19 on Amazon.com and #9 on MySimon.com top selling dolls lists.
-- According to Xtramsn.com, ". . .consumers and toy writers voted the Bratz Tokyo-A-Go-Go Dance ´N Skate Club an Ultimate Toy Award in the dolls and accessories category."
Being a limited edition collector's item, this Bratz doll is bound to make this a success through the holidays. Expect sales to decline later as true collectors have already made their purchases.
ToyDirectory Product ID#: 2048
(added 12/23/2004)
.