December 2014 New Specialty Toys — Board Games
6 TIME X-GAMES GOLD MEDALIST CREATES A BOARD GAME INSPIRED BY DAUGHTER! Bucky Lasek's Ramps and Rails game play is mix between a fun chute and ladders race and an educational tool, which helps children better understand the relationship between numbers and spaces. Recent trends in accelerated learning of science and technology have shown the "count-on" method of play yields real benefits for children with their ability to use numbers.


ToyDirectory Product ID#: 37092
(added 12/18/2014)
.
Bellz is deceptively simple and yet supremely challenging at the same time. Just open the travel pouch and you're ready to play! The pouch opens to become the game arena. Inside there are 40 custom bells in 4 colors and 3 different sizes. Players use the magnet wand to pick up bells of only one color. Make a string off the end of the magnet wand, or create a cluster — just don't pick up bells of any other color or the turn is over. Each player must decide how far to push their luck on every turn. The first player to collect all 10 bells of one color wins!
The magnet wand can be used two ways:
Use the small end for precision grabs, or try the larger, more powerful end to make really long chains. You choose which end to use each turn.
ToyDirectory Product ID#: 37088
(added 12/17/2014)
.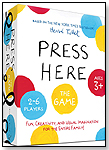 The magic of the New York Times bestseller Press Here is now available in game form! Hervé Tullet has reimagined his groundbreaking book in an entirely new dimension. Players take turns completing color sequences by placing red, blue, and yellow playing pieces on one of twenty-five fabulously designed game boards. What seems like a simple choice is likely to lead to animated discussion as players come to understand the visual logic at the heart of the game. With two levels of play to choose from—so that it's easy enough for a toddler to grasp, but also complex enough to challenge older siblings and adults—this engaging game delivers hours of entertainment for the whole family.
ToyDirectory Product ID#: 37041
(added 11/14/2014)
.

ANSWER 6 EASY QUESTIONS WRONG TO GET IT RIGHT. Sounds easy? Well, it should be – except that there is a short time limit and that our brains are wired to give the right answer to an easy question. Still sounds easy? Well, then let's add a rule that each wrong answer can only be given once. What!? Still too easy? Okay, then sometimes you have to give the right answer and sometimes the wrong answer. That should make it hard enough for you!
ToyDirectory Product ID#: 37016
(added 11/12/2014)
.
Age Range: 8 and up
Specialty: Yes (as of 2014)
SKU or Item #: MPH001
Gender: Boys And Girls
Pick it, build it, animate it, guess it. Get ready to make sounds, act out words and race against the other teams to see who can guess the mystery word. A laugh-out-loud game that challenges players to use 35 pieces to build words for their teammates to guess. The first team to reach the final lily pad wins.
Awards: 2014 TDmonthly Magazine Top Toy Award
ToyDirectory Product ID#: 36967
(added 9/24/2014)
.
Age Range: 4 and up
Gender: Girls
Colorful graphics depicting your favorite characters from the movie. Your Favorite Frozen Characters are popping up all over the place! Pop the popper and be the first to bring your pieces home to win the game! Includes: Disney Frozen Game Board, 16 Colored Pawns and Instructions. 2-4 Players, Ages: 4 and up. © Disney
ToyDirectory Product ID#: 36930
(added 9/2/2014)
.
Since 12/28/04 people have visited this page.