December 2015 New Specialty Toys — General Games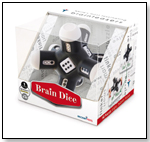 Incredible math game with thousands of challenges and solutions.
ToyDirectory Product ID#: 37460
(added 12/30/2015)
.
Help develop fine motor skills. Toss the dice to see what color you get, then choose an animal that have the same color as the one you rolled. The player that can balance the animals on the boat using the pincers without making it fall is the winner. The set consists of a boat, 6 pairs of animals, a dice, and a pincers. Ideal for 1 to 4 players.
ToyDirectory Product ID#: 37459
(added 12/30/2015)
.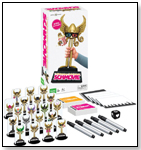 The object of Schmovie is to come up with funny titles for made-up movies based on a film genre (determined by the roll of a die) combined with an outlandish premise (generated by flipping two cards). Schmovie is all about creativity, humor and laugh-out-loud fun for the whole family. What would you call an action film about a killer sandwich? Rye Hard … Beauty and the Beef … Despicable Meatballs … you get the point. Collect Schquid trophies for winning titles as you laugh yourself silly. Inside each box of Schmovie Family Edition: 85 What cards, 85 Who cards, 19 Schquid trophies, 1 genre die, 5 erasable title boards, 1 rule sheet, 5 erasable markers, 19 trophy bases and unlimited awesomeness.
ToyDirectory Product ID#: 37452
(added 11/24/2015)
.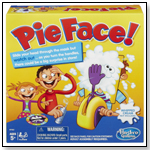 The exciting Pie Face game is filled with fun and suspense, and somebody's bound to get splatted! Just put some delicious whipped cream from home or the wet sponge on the "hand" of this hilarious game unit and start turning the handles. It could go off at any time, so keep your fingers crossed and hope you're not the one who gets a splat in the face! You score a point for every time you turn the handle without getting pie-faced, and the one who scores 25 points wins. Take some risks and hope for the best in this hilarious Pie Face game! Pie Face, Rocket Games and logo are trademarks of Rocket Games. 2014 Rocket Games. Hasbro and all related terms are trademarks of Hasbro.
ToyDirectory Product ID#: 37434
(added 10/26/2015)
.
Armadora is a 2-4 player area control game. Your objective is to claim the biggest portion of the dwarven gold mines. Each turn, you will choose to either place one of your tokens facedown to claim territory, or place a palisade to divide existing territories in two. The player with the highest strength in each territory wins its gold at the end of the game. The player with the most gold wins.
ToyDirectory Product ID#: 37410
(added 9/30/2015)
.
Play it risky or play it safe. Either way you just gotta stack it! Roll your dice and stack matching numbers on the dice tower. Just don't be the player who knocks down the tower because you'll score a big fat zero! But if you get all of your dice on the tower before it falls, everyone else loses out! For 2 to 4 players, ages 8 and up.
ToyDirectory Product ID#: 37409
(added 9/30/2015)
.
Since 12/28/04 people have visited this page.