February 2013 Notable Toys — Action Games
Wholesale Price: (Log in to view)
Minimum Order: (Log in to view)
Minimum Reorder: (Log in to view)
Dropship Available?: (Log in to view)
Ships From: (Log in to view)
Terms: (Log in to view)
Age Range: 6 and up
Specialty: Yes (as of 2013)
Made in: China
SKU or Item #: 1400
Gender: Boys And Girls
SUSHI STAX™ is the new fast-paced game that combines the fun of stacking with the unique challenge of using chopsticks! Incorporating the trendiness of sushi into a fun and challenging game, SUSHI STAX has players racing to build and balance a variety of sushi towers using only chopsticks or tongs to lift each piece! With various configurations on different cards, players must carefully balance the need for speed with precision and accuracy so that their pieces don't come tumbling down. Launch date: May 2013.
ToyDirectory Product ID#: 35915
(added 1/8/2013)
.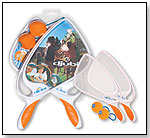 HOOK IT! LAUNCH IT! CATCH IT! Djubi Classic is the coolest new twist on the game of catch. A unique combination of a slingshot and lacrosse stick, Djubi Classic consists of a specially designed racquet with a net and launch hook and a ball with an elastic band. Djubi balls can be launched up to 100 feet and they're easy to catch with the Djubi racquets. Fathers and sons, college students, families and friends will find that Djubi Classic will take the old game of catch to an awesome new level of fun and excitement.
ToyDirectory Product ID#: 35774
(added 12/14/2012)
.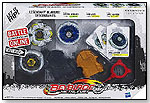 Age Range: 8 and up
Specialty: No
Gender: Boys
It's a pack of stamina, defense and more defense with the Legendary Bladers: Descendants 3-pack set of spinning battle tops. In the stamina column of this trio of fierce Beyblade tops is the Scythe Kronos T12EDS top, with a Spin Track part whose Tornado design helps create a sustaining vortex. Its Eternal Defense Spike Performance Tip part is for stamina and defense. Create custom top combinations by switching parts, and may the best top win.
ToyDirectory Product ID#: 35753
(added 12/11/2012)
.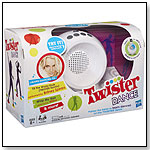 Rock the spots to today's hottest music with the Twister Dance Game. Learn dances by following the Twister spots to songs like "Till the World Ends" by Britney Spears or "Whip My Hair" by Willow. Or kids can dance to their own music by connecting the game to any MP3 player (sold separately).
ToyDirectory Product ID#: 35521
(added 11/15/2012)
.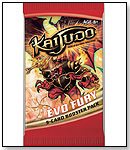 Booster Packs are blind packs that each contain 9 cards - plus a code card in each pack. Launch date: November 13, 2012.
ToyDirectory Product ID#: 35519
(added 11/15/2012)
.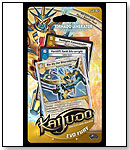 Evo Fury is the first expansion set for Kaijudo. All five Civilizations are represented. The Tornado Generator Competitive Deck has one super rare and one very rare foil card included; 40
cards total plus a code card. Launch date: November 13, 2012.
ToyDirectory Product ID#: 35518
(added 11/15/2012)
.
Since 12/28/04 people have visited this page.