August 2009 Notable Toys — Board Games - Trivia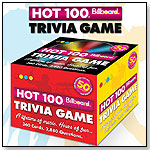 Fifty years ago, Billboard launched a revolutionary music chart called the Hot 100. Billboard's Hot 100 Trivia Game captures 50 years of music facts, designed to appeal to both passionate and casual music lovers. Played in a fast-paced team format, Billboard's Hot 100 Trvia Game creates a party atmosphere. It has 2,880 questions in four categories: Who Sang It?, Finish The Lyrics, Who Am I?, and Grab Bag. Launch date: March 15, 2009.
ToyDirectory Product ID#: 25133
(added 8/27/2009)
.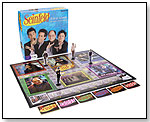 "The puffy shirt," "Crab Bisque," "Hello, Newman." Fans who recognize any of these phrases are ready for Pressman Toy's latest trivia game based on the hit sitcom "Seinfeld." Players join the show's quirky characters and their misadventures with more than 600 trivia questions and lots of surprises along the way. Players race around the board to visit Jerry, Elaine, George and Kramer, and go to Monk's Diner to guess the quote. The first person to get soup from you-know-who wins. Launch date: August 2009.
ToyDirectory Product ID#: 25058
(added 8/19/2009)
.

Wholesale Price: (Log in to view)
Minimum Order: (Log in to view)
Minimum Reorder: (Log in to view)
Dropship Available?: (Log in to view)
Ships From: (Log in to view)
Terms: (Log in to view)
Passing the Bar is a board game tested and approved by practicing attorneys. It was designed specifically as an entertaining supplement for law students to help them prepare for the multi-state bar examination. Passing the bar is "the only board game/gift/study aid for the 1.2 million lawyers and law students that involves former bar exam questions. It is sold in close to half the law schools in the country," Adam Reinhardt, vice president of P&R Educational Games, told TDmonthly.
ToyDirectory Product ID#: 23790
(added 5/20/2009)
.
Since 12/28/04 people have visited this page.