---
Families Conquer the World
Games Teach Kids to Play by the Rules



Families who play together can now kidnap cows, train a horse, or just vanquish the enemy. Following are some of the games that'll grace holiday tables after the meal's been cleared:




Pick Up Pete: The Self-Driving Chair Stacking Family Game by FOTORAMA
STACK THE CHAIRS WHILE PETE GOES AROUND - Whoever can stack the most chairs is eligible for a grand prize! The current record is 48 chairs TAKE TURNS STACKING - Stack your chairs in the back of Pete as he drives around in a circle, and whoever stacks all of their chairs first wins!!! FUN FOR THE WHOLE FAMILY - Pick Up Pete is the perfect game for game night, it is perfect for 1-4 players! HOURS OF PLAY - Pick Up Pete runs off of 2 AA batteries with a full 24 hour run time. INCLUDES - Motorized Pick Up Pete and 24 colored chairs (4 different colors)

AGES: 4+
PLAYERS: 2+
CONTENT: 1 PICK UP PETE, 24 COLOR CHAIRS











8/17/2020 [Add to my Inquiry Basket][?]




Pokemon Trading Card Game Battle Academy by POKEMON USA
Prepare for a Pokémon battle with the ready-to-play Pokémon Trading Card Game Battle Academy! The Battle Academy includes everything two players need to play, with guides to the decks so your first game is easy to follow.



You can choose Charizard or Pikachu to lead your team in a heads-up battle against another Trainer. Then, switch up the decks to play Mewtwo against Charizard or Pikachu, and lead a different team of Pokémon into the arena! With a little strategy and a little luck, you can battle with the best!




The Pokémon TCG Battle Academy includes:

3 complete Pokémon TCG decks (60 cards each)
Each deck includes a powerful special Pokémon: Charizard-GX, Raichu-GX, or Mewtwo-GX
2 tutorial guides to play right away
1 two-player game board
3 deck boxes to keep the cards organized
1 rulebook
1 large metallic coin
1 set of damage counters
A code card for the Pokémon Trading Card Game Online

More Details:

Country Of Origin: Printed in the USA. Coin made in the USA.
Materials: Paper / plastic
Recommended Age: 6





8/17/2020




Schmovie by GALACTIC SNEEZE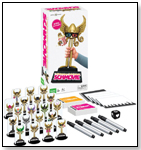 The object of Schmovie is to come up with funny titles for made-up movies based on a film genre (determined by the roll of a die) combined with an outlandish premise (generated by flipping two cards). Schmovie is all about creativity, humor and laugh-out-loud fun for the whole family. What would you call an action film about a killer sandwich? Rye Hard … Beauty and the Beef … Despicable Meatballs … you get the point. Collect Schquid trophies for winning titles as you laugh yourself silly. Inside each box of Schmovie Family Edition: 85 What cards, 85 Who cards, 19 Schquid trophies, 1 genre die, 5 erasable title boards, 1 rule sheet, 5 erasable markers, 19 trophy bases and unlimited awesomeness. 11/24/2015 (Price: $19.95; Age: 8 and up) [Add to my Inquiry Basket][?]



Pie Face Game by HASBRO INC.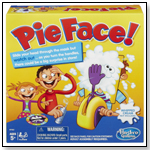 The exciting Pie Face game is filled with fun and suspense, and somebody's bound to get splatted! Just put some delicious whipped cream from home or the wet sponge on the "hand" of this hilarious game unit and start turning the handles. It could go off at any time, so keep your fingers crossed and hope you're not the one who gets a splat in the face! You score a point for every time you turn the handle without getting pie-faced, and the one who scores 25 points wins. Take some risks and hope for the best in this hilarious Pie Face game! Pie Face, Rocket Games and logo are trademarks of Rocket Games. 2014 Rocket Games. Hasbro and all related terms are trademarks of Hasbro. 10/26/2015 (Price: $19.99) [Add to my Inquiry Basket][?]



Armadora by BLUE ORANGE GAMES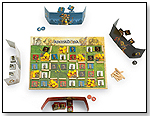 Armadora is a 2-4 player area control game. Your objective is to claim the biggest portion of the dwarven gold mines. Each turn, you will choose to either place one of your tokens facedown to claim territory, or place a palisade to divide existing territories in two. The player with the highest strength in each territory wins its gold at the end of the game. The player with the most gold wins. 9/30/2015 [Add to my Inquiry Basket][?]



Stack Attack by PATCH PRODUCTS INC.

Play it risky or play it safe. Either way you just gotta stack it! Roll your dice and stack matching numbers on the dice tower. Just don't be the player who knocks down the tower because you'll score a big fat zero! But if you get all of your dice on the tower before it falls, everyone else loses out! For 2 to 4 players, ages 8 and up. 9/30/2015 (Age: 8 and up)



Pickles to Penquins by OUTSET MEDIA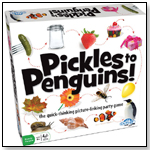 Pickles to Penguins is the quick-thinking picture-linking party game! Don't fret if the party gets frantic - the guests are probably just having a blast playing Pickles to Penguins - the frantic party game where you link the pictures to win. Get rid of your cards the quickest by figuring out what your cards and the cards in play have in common. Do they share a colour? Are they both things you find in a salad or bring to a party? Exercise your lateral thinking abilities, but don't be too hasty or you may have to pick up penalty cards for stretching a connection too far. Take a deep breath and let the chaos begin! Hundreds of pictures, but how many can you link together? 7/29/2015 (Price: $27.00; Age: 8 and up) [Add to my Inquiry Basket][?]



Crazy City by MINILAND EDUCATIONAL CORP


This is a fun magnetic game and part of Miniland's new 2015 On-The-Go collection. With Crazy City you use your memory to combine the pieces on the city streets, and then check that the models are the same as those on the outer board. This new collection comprises 6 crazy magnetic games. These are games of association with a large dose of imagination and excitement. Their format and design make them ideal for taking them wherever you go and for playing without limits. Made for children 3-7 years old. 4/28/2015 (Age: 3 to 7) [Add to my Inquiry Basket][?]



Beardos Name That Beard Game by HAYWIRE GROUP


Are you a facial hair aficionado? Do you think you know famous beards? Well then, this is your chance to impress! Players are given clues, one at a time, from the player wearing the beard card. The quicker you guess the famous beard, the more points you'll score. Can you Name That Beard? For 2+ players. 3/18/2015 (Price: $9.99; Age: 14 and up) [Add to my Inquiry Basket][?]



Cup-A-Cup by R&R GAMES INC.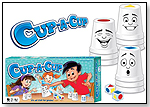 This game requires fast hands and fast reflexes. Roll the dice, quickly identify the missing colored shape and grab the matching cup. You will have to move fast since they are all up for grabs and the first to collect three cups wins the game. The game is for 2-8 players, ages 6+ and plays in 10-20 minutes.

2/19/2015 (Age: 6 and up) [Add to my Inquiry Basket][?]



Seagull Splat by GOLIATH GAMES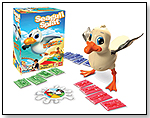 Split before he splats on you! Players squeeze the seagull's tail as he flies over the sunbathers below. The kid-powered pump on the seagull's tail randomly squirts bubble solutions; if he splats on your sunbather you lose a playing piece. This unique games provides hours of foamy fun for all ages! 2-4 players. 2/14/2015 (Price: $31.99; Age: 4 and up) [Add to my Inquiry Basket][?]



SPECTRACUBE™ Game by FUNNYBONE TOYS LLC


SPECTACULAR, QUICK, KALEIDOSCOPIC ROLLING CUBE GAMES
30 COLOR CUBES – 6 COLORFUL GAMES!
Imagine 30 of the most beautiful, multi-colored cubes you've ever seen. Fun to hold, fun to ROLL, and Spectracube includes rules for SIX different games, from fast to strategic, to satisfy all fans of rolling dice game action!

2/4/2015 (Price: $19.99; Age: 6 and up) [Add to my Inquiry Basket][?]



IDEAL® Word Speed Dice SlideTM by ALEX BRANDS

Spell words that combine the consonant cards in your hand with the vowel dice. The first person to shout out their word wins the hand. Includes 6 vowel dice, 53 cards, Dice Slide and easy-to-understand instructions. For 2-4 players. Part of a collection of games that include the storage and gameboard in one. Patented design allows you to take and play dice anywhere. Each game sold separately. 2/3/2015 (Price: $11.00; Age: 8 and up) [Add to my Inquiry Basket][?]



Kobayakawa by IELLO


IELLO's Kobayakawa is a quick and fun betting and bluffing game with a poker-like feel. In feudal Japan, powerful samurai clans battle for dominion over the land. But just being the strongest isn't enough. The powerful Kobayakawa clan shifts allegiance like the wind, bringing victory to the weak. Do you have what it takes to outsmart them? Kobayakawa is a simple card game for 3-6 players. Using just 15 cards, bluff and bet your way to victory over seven rounds. 2/3/2015 [Add to my Inquiry Basket][?]



The Sleepover Party Game by ENDLESS GAMES


Break out the sleeping bags and leave the lights on. It's a SLEEPOVER PARTY and we're staying up late! Spin the spinner and attempt to complete one of over 200 ACT IT, WORK IT, or PARTY Challenges. Be the Human Mirror and copy everything another player does! Take Part in the "Funny Sound Competition" and make the most ridiculous noise you can!! Try to lick your own elbow!!! Being silly and having fun is the name of the game at this Sleepover, so be prepared to sing, laugh, perform, and make a general fool of yourself! Don't fall asleep early, or you'll miss out on earning the most cards and staying up all night! Kids rule at the SLEEPOVER PARTY, but mom and dad can play too… if they behave! 1/20/2015 (Price: $19.99) [Add to my Inquiry Basket][?]



Pentago Jubilee 10th anniversary edition by MINDTWISTER USA


Pentago 10th anniversary commemorative Jubilee Edition is a two player, five in a row strategy game. A stylish, sleek black and white board is wrapped in an elegant smoky black cover; the marbles are a glamorous black and gold to make a powerful visual impression on all players. Pentago Jubilee is packaged in a clear clamshell packaging to show off the beauty of the game itself, the showy clear visual of the game, framed by a graphically appealing box that communicates the many awards Pentago has claimed over the decade. 12/18/2014 (Age: 6 and up) [Add to my Inquiry Basket][?]



Bellz by WIGGLES 3D

Bellz is deceptively simple and yet supremely challenging at the same time. Just open the travel pouch and you're ready to play! The pouch opens to become the game arena. Inside there are 40 custom bells in 4 colors and 3 different sizes. Players use the magnet wand to pick up bells of only one color. Make a string off the end of the magnet wand, or create a cluster — just don't pick up bells of any other color or the turn is over. Each player must decide how far to push their luck on every turn. The first player to collect all 10 bells of one color wins!
The magnet wand can be used two ways:
Use the small end for precision grabs, or try the larger, more powerful end to make really long chains. You choose which end to use each turn. 12/17/2014 (Price: $19.99; Age: 2 to 4) [Add to my Inquiry Basket][?]



Blurble by BERNARD GAMES

Blurble is a hilarious, fast-paced card game that is great for nearly all ages and group sizes. Flip over a card and be the first to say a word that starts with the same letter as the image on the card. Proper nouns, numbers, and words with fewer than three letters are not allowed. The winner of each card moves on to challenge another player, and the player with the most cards at the end is the winner. Aside from the hilarious gameplay, Blurble is also a great educational tool for children. 12/11/2014 [Add to my Inquiry Basket][?]



Press Here Game by CHRONICLE BOOKS FOR CHILDREN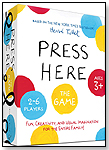 The magic of the New York Times bestseller Press Here is now available in game form! Hervé Tullet has reimagined his groundbreaking book in an entirely new dimension. Players take turns completing color sequences by placing red, blue, and yellow playing pieces on one of twenty-five fabulously designed game boards. What seems like a simple choice is likely to lead to animated discussion as players come to understand the visual logic at the heart of the game. With two levels of play to choose from—so that it's easy enough for a toddler to grasp, but also complex enough to challenge older siblings and adults—this engaging game delivers hours of entertainment for the whole family. 11/14/2014 (Price: $20.00) [Add to my Inquiry Basket][?]



Kanoodle Genius by EDUCATIONAL INSIGHTS INC.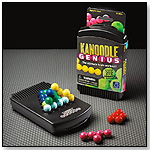 Solve 2-D and 3-D puzzles by rearranging game pieces. Pick a puzzle from the book, set up the challenge and then place the remaining game pieces to solve the puzzle. Kanoodle Genius offers 200+ brain-busting puzzles for you to solve all on your own. If you've completed the puzzles of the original Kanoodle, you'll love the even more challenging Kanoodle Genius. You'll feel yourself getting smarter. 11/13/2014 [Add to my Inquiry Basket][?]



Balanstix by CREATIVE CONCEPTS LLC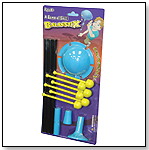 Balanstix is a game of skill! Everyone at one time in their life has balanced something, whether it was a book on their head or a tennis racket in their hand. This game has two distinct levels of competition and is great for Parties, Holidays, or just for fun. Looking for a way to increase your Balance skills, try Balanstix.

11/10/2014 (Price: $14.99) [Add to my Inquiry Basket][?]



Clumsy Thief by MELON RIND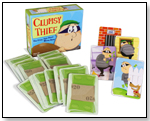 Can you make money stacks that equal $100? If you can, you take the money. Big money's up for grabs and every player joins the fun. This game requires addition skills, strategy, luck and a great sense of humor!

How To Play: Players make $100 money stacks from their dealt cards. Steal a stack if you have a card equaling $100 when added to the top card of your opponents' stack. But that's just the beginning! Thief cards steal money cards. Jail cards stop thief cards. In the end the player with the most money wins. Contents: 94 cards and game rules. Playing time: 15 minutes. Ages: 8+. Players: 2-6. 10/2/2014 (Price: $13.50; Age: 8 and up) [Add to my Inquiry Basket][?]



Morphology by PLASMART INC.


Pick it, build it, animate it, guess it. Get ready to make sounds, act out words and race against the other teams to see who can guess the mystery word. A laugh-out-loud game that challenges players to use 35 pieces to build words for their teammates to guess. The first team to reach the final lily pad wins.
Awards: 2014 TDmonthly Magazine Top Toy Award 9/24/2014 (Price: $29.99; Age: 8 and up) [Add to my Inquiry Basket][?]



Arachnarok Spider by GAMES WORKSHOP


In the darkest depths of the most sinister forests, even Giants and Cygors can fall prey to the colossal Arachnarok Spider. Towering over houses and settlements alike, this gargantuan creature can be goaded into battle by Forest Goblins who worship it as a living god. Bedecked with shanty towers, altars to the Spider-god or even crude catapults, the Arachnarok Spider will terrorise the Warhammer world. This 95-piece, all-plastic kit comes complete with all the options available to make your Arachnarok Spider truly unique, including a Flinger and a Catchweb Spidershrine. There are also eight Forest Goblin crew for the howdah, many tiny spiders to adorn the base and a Goblin Great Shaman if you choose to use the Arachnarok Spider as a monstrous mount. 7/31/2014 (Price: $57.75) [Add to my Inquiry Basket][?]



Quack-a-doodle-Moo by OUT OF THE BOX PUBLISHING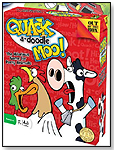 The party game where everyone is an animal...or at least sounds like one! In Quack-a-doodle-Moo each player gets a Barn Card with a random farm animal and the fun begins. As cards are quickly flipped over toungue-tied players stumble and stutter to blurt out the animal sounds of other players. 6/2/2014 (Price: $19.99; Age: 7 and up) [Add to my Inquiry Basket][?]



Matching Game Who Lives Where? by HABA USA/HABERMAASS CORP.
An excellent addition to the My First Play World series from HABA, the Who Lives Where? Matching Game will be both fun and educational for your little one! The animals are searching for their houses. Who will show them where they live? The charmingly detailed illustrations will help make the matching game easier. Also excellent in free play, the houses can be arranged to form a zoo. Stack the houses to put together an additional fun illustration or use the dots on the sides to introduce counting! The contents include 1 elephant (3" tall), 1 giraffe, 1 zebra, 1 lion, 1 hippo, 1 monkey, 6 animal houses (largest house is 4.75" x 5.00" x 3.00"). Perfect for children ages 18 months and up. 5/14/2014 (Price: $37.99; Age: 1 and up) [Add to my Inquiry Basket][?]



Splendor by ASMODEE EDITIONS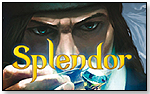 As a wealthy Renaissance merchant, acquire mines and transportation, hire artisans and woo the nobility. Create the most fantastic jewelry to become the best-known merchant of them all! Players will acquire precious stones to trade them for development cards. Use development cards to acquire more gem stones. Use your gems and gold to create the most fantastic jewelry, and appeal to the nobles to gain the prestige you need to win. 4/29/2014 (Price: $39.95; Age: 10 and up)



Quiddler Jr by SET ENTERPRISES INC.


QUIDDLER JUNIOR is a great word game for early readers and word masters alike. It's easy to learn and fun for the whole family. Each card contains a kid-sized word and colorful pictures that make it fun and easy to play and learn. Scoring is easier and more fun when using point chips. Kids have fun earning, adding and exchanging their point chips. Earn points by arranging the cards in your hand into one or more words. Each round the number of cards dealt increases starting with two cards per person and going to seven cards per person. Get 5 bonus points by having the longest word in any round. The player with the most points wins!

3/26/2014 (Price: $12.99; Age: 6 and up) [Add to my Inquiry Basket][?]



Toasted or Roasted by EDUCATION OUTDOORS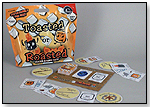 Toasted or Roasted Game is an Offensive/Defensive Board/Card game. The object of the game is to create a Camp fire and Toast three Marshmallows before any other opponent. The first goal is to get a fire starter card and start your campfire, Then you want to acquire a marshmallow card and then a Toasted card. But watch out your opponents can blow out your fire starter card with the wind card, Roast your marshmallow to a burnt crisp or Rain on your Campfire! A great family Game designed to be a take along for Camp outings. Packaged in a Water proof bag.

2/24/2014 [Add to my Inquiry Basket][?]



Dirty (blank) ing Card Game by TDC GAMES INC.


From the makers of Dirty Minds: If you've laughed your (blank) off at Cards Against Humanity, but can't carry it in your store, THIS game you can sell! Yes, you're really gonna (blank) yourself when playing The Dirty blank ing Card Game...a game for adults that's only as adult as the people playing. Just fill in the blanks of some completely innocent stories with some totally harmless words for an evening full of fun. 2/7/2014 [Add to my Inquiry Basket][?]



Yamie Chess: Rescuing Little Bu and the Knights of the Frozen Harp (Animated DVD) by YAMIE CHESS LTD


Forthcoming educational animated DVD comprised on 26 x 11 minute episodes teaching kids math and science lessons for school. Each cartoon features the inspiring Yamie Chess cartoons, who all correspond to a chess piece on the board.

2/5/2014 [Add to my Inquiry Basket][?]



Face to Face™ by HARVEST TIME PARTNERS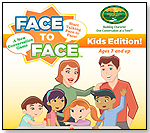 Face to Face™ conversation games strengthen the critical life skill of effective "Face to Face" communication. The games help kids, teens, and adults start great conversations on real-life issues, in real time, with friends and family. The games also reinforce the importance of building character through principle-based decision making. Three versions: Face to Face™ Kids Edition (ages 7 and up), Face to Face™ Teen Edition (ages 13 and up), and Face to Face™ Dinner Party Edition (ages 18 and up)

1/9/2014 (Age: 7 and up) [Add to my Inquiry Basket][?]



Yoga Spinner by UPSIDE DOWN GAMES CORPORATION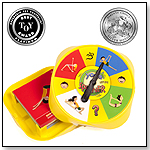 Perfectly portable and tons of fun – it's Yoga Spinner! Players spin the spinner, collect cards and attempt to perform yoga poses -without falling down laughing. The first player to collect one card of each color first wins. Yoga Spinner enhances coordination & balance, increases physical strength and develops greater flexibility. Includes spinner, 54 yoga pose cards, 12 group cards, card storage and instructions.
Awards: Oppenheim Toy Portfolio's Platinum Award 2013, Parents' Choice Silver Award 2013, Dr. Toy's Best Picks 2013, Creative Child Magazine's 2013 Preferred Choice Award, Rated for children with special needs by AblePlay™

1/9/2014 [Add to my Inquiry Basket][?]



Sound It! Found It! Junior™ by WOWOPOLIS LLC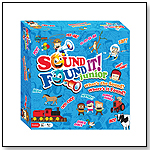 Described as a combination of Where's Waldo? and Charades with sounds, this patent-pending easy-to-learn and easy-to play game was created specifically for the preschool set. A player chooses a picture card and gets the others to guess what's on the card by imitating the sound it makes. Choo-Choo! Beep Beep! Gobble Gobble! Those are just the easy ones … but guessing the sound is only half the fun. Once the sound is identified (e.g. Choo Choo for the train), players race to find the object that makes it amid one of six preschool-friendly illustrated scenes such including Around the Farm, Costume Party, A Day at the Zoo and Out on the Street, each filled with action and surprises.

Featuring 72 cards and six giant-scene boards, each drawn in a whimsical, original style, Sound It! Found It! Junior combines visual hilarity with the unique twist of guessing sounds, offering hours of laugh-out-loud fun. No reading required. 8/26/2013 [Add to my Inquiry Basket][?]



Deer in the Headlights by UNIVERSITY GAMES

Be the first to get rid of all your cards, but watch out! If you roll a 'Deer in the Headlights', your progress stalls. 7/30/2013 (Price: $13.00; Age: 5 and up) [Add to my Inquiry Basket][?]



CrossWays - The path to victory is not always a straight line! by USAOPOLY

CrossWays™ is a fresh, light strategy game that hooks kids, adults and gamers with its addictive challenges. It's an easy game of playing cards, placing markers, and making paths across the board. But watch out! CrossWays™ is packed with offensive and defensive surprises, and the path to victory is not always a straight line! 2-4 Players or Teams. 15-30 Minutes Play Time. Launch date: Summer 2013 6/6/2013 (Price: $24.99; Age: 8 to 99) [Add to my Inquiry Basket][?]



Rainbows and Storms by GRIDDLY GAMES INC.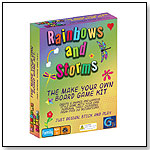 Rainbows and Storms lets kids create their own unique board game with hundreds of stickers and many creative chance cards. Everything you need is included to have a great time. In this twist of a snakes and ladders style game, players will find themselves moving along the multi-colored tiles attempting to be the first to the finish but watch out for the Rainbows and Storms. Write your own chance cards each time you play. 2/20/2013 (Age: 5 and up) [Add to my Inquiry Basket][?]



ifs & Butts by LION RAMPANT IMPORTS
ifs & Butts is the hilarious party game where you find out your friends are nuts. During each round, players write crazy responses to an if scenario and perform silly activities called Butts. 2/4/2013 (Age: 14 and up) [Add to my Inquiry Basket][?]



Bunny Peek a Boo by SMART TOYS AND GAMES INC


Smart Toys and Games, Inc. has launched its first brain-building game for kids as young as two years old with Bunny Peek a Boo. Sturdy wooden blocks and fun rabbit characters allow children to develop spatial perception skills and "pull a rabbit out of the box" with this 3D puzzle. Sixty challenges prepare children ages 2-5 for more difficult single player logic games. The four large bunny blocks can be combined in many different ways for endless fun. Launch date: 2013. 1/17/2013 (Price: $24.99; Age: 2 to 5) [Add to my Inquiry Basket][?]



Eames Memory Game by AMMO BOOKS LLC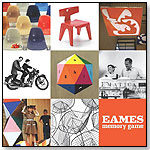 The EAMES MEMORY GAME features the iconic designs of Charles and Ray Eames. From their furniture design, graphics, textiles, toy design, architecture, exhibit design, and film, these modern masters are considered the pre-eminent pioneers of mid-century design. Most recently, their story is told in the 2011 documentary, Eames: The Architect and The Painter, and their living room, and all its contents, have been rebuilt and installed at Los Angeles County Museum of Art as part of the Pacific Standard Time Show. Launch date: January 2013. 1/15/2013 (Price: $15.95; Age: 5 and up) [Add to my Inquiry Basket][?]



Richard Scarry's Busytown Busy, Busy Airport Game by THE WONDER FORGE LLC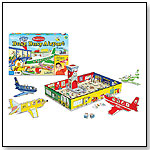 It's a Busy Busy Day at the Airport. Set up destination game boards around the room. Load the plane with Busytown characters and wait for the all clear for take-off. Then fly to faraway places - the beach, mountains, the city, and more. Collect souvenirs wherever you go. The player with the most wins. It's out-of-your-seat role play fun. Learning Fun includes picture identification and matching, physical movement and imaginative play, as well as strategic thinking. Product Contents include: 4 Airplanes, 1 Airport Box, 1 Dice Tower, 16 Passenger Tiles, 16 Souvenir Cards, 4 Destination Pads, 2 Dice, and 1 Game Rules Manual. 1/15/2013 (Price: $19.99; Age: 3 to 5)



Bella Loves Bunny by ABRAMS BOOKS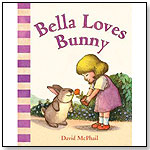 A companion board book to Ben Loves Bear, Bella Loves Bunny shares the sweet story of friendship between a little girl and her beloved stuffed bunny rabbit, from morning till night. Bella and Bunny do everything together. In the morning, they play piano and dance (and hop!). In the afternoon, Bella has lunch and Bunny has carrot cake. At night, they pick out Bella's favorite pajamas and snuggle close until they fall asleep. Launch date: March 2013. 1/11/2013 (Price: $8.95; Age: 1 to 4) [Add to my Inquiry Basket][?]



Laser Maze by THINKFUN

Laser Maze is an innovative new game that integrates the use of laser beams into a mind-challenging logic game. 60 challenges flex strategic thinking muscles and ignite the light both on the grid and in players' minds.

Where to buy:
NORTH EAST 12/17/2012 [Add to my Inquiry Basket][?]



HEROES Conversation Starters by TableTopics


Based on Brad Meltzer's bestselling books (Heroes for My Son and Heroes for My Daughter), the questions in this edition will spark great conversations about the accomplishments, wisdom and inspiration of more than 90 amazing individuals. Explore what made them a hero. Talk about what makes their actions heroic. And discover the potential hero within yourself. Here's to the heroes – all the ordinary people that do extraordinary things. 12/14/2012 (Price: $25.00)



Tantrix Match by FAMILY GAMES INC.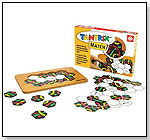 Attempt to cover the pre-marked puzzle cards whit your Tantrix tiles until the puzzle in completed; it's a challenge every step-of-the-way. Twelve puzzle cards with 3 levels of difficulty and 3 different objectives fit into the wooden puzzle frame. Includes: 1 Wooden Match tray, 13 Tantrix™ tiles, 12 Puzzle cards, Instructions. 12/11/2012 (Price: $14.99; Age: 8 and up)



Rory's Story Cubes - Voyages by GAMEWRIGHT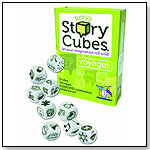 Take a trip with Rory's Story Cubes. Contained within this set are 9 cubes that aim to inspire stories of epic adventure. Cast away on a deserted island. Spin tales of a faraway land. With 54 images and millions of combinations, your journeys are bound to be endless. 12/11/2012 (Price: $9.99; Age: 8 to 15) [Add to my Inquiry Basket][?]



Co-opoly: The Game of Cooperatives by THE TOOLBOX FOR EDUCATION AND SOCIAL ACTION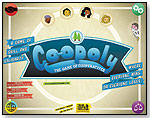 In Co-opoly: The Game of Cooperatives, players collaborate to found and run a democratic business. In order to survive as individuals and to strive for the success of their co-op, players make tough choices regarding big and small challenges while putting their teamwork abilities to the test. This is an exciting game of skill and solidarity, where everyone wins – or everybody loses. By playing Co-opoly, players discover the unique benefits, challenges, and operations of the cooperative world – as well as the skills needed to participate in a co-op. 12/10/2012 (Price: $40.00) [Add to my Inquiry Basket][?]



Dancing Spinner Game by eeBoo corp.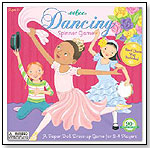 eeBoo's newest Spinner Game is an instant classic that the Sugar Plum Fairy herself would adore. The Dancing Game comes with four different dancers, and with each, a different style of dance: salsa, jazz, step or ballet. After each player has selected a dancer, she must spin for all of the items her dancer needs to perform: costume, bag, bouquet, head piece and music. Collect all the pieces to win, but if you miss a beat – miss a turn. 12/7/2012 (Age: 5 and up) [Add to my Inquiry Basket][?]



Dance Charades by MILLIWIK LLC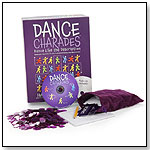 Dance like the description. In this game players have a 40 second song clip to dance out as many of the dance charades cards as they can. They get a point for each correct dance charade the other player guesses. The other players also get to reward their opponent with dancing points by throwing purple tokens to you while you dance. In the Box, Audio cd with 40 songs-300 dance charades cards-300 purple tokens-Score Pad and Pencil. This game tends to bring even the shyest of people out of their shell. 12/6/2012 (Price: $24.99; Age: 4 and up) [Add to my Inquiry Basket][?]



Word's Out! by JAX LTD INC.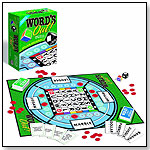 Have you heard - Word's out? It's the fast, fun, easy to play word game for the whole family. Just roll the dice, then find a letter in the 'Lettergraph' on the game board. If that letter matchers one in your word card, place a chip on the Corresponding space. Players may get to remove an opponent's chip, swap words, or lose one of their own chips. Be the first player to 'spell out' the word and that player wins the game. Words Out is about having fun with letters and words, and for the younger players what a great way to learn. 12/5/2012 (Price: $17.99; Age: 8 and up) [Add to my Inquiry Basket][?]



Memory Game Fruits & Veggies by PETIT COLLAGE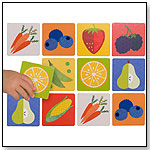 Preschool perfect matching game. Sized large, pieces are just right for small hands. Bright, graphic illustrations encourage interaction. 24 cards makes 12 pairs. Easy slide box allows for easy clean-up. Made with 80% recycled content and printed with vegetable inks. Conforms to CPSIA and ASTM standards. Cards measure 3x3". 12/4/2012 (Price: $15.00; Age: 3 and up) [Add to my Inquiry Basket][?]



Once Upon a Time Storytelling Card Game 3rd Edition by ATLAS GAMES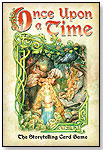 Once Upon a Time is the award-winning storytelling card game that encourages creativity and collaborative play. One player is the Storyteller, and begins telling a story using the fairytale elements on her Story cards, guiding the plot toward her Ending Card. The other players use their own cards to interrupt her and become the new Storyteller. The winner is the first player to use all her Story Cards and play her Ending Card. The object of the game, though, isn't just to win, but to have fun telling a story together. Launch date: October 2012. 11/30/2012 (Price: $24.95) [Add to my Inquiry Basket][?]



Super Fun Marble Run by FAT BRAIN TOY CO.


This gigantic marble run features 103 pieces with 12 marbles. Kids can build their structure any way they like, then drop the marbles and watch them race through the run.
— In a May 2013 survey, two out of 10 retailers told TDmonthly that marble runs were one of their best-selling construction toys. 11/20/2012 (Price: $29.95; Age: 4 and up)



The Game of Zoo by ZOO MANIA GAMES


A game of discovery...a game of concentration...crazy fun...fast...full of surprises and excitement...it is The Game Of Zoo®. Players find and match five picture cards. Every game is different. Children will delight in searching the ZOO® to match the pictures. With no dice, no spinner and 48 ZOO ® Picture Cards, children are given three fun ways to play the game. 11/19/2012 (Price: $20.00; Age: 4 and up) [Add to my Inquiry Basket][?]



Flip2BFit - Fitness Board Game by FLIP2BFIT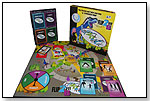 Flip2BFit is the first and only fitness board game in the market today! Flip2BFit helps to fight childhood obesity and encourage a healthy lifestyle through an interactive board game – no gym or video game needed! Kids learn about nutrition, develop self-esteem, confidence and leadership skills by performing the activities in the game. The object of Flip2BFit is to travel through the park to meet "Springer" the dinosaur at the playground. To do this, each player is required to perform a yoga pose, stretch, cardio move or strength training exercise. Learning is achieved through the discovery of movement.
Awards: 2012 PTPA - Parent Tested Parent Approved; 2012 Kidlution - Solutions for Kids 11/16/2012 (Price: $34.95; Age: 6 and up) [Add to my Inquiry Basket][?]



Sukugo Color + Number Sudoku Game Set by SUKUGO LLC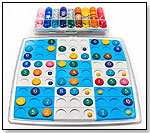 The Sukugo game set is for social Sudoku game. Designed with balance in mind, our innovative approach to Sudoku equally engages both halves of the brain - the left side works on numerical challenges and reasoning while the right side focuses on color patterns and creativity. Although the large game board and colorful numbered pieces are designed to be enjoyed collaboratively with a partner, it's just as fun to play individually. Launch date: October 2012. 11/16/2012 (Price: $24.99; Age: 7 and up) [Add to my Inquiry Basket][?]



Clash of Wills™ - Shiloh 1862™ by MAYFAIR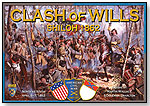 It is near dawn on April 6th, 1862. The first major clash of arms in the western theater of the American Civil War is about to commence. Clash of Wills™ is the perfect way for 2 players to swiftly and casually explore military strategy in the first land battle of the American Civil War. It tells a rich story without requiring a lot of time or complicated rules. You can finish a game in about 45 minutes. Dice and action cards determine flexible command opportunities. Playing Time: 90-120 minutes. Made in the USA. Launch date: November 2012. 11/15/2012 (Price: $30.00; Age: 10 and up)



The Hobbit Games by LEGO

A buildable and fun twist on a memory game for 2 to 4 players. The game is all about finding the missing Dwarves who have gotten lost in Hobbiton, using hints left by Gandalf the Grey and some Hobbits to help players search. If players are up to the challenge they can transform the board during the game, testing their memory skills to the max. Once the board is built it is easy to store and quick to take out to play again. 11/9/2012 (Price: $34.99; Age: 7 to 15)



8 in 1 Game in Wooden Box by NATICO ORIGINALS INC.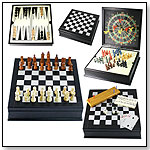 This handcrafted 8 in 1 game includes Backgammon, Checkers, Chess, Chinese Checkers, Cribbage, Dominoes, Magnetic Darts and Poker. The pieces for each game are individually wrapped in black drawstring pouches and stored inside the beautiful black wooden box for safekeeping. Instruction guide included. Dimensions: 10 ½" square x 3". Launch date: December 2012. 10/25/2012 (Price: $75.00; Age: 8 and up) [Add to my Inquiry Basket][?]



Dice Dude™ by SUPER DUPER PUBLICATIONS


The new Dice Dude brings more excitement and fun to every game. It comes with four different dice, giving kids tons of options for game play. Choose the interchangeable die/dice that they wish to use, twist and remove Dice Dude's clear dome hat, insert the die/dice, twist the dome hat back into place, and then start shaking away. Watch Dice Dude's big, green eyes move side to side as he is shaken. This dude stands 5 1/2" tall and has a diameter of 3 1/4". Wipe clean with a damp cloth. 10/22/2012 (Price: $27.95; Age: 3 and up)



Kulami by FOXMIND GAMES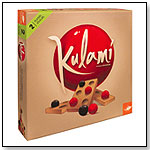 Kulami is a fun, tactile game of strategy for two players. Ten wooden tiles are arranged to form an ever-changing board on which opponents compete to capture the largest number of tiles. Cleverly placing marbles on these tiles will limit adversary's possible moves, while allowing to gain an advantage to clinch the victory. Launch date: 2012. 10/18/2012 (Price: $29.95; Age: 10 and up) [Add to my Inquiry Basket][?]



Photoloco by RSV PRODUCTIONS INC.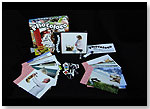 Players slip a photo into the clear Photoholder and draw. Players must get their teammates to guess what they're drawing, right on top of the photo. The photos help give their scribbles context, but it's not as easy as one may think; some things players have got to draw might seem obvious, but only to them. They've got 90 seconds to draw as many items from the list as they can, and then collect a Phototoken for each correct guess by their team. A secret red-reveal panel keeps everybody honest, dry-erase markers allow them to play over and over, and play is fast and hilarious. Launch date: November 2011.
Awards: 2012 Game of the YEAR (Party games category) from Creative Child Magazine 10/16/2012 (Price: $24.95; Age: 8 to 17) [Add to my Inquiry Basket][?]



Homevesting by GAMEVESTING LLC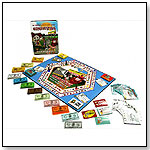 Play along with UG™ of HOMEVESTORS of America, rescuing "Ugly" Properties and rehabilitaing them to make them "Luvly" for resale. Get started learning to Rescue, Rehab, and Resell Houses, just like on ABC's "Extreme Makeover Home Edition" or A&E's "Flip This House". Learn the game and sign up online and on a mobile device to play in HOMEVESTING tournaments. Prizes galore, including flat screen TVs, XBoxes, Cash. Come learn what Tony Robbins, Robert Kiyosaki, Carlton Sheets and Armando Montelongo charge thousands of dollars for. Learn the trials and tribulations that come along with the adventure of real estate investment, and have fun doing it. 10/4/2012 (Price: $34.99) [Add to my Inquiry Basket][?]



KerFlip! by CREATIVE FOUNDRY GAMES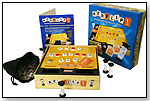 KerFlip is a fun, fast anagram word game that families and word nerds can claim as their own. KerFlip's innovative flip-scoring system rewards players for constructing words FASTER than their opponents can. And cleanup has never been simpler: just sweep used letters into the tile chute and funnel them into a collection cup at the end of the game. "KerFlip features a completely original and innovative way to score, called "flip-scoring." The first time a tile is used, it's worth 10 points. Once it's been scored, flip it to its orange side. Now it's worth only 5 points to other players," Damon Tabb, inventor and owner of Creative Foundry Games, told TDmonthly. Launch date: May 2012.
Awards: 2013 TDmonthly Seal of Approval, GAMES Magazine BEST Word Game for 2013; Oppenheim Toy Portfolio Gold Seal Best Toy Award; 2012 Dr. Toy: 10 Best Educational Products for 2012; Creative Child Magazine: 2012 Game Of The Year; 2012 Majorfun.com: Major Fun Award; 2012 Playonwords.com: PAL Award. 10/2/2012 (Price: $24.99; Age: 8 and up) [Add to my Inquiry Basket][?]



Hive Pocket by SMART ZONE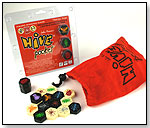 Players must surround their opponent's queen bee while trying to block their opponents from doing the same. Each insect has a unique way of moving (as in chess) and resembles the movement of the insect depicted on the tile.
Awards: 2006 Mensa Select 10/2/2012 (Price: $24.95; Age: 8 and up) [Add to my Inquiry Basket][?]



Urbania by MAYFAIR GAMES INC.


Urbania is a game of city renewal where players try their hand as a famous urban planner who is working on the re-development of a run-down city. To accomplish the job players must: hire the best specialists and designers. They must submit plans and create blueprints. Players must construct new and dynamic buildings to bring the city back to its former glory. If players can manage your projects well, they will become the most renowned planner and take credit for the city's amazing turnaround. Launch date: 2012. 9/17/2012 (Price: $35.00; Age: 10 and up) [Add to my Inquiry Basket][?]



That's Baloney Game by EDUPRESS


Cross-curricular games packed with 500 grade-level questions. Players spin to see which category their challenge will come from: Language Arts, Math, Science, Social Studies or Mystery Meat. Players must read the statement in the corresponding category on their card and then determine whether it is true or baloney (false). Points are given for correct answers. Each game includes 200, 4-1/4" -dia. cards, spinner and directions.
Awards: 2012 Dr. Toy 100 Best Toys 9/11/2012 (Price: $14.99; Age: 8 to 12)



Think-ets Party Games Edition by THINK-A-LOT TOYS


The latest Think-ets game from Think-a-lot Toys is like having a "party-in-a-pouch"™. This edition of our award-winning Think-ets game is geared for adults, teens and college kids who want their own, slightly more sophisticated version of the game. Get silly with stories, throw objects into glasses, or try to come up with categories, rhymes and names in speedy fashion. For 1 or more players. Includes 15 miniature trinkets from around the world and an instruction Booklet with 10 different games to play. 8/29/2012 (Price: $9.99; Age: 8 and up) [Add to my Inquiry Basket][?]



Color Splasherz Design Station by TINY LOVE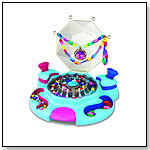 Fusing water play with transformation, Color Splasherz allows girls to creatively change the color of their jewelry using hot and cold water. Dip or splash the beads in the water to create custom designs. Use ice to create even more cool designs. The Color Splasherz Design Station allows kids to spin and splash their Color Splasherz jewelry, instantly changing their color and style from one stunning transformation to the next. The color change will hold until kids alter the temperature. The lid of the Design Station opens up to act as a display stand.
— As of 08/29/2012 this product had 4.5 out of 5 stars from 2 reviews on Amazon.com. 8/29/2012 (Price: $24.99; Age: 5 to 15) [Add to my Inquiry Basket][?]



Dominion Dark Ages Expansion by RIO GRANDE GAMES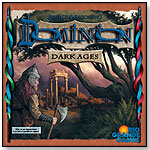 Times have been hard. To save on money, you have moved out of your old castle, and into a luxurious ravine. You didn't like that castle anyway, it was always getting looted, and never at a reasonable hour. And if it wasn't barbarians it was the plague, or sometimes both would come at once, and there wouldn't be enough chairs. The ravine is great, you get lots of sun, and you can just drop garbage wherever you want. In your free time you have taken up begging. Begging is brilliant conceptually, but tricky in practice, since no one has any money. You beg twigs from the villagers, and they beg them back, but no one really seems to come out ahead. That's just how life is sometimes. You are quietly conquering people, minding your own business, when suddenly there's a plague, or barbarians, or everyone's illiterate, and it's all you can do to cling to some wreckage as the storm passes through. Still, you are sure that, as always, you will triumph over this adversity, or at least do slightly better than everyone else. This is the 7th addition to the game of Dominion. It is 500 cards but is not a stand-alone. It adds 35 new Kingdom cards to Dominion, plus new bad cards you give to other players (Ruins), new cards to replace starting estates (shelters), and cards you can only get via specific other cards. The central themes are the trash and upgrading. There are cards that do something when trashed, cards that care about the trash, cards that upgrade themselves, and ways to upgrade other cards. 8/23/2012 (Price: $44.99; Age: 13 to 15) [Add to my Inquiry Basket][?]



No Stress Chess by WINNING MOVES GAMES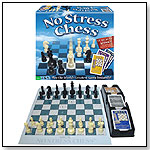 Unlike any other Chess teacher, No Stress Chess teaches kids how to play using illustrated cards and an illustrated 2-sided board. Once players become comfortable with the moves and powers of each piece, flip the two-sided board over and play standard game of chess. For 2 players. Contains a 2 sided chess board, 17 charcoal pieces and 17 ivory pieces, 56 action cards, black plastic card tray and instructions. 8/8/2012 (Price: $17.99; Age: 7 and up) [Add to my Inquiry Basket][?]



Suspend Family Game by MELISSA & DOUG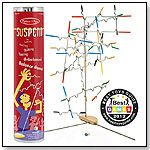 Suspend comes with 24 notched, rubber-tipped wire pieces to hang from a tabletop stand. Sound easy? Try adding another piece! Each time a bar is added, the balance shifts, the difficulty changes and the incredible midair sculpture transforms. Can players add all their game pieces without making it fall? This tricky game for 1-4 players is a test of steady nerves and steady hands.
Awards: 2013 TDmonthly Seal of Approval, 2012 Best Toys Guide Best Games
— In a February 2014 survey, Joe Novak, owner of Kazoo Toys of Buckhead in Buckhead, Ga., told TDmonthly that Suspend was one of their stores top-3 best-selling games. 8/8/2012 (Price: $16.99; Age: 8 and up)



Rollick! by THE GAME CHEF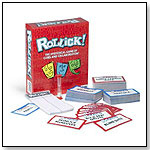 Rollick! is a new hit party game that's a fast and furious team competition. With Rollick!, the entire team works together to act out clue words for one person to guess. It's a hysterical, fun, fast-paced, team competition game that's a hit at parties, family gatherings, work events, holiday celebrations, with friends, and even teenagers. Rollick! can be taught in 2 minutes, played in 25 minutes, and accommodates 6-20+ people.
Awards: 2013 TDmonthly Seal of Approval
— As of 08/08/2012 this product had 4.9 out of 5 stars from 90 reviews on Amazon.com. Pros: A great ice breaker for parties; rules are easy to understand; fun for kids and adults of all ages; fun for small and large groups.

8/8/2012 (Price: $19.99) [Add to my Inquiry Basket][?]



MyPlate Food Bingo Game by SMARTPICKS INC.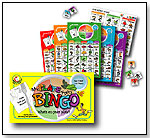 Eating is one of life's greatest pleasures, but poor food choices and eating habits can lead to a lifetime of obesity and other health problems, low energy, general malaise, and even poor self-esteem. MyPlate Food BINGO is a fun, easy way to teach 9 year olds and up how important it is to eat healthy and grow up feeling energized and feeling great. Based on the USDA's revamped MyPlate food categories - vegetables, fruit, whole grains, protein and dairy - this gustatorial game's 95 different foods will get everyone involved considering different options, portion sizes and combinations.
Awards: 2012 Tillywig Brain Child Award; 2012 Parent's Choice Approved Award; 2012 Dr. Toy's Best Vacation Product; 2012 Dr. Toy's Alumni Award of Excellence; 2012 Family Review Center Gold Award; 2012 Creative Child Magazine Game of the Year Award.
— "So much packed into this little package. Great for teachers to incorporate into a classroom activity and great for at home too...An overall great learning tool, that promotes healthy standards in an easy to understand and easy to implement manner." - a review on Family Review Center. 8/8/2012 (Price: $39.95; Age: 9 and up) [Add to my Inquiry Basket][?]



Color Play Game by BRIARPATCH INC.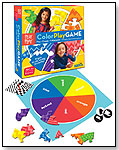 Includes three creative ways to play. Puzzle It: create a pattern and color wheel puzzle. Shape It: find and match the shape it cards. Build it: stack and build for colorful construction play. Encourages color/pattern recognition; matching, creativity & imagination, dexterity and collaboration. 8/3/2012 (Price: $19.99; Age: 5 and up) [Add to my Inquiry Basket][?]



Booby Trap by FUNDEX GAMES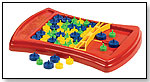 A steady hand is required to remove the shaped pieces in this game. Players must think critically, remove pieces carefully without causing the trap to move. Assists with fine motor control and visual spatial development. Contains 63 pieces, game board, 6 game cards, replacement band, and complete instructions. 8/3/2012 (Price: $16.99; Age: 2 to 4) [Add to my Inquiry Basket][?]



Angry Birds: Birds in Space Game by MATTEL INC.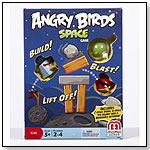 With the Angry Birds 3 Birds in Space Game kids will build, blast, and lift off with an exciting skill-and-action game based on the best-selling digital app Angry Birds in Space. The egg-stealing pigs are out of this world, and the Angry Birds have followed to get their revenge. Players draw a space mission card and build the structure shown before their opponents launch an Angry Bird in an attempt to knock it and the pigs down to win points. Break open the pig's helmet for a bonus. Cards include four levels of difficulty including freestyle. Launch date: 2012. 7/27/2012 (Price: $16.99; Age: 5 to 7) [Add to my Inquiry Basket][?]



Mentagy Box Set & Book by PASCO GAMES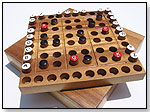 Hand crafted from hardwood the 38 piece hand held version of Mentagy measures just over 6" x 6". To play simply mark the blank spaces with the black pegs and seed letters with the red letters. Players are now ready to use the remaining white letters to solve the puzzle. One advantage of the wooden Mentagy ™ set is that players can solve the puzzles without using an eraser. If a player is in the middle of solving a puzzle and has to stop, they simply place the top on the base and the pegs cannot move. Take the Mentagy ™ set anywhere and continue where the game was left off.
Awards: Summer 2012 Tillywig Award Winner
— As of 12/6/2012 Mentagy: The Next Puzzle Craze (the book) had 5 out of 5 stars from 4 reviews on Amazon.com. 7/18/2012 (Price: $35.99; Age: 8 and up) [Add to my Inquiry Basket][?]



CampAntics by BEREB ENTERPRISES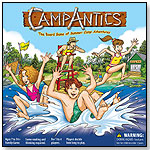 CampAntics™ is the children's board game of summer camp adventures. Each trip around the board is one day at camp, where players participate in daily activities (sailing, baseball, etc.), get into mischief, follow the camp director's announcements, and try to avoid the Forbidden Forest. Primarily for children 5 to 11 years old; also loads of fun for older siblings, parents, and grandparents. Special features include: comic book instructions, many opportunities for social interaction, and single player rules. Launch date: February 2011.
Awards: 2011The Toy Man Award of Excellence; 2011The Noise on Toys Award of Excellence; 2012 Tillywig Toy Awards Sterling Fun Award; 2012 Dr. Toy Best Vacation; 2012 Family Review Center Gold Award 7/13/2012 (Price: $24.95; Age: 5 and up) [Add to my Inquiry Basket][?]



Crossword Cubes by MARINA GAMES


Crossword Cubes is a unique word spelling dice game. Roll all 13 dice and play them in a crossword fashion to create the highest score possible. A combination of crosswords and anagrams, this fun, compact, educational game is great for travel, gifts, stocking stuffers, and sharpening up your spelling. Portable and fun, Crossword Cubes is one of a kind. Launch date: 2010. 7/10/2012 (Price: $9.99; Age: 8 and up) [Add to my Inquiry Basket][?]



xPirate Game by EXIM GAMES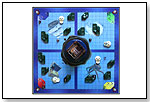 EXIM Games is introducing the world's first and only board game with integrated game play through the use of an Apple iPhone, iPod touch or iPad, patent pending. Only EXIM Games can give kids the ability to use the unique xPirate board game with multiple Apps and mobile platforms. Welcome to xPirate. Players have been recruited as Captains of their own xPirate ship. In this strategic pirate quest for hidden treasure, victory is awarded to the xPirate ship that finds all its hidden treasures and returns home first. Launch date: November 2011.
Awards: 2012 - 2012 Creative Child Awards Program, 2012 Game of the Year Award 7/10/2012 (Price: $49.99; Age: 8 and up) [Add to my Inquiry Basket][?]



THIS BANNER IS AN AD:
---
---