August 2009 Notable Toys — Dice
After rolling the special dice and flipping the timer, players race to list words containing the three letters shown on the dice. Only words listed by a single player score points, so players are rewarded for their speed and creative thinking. This game is adjustable for different skill levels and ideal for varied group sizes. Launch date: April 2009.
ToyDirectory Product ID#: 25063
(added 8/19/2009)
.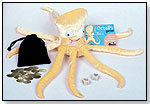 Age Range: 8 and up
SKU or Item #: 02027
Launch Date: January 2010
Gender: Boys And Girls
Each Octopi comes with an easy-to-learn dice game complete with a treasure (all stored in the Octopi head). Dip's game, Doubloon Dippidy, is a faced-paced game in which players try to win all the gold doubloons by being the last person with a doubloon. It is for two to 10 players. "Octopi Games deliver a social play experience along with the collectible value of a plush toy. It's really the first collectible plush that promotes face-to-face social interaction," Steve Hart, co-founder of FunHub Creative, told TDmonthly. Launch date: 2010.
ToyDirectory Product ID#: 24981
(added 8/19/2009)
.
Spell words, build bridges, and block your way to the Treasure, matey! Arrgh! Players make their way towards the treasure by creating paths of words and bridges across the shark infested waters. Cunning pirates make good use of rock walls to block their enemies from reaching the pirate loot first. Now more game play! Enjoy endless play with a two-sided dry erase game board. Pick the original game board or the new updated shark attack mode. For 2-4 players.
ToyDirectory Product ID#: 24103
(added 6/11/2009)
.
Gather a herd of dinosaurs to win points. Be careful, though — if you roll a T Rex, he might eat your dinos and you'll lose a turn.
ToyDirectory Product ID#: 23533
(added 5/4/2009)
.
Since 12/28/04 people have visited this page.