Products from DADDY A GO GO
THIS BANNER IS AN AD:
---


View: By latest product added | By earliest product added



Below are a select number of products from DADDY A GO GO



---
Grandkid Rock
TDmonthly rating:

(
Read Review
)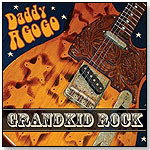 MSRP: $12.00
Age Range: 3 to 10
Specialty: Yes (as of 2012)
Gender: Boys And Girls
A "greatest hits" album comprised of 16 remixed tunes that John Boydston considers his "rockingest rockers" from six previous Daddy A Go Go CDs, Grandkid Rock cheerfully continues the Daddy A Go Go alterna-rock tradition of what Stomp & Stammer described as "upbeat, wildly entertaining rave-ups, sing-alongs and silly puns that have endeared the group to kids (and their parents) nationwide." While Boydston's most recent release, Come On, Get Happy, focused on softer songs for younger children, Grandkid Rock goes the other direction, rocking out for the bigger kids with lots of electric guitars, drums, driving rhythms and power chords.
Awards: 2013 TDmonthly Seal of Approval
ToyDirectory Product ID#: 34369
(added 5/30/2012)
.
Wholesale Price: (Log in to view)
MSRP: $12.99
Age Range: 3 and up
SKU or Item #: 634479703164
Launch Date: March 2008
Gender: Boys And Girls
The 12-track record about modern family life is sung by a father with the help of his two children. The rock record includes songs about everything from vacation tips to teaching kids the value of money to teaching kids about growing up. "This CD starts with a lyrical reference to Chuck Berry in the song 'Rock of Ages' and ends with a Chuck Berry, "John Boydston of Daddy A Go Go told TDmonthly. "What other kids CD released this decade can say that?" Launch date: March 13, 2008.
ToyDirectory Product ID#: 17941
(added 3/12/2008)
.
Stay-at-home Atlanta dad John Boydston pioneered the kids rock phenomenon 9 years ago. Now he's about to release a new CD of hip three-chord songs that cover the "three C's" of his life: carpooling, coaching and cleaning. His own kids play backup on a kid-pop version of The Ramones' "Blitzkrieg Bop." Also included is the rockin' "For Kids About to Walk (We Salute You)." This CD will be available in May 2006.
ToyDirectory Product ID#: 6980
(added 2/22/2006)
.
These rock songs are designed for kids and parents alike. The songs deal with issues aging baby boomers can relate to: stressed-out carpool drivers, dadīs garage-rock 45 collection, overloaded computer time and a kidīs baseball team that wins despite his dadīs coaching.

ToyDirectory Product ID#: 3652
(added 5/25/2005)
.