Products from MILKSHAKE MUSIC
THIS BANNER IS AN AD:
---


View: By latest product added | By earliest product added



Below are a select number of products from MILKSHAKE MUSIC



---
Great Day
TDmonthly rating: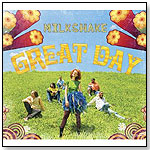 Featuring a mix of rock, folk and classical sounds, this 12-track album showcases the talents of the Milkshake band. It was nominated for a 2010 Grammy Award for Best Musical Album for Children.
ToyDirectory Product ID#: 27925
(added 4/8/2010)
.
Wholesale Price: (Log in to view)
MSRP: $14.99
Age Range: 3 to 8
SKU or Item #: 744773010520
Launch Date: November 2006
Gender: Boys And Girls
Celebrating children at play, this rocking album features songs about making-believe ("Pirates" and "Superhero") and sports ("Baseball" and "Bowling"), as well as impressionistic tunes ("Plant a Garden" and "Magic Ride"). The band is led by singer Lisa Mathews and guitarist Mikel Gehl, whose videos appear on PBS KIDS and NOGGIN. The CD includes three bonus tracks written for the new season of Discovery Kids' "ToddWorld." "Milkshake creates kids' music that's as magical as childhood itself, but packaged in a sophisticated pop-rock style that parents and older siblings will love, too," Miles at Milkshake Music told TDmonthly. This product received a spring 2007 Parents' Choice Recommended seal. Launch date: November 2006.
ToyDirectory Product ID#: 10695
(added 12/14/2006)
.
This album is full of variety. The song "ABC of Me" was recorded live in the studio with a jazz combo. It's a new take on the "Alphabet Song," and each letter stands for some quality or thing that reminds us of how great we are and how wonderful childhood is. "Boom Boom" turned into a country rock song with lots of fiddle and banjo and a "yee-haa." There are some totally acoustic songs ("Bluebird" and "Milkshake!") and some very electrified, all-out rock songs ("School" and "Space Song"). But every song is memorable, and the title track is featured on Noggin's "Jack's Big Music Show."
ToyDirectory Product ID#: 7963
(added 5/23/2006)
.