Mini Maracas
by
TROPHY MUSIC COMPANY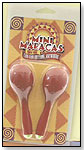 These Mini Maracas allow kids to participate in just about any style of music. They're loud enough to be heard, but small enough to take along on trips and vacations. Made of specially formulated plastic, they produce a stage-quality authentic sound and come in a variety of colors.
— Maracas by Trophy were cited as one of the best-selling musical toys in the store of Gwen Bowden, manager at
Doodlehopper 4 Kids
in Springfield, Va.
— Four of 45 retailers
TDmonthly
spoke with said Trophy maracas and shakers are hot-selling musical toys.
— Retailers said they sell from three to 30 maracas or shakers a month from Trophy. 7/23/2007 (Price: $4.95)
[Add to my Inquiry Basket][?]