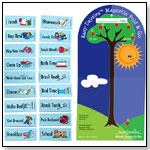 Easy Daysies Magnetic Daily Schedules For Kids - Starter Kit
MSRP:
$25
Age:
3 to 12
Category:
Educational

Watch Video Now
ToyDirectory Product ID#: 26089
This magnetic daily schedule for kids consists of 18 durable, kid-friendly magnets and a fold-&-go magnetic board that kids can take anywhere. Grandparents and babysitters can easily know a child's daily routine. It can be personalized with a dry erase marker. Users can place magnets down the middle or use the "To Do" and "Done" columns for a reward system. The back stores unused magnets. This mom/teacher-created product is made in Canada of 70-percent recycled materials. Individuals can mix and match from nine different kits to create a family's or classroom's perfect routine. "A daily visual schedule helps children become more successful and independent all because they feel safe and confident knowing what is happening next! Wonderful for helping preschoolers or kids of any age, and children with special needs, with event transition," Elaine Comeau, founder of Easy Daysies, told
TDmonthly
. Launch date: December 2009.
Awards:
2010 Creative Child Magazine Top Choice of the Year Award (Parenting Aids-Teaching Responsibility & Educational Products-Preschool Category); 2010 Parent-Tested Parent-Approved Award 11/17/2009
[Add to my Inquiry Basket][?]