Products from SMARTLAB TOYS
THIS BANNER IS AN AD:
---


View: By latest product added | By earliest product added



Below are some of the products SMARTLAB TOYS has shared with ToyDirectory and TDmonthly



---
MSRP: $19.99
Age Range: 10 to 14
SKU or Item #: 08027
Launch Date: April 2010
Gender: Boys And Girls
Ever wondered if the light in the fridge stays on when you close the door? Fiber optics can light the way. It may sound like some supercomplicated electronic technology, but the basics are quite simple. Author Jim Becker helps kids understand what's going on as they use the power of light to build 10 high-tech electronic projects, including a burglar alarm, an electronic rooster, and a flexible flashlight. The kit includes two preassembled workbenches (transmitter and receiver), three optical fiber rods and a connector, 26 hookup wires, two LED couplers, 12 activity cards , and a 12-panel fully illustrated booklet. "The retail feedback we have received tells us that there is not a similar product on the market," Darcy Morris, Director of Sales & Marketing, SmartLab Toys, told TDmonthly. Launch date: April 30, 2010.
ToyDirectory Product ID#: 26513
(added 12/28/2009)
MSRP: $24.99
Age Range: 7 and up
SKU or Item #: 08836
Launch Date: August 2009
Gender: Girls
Kids can whip up a variety of fun, imaginative cupcakes as artful configurations or intriguing singles. It features custom-designed tools and skill-building techniques. In "Sweet!," author Jenna Land Free and expert Leslie Miller focus on how to make single cupcakes as well as splendid configurations. This fully illustrated, 24-page book comes with recipes, techniques and tips on how to create one-of-a kind works of edible art using creamy frosting, simple fondant and elegant ganache. Classic decorating tricks are broken down into simple step-by-step directions. The kit includes a froster designed with little hands in mind; three frosting tips: flat, star, and round; a frosting spreader (mini offset spatula); a stencil holder with four pre-cut stencils: sand dollar, snowflake, dragon face and bow; mini cutters in three shapes: circle, flower and shell; tweezers; a cake comb; and a rolling pin with raised edges for evenly rolled fondant. The pack is 10" W x 10" H x 2" D with e-flute packout. Launch date: August 2009.
ToyDirectory Product ID#: 25189
(added 8/28/2009)
MSRP: $19.99
Age Range: 7 to 12
SKU or Item #: 07510
Launch Date: January 2009
Gender: Boys And Girls
Kids can build a multi-terrain robotic vehicle, complete with six S-shaped legs designed to conquer tough terrains, such as sand, rocks, and grass. They'll test its limits by towing toy cars, climbing a stack of books, or negotiating a wall. Includes instructions for five guided projects that touch upon the science of motion and energy to explain why RoboXplorer reacts differently to various terrains.
ToyDirectory Product ID#: 21824
(added 12/12/2008)
MSRP: $24.99
Age Range: 7 and up
Launch Date: August 2008
Gender: Boys And Girls
Young equine enthusiasts will learn how to draw horses using two artist horse models (one adult and one foal), pastels, colored pencils, smudger, and other useful tools. Accompanied by a fully illustrated book featuring several different guided projects that stress a variety of techniques, treatments, and approaches for drawing realistic, cartoon, or abstract horses, there's really no limit. Launch date: August 2008.
ToyDirectory Product ID#: 19609
(added 7/1/2008)
MSRP: $19.99
Age Range: 8 and up
Launch Date: August 2008
Gender: Boys And Girls
From armadillos to zebras, the latest title from the award-winning Challenge series is packed with 1,000 trivia questions covering all the quintessential animals and animal topics kids can't get enough of. Kids use the game component to answer randomly chosen questions, and the automatic score-keeping function shows who knows the most about the animal kingdom. Launch date: August 2008.
ToyDirectory Product ID#: 19607
(added 7/1/2008)
Indoor/Outdoor Super-Powered Microscope
TDmonthly rating: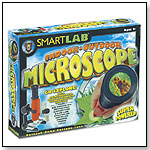 MSRP: $19.99
Age Range: 8 and up
SKU or Item #: 978-1-932855-79-1
Launch Date: September 2007
Gender: Boys And Girls
Usable indoors or outdoors, this super-powered microscope will magnify anything 40 times its natural size. Author Shar Levine helps kids easily turn their home, bedroom or backyard into a laboratory. The microscope can be used on the stand or off, and kids can observe the details of prepared slides or create their own. Launch date: September 2007.
ToyDirectory Product ID#: 13421
(added 6/13/2007)