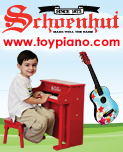 Article Tools:








Baby Roundtable: Babies "Read" Books
Eye-Dazzling Learning Tools Captivate Tots
"My son had a wonderful time placing the cards on his head and having me snatch them off." — Christy Chambers, mother of Nigel

Taggies' "My First Taggies Book 'Hey, Diddle, Diddle'" grabbed the attention of both infants and toddlers, who clutched the book's tags and latched onto its nursery rhymes. Wee Gallery (ToyDirectory) Baby Flash Cards captivated the infants, though were less successful as a toddler learning tool, and Wee Gallery's "What Should We Call the Twins?" visually stimulated the babes.

Participating in this month's Roundtable were Penelope Pauley and Lucy (2); Christy Chambers and Nigel (2); Maggie Rochin and Orlando (3); Diana del Pozo and JoJo (10 months); and Sharri Hefner and Sydney (4 months). CLICK HERE to view the full results of the survey.

My First Taggies Book 'Hey, Diddle, Diddle' by SCHOLASTIC


What It Is: A hard book with fabric tabs and colorful illustrations reciting the nursery rhyme "Hey, Diddle, Diddle."

What the Moms Thought
"My First Taggies Book 'Hey, Diddle, Diddle'" is a terrific board book that was a hit with the infants and toddlers alike. The infants flipped through the pages and chewed on the tabs, while the older kids learned the nursery rhyme, turning pages as their moms sang. Penelope thought that her daughter would not enjoy the book, but was surprised when Lucy's eyes lit up with the tale of the cow jumping over the moon. By the time they put the book down, Lucy had the nursery rhyme memorized.

What the Kids Said
Two-year-old Nigel was more interested in the tags than the book. Four-month-old Sydney loved the illustrations and used the tabs to turn the pages.

How to Improve It
The moms didn't have many suggestions to improve the book. One said that the book could be larger for toddlers to handle, but that would not keep her from buying the book for another child.

Would You Want Another Toy Like This?
Maggie, mother of Orlando (3), appreciated the bright, simple illustrations and would be likely to purchase similar toys. Ten-month-old JoJo loved putting the tabs into her mouth. I was so thrilled to see my four-month-old Sydney turn the pages of a book that I would definitely look for products like this for her in the future.

Baby Flash Cards by WEE GALLERY (ToyDirectory)

What It Is: Artistic animal flash cards.

What the Moms Thought
The Wee Gallery Baby Flash Cards are real works of art rather than a learning tool. They have kid-friendly rounded edges and are made of solid card stock, even withstanding cat bites without defect. One mom thought that they would be perfect hanging on her infant's bedroom wall. The toddler moms were unanimous in saying that the font is difficult to read and the illustrations are somewhat abstract, making the cards a less than ideal learning tool for toddlers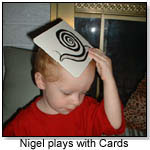 What the Kids Said
The cards were a hit with both the infants and toddlers. They are a good size for both to handle. Toddler Lucy said the designs were "very pretty." ""My son had a wonderful time placing the cards on his head and having me snatch them off," said Christy, mother of Nigel.

How to Improve It
While the cards are artistic and visually stimulating, the cursive lettering complicates word recognition. The animal designs are unique, but are not the best representations for learning animals. One child, who had been able to distinguish the animals before, became confused as to the difference between a snail and a snake. However, to change the item and lose the style would make the cards less appealing.

Would You Want Another Toy Like This?
This is a unique gift that could be used as decoration in the child's room. A mobile to display the cards is sold separately and would be a nice addition to any nursery theme.

What Should We Call the Twins? by WEE GALLERY (ToyDirectory)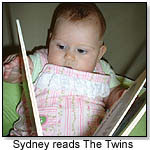 What It Is: A simple story book with graphic illustrations.

What the Moms Thought
The younger children responded to the images on the pages, but the parents of the toddlers found themselves making up additional story lines.

What the Kids Said
The size of the book was good for both the infants and toddlers. The infants especially seemed to enjoy the book. Ten-month-old JoJo laughed as her mother Diana read it to her. Four-month-old Sydney eyed the graphics and turned the pages herself. However, the toddlers did not respond as well. One would not allow her mother to open the book and another was confused by the word play.

How to Improve It
The images in "What Should We Call the Twins?" are fantastic. However, the story did not hold interest with the toddlers.

Would You Want Another Toy Like This?
Books with similar graphic illustrations would be ideal for infants.

Here are the toys the Baby Roundtable evaluated, plus a couple more from each manufacturer:
This new board book series complements the Taggies best-selling soft cover series. Each cover has a snuggly soft insert with pages of singing and storytelling fun.
.
This new, exclusive print for 2006 depicts a summer sky with happy bugs and clouds. Plus, of course, a plentiful assortment of satiny tags for babies to pull.
.
This teeny Taggie has a teething ring attached to a soft plush cube with a rattle inside. Outside are lots tags to keep Baby occupied. Each tagged side of the cube has a fun-to-feel texture: corduroy, smooth satin, or snuggly fleece. It's available in primary or pastel color combinations and measures approximately 2.5". It also comes in a 3" ball.
.
These soft embroidered books are made with various fabrics. The pages are tagged with satin so baby can grab hold and tug. Sweet Dreams is a joint project with Scholastic.
.
Wee Gallery flash cards are works of art that can introduce babies to a new world of animal and marine life down on the farm and under the sea. Wee Gallery flash cards come from hand-painted originals that take advantage of infants' visual strengths. Whimsical animals made up of black-and-white repeating shapes entertain and engage little ones, transforming playtime into a virtually artistic experience. The Farm Flash Cards help baby say "moo," "oink" and "baa" with six high-contrast prints that stimulate and engage baby. A striped bee, dotty cow, feathered hen, curly sheep, flowery pig and tall horse make up this creatively designed farm flash card set.
.
Parents can turn these hip Wee Gallery flash cards into a cool urban mobile with this stainless steel Kikkerland mobile kit. When baby is older, the kit can be used to display favorite photos or drawings. Animal Flash Cards are included with the mobile to turn baby's nursery into a sophisticated baby art gallery, worthy of plenty of wide-eyed concentration and certainly a lot of well-deserved baby drool.
.
Have you ever seen children try to make sense of what they see the first time they encounter identical twins? Their eyes track from one face to the other in an incredulous attempt to figure out this astounding new concept. Twins are not as simple as the big/small, loud/quiet lessons in opposites that they're used to; twins are nuanced and kind of funny. And it's exactly that funny nuance that artist Surya Sajnani has masterfully captured in her wonderful new board book, "What Should We Call the Twins?" This engaging 7" x 7" book introduces children to the concept of twins in an upbeat and whimsical way. Through her use of entertaining puns, the book is also a fun read for adults. Sajnani developed her current artistic style shortly after becoming a mother. Wanting to engage her son visually, Sajnani began to create hand-painted original works of art that took advantage of the visual strengths of her child. She made animal prints in black and white — a high-contrast combination that stimulates brain development.
.
Wee Gallery has created adorable designs from down on the farm: a striped bee, dotted cow, feathered hen, flowered pig and curly sheep on a field of corn make up the Farm Collection of wall art for babies. A set of four in a series retails for $140.00. Other series include Sea Collection and Wild Collection. Launch date: Summer 2006.
.
Catalog Request Form


Advertisement: