Tools:








TimeOut Tot's Tots Avoid Timeout
Company Combines Learning, Good Behavior and Fun
"Parents buy toys that they like for their children. It's a lot more fun to have tools that are fun for everyone to use." — Ann Brazil, TimeOut Tot

"It's human nature. Reward good behavior and the kids will want to do it again," Ann R. Brazil, president of Pausitive Programs LLC and creator of TimeOut Tot (Gift Guide), told

TD

monthly. Brazil's unique concept and dedication led her to create products that teach children ages 3 to 7 social skills and character development as well as letters, numbers, shapes and colors.

Studies show there's a demand for these sorts of innovative products: 84 percent of parents think courtesy is an essential quality to instill in their children.[1] Unfortunately, only 34 percent think they've succeeded in teaching their children to be well mannered.[2]


Brazil worked as a marketing executive until her first child, a son who is now 21, was born. When she realized her child had special needs, she began an odyssey that created the award-winning TimeOut Tot.

After speaking with child experts — psychologists, behaviorists, speech pathologists, neurologists and instructors — and researching childhood behavior management, Brazil knew she was onto something.

"Having worked in special-ed classrooms, I felt I had the tools to create the product," she told

TD

monthly.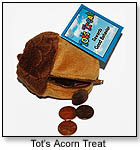 With her experience, she created an attractive product that children not only learn from but also enjoy.

Brazil's journey was not without challenges, though. "The biggest challenge," she noted, "was juggling being a parent and a wife, and then coming out with a product."

Marketing the company also posed obstacles: "Everyone wants a unique product, to blaze a new trail … but it's difficult."

TimeOut Tot offers an array of products, DVDs and guides to help parents. Tot's Acorn Treat, Tot's Clean Up Cube, the Tot plush toy, and the TotSpot TimeOut Mat all teach useful skills along with good behavior. Each product features Tot, a friendly squirrel who teaches young children about good behavior and motivates them to act on what they learn.

TimeOut Tot products appeal to children because they "use an imaginary character, and kids at that age have active imaginations," Brazil said. She wants to make the choice between right and wrong clear to children.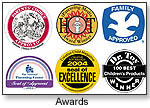 The company's multi-sensory teaching approach includes singing, auditory clues and visual clues to show "kids what tantrums and other bad behaviors look like….The program teaches that it's OK to make a mistake, so long as you learn from your mistake."

Brazil passionately believes that combining learning skills with politeness is essential.

"Today, parents put so much emphasis on academic skills. Character development and social skills are as important, and I try to teach these skills. You have to remember that kids aren't born knowing the rules; they need to be taught," she emphasized.

[1] Southern Media & Opinion Research, February 2003.
[2] Public Agenda, 2002

Here are some offerings from the TimeOut Tots product line:






"TimeOut Tot" is a lovable squirrel (made by a Jim Henson puppet maker) who rescues boys and girls from timeout and teaches them right from wrong, uniquely using real-life examples of other kids mistakes. When kids see how ugly tantrums are and hear how annoying whining is, for example, the "right choice" becomes an easy one. Stop tantrums, whining, biting, cutting in line, grabbing, pushing and more with the help of TimeOut Tot! Includes the TimeOut Tot DVD, TimeOut Tot PlushPuppet and Acorn Treat, Tot's Tunes CD and Tot's Tally. "The acorn is like the Tooth Fairy, Santa, and [the] Easter bunny all tied into one. [It] can be set up so that children follow instructions to find the acorn and treats as part of a hunt," TimeOut Tot founder Ann Brazil told TDmonthly.

ToyDirectory Product ID#: 9521

(added 9/27/2006)

.

AD
---






Winner of seven nationally acclaimed awards including the Parents' Choice Award, the TimeOut Tot DVD helps parents teach their young children (3-7) good behavior. It offers "how to" lessons for parents and "ready made" lessons for their children taught by the lovable squirrel named TimeOut Tot who teaches the difference between acceptable and unacceptable behavior using music, stories and real-life examples. Sometimes it takes a third party to teach the behavior lesson. Tot is a non-threatening friend kids listen to at a time when they shut their ears to adults. "No other product shows kids in bad behavior like this, and shows them how ugly tantrums and this sort of behavior can be," Creator Ann Brazil told TDmonthly. "TimeOut Tot lets kids learn from other people's mistakes."

ToyDirectory Product ID#: 7336

(added 3/28/2006)

.

AD
---







A "good" behavior chart that fits in your pocket or purse so that you can take it with you — and catch your child being good anywhere, anytime in those "hard-to-sit-still" places like restaurants. Tot's Tally can go back and forth from preschool (or daycare) to home too, so that you can hear about (and applaud) all of the GOOD things that happened in your absence. Comes with two coloring charts and 36 stickers.

ToyDirectory Product ID#: 9522

(added 9/27/2006)

.

AD
---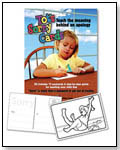 These apology note cards include two blank cards and 12 postcards that young children can use to make an apology. The kit helps children learn about apologizing, writing and sending cards through the mail. Pre-printed cards can be colored and the letters "sorry" can be traced by the child. The child gets to choose the cards that best reflect the mistake they made and then signs and addresses the postcard himself. Blank postcards can be used to create a more personalized apology letter or card. Launch Date: April 2006.

ToyDirectory Product ID#: 10430

(added 12/5/2006)

.

AD
---






These bright activity and coloring books let a child have fun while learning number, letter and writing skills. They also reinforce the behavioral skills taught in the award-winning TimeOut Tot DVD and lessons. The 36 pages keep children engaged for hours of educational fun. Launch date: April 2006.

ToyDirectory Product ID#: 10431

(added 12/5/2006)

.

AD
---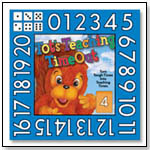 MSRP: $24.99

Age Range: 3 to 7Launch Date: July 2006Gender: Boys And Girls





This 24"-square mat has a colorful picture of Tot, the loveable squirrel, in the center and a border of easy-to-read numbers and letters. Children can count down their timeout themselves, learning letters and numbers as they learn to manage tempers. A clear pocket stores ''Match the Mat'' cards that can be used for games after timeout is over. "A lot of parents and teachers use [the TotSpot] for teaching social skills and self-control. Timeout is not a punishment for children. It's a time to control thoughts and learn what they did wrong," Ann Brazil, creator of TimeOut Tot, told TDmonthly. Launch date: July 2006.

ToyDirectory Product ID#: 10432

(added 12/5/2006)

.

AD
---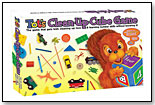 MSRP: $29.99

Age Range: 3 to 7Launch Date: July 2006Gender: Boys And Girls





Sure to be a hit with parents and children alike is Tot's Clean Up Cube Game. It makes putting away toys FUN - and educational. Sturdy 5" x 5" cards (in English and Spanish) slip in and out of clear pockets on the sides of the cube.Dozens of different card sets provide endless FUN - and interactive learning! The starter set teaches number skills, and includes one inflatible (8" x 8") cube, guidebook and four sets of cards: numerals, domino dots, English and Spanish number words. The other card sets are in English and Spanish too. These are:alphabet(4 sets), colors(4), shapes(3), sight words(2), adjectives(2), opposites(2), synonyms(2), prepositions(2), punctuation(1) and MORE! "The clean up cube is perfect for spring cleaning," TimeOut Tot Founder Ann Brazil told TDmonthly. Launch date: July 2006.Launch date: July 2006.

ToyDirectory Product ID#: 10433

(added 12/5/2006)

.

AD
---
Catalog Request Form

Writer's Bio:
A. Antonow is a freelance writer who lives in Canada. She has written for businesses and individual clients alike, developing copy, content, advertising and ghostwritten material.
Read more articles by this author
THIS BANNER IS AN AD:
---
---


Advertisement: