Article Tools:








Uglydolls Sit Pretty in 3,000 Stores
Plush Pals Make "Different" Cool
"Kids, teenagers and adults … send us photos of their Uglydolls. They don't just sit on the shelf; they're friends." — David Horvath, Pretty Ugly LLC
Uglydoll plush toys are so ugly they're cute. The first Uglydoll was handmade by Sun-Min Kim as a present for David Horvath in 2001. Now, the two are married and have a houseful of big and little Uglydolls, key chains, T-shirts and more. David and Uglydoll's Director of Operations and Sales Alita Friedman (her comments are in italics) told
TD
monthly Magazine in their own words how David and Sun-Min grew the company from one ugly doll into a booming business.
MOM-AND-POP APPEAL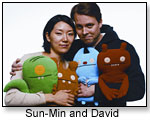 My mother was a designer at Mattel. I would see prototypes of the toys she designed and wondered why they were more beautiful than the toys made to be sold.

I knew I wanted to make toys, but I didn't want to work for a big toy company. The mom-and-pop-shop system attracted me because the people who make the toys sold in these stores make the toys they want to make.

STUDENTS WITH A PLAN

Sun-Min and I met when we were students at Parsons. We started swapping ideas and became partners. We had a master plan, but no clue as to how we were going to carry it out.

After we graduated, Sun-Min was temporarily living in her native Korea. She made me a doll based on a character I used when signing the letters I wrote her, and I told a friend who owns the Giant Robot store about it.

My friend thought I was pitching a product and wanted to order 20, so Sun-Min made 20 more. I dropped them off at Giant Robot, and that night I got an e-mail — he needed more dolls.

It cost us $80 for Sun-Min to ship the first 20, and it took 17 hours to make a profit. Every time we sold a doll, we put the money back into the company.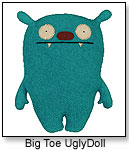 UGLY GETS BIG

The first Uglydoll sold in December 2001, and our first mass-production version was made in March 2003. These dolls are identical to the ones Sun-Min made by hand.

Toy Fair [which we first attended in 2003] broke us into the toy industry.

We also go to the gift show in New York, ASTRA and Comic-Con.

Uglydolls were first sold in one retail store, and from there 10 stores, and then we added one store a day for almost two years straight. Then it jumped. We're now in 3,000 locations, all specialty stores.

NOT UGLY, JUST DIFFERENT

Sun-Min came up with the name Uglydoll. The idea was that people identify strange and different with ugly. It's such a great way to say that ugly just means different.

We get kids, teenagers and adults who send us photos of their Uglydolls. They don't just sit on the shelf; they're friends.

David and Sun-Min created something brand new. Imitators may come along, but they're not the same.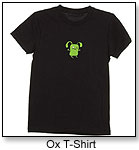 GETTING TO THE NEXT LEVEL

To bring the business to a different level, you have to work hard at finding people who know what it is you're try to do but who also bring something new. Alita was one of these people.

It's a wake up call when in school you're told that you can't do something and you're pretty sure you can. If you believe in something, you'll make it happen. Learn all you can, research like crazy and immerse yourself in the thing you love. Get advice from everyone, and don't listen to anyone.

Read more about the Uglydolls in our archives. Here's a sampling of the Uglydolls:





MSRP: $20.00

Age Range: All AgesLaunch Date: January 2007Gender: Boys And Girls





Ice-Bat, comes from an Ice Cave and loves hiding inside Ice Chests. Everything he touches turns to Ice, yet profoundly he warms your heart. Ice-Bat thinks you are cool and he wants to chill with you. He wants to hang out with you... or just hang upside-down, if that's OK with you.
— These dolls are "unique in the style and design, and appropriate for all ages," Victoria George of Victoria George Public Relations told TDmonthly. Launch date: January 2007.
— This is a best-selling Halloween-type item for Mike DiAndrea, manager of Hardware Centre, Inc., in Paoli, Penn., "mostly because we don't do a whole lot with Halloween."

ToyDirectory Product ID#: 10979

(added 1/5/2007)

.

AD
---






This quirky 96-page journal features an embroidered plush cover and Uglydoll Ox. It measures 6 3/8" x 7 1/8". Launch date: April 2007.

ToyDirectory Product ID#: 13232

(added 6/5/2007)

.

AD
---






UglyDolls and Chronicle Books have teamed up to create UglyDoll airmail — just write, moisten, fold and stamp, and these little monsters will be on their way to friends and family. The 40-sheet stationery pack measures 7-1/8"W x 10"H and consists of five designs. Launch date: March 2007.

ToyDirectory Product ID#: 12655

(added 5/4/2007)

.

AD
---
Catalog Request Form
Writer's Bio:
Elizabeth Greenspan edits and writes for trade and technical publications. She has interviewed and collaborated with some of the top practitioners in their fields. She lives in Philadelphia and travels extensively for her work.
Read more articles by this author
THIS BANNER IS AN AD:
---
---


Advertisement: