What began as a series of wacky sketches from a guy to his girlfriend has resulted in a brilliant contribution the collectibles market. Some Ugly Dolls (under $30) have three eyes, some have one. Others have overbites, tentacles, wings, or even an X for an eye. The soft-bodied dolls come in appealing blends of colors, and wear cute, gullible expressions that reflect their own distinctive and ugly personalities.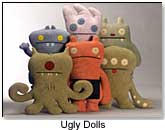 Take for instance, Wage, who works at the local Super Mart, even if Super Mart doesn't realize it. There is also Cinko, the youngest and most amphibious of the bunch, and the pink and feminine Tray, whose three brains make her the smartest, yet the oldest and hairiest eyesore of a doll, Target, is by far the wisest. Other Ugly Dolls include the loveable Babo, the codependent Jeero, the ice-cream loving Ice Bat, one-eyed Wedgehead, and Ox, the slime green kleptomaniac with dog-like ears.
The remarkable bunch were spawned from the minds of artists David Horvath and Sun-Min Kim and have been the subject of many publications and websites including The Los Angeles Times, Giant Robot Magazine, The Daily Breeze, URB Magazine, Create Online Magazine, and Zakka Magazine in Japan. The dolls have been known to reside in the homes of various celebrities, including Rosanna Arquette, Robin Williams, Celine Dion, and Chili from TLC. There is also an animated series currently in pre-production so expect to see more of this unattractive yet oddly likeable crew.
Read an update on the Uglydolls in Pretty Ugly Attracts the Masses.