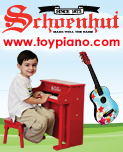 Article Tools:








Kids' CDs Rock Out and Keep Things Jazzy
New Albums Capitalize on Various Styles of Music
When TDmonthly Magazine queries specialty toy retailers about what music sells (and plays!) in their stores, Putumayo Kids comes up time and time again. There's no doubt Putumayo has a lot to offer, given the breadth, cultural diversity and strong musicianship of its collection! If your customers have shown they really enjoy music, maybe it's time to check out some other artists and bands as well, since the children's market is flooded with vocal talent, varied musical styles and fun, often educational lyrics for kids. Below is a list of newer CDs you might want to look into, led by seven selections at the top that recently received 5 out of 5 TD stars from TDmonthly's Music Expert:
This much-anticipated first album from New York City's favorite kindie rockers, "The Jimmies," has already met with wide acclaim and plenty of toe tapping, with music running the gamut from rock, funk, pop and blues to reggae, hip-hop and even Dixieland. The group's clever lyrics, catchy hooks and sophisticated melodies add up to an album full of songs listeners won't mind getting stuck in their heads. Launch date: April 22, 2007.
.
Research shows that classical music profoundly stimulates a child's brain, even in the womb. Tot Talk's Globe-Toddlers French Classical Music for Children CD includes French masterpieces from the 17th to 20th centuries written by composers including Georges Bizet, Jacques Offenbach and Gabriel Faure. The CD includes several well-known French children songs. This is the CD soundtrack to Globe-Toddlers "Adventures in France" DVD. Launch date: November 25, 2008.
.
.
Featuring acoustic arrangements, R&B influence and optimistic tunes that bring back the feel of the '70s, this 12-track album includes the songs "Road Trip," "Your Smile" and "Good Night, Daisy." Launch date: March 4, 2008.
.
.
.
.
.
This CD by RONNO will encourage children to grow as individuals, learners and responsible citizens. The song lyrics focus on timely and important topics, such as bullying, respect, responsibility, compassion, conflict resolution, self-esteem and more. Positive songs support solid character building, and the music is lively and fun. An extensive guide is included. Launch date: March 2009.
.
.
New MATHeMANIAC Maya joins the Crazy 4 Math Club and finds out that she can combine music and her favorite sport, rope jumping to get back on her math track. The Googols' powers help turn this math club into a real "partay"! MATHeMANIAC includes skip counting forwards and backwards from 2-13 and from 25. Learn about big numbers as you skip count from 1000 to a million and on to a googol! Practice doubling past a million. Listeners of all ages will develop mental math skills to help addition, subtraction, multiplication and division while gaining an appreciation for different music genres.
.
This album features fun children's music that encourages creative movement and embraces, enriches, and extends early learning through songs that are age- and developmentally appropriate, as well as relevant to themes in a child's world. As a former prekindergarten teacher, Brian has long been an advocate of the philosophy known as emergent curriculum — a system of creating lesson plans that are based on student's passions and interests. It was through this process, including arrangement tips and lyrical ideas from children, that each song was crafted. The CD won the 2008 Children's Music Web Award for Best New Artist for Preschoolers Ages 0-5. Launch date: June 2008.
.
From the award-winning Banana Slug String Band come 10 toe-tappin' tunes that celebrate all things water. Each song makes a perfect introduction to an elementary science lesson or just some danceable fun. Kids can grab their waders and wander from spring to sea in a musical adventure that's wet and wild. Launch date: March 6, 2008.
.
.
"Moey's Music Party" is a 17-song CD with fun songs that entertain and educate children — and get parents dancing, too. The songs are about manners, sharing, listening to parents, getting dressed, tasting sushi, and being a kid in New York City. They were inspired by award-winning, Off-Broadway songwriter Melissa Levis's (aka Moey's) own experiences as a mother. "I Gotta Go Potty" was her son's potty training mantra, and "Pierre Wouldn't Wash His Hair" was her solution to his six-month hair-washing strike. The CD is a winner of Dr. Toy's Best Vacation Product 2008. Launch date: June 2008.
.
Thirty-seven easy-to-say singable chants and songs from around the world. Traditional and original. Interesting sound effects, games and clapping, field holler, warm-ups, welcomes, fingerplays, chain gang, sea chantey, celebration, dance, language arts and more.
.
Created by Rob and Lisi Wolf, this 14-track, 42-minute album features acoustic version of songs by Neil Diamond, Fleetwood Mac, The Beatles and others. The product is made in the United States, using recyclable materials.
.
This energetic album, featuring vocalist and guitarist Matthew Pryor, drummer Bill Belzer, guitarist Dustin Kinsey and bassist Eric McCann, is full of "playground pop" songs that were inspired by Pryor's kids. The family-friendly, 16-track CD includes homegrown themes set to upbeat rhythms and cool melodies.
.
This soothing collection features performers Marco Calliari, Bia, Lynda Thalie, Idrissa Zal Sissokho, Penny Lang, Luc Lopez, Muna Mingole and members of the Canadian folk-pop group Hart-Rouge. The lullabies come from Brazil, Belgium, Senegal, Israel, Algeria, Germany, Canada and other diverse places. The warm lead vocals and harmonies on each track are supported by musicians playing on more than 30 different instruments. The earth-toned, dreamlike illustrations of the picture book edition and CD packaging reflect both the subject and country of origin of each song. Run time is approximately 40 minutes. Each CD includes printable files with lyrics and illustrations. A colorful, 36-page hardcover picture book with a CD is available separately at an MSRP of $22.95. Launch date: October 21, 2008.
.
.
"Tom Glazer Sings Honk-Hiss-Tweet-GGGGGGGG and Other Favorites" is a delightful collection of children's music recorded live from the 1950s to the 1970s. Among the 24 remastered songs are irresistible favorites like "Skip to My Lou," "This Old Man," and "Hush Little Baby," as well as original songs composed by Glazer and unique renditions of folk classics from around the world. With intimate liner notes by John, Peter and Diana Wasserman Glazer, including lyrics to the songs, "Tom Glazer Sings Honk-Hiss-Tweet-GGGGGGGG and Other Favorites" introduces Glazer's legacy to the children of the twenty-first century. Launch date: October 28, 2008.
.
Baby Loves Music is proud to announce the release of "Baby Loves Salsa", a CD and colorful book featuring real salsa music by amazing artists under the direction of band leader and singer Jose Condé and produced by Grammy Award winning producer Aaron Levinson of the Spanish Harlem Orchestra. Baby Loves Salsa family concerts have already taken place this year at Central Park, Miami's Bicentennial Park and San Francisco 's Golden Gate Park. The new book and CD feature a fanciful menagerie of characters – "Lalo el Largo," "Chico Chocolate," "Arsenio Ruff Ruff" and "Celia La Cruz," among other cleverly drawn Baby Loves Salsa band members, whose voices are actually those of acclaimed musicians and vocalists from various Caribbean countries. From the first track, "Somos la Banda," to the danceable tunes "Vamos a la Playa" (Let's Go to the Beach") and "Mi Familia es la Musica" ("Music is My Family"), the songs will engage everyone in the family with their irresistible melodies and rhythms. Launch date: September 30, 2008.
.
This album, dubbed a "14-track ode to childhood wonder," blends bluegrass, classical symphonic sounds and Indie charm. In addition to providing the primary vocals, artist Danielle Sansone plays piano and acoustic guitar for this collection of love songs that includes "Bed of Roses," "Whisper" and "There is You." Launch date: 2008.
.
Catalog Request Form


Advertisement: