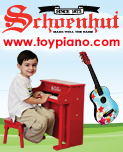 Article Tools:








How to Demo Your Toy on Video
Talking to the Camera Is Like Talking to a Retailer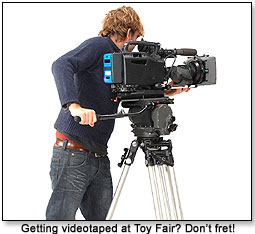 If you've signed up for a TDmonthly Magazine Toy Video demonstration at Toy Fair 2012, there's no need for a script and no need to be nervous. When you talk to the camera, you're talking to retailers — just as you do all day at the show. Pick up your product, and when the cameraperson says "Action," just tell us what the toy is, who makes it and what it does.

See how simple the video demos are by watching a few from last year, below. If you haven't signed up for a Toy Video, but would like to, please contact us. (See all of the 2011 Toy Fair videos.)

Retailers: Be sure to check back in with TDmonthly at the end of February and for the March issue, as we begin uploading demos from Toy Fair 2012.
This Toob® contains highly detailed, hand-painted landmarks from cities around the world. An educational insert gives fun facts about the landmarks. Includes Statue of Liberty, Eiffel Tower, Leaning Tower of Pisa, the Pyramids of Giza, and more.
.
These 49-key stringed pianos feature perfect pitch with true piano sound (without the use of electronics). The keys are the same dimensions as those on a full-sized piano, the keyboard half the width. Baby Grands are available in White, Black, Red; Upright in Black, White. Includes cushioned bench.
.
.
ZIP-IT! includes 24 ivory-like letter cubes packaged in a cloth pouch with unique self-scoring zippers, so everything you need is in the bag. No pencil, paper or board needed. Each player takes 12 cubes and races to form their own crossword grid using any side of the cubes. The first player to use all their own cubes calls "ZIP!" and scores a point by moving their own zip up the pouch. The first person to score 10 points shouts "ZIPIT!!!" and wins the game. One hand can be played in as little as than 20 seconds.The game was designed to be easily portable. Also includes complimentary WEORDS Dictionary, a list of weird words that can help win word games.
.
Phone Frenzy is a board game that uses everyone's mobile phone as the primary game component for calling, texting, and sending photos. Every turn, players are given a challenge or activity that can only be completed with the help of one or more of their phone contacts. A challenge might be a race to receive a correct response to "Finish this lyric by Journey: 'Just a small town girl'…" Players pick who they think are the right contacts from their phone and send them a text message with the question. The first player to receive the correct text message wins the round. Launch date: Summer 2011.
.
.
What is the favorite food of the cat, dog, and sheep? Little explorers will soon find this out as only the right food will fit through the corresponding holes of the sorting box. The big wooden pieces stimulate the curiosity of little ones, fosters their senses and train motor skills. Material: Naturally colored birch wood, 6 colored pieces of beech wood and 2 birch plywood templates printed on both sides. Launch date: 2011.
.
.
Developed by Del Visionaries, the Little Green Money Machine is a gateway learning system designed to teach children lifelong skills, in addition to building confidence and self esteem. The book and storefront stand can be used at home, in the classroom, and with youth groups and fundraising projects. This system teaches children about money management and business, and lays the foundation to learn about entrepreneurship. The interactive book, "The Little Green Money Machine: Kids in Business Around the World," offers content, ideas and exercises to give children ages 7 to 14 the tools and know-how to run a business, set goals, and pursue their dreams. The storefront is an all-purpose business stand where children can set up actual business ventures and fundraisers and apply what they have learned in the book. It includes adjustable-height upright posts, five magnetic and dry erase banner areas for marketing and increased visibility, built-in cupholders, a built-in money tray with lock and key, a solar-powered calculator, and a storage area for marketing materials, such as brochures, fliers and business cards.
.
.
The FolkMonsters back story is that a meteorite fell from outer space into a pile of fabric in the designers' workroom one night. The resulting spores mutated the fabric, and FolkMonsters were born. Blueper likes to sleep on a hard, warm circuit board. He is super fuzzy blue with orange stripes. His favorite foods are oranges and blueberries; if he doesn't eat enough of these his beautiful fur colors start to fade. He likes to invent things. "FolkMonsters are delightful friends, not scary at all," says Elaine Kollias, marketing Director. "Their heartwarming faces and bright colors will endear all."
.
Ready, Set, Nano! Kids can race their HEXBUG Nano bugs by constructing their very own customizable Raceway Habitat Set. HEXBUG Nanos test their speed and take off out of the starting gates at a lightning pace in attempt to out-scurry their competition to the finish line, zooming through dangerous divides and tricky turns.
.
.
.
Catalog Request Form


Advertisement: