Article Tools:








NoodleBlox Builds Brighter Future for Down Syndrome Research and Treatment Foundation
Generous Inventor Helps Make Public Service Announcement Memorable
When searching for a metaphor that would elucidate the groundbreaking research being conducted by the Down Syndrome Research and Treatment Foundation, filmmaker and TDmonthly Director of Videography Alison Marek remembered a unique building system she'd shot at the 2011 Western Toy & Hobby Retailers Association meeting: NoodleBlox.


DSRTF was awarded a prestigious Women In Film Public Service Announcement (PSA) in 2011 "because of their unprecedented success in the field of medical and therapeutic research on Down syndrome," said Bonnie Spence, Chair of the WIF PSA Production Program. "We immediately understood the need to bring awareness of DSRTF to the public. We worked diligently with Dr. Michael Harpold and Suzanne Lezotte to accomplish the goal with a WIF PSA." DSRTF is currently sponsoring clinical trials of a new drug developed by Roche USA that may improve cognition in children and adults with Down syndrome.

Assigned to the PSA production team were Victoria Rose Sampson, director; Alison Marek, writer & associate producer; Romell Foster-Owens, Producer; Bonnie Spence, Executive Producer; and Nancy Schreiber, ASC, cinematographer. "Building a brighter future" was the creative directive from DSRTF. Alison wrote a script to feature children with Down syndrome sharing their dreams about what they wanted to be when they grew up.





"NoodleBlox is the the perfect illustration of the PSA's theme," said Alison. "It was an unexpected kind of building system that utilized pool noodles and specially designed plastic connectors to construct everything from spheres to giant birds."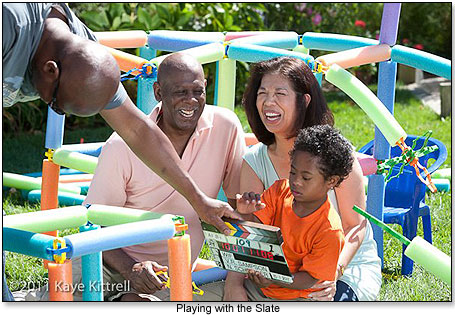 When Alison approached Tony Felber, inventor and president of NoodleBlox, about donating to the PSA, he was enthusiastic. The idea was to build a house using NoodleBlox and pool noodles. Tony had never before attempted such a large structure, but immediately set about designing and testing prototypes, working with the PSA's production designer Frederica Nascimento. After several attempts that sagged in the Arizona sun, Tony came up with a design that was sturdy enough to withstand the rigors of shooting all day in Los Angeles with dozens of kids playing in and around the structure.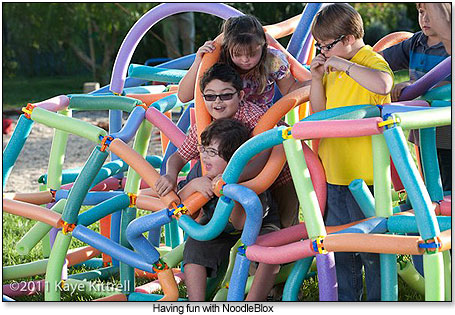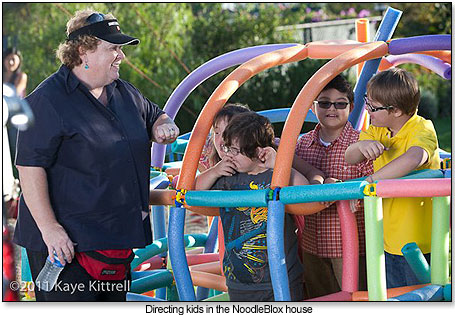 Because the house was a fairly complicated structure that required several types of NoodleBlox to complete, Tony drove from Arizona to the WIF offices on his way to Los Angeles International Airport for a business meeting in Australia. He instructed Frederica and her design crew on how to assemble the house. Not only did he provide hundreds of NoodleBlox connectors, he also donated dozens of pool noodles and helped arrange another donation of pool noodles from Dave Dyell at Tundra Foam.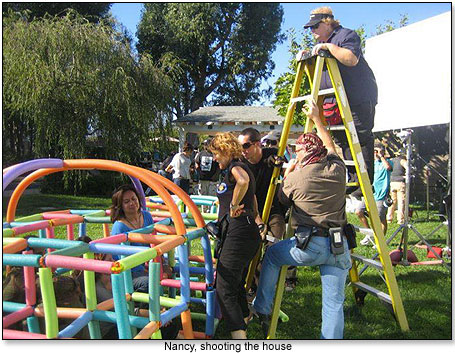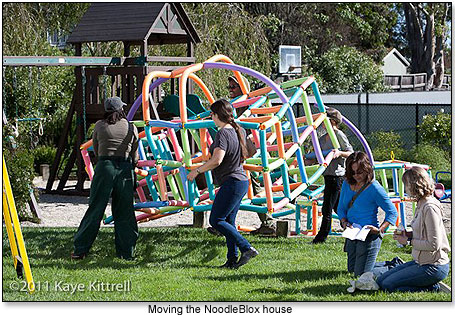 "The WIF PSA Production Program members and the DSRTF were knocked out by Tony's generosity and ingenuity," said Alison.

The PSA was shot on 35-mm film on cameras and equipment donated by Panavision. The location was a private backyard in Malibu, generously loaned to the team by the owners, and designed to look like a picnic in a public park. Other donations were from 99 cent-Only Store and Vons grocery store.

"The NoodleBlox were a perfect, colorful structure that not only added so much beauty to the PSA but served as a physical metaphor for what kids with Down syndrome may be capable of doing in life, especially with the treatments the DSRTF are developing," said Vickie. "The kids (and their parents and siblings) had such fun playing in and out of all the connections! I can't thank NoodleBlox enough for their generous contribution of time, ingenuity, and NoodleBlox. It is my sincere hope that people will see past the 'syndrome' to appreciate all the beautiful rainbows of color these children represent in the world."

The DSRTF PSA began broadcasting this fall. Suzanne Lezotte, former president of the DSRTF and the PSA's spokesmodel, was spotted by her niece when the piece was run during a Detroit news program. It was an exciting moment for Suzanne, because her goal is for the PSA to change the way people look at Down syndrome and acquaint them with the potentially life-altering research ongoing at DSRTF.

Here is the finished 30-second spot, featuring Tony's NoodleBlox and the kids from the DSRTF.

To learn more about the DSRTF, please go to www.dsrtf.org. To learn more about Women In Film's PSA Production Program, go to www.wif.org. To order or learn more about NoodleBlox, go to www.noodleblox.com.

Click on video below to see Tony in action at the WTHRA.







This product connects pool noodles together. The Link, the End, and the EL shaped links allow kids and adults to create many different combinations of pool noodle shapes- chains, squares, seats, and more. Each shape comes in a pack of four.

ToyDirectory Product ID#: 32033

(added 3/29/2011)

.

AD
---
(Panomrama photo copyright Christine Horgan, 2011. All others copyright Kaye Kittrell, 2011)
Catalog Request Form
THIS BANNER IS AN AD:
---
---


Advertisement: