Article Tools:








Q&A with Andrea Barthello, Co-Founder and COO of ThinkFun
When Andrea Barthello was young, she was always asking, "why?" As she grew older, this natural curiosity and desire to find solutions to problems eventually led her to co-found ThinkFun. Below, she shares how the company was started, how it grew, and why giving back is essential to the company's make-up.

Q. What career path did you originally envision for yourself? Did you ever anticipate working with children's products?

A. I have always been interested in the way things work — As a child, I was always building towns with matchbox cars, and my favorite questions always had to do with "how," "why," and especially "why not?!" While I did not anticipate working with "children's products" specifically, I think my natural inquisitiveness and interest in problem solving led me to my role as co-founder of ThinkFun.

I love a challenge - whether it is the challenge of daily business operations or making something seemingly difficult into something easy. I also love solving problems, and I love that the work I do helps kids to think through an idea or an answer to a question. The fact that our games deliver a problem solving opportunity that inspires kids to persevere until they have a breakthrough makes so much sense now!

Q. How did you come up with the idea for your first product?

A. The first ThinkFun (then called Binary Arts) products were these amazing wood puzzles that were created by Bill Keister — a family friend and colleague of Bill Ritchie's father at Bell Labs. When Bill (Ritchie, not Keister!) and I were dating, I had a number of ideas for starting my own business. When I was introduced to these amazing puzzles, I figured why not start a company to make and sell them?!

Our first product was a Keister creation called the Hexadecimal puzzle. My role at ThinkFun isn't to come up with the ideas for our games and puzzles — my role is to make things happen! In the beginning, this meant figuring out all the logistics of how to get things made, how to sell them, how to do the accounting, how to track inventory, sales, and so on.

Q. What steps did you need to take to go from the original spark of an idea to actual production? How long did it take?

A. At first, we made the puzzles by hand in our basement using sourced wood from one factory and wire from another. At one point, we hired a guy to make the Hexadecimal puzzle, and Bill and I hand sanded the parts and put them together.

In the beginning, it was one step and discovery at a time...after a few years, our exploring led us to our first injection molded puzzle — SpinOut! Funnily enough, when Bill was in high school he worked in a plastic factory, and his dad said to him, "You never know when this knowledge might come in handy!" Makes you think we all do have a plan, huh?

Q. What charitable organizations has your company worked with in the past?

A.I am very passionate about how ThinkFun participates in giving. We love donating ThinkFun games to school auctions, to hospitals for kids going through health challenges, to classrooms, to deployed service members, to adults who have suffered brain trauma, to struggling families in need of holiday cheer...the list goes on and on. We have also donated generously to the Toy Industry Association efforts. I personally review all donation requests that come to the company, and I rely on my instincts and what resources we have available — hearing the stories of what our donations support and sharing our games with deserving groups is one of my most favorite parts of what I do here.

To me, the most impactful charitable effort that ThinkFun and I have made is the decision to support William Kamkwamba by contributing to his education. I first met William in Arusha, Tanzania in 2007 when I was attending my first TED conference with my son Sam. When I met him, William, now known from his NY Times bestselling book as "The Boy Who Harnessed the Wind," was a teenager living in drought-ravaged Malawi. Using a library book and his own ingenuity, William taught himself to generate electricity by building a windmill from found materials and scrap parts and brought wind power to his village.

We have supported William in his journey through school in South Africa and now at Dartmouth, and I am proud to know the financial, emotional and family support we committed to William has helped him realize dreams for himself, his family, and ultimately his country. I am so proud he considers me his "American mom," and I so look forward to meeting his entire family in Malawi one of these days.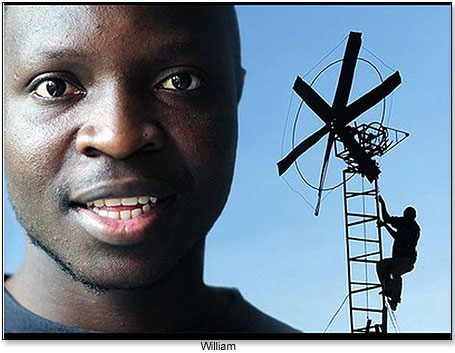 Q. What inspired you to contribute to this cause?

A.I was welcomed into the William adventure by Tom Reilly, the TED Fellows Director, who is truly responsible for taking action and starting everything. My son Sam and I spent about 10 days on a post TEDGlobal safari, where we were fortunate to get to know Tom and other TED staff.

When we were parting ways at the airport, Tom told us he was going straight to Malawi because he wanted to help William realize his dream of a formal education. When Tom asked for our financial support, it was easy to say yes! At the root of saying yes and committing to William was that I saw in him a boy who was a natural problem solver — he was curious and made things happen at a very young age.

William was a boy just like Sam, and I wanted to help in any way I could to enable him to get back to his education.

Q. What experience do you have working with charities on a personal level?

A.I don't really like to use the word "charity" — for me, helping others is about giving. After the success of William's book, I was asked to speak about my involvement with his story to a group trying to figure out how and who and what to donate money to. As I was thinking about what to say to this warm gathering, I realized the message I could most sincerely give was from my heart. Giving is not just about money — it's about being kind, about opening and holding a door for someone, offering to help at every little opportunity that presents itself — letting that crazy driver go in front of you and smiling while you do it — and it's about compassion.

So as I said those things to this gathering, I also said that I was compelled to help William because he was a boy — almost the same age as my oldest — and he just needed to be able to have the door opened — he has done the rest.

On the most personal of levels, William has become a part of our family. He considers me his American mom who is there for him every step of the way, from moving him into the dorms to making sure he has warm clothes for those cold New Hampshire winters, to looking in his eyes and knowing whether he is finally comfortable. For me, this connection is the most rewarding.

Q. What do you consider to be your greatest accomplishment in the toy industry? Why?

A.I find it difficult to answer this question because it's not often that I think of "my" greatest accomplishment. Pushed, I would say that — our— greatest accomplishment is that we survived starting a business and continue to this day to believe and work towards a destiny we have not yet fulfilled. Our mission is to have a meaningful and profound impact on kids that results in better problem solvers and shows the world that you can have fun while learning — if you can become a good problem solver, you can do anything you put your mind to — and the fact that our games help kids do that is remarkable.

I am very proud to serve on the Board of Directors of the Toy Industry and to participate in the great work that the Toy Industry Foundation does by donating ThinkFun products.

Q. How do you hope your products affect children's' lives?

A.I know that our products help kids gain confidence, work through problems, and feel empowered. With new platforms, technologies, and products that extend all the way from toddler to adult, we are reaching more players than ever before!

My hope is that we figure out how to reach not only the kids whose parents and teachers know games can enrich learning, but also — and perhaps more importantly - that we reach those children who don't have this support.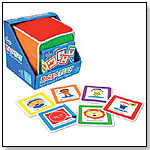 To play, simply toss the big plush cube and identify which colored side faces up. Choose a matching color card and perform the simple activity shown. "Make a happy face," "Moo like a cow," etc. The activities supported by Roll & Play are designed to help kids shine, supporting healthy development and celebrating success. Roll & Play gently introduces play patterns and rules through a loving, joyful play experience. Launch date: 2012.

ToyDirectory Product ID#: 33637

(added 2/12/2012)

.

AD
---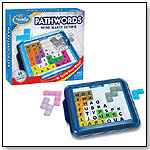 Wholesale Price: (Log in to view)Dropship Available?: (Log in to view)Ships From: (Log in to view)Terms: (Log in to view)

MSRP: $19.99

Age Range: 12 and upTarget Age Range: 13 and upSpecialty: Yes (as of 2011)Made in: United StatesSKU or Item #: 3600Launch Date: March 2011Gender: Boys And Girls





PathWords is a new game that combines the Tetris® and Word Search. Players must find all the words in each challenge and place the puzzle pieces so that the letters under each piece spell a word. PathWords will delight puzzle game buffs and word search fanatics. Launch date: March 2011.

— In a Summer 2011 survey, Mary Porter of

The Curiosity Zone

in Ashburn, Va., told

TDmonthly

that ThinkFun was her best-selling brand of puzzles.

— As of 7/12/2011 this product had 4.9 out of 5 stars from 19 reviews on Amazon.com.

Pros:

Clear instructions; fun alone or as a group; challenging.

ToyDirectory Product ID#: 31693

(added 2/9/2011)

.

AD
---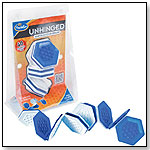 MSRP: $14.99

Age Range: 8 and upSpecialty: Yes (as of 2012)Gender: Boys And Girls





Brain twisting game of 40 challenges. Four challenge levels accommodate the skills of everyone in the family. Develops reasoning abilities and fine motor skills. Tactile, dual-colored design. Includes folding hexagon puzzle, booklet with 40 challenges.

ToyDirectory Product ID#: 34646

(added 7/20/2012)

.

AD
---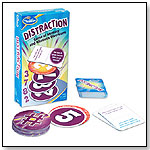 Players take turns drawing number cards and remembering a growing sequence of digits. If a player draws a Distraction card they must answer a quirky question before reciting the numbers in order. Get caught repeating the sequence incorrectly and collect the cards – the first player to run out of cards wins.

ToyDirectory Product ID#: 34472

(added 6/22/2012)

.

AD
---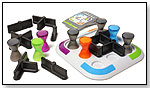 The goal is to move the colored tokens through the maze to their respective corners. To do this, players must pass through turnstiles, shifting walls to form new pathways...and new barriers. Clever challenges exercise strategic thinking muscles, as one turn may lead to victory or may leave players stranded.
Awards: 2013 TDmonthly Seal of Approval

ToyDirectory Product ID#: 34123

(added 4/24/2012)

.

AD
---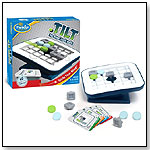 Wholesale Price: (Log in to view)Dropship Available?: (Log in to view)Ships From: (Log in to view)Terms: (Log in to view)

MSRP: $19.99

Age Range: 8 and upTarget Age Range: 9 to 12Specialty: Yes (as of 2011)Made in: United StatesSKU or Item #: 1001Launch Date: March 2011Gender: Boys And Girls





Tilt is a dynamic multi-challenge maze game that requires a player to tilt the game board back and forth, and left and right to navigate the green sliders through the center hole. The challenges progress in difficulty, and each challenge card comes with a hint, just in case players need a little help. Launch date: March 2011.

ToyDirectory Product ID#: 31695

(added 2/9/2011)

.

AD
---
Catalog Request Form

Writer's Bio:
Justina Huddleston graduated Magna Cum Laude from Emerson College with a BA in Writing, Literature, and Publishing in 2009. After graduating she was the on-site director of the Boston Children's Museum gift store for a year, selling educational, developmental, and creative activity toys that tied in with the museum's exhibits. Justina also interned at children's book publisher Candlewick Press before moving from Boston to Los Angeles, where she is now Editorial Director of
TDmonthly Magazine
.
Read more articles by this author
THIS BANNER IS AN AD:
---
---


Advertisement: