Products from ENGLISH TIGER GAMES
THIS BANNER IS AN AD:
---


View: By latest product added | By earliest product added



Below are some of the products ENGLISH TIGER GAMES has shared with ToyDirectory and TDmonthly



---
Speed Limit
TDmonthly rating:

(
Read Review
)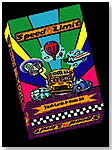 MSRP: $9.99
Age Range: 6 and up
SKU or Item #: 8809164850207
Launch Date: January 2007
Gender: Boys And Girls
Whether on land, in the air, or even underwater in a new submarine, players must follow rules to survive, and avoid getting caught going over the speed limit. This exciting game tests players' abilities to obey traffic laws and use the proper speed to become the race ace. "Speed Limit helps players become familiar with various kinds of transportation while improving their skills at adding and subtracting numbers," President Liam Finn of English Tiger Games told TDmonthly. Launch date: January 1, 2007.
ToyDirectory Product ID#: 11147
(added 1/12/2007)
MSRP: $15.00
Age Range: All Ages
SKU or Item #: 8809164850108
Launch Date: January 2007
Gender: Boys And Girls
Infinity is a fast-paced game in which students, families and friends can show off their spelling, vocabulary and card playing skills while improving their English. The deck design allows for a variety of exciting games, including Alphabet Soup, Crossword, Stack 'Em, and Letter War.
— "This unique product is an ideal learning tool that will not only entertain players but teach them a thing or too as well. Because games can be modified according to players' skills, this deck can be used by players of all ages and abilities," Liam Finn, president of English Tiger Games, told TDmonthly. It's "great for classrooms or evenings at home gathered around the table." Launch date: January 1, 2007.
ToyDirectory Product ID#: 11135
(added 1/12/2007)
MSRP: $19.99
Age Range: 4 and up
Launch Date: January 2007
Gender: Boys And Girls
English Tiger has taken the classic game of BINGO and added a twist to make learning more fun. In this set of BINGO cards, players learn irregular verbs in an easy and entertaining way. The unique design allows teachers to change game play depending on student ability so that they can become even more familiar with the words. The special game cards are double-sided and have colorful pictures to help learners associate them with the words. Launch date: January 1, 2007.
— "In today's ESL market, a lot of focus has been put on CAL (Computer Assisted Learning), which we believe has its benefits but removes some interactive elements from the learning process," President Liam Finn of English Tiger Games told TDmonthly. "Our products engage learners through lively game play and encourage students to exhibit cooperation in the classroom."
ToyDirectory Product ID#: 11056
(added 1/9/2007)