TDmonthly Magazine Product Reviews for BLUE ORANGE GAMES
Below are some of the products from BLUE ORANGE GAMES TDmonthly has reviewed.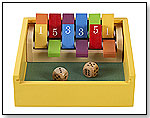 Name: Double Shutter Jr.
Company: BLUE ORANGE GAMES
Age: 8 and up
Price: $21.99
Category: Travel

Please click here to read TDmonthly´s Toy Expert review of this product.

Learn more about Double Shutter Jr.
---
Name: Froggy Boogie
Company: BLUE ORANGE GAMES
Age: 4 and up
Price: $24.95
Category: General Games

Please click here to read TDmonthly´s Toy Expert review of this product.

Learn more about Froggy Boogie
---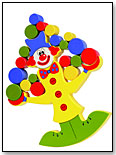 Name: Coocoo the Rocking Clown
Company: BLUE ORANGE GAMES
Age: 3 and up
Price: $19.95
Category: Preschool

What Is It?
Coocoo the Rocking Clown is a colorful all-wood rocking clown who balances colored wooden circles on his arms and head. Kids are challenged to add as many "balls" to Coocoo's arms as possible, without throwing him off balance. The game includes one wooden rocking clown, 24 wooden balls and instructions.

What We Thought
Judging by the reactions of the kids we showed Coocoo, it's a great toy! Even though the age grade recommends 3 and up, even the 1-year-old was fascinated (although she didn't actually understand how it worked!). And the adults liked it, too. The concept is so simple, that you don't even need the included instructions. One father who looked at it said, "It improves eye-hand coordination; develops kids´ intuition for physical balance and requires thinking and planning." He especially liked that the playtime was short, the game could be replayed multiple times, and that it takes up very little space.

Why They'll Want It
It's nicely made, fun to play and it's a great kids' room decoration, too. Kids will want it because it's an easy game that's resolved quickly. Parents will appreciate its quality, ease of use, and the fact that it's cute enough to not need storage. Just let Coocoo rock on the shelf!


— TDmonthly Staff, 6/30/06



Learn more about Coocoo the Rocking Clown
---

Name: Gobblet
Company: BLUE ORANGE GAMES
Age: 7 and up
Price: $29.95
Category: General Games

Gobblet, the first offering from Blue Orange, presents a new wrinkle on the age-old classic tic-tac-toe. This deceptively complex board game pits two players against each other as they vie to line up four pieces in a row.

As the players take turns placing birch pieces of varying sizes on the board, tic-toe-toe takes a left turn: Smaller pieces may be gobbled up by larger pieces. The rules of the game are easy enough to be understood by kids ages 7 and up, but once the game is afoot, Gobblet yields enough complexity to keep parents interested and challenged.

Gobblet comes housed in an attractive wooden box, a welcome relief from the garish plastic construction that dooms many a board game to garage sale status after only a few plays. Gobblet has earned more then 10 prestigious awards, including the Dr.Toy Best new Game award.

Learn more about Gobblet
---

Advertisement: