---
TDmonthly's Psychologist Mom
She'll Put Your Toys on the Couch
TDmonthly Magazine's Psychologist Mom focused on gaming in her most recent reviews, finding fun with frogs, watching kids become a wizard's apprentices, and seeing how the features of Blue Orange's Double Shutter Jr. added up. She also did a little building on the side.



Hoppers® Jr by THINKFUN
Age: 5 to 7
Gender: Boys and Girls
Category: Puzzles & Skill
MSRP: $14.99

TDmonthly rating:




The Dr.'s Impressions: In this game for one, the player helps Red Frog Freddie be the last one in the pond by choosing a set-up of frogs from the attached booklet, placing the frogs on the playing board, and then hopping their frogs around the pond until only the red frog remains. The game comes with 40 challenges, ranging from easy to super hard.

Kids' Perspective: I showed this game to a 6-year-old girl, who proceeded to play all 40 challenges over the next 90 minutes. A 4-year-old boy, just under the recommended age range, wasn't quite ready to understand the concept of the game. Older children got it a little too quickly, and it didn't hold their interest.

Recommendation: I would highly recommend this game because it helps children develop logical thinking skills in a very entertaining way. It's also great for travel, as the game comes with a small bag that attaches to the main plastic game board. The board itself is compact, at less than 1' square.

---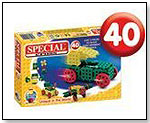 Special Cross 40 Building Blocks by BIM BOM TRADING INC.
Age: 3 to 12
Gender: Boys and Girls
Category: Construction
MSRP: $15.99

TDmonthly rating:




The Dr.'s Impressions: These blocks, designed in Italy, can connect in many different ways. They also come with wheels, so builders can make their own little vehicles that work.

Kids' Perspective: The kids who played with these (ages 4, 6, 10 and 12) had a great time. Their only complaint was that the box didn't come with enough of the building blocks to do some of the more complicated designs in their imagination.

Recommendation: These blocks are beautiful, and are perfect for children who like to build. Their airy design easily allows for the creation of larger structures than can be built with LEGO, and with fewer pieces. The fact that they can connect in more than one way keeps kids thinking creatively while they build.

---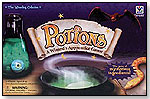 Potions™: A Wizard's Apprentice Game by DISCOVERY BAY GAMES
Age: 8 and Up
Gender: Boys And Girls
Category: General Games

TDmonthly rating:




The Dr.'s Impressions: This game plays into Harry Potter mania, letting children play as wizard apprentices who create different potions. The Wizard Apprentice uses dice, cards that show instructions, and a cauldron to support the game's theme.

Kids' Perspective: The 10-year-old girl and 12-year-old boy who played the game with me aren't big fans of wizardry, but they enjoyed it nonetheless. They played a couple of times, having more fun as they got the hang of it.

Recommendation: This game is perfect for kids who are fascinated with wizards and magic. It wasn't super-complicated, so would be a nice entry-level game for children interested in moving into more role-playing games in a few years.

---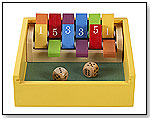 Double Shutter Jr. by BLUE ORANGE GAMES
Age: 8 and Up
Gender: Boys and Girls
Category: Travel Games
MSRP: $21.99

TDmonthly rating:




The Dr.'s Impressions: This colorful, junior version of Double Shutter comes with wooden dice and plays just like the original. In this challenging game, players roll two dice, add the dots on the dice, and find the best combination of numbers to shut two rows of six tiles. Players cannot touch a tile in the second row unless the tile in front of it has already been shut. The goal of the game is to shut all the tiles.

Kids' Perspective: The 10- and 6-year-old girls who played this game loved it and spent most of an afternoon with it. They said they enjoyed the fast pace and the mental challenge. The 10-year-old liked it better, but it worked for the 6-year-old as well, though she had to work harder on the math.

Recommendation: Playing this game is a fun and painless way to get kids thinking about basic addition concepts. I would recommend it for elementary age children. It's also convenient for take-along to a friend's house or on vacation, as only the dice could possibly be misplaced.

Writer's Bio:
Dr. Tiffany Wright doesn't just look at toys; she analyzes them. In and out of the box, she scrutinizes them for playability, appropriateness and educational value. The latter quality is especially important to this stay-at-home psychologist/mother, who also homeschools her three youngest children. Her daughter attends UCLA. Dr. Wright earned her Ph.D. in personality psychology from University of California, Riverside. She is always on the lookout for toys and games that inspire creativity and impart knowledge while bringing fun and laughter to her home.
Read more articles by this author
THIS BANNER IS AN AD:
---
---