---
Teach Kids to Choose Quality for the Holidays
How to Avoid Hype … and Choose Wisely Yourself
"Younger kids do tend to fall for the promises made on the box and in the commercials." — Victoria Ledford, 13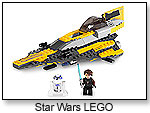 Intense marketing or fancy packaging can make a toy seem better than it really is, and sometimes, perception complicates the task of selecting safe, quality toys for children — or helping them pick the right one! In this economically tight holiday season, parents and specialty toy-store owners shared what they've learned about "hype" in the toy industry, and what steps can be taken to ensure purchase of positive toys with long-lasting appeal.

(This article originally appeared in PlayZak, published by ToyDirectory, the #1 online resource in the toy industry. No manufacturer paid to have its product included or considered for this article or the accompanying video. See website terms of use.)

1. Spot the Hype. "[Children] are bombarded with hype from television," said Kathleen Tutone, owner of Treehouse Toys in Portsmouth, N.H. Other avenues include on-line advertising, movie tie-ins and licensed character use, and continuation or expansion of a series.

"Star Wars LEGOs, for example, are more likely to be requested than regular LEGOs," noted parent Teresa Wilson of Spartanburg, S.C.

2. Spot the Quality. Know what makes a toy worth buying before you start shopping.

Functionality: "Part of what makes a toy or game a perennial around here is easy set-up and clean-up, a good mix of luck and skill, and humor potential," commented mother Sue Christensen of Woods Cross, Utah.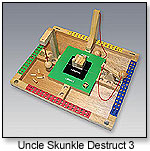 Versatility: Wilson said open-ended and versatile play retain her children's interest in a specific toy. Jill Zuidema of Campobello, S.C., noted, "Most of what we get are things that will last through several years of interest."

Interaction: "The toys that stay with my kids are the interactive ones — a craft set of some sort, a game we can play together," Richardson said.

Competition: "Ethan, [age 9], is still very much into competitive play … so he enjoys board games with skill (rather than chance)."

3. Communicate. Actively listen to a child, Tutone suggested: "Communication is a two-way street, and you have to really listen to what their needs and wants are."

Parent Gail Richardson of Bethesda, Md., recommended "talking to them about their possible purchase — making clear that they understand what it is, how it works, and how much it costs." Zuidema suggested having the child compare several toys.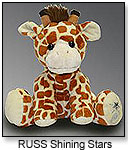 4. Set Limits. "I won't buy them toys on impulse," Sue Christensen of Woods Cross, Utah, said, also noting that her children "often … request a toy after playing with it at a friend's house."

Robbin Dawson of Greenville, S.C., monitors online features. "When a toy has a significant online component, the rule is that parents must check it out before the kids can have it." She also speaks up when she sees "a red flag … a brand famous for breaking, dyes bleeding in the wash, etc."

5. Discuss Expectations. "Younger kids do tend to fall for the promises made on the box and in the commercials," pointed out Victoria Ledford, age 13.

"Impulse purchases come from seeing [the toy] in a store — usually something that is out (figurine, stuffed animal), rather than something on the shelf in a box," Richardson said.

"I talk to them about how advertising can make a toy look a lot cooler than it really is," Christensen shared.

Dawson agreed that "aggressive marketing is a factor" in her children's requests for specific toys. She asks her children questions, such as, "What is it made of?" (eco-friendly consumer), "How well-made is it?" (durability), and "How many ways can you play with the toy?" (versatility). She has found that "with toys that only have one use or one or two features, they'll have buyers' regret later."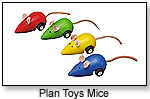 6. Read Packaging Carefully. "The products I carry have packaging that's very helpful to parents and to children and to me in deciding the value of the toy itself," Tutone said. She explained, for example, that packaging with a clear window so the product is visible will help set realistic expectations.

Statements such as "Thousands of games sold!" are meaningless to individual parents and children, and awards are now so plentiful that they are almost meaningless, David Campbell, owner of Amazing Toys in Great Falls, Mont., commented. "I don't know which ones are legitimate and which ones aren't," he said.

He added, however, that "packaging has gotten more honest over the years [about] what the toy is going to do."

After spending years developing questions for her game, Sandy Evans, creator of Active Minds' Comet, The Fast Path to Learning, didn't want the packaging to fail the game. "I tried not use nebulous words … and to give enough information on the box so parents can make an informed decision."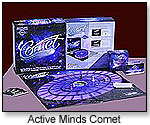 7. Seek Demonstrations. "A demo they can touch or watch in action is probably No. 1" when it comes to reasons for hype over a product, Dawson said, but demos can be helpful.

"Children can't visualize what's in the box," Campbell said. Items out of the box, available for interaction, give children a good idea of whether that toy will be a good match for them.

Nine-year-old Joe Ledford agreed that "demos are enticing."

8. Choose Your Store Carefully. "Having guidance is always helpful," said Tutone, who recommended shopping at small specialty shops instead of big-box chains because "[specialty] retailers know their products and can make recommendations based on their knowledge and experience."

Specialty toy-store owners tend also to be very selective about which products they stock. "I want people to get their money's worth, so I try to carry things that don't over-promise and under-deliver," Campbell said.

9. Empower the Child. Allow the child to spend his or her own money, suggested Dawson, "especially when it's money they've earned."



"They'll think more about the value of the toys and how useful they will be," Tutone said.

"Give suggestions and guidance," recommended Victoria (13), "but allow them to make the ultimate decision."

And if a decision turns out badly…

"If a toy is disappointing, the child will learn from that," summed up Dawson. "It's an inexpensive lesson."

Victoria agreed: "An occasional hard lesson learned is worth it in the end."


Here are some toys that exceeded the hype when reviewed by parents and kids in ToyDirectory's TDmonthly Magazine. Watch the video above to see TDmonthly's Top-20 Holiday Toys.








.

AD
---






.

AD
---






.

AD
---






.

AD
---






.

AD
---






.

AD
---






.

AD
---






.

AD
---






.

AD
---






.

AD
---






.

AD
---






.

AD
---






.

AD
---






.

AD
---
THIS BANNER IS AN AD:
---
---