---
Retailer Spotlight: HobbyTown USA
Franchise Develops Personalized Network Under Corporate Support
"We also go out of our way to make sure we can special-order products." — Ted Sparrow, HobbyTown Owner

HobbyTown USA got its start in 1980 when Merlin Hayes and Thom Walla purchased a single store in Lincoln, Neb.; they launched into franchising five years later.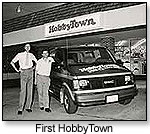 Todd and Bernadette Noble purchased the first franchise store in Colorado Springs, Colo., and still own it today. The company's franchise endeavors have continued to grow.

"We are the largest nationwide franchise in the hobby industry," Mary Friesen, director of media buying and HTUSA National Convention, told TDmonthly Magazine. "Today, there are a total of 177 stores, including those that are open and under development."

CORPORATE AIDS NEW LAUNCHES

Each franchise store is served from HobbyTown USA's corporate office in Lincoln, and all but one are individually owned. The stores offer a wide variety of items for both beginning and experienced hobbyists.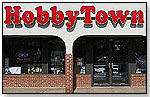 "We have someone at the corporate office who makes the initial inventory purchase when a store first opens, and after that, the individual owners place their own orders," Mary explained. "Our annual convention is held every year in July in Lincoln. We host approximately 125 different vendors and our owners. The convention is a trade show for our franchisees, and we also have meetings/seminars for them."

Customer service and distinctive products are key points for the franchise. A personal touch can be found in each store.

"We ... pride ourselves on offering the best customer service possible and providing products that you can't find at other national chains," Friesen said. "We want our customers to be customers for life [who] truly enjoy their hobby. Some of our stores offer classes, birthday parties, racing, gaming, and places to hold club meetings. We offer much more of a personal touch to our store, and our owners know many of their customers by their first names."

FRANCHISES FOCUS ON SPECIALTIES

Joe DiSandro, who has owned a HobbyTown USA store in Harrisburg, Pa., for four and a half years, is one owner who welcomes customers by their first names when they enter the store, he told TDmonthly.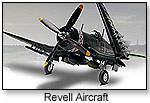 Joe's store offers outdoor demos in the summer and has an indoor slot track. A rock crawler track, the latest craze in the RC world, is being added. For Ted Sparrow, HobbyTown owner for seven years in Dallas, Texas, personal touches include custom signings, product videos, and hiring experts in various categories. The store also has a game room, a working train set and lots of demonstrations.

"We also go out of our way to make sure we can special-order products," Joe said. "We not only order things that we don't have in stock, but we get items in for people to see before they purchase them."

OWNING UP TO SUCCESS

Joe noted that "having [corporate] in the background keeps us up on the leading edge of things in terms of the industry and how to market things. Mom-and-pop shop owners have to be more attentive to things in the industry. So much changes so quickly, and if you're not there, you miss it. That's where corporate does a lot of homework for you."

In addition to marketing benefits and special arrangements with vendors for discounts and freight deals, Ted appreciates the software systems that are available from corporate to aid his business.

Opening any retail store requires a lot of hard work and dedication, Mary concluded for TDmonthly, but "there is so much satisfaction that results from owning your own business."

Writer's Bio:
Brenda Ruggiero is a freelance writer from western Maryland.
Read more articles by this author
THIS BANNER IS AN AD:
---
---