---
TDmonthly's Music Expert
She'll Tell You Which Albums Hit the Right Notes
TDmonthly Magazine's Music Expert unearthed some big hits in her CD player recently, enjoying everything from French classics to folktales. Read on to see why the following three albums earned such high praise.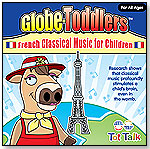 Globe-Toddlers French Classical Music for Children CD by TOT TALK INC.
Age: All Ages
Gender: Boys and Girls
MSRP: $14.99

TDmonthly rating:




My Impressions: This CD is actually the soundtrack for a DVD called "Globe-Toddlers Adventures in France," which I have to admit I have not seen. However, you do not have to have seen the movie to enjoy this great compilation of French classical hits from the 17th to 20th centuries. One of the first things I noticed is that the songs are all instrumental, and most of them are famous. The other thing that makes this album kid-friendly is that all the songs are short, ranging from 41 seconds to just under 3 minutes in length.

Kid's Perspective: One of the first things I recognized when my 2-year-old daughter and I were listening to this album is that the songs inspire a variety of movements. Ashlyn and I were soon clapping, dancing, marching, and singing with these tunes. She needed a little encouragement to sing along with "Frere Jacques" and "Sur le Pont d'Avignon," but the nice thing is that the lyrics are included in the CD jacket, both in French and English. The easiest one for Ashlyn to sing along with was "Quand Trois Poules Vont aux Champs," which she immediately recognized as "Twinkle, Twinkle, Little Star."

My Recommendation: This is a wonderful classical CD for kids to listen to because not only are there a variety of musical styles, but the songs themselves are all really easy for the average listener to connect with. Knowing how this CD fostered a fun mother-daughter time for my daughter and me, I encourage other parents, nannies and preschool teachers to get this CD and have fun with the kids in their lives!

---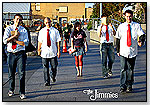 The Jimmies - Make Your Own Someday by PLUCKYPEA INC.
Age: 2 to 11
Gender: Boys and Girls
MSRP: $15.00

TDmonthly rating:




My Impressions: This contemporary CD for kids has won numerous awards, and rightfully so! I found it gratifying to hear a variety of musical styles — Latin, pop, rock, and even "rap-ish" — so perfectly fit to clever lyrics. The composer, Ashley Albert, reaches out to the silly side of grade-school kids' humor, while presenting topics such as individuality, having good hygiene, thinking of others, and not being unnecessarily afraid. The contemporary sound of the band will appeal to children of a variety of ages and the message will be a good one for all kids to hear.

Kid's Perspective: My 2-year-old daughter enjoyed this CD very much the first time through. The first track, "What's That Sound," is about the sounds of all the different instruments. It includes a short solo from each — bass, drum, violin, guitar, piano, gong, triangle, piccolo, conga, banjo. This is a great way for kids to be exposed to a variety of timbres and learn to distinguish instruments from each other. The second song, "Bedhead," is a cute one about the messy hair we all deal with every morning. Ashlyn was skipping and dancing to this one, which has a catchy rock beat.

My Recommendation: There are great musicians, cute lyrics and a good message — you can't ask for anything more than that! All of the songs on the CD are well done, and I think all parents will be happy with the messages presented in this album.

---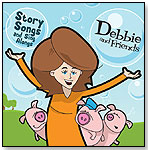 Debbie and Friends: Story Songs and Sing Alongs by DEBBIE AND FRIENDS
Age: 2 to 7
Gender: Boys and Girls
MSRP: $14.95

TDmonthly rating:




My Impressions: From start to finish, the mood of this album is truly happy. It benefits from a variety of musical styles, including rock, pop, reggae, country, folk and even sounds reminiscent of Broadway. The lyrics are easy to understand, and the story songs really do tell a story, in addition to some dialogue between tunes. Although all of the songs are original, some were inspired by familiar fairy tales, including "Jack and the Beanstalk," "Three Pigs and a Wolf," "Little Red Riding Hood" and "Goldilocks and the Three Bears." My only critique of the album is that I wished the music could have reflected the storylines a bit more. For instance, during the music for "Little Red Riding Hood," the big bad wolf did not sound scary.

As a side note, my favorite song was the last track, "Love is a Family." It is a beautiful ballad that begins with a solo piano and voice and gradually morphs into a rocking contemporary pop tune. I thought the musicianship and creative artistry of this song were superb.

Kids Perspective: This whimsical CD has a cute cover. When I asked my 2-year-old daughter which CD she wanted to listen to out of a whole stack of CDs, she chose this one. I think her favorite song was "I've got a laugh." It has a catchy tune and easy-to-learn words for young kids. It was really fun for us both to sing and dance to.

Recommendation: All the musicians who contributed to this album are true professionals, so it makes for a very enjoyable listening experience for both parents and kids. Debbie is a talented singer-songwriter-pianist with a wonderful heart for kids. If you get a chance, visit her website, debbieandfriends.net, as it has some cool stuff for kids, too!

Writer's Bio:
Anna Bendorf received her Bachelor of Music in Piano Performance in 2004 from the University of Oregon, where she gained extensive experience as an accompanist and solo performer. While studying music, she won several piano competitions and sang in the University audition choir and the Symphony Chorus. She has been teaching piano for the past 14 years, and she and her husband, Adam, run Alberti Publishing, a music publishing company. They co-authored a book for piano teachers called "The Right Notes" (November 2008). Adam and Anna have two daughters.
Read more articles by this author
THIS BANNER IS AN AD:
---
---