---
TDmonthly's Psychologist Mom
She'll Put Your Toys on the Couch
TDmonthly Magazine's Psychologist Mom bestowed a top rating (5 out of 5 stars!) to all three of the products she most recently reviewed — a pink poodle soft toy that encourages kids to read and write online, a game that's all about strategy and luck in the stock market, and another board game of swashbucklin' pirate fun and adventure.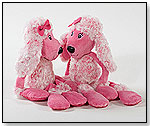 Skoodlez by KAMAR INNOVATION TOY GROUP LLC
Age: 4 and Up
Gender: Boys and Girls
Category: Plush
MSRP: $17.99

TDmonthly rating:




The Dr.'s Impressions: These soft toys can be played with as simple stuffed animals, or can lead a child into a world of online possibilities. The dolls' weighted hands and feet allow them to be posed in unique ways, and each toy comes with a coin with a secret code that gives children access to the Skoodlez website. The online games encourage writing and reading.

Kids' Perspective: The 10- and 6-year-old girls who played with this toy loved the way it looked - they were playing with a pink poodle (other designs are available), and the computer games enthralled them as well. The games seem particularly appropriate for those who read at a lower level.

Recommendation: This is an adorable toy, and the website is not only appealing to children. It also passes a parent's test for being focused on reading and learning — not on virtual shopping, as many children's online games are.

---
Composite Index by CARL'S OFFICE SUPPLY LTD.
Age: 12 and Up
Gender: Boys and Girls
Category: Board Games
MSRP: $34.95

TDmonthly rating:




The Dr.'s Impressions: This game for two to six players offers a mock stock market. It takes both strategy and luck to win, which makes it both complicated and realistic. It comes with a board, dice, game cards, a rule book and play money.

Kids' Perspective: The 12-year-old boy who played this with me liked it, but he seemed conscious that he was pushing the lower limits of the age in which he'd really enjoy it. He thought he'd like it even more when he got older.

Recommendation: This is a great game for learning about the stock market as well as enjoying some of the excitement of it without experiencing the pain of real losses.

---

Pirate King by FLASTERVENTURE LLC
Gender: Boys and Girls
Category: General Games

TDmonthly rating:




The Dr.'s Impressions: Each player in this game is the captain of a pirate ship navigating the Caribbean to capture territories and add cannons and crew. The game comes with a couple of game boards, many different cards and tiles, gold coins and even some lovely gems, all of which combine to determine the top pirate in the game, which is designed for two to four "swashbucklers."

Kids' Perspective: The kids noticed right away that this game was a blend on some classics, since it felt familiar and comfortable even though the instructions are detailed. The 12-year-old boy and 10-year-old girl who played have both enjoyed imaginative pirate play in the past, and this is a game that would be particularly fun for pirate fans.

Recommendation: Pirate King is sophisticated and fun for both children and adults, as there are different ways to win. The most successful pirate captain isn't necessarily the one who fights the most aggressively; there are economic paths to victory, and that's a great message for children.

Writer's Bio:
Dr. Tiffany Wright doesn't just look at toys; she analyzes them. In and out of the box, she scrutinizes them for playability, appropriateness and educational value. The latter quality is especially important to this stay-at-home psychologist/mother, who also homeschools her three youngest children. Her daughter attends UCLA. Dr. Wright earned her Ph.D. in personality psychology from University of California, Riverside. She is always on the lookout for toys and games that inspire creativity and impart knowledge while bringing fun and laughter to her home.
Read more articles by this author
THIS BANNER IS AN AD:
---
---