EA Expands Littlest Pet Shop Brand. April 30, 2010 — Electronic Arts EA Play is set to release a number of games for Hasbro's Littlest Pet Shop brand this fall. EA has already launched an interactive website, Littlest Pet Shop Online, and has a successful iPhone application for the franchise. "Littlest Pet Shop 3: Biggest Stars" for the Nintendo DS will consist of three games in a connecting storyline that features contests for the pets, testing fashion sense, athletic ability and artistic skills, as well as six in-game exclusive pets and team-themed accessories, plus mini games and pet animations not available on previous installments.

Cartoon Network's "Chowder" Gets Published. April 30, 2010 — Turner CN Enterprises has signed a three-year deal with London's Egmont Publishing Group to publish books based on its popular Cartoon Network series "Chowder." The series will include coloring and activity books, annuals, and story and novelty books.

Scholastic Launches Tween Non-Fiction Series. April 30, 2010 — Scholastic and Girls' Life Magazine have published a line of non-fiction "Girls' Life Guides" for tweens and early teens. The book series, including "Girls' Life: Head-to-Toe Guide to You" and "Girls' Life: Ultimate Guide to Surviving Middle School," addresses topics important to girls ages 10 to 14. According to License! Global, the next two titles —"Girls' Life: Guide to a Drama-Free Life" and "Girls' Life: Guide to Being the Most Amazing You" — will release in September and November, respectively.

Retailers Recall Simplicity Cribs After Infant Death. April 29, 2010 — Following the death of a 1-year-old who became trapped and suffocated between his crib mattress and frame in April 2008, the U.S. Consumer Product Safety Commission has announced a recall of Simplicity full-size cribs with tubular metal mattress-support frames. The frame on the fixed- and drop-side cribs can malfunction and allow mattresses to collapse, posing risk of serious injury or death to infants and toddlers due to entrapment, strangulation, suffocation and fall hazards. The manufacturers of the recalled cribs, Simplicity Inc. and SFCA Inc., are out of business. Consumers should contact Walmart, Target, Babies "R" Us or other retail stores where the item was purchased for a refund, replacement crib or store credit.
Build-A-Bear Revenue Rises 3.9% in First Quarter. April 29, 2010 — Build-A-Bear Workshop, Inc. reported promising first-quarter results following a conference call webcast Thursday. The company cited benefits from the shift of the Easter holiday from second quarter in 2009 to first quarter this year. North American comparable store sales increased 1.9 percent, while moving up 3.2 percent in Europe, for a consolidated increase of 2.1 percent. Build-A-Bear total revenues increased 3.9 percent from 2009 to $101.4 million, and net retail sales were $99.8 million, an increase of 3.6 percent compared to the same period last year (2.3 percent, excluding the impact of foreign exchange). The company recorded net income of $1.7 million, compared to a net loss of $0.8 million experienced in first-quarter of 2009. Consolidated cash balance at 2010 first quarter-end totaled $53 million.
LaJobi-made Graco-Brand Drop Side Cribs Recalled. April 29, 2010 — The U.S. Consumer Product Safety Commission (CPSC) and New Jersey firm LaJobi Inc. announced a voluntary recall of approximately 217,000 Graco-branded wooden drop side cribs, sold at retailers nationwide beginning February 2007. CPSC and LaJobi have received 99 incident reports of the drop side hardware breaking or failing, causing detachment that creates a hazardous gap between the drop side and mattress in which children can become trapped and suffocate. LaJobi is offering a free hardware retrofit kit to immobilize the drop side; however, CPSC advocates an alternative, safe sleeping environment.

Jo-Ann to Pay $50,000 for Lead Paint Violation. April 28, 2010 — The U.S. Consumer Product Safety Commission announced Wednesday that Jo-Ann Stores Inc. will pay a $50,000 civil penalty for allegedly knowingly importing and selling Robbie Ducky children's products in violation of the federal lead paint standard from January through November 2007. The products recalled for excessive levels of lead in paint and surface coatings (at the time, more than 600 ppm) included watering cans, toy rakes and holiday water globes.

Topsville Tapped as Angelina Ballerina U.S. Master Apparel Licensee. April 27, 2010 — HIT Entertainment announced its selection of Topsville, Inc., as U.S. master apparel licensee for Angelina Ballerina in a press release Tuesday. Topsville will produce and market a full line of dance wear, tees, apparel sets and coordinated separates based on the PBS Kids CG-animated series to launch this fall. Children's-wear manufacturer Topsville is owned by Jaclyn, Inc., and is known for developing private brands, launching major retail brands, and manufacturing branded and licensed products, most notably from Disney and Thomas & Friends.
California County Bans Fast-Food Toy Promotions. April 27, 2010 — The Santa Clara County Board of Supervisors banned toy giveaways associated with children's meals at fast-food eateries on Tuesday in an effort to combat childhood obesity. The New York Times reported that the law allows restaurants to continue toy promotions for meals that meet health criteria regarding calorie, sodium, sugar and fat intake, and implies a link between free toys and childhood obesity.

Bandai Launches Pocoyo Line for Series' U.S. Debut. April 27, 2010 — Bandai, master toy licensee for "Pocoyo" in North America, will debut a line of toys this fall that will include Squeeze n' Play plush, Bath Fun figures, and a Bump n' Go electronic car. The award-winning international animated series "Pocoyo" debuts this spring on Nick Jr.

Entenmann's Licenses Think Wow Toys. April 27, 2010 — The Joester Loria Group has announced a licensing agreement between baked goods giant Entenmann's and Think Wow Toys. License! Global reported the manufacturer will launch an Entenmann's brand donut maker for children this summer, complete with a mixing station, dough and icing mix, sprinkles, cooking tray and mixing bowl.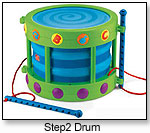 Step2 Recalls Toy Drums for Choking Hazard. April 27, 2010 — The U.S. Consumer Product Safety Commission, in cooperation with the Step2 Company, has announced a voluntary recall of about 21,000 Step2 Basic Rhythm Drums because the plastic clips holding the drumsticks can break and pose a choking hazard. The drums were sold at Toys "R" Us, Burlington Coat Factory and other stores nationwide from August 2009 through March 2010 for $10 to $15. Consumers should remove the toy from children and contact Step2 at 866-860-1887 for a replacement.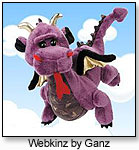 Webkinz Celebrates Fifth Anniversary With Webkinz Day. April 27, 2010 — The World of Webkinz is set to celebrate Webkinz Day on its fifth anniversary April 29 with online festivities that include a Twitter Party with prizes and news about upcoming releases. The Twitter Party is hosted in partnership by Ganz and Resourceful Mommy, and will take place from 8:00 p.m. to 9:00 p.m. EST that day.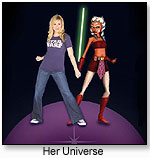 Lucas Licensing and Araca Group Introduce Star Wars Girls Brand. April 27, 2010 — The Araca Group and Lucas Licensing have reached a multi-year agreement to produce gender-focused products and apparel for female fans of the Star Wars franchise, according to License! Global. Developed by "Star Wars: The Clone Wars" star Ashley Eckstein, the Her Universe clothing line will debut at the Star Wars Pavilion at Comic-Con in San Diego in July.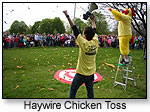 Haywire Group Helps Set Rubber Chicken Toss Guinness World Record. April 27, 2010 — The Haywire Group, makers of the Flickin' Chicken game, donated rubber chickens to the "Largest Rubber Chicken Toss" world-record attempt after the 28th Annual Run of the Charles Canoe and Kayak Race in Boston on April 25. The 256-participant rubber chicken toss awaits official approval from Guinness World Records to take home the new record.
Supreme Court to Rule on California Violent Video Game Ban. April 26, 2010 — The case of Schwarzenegger v. Entertainment Merchants (08-1448) will be heard by the U.S. Supreme Court this fall, where the right of states to ban the sale or rental of violent video games will be decided. According to CNN, 2005 legislation placing an outright ban on interactive games offensively depicting the "killing, maiming, dismembering or sexually assaulting an image of a human being" was rescinded in a San Francisco federal appeals court on the basis of free speech prior to its enforcement.

Kmart Announces Summer's Hot Toys. April 26, 2010 — Giant retailer Kmart has announced its Hot 8 Toy list for summer. According to a press release, the Hot 8 toys are available for purchase at local Kmart stores nationwide or online at www.kmart.com/toys and cost between $19.99 and $499.99.

1. My First Craftsman® Car Washer Set
2. Banzai Typhoon Twist Water Slide
3. Little Tikes Makin' Mudpies
4. Intex 16' x 48" Ultra Frame Pool
5. 12' Trampoline with Flash Zone
6. Radio Flyer EZ Rider
7. Barbie Jammin' Jeep
8. Tornado Tee Golf

Hasbro Unveils New Products for Spring and Summer. April 26, 2010 — Hasbro is offering a wide range of spring and summer toys and games from its popular brands including Nerf, Play Doh and Littlest Pet Shop, as well as licensed products for upcoming movie releases "Iron Man 2" and "Toy Story 3." Hasbro is also set to introduce the U-Build line of customizable board games to include classics such as Monopoly, Connect 4 and Battleship, and has developed a Nerf Super Soaker line of water blasters.

Bella Sara Launches Accessory Line. April 26, 2010 — Hidden City Entertainment has reached an agreement with Berkshire Fashions to design and produce Bella Sara girls' accessories. License! Global reported that the Bella Sara horse-themed product line of headwear, hats, scarves, hosiery, slipper socks, raingear and packaged intimates will be available at Target, Wal-Mart, Toys "R" Us, specialty retailers and online at BellaSara.com.
CPSC Grants Mattel Further Exemptions from Outside Lab Testing. April 24, 2010 — The U.S. Consumer Product Safety Commission unanimously approved the use of two of Mattel's overseas company laboratories for federally mandated third-party safety checks on its toys. The Consumer Product Safety Improvement Act of 2008 required independent third-party testing for children's products following massive recalls of Chinese-made toys contaminated by lead, including six Mattel recalls of more than 2 million toys. According to the Associated Press, Mattel demonstrated to CPSC that its in-house testing would provide equal or greater consumer safety protection than an outside lab. Seven of its labs were approved last summer.

Lego Introduces In-Store 3D Product Demos. April 23, 2010 — Danish toy maker Lego has collaborated with German software developer Metaio to produce augmented-reality 3D displays for Lego stores worldwide. According to CNET, the Digital Box (PDF) displays use video and superimposed animation to show shoppers in 3D how Lego kits will look assembled.

Mega Brands Releases Iron Man 2 Line. April 23, 2010 — Mega Brands has introduced Mega Bloks construction and action toys for the release of Marvel Entertainment's "Iron Man 2" on May 7. The line includes buildable Metalons, IronMan and war machine Techbots, 74-piece buildable vehicle assortments, a 46-magnetic-piece tri-armor Iron Man and suitcase play set, and 170-piece Hall of Armor buildable sets. According to License! Global, Mega Brands will be running in-store retail promotions and host online activities for the movie launch.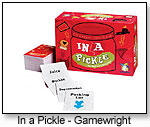 In A Pickle and Slamwich Sell More Than 1 Million Copies. April 22, 2010 — Family game maker Gamewright's signature card game Slamwich and creative party game In a Pickle have both reached 1 million copies sold. In a Pickle was released in 2004 and Slamwich was released a year later, with a collector's edition released in 2005. Slamwich is a multiple award-winner that has earned the highest rating from the Canadian Toy Testing Council, Dr. Toy's Best Classic Toys and Oppenheim Toy Portfolio's Gold Award. In a Pickle has been honored by The National Parenting Center, Scholastic Instructor Magazine and Creative Child Magazine.

PlaSmart Wins Top Award for Perplexus. April 22, 2010 — Canadian toy maker PlaSmart has been honored with the Brazilian Excellence Toy Award for Perplexus (watch video) at the 2010 ABRIN Toy Fair in San Paulo, Brazil. Launched in 2009, Perplexus is an intricate labyrinth of narrow plastic tracks enclosed in a transparent sphere invented by 3D design teacher Michael McGinnis. The goal is to twist and turn the sphere and maneuver the small steel ball within through the labyrinth to reach the end.

Warner Bros. Acquires Boston-based Online Gaming Studio. April 22, 2010 — Warner Bros. Home Entertainment Group has acquired Turbine, the largest privately held North American online gaming studio. Turbine has developed popular online games including "Dungeons & Dragons" and "Lord of the Rings." According to License! Global, Warner Bros. gained gaming rights to the LOTR franchise in its entirety, as well as digital publishing and social networking platforms.

Disney Studios Names New Marketing Chief. April 22, 2010 — Walt Disney Studios has announced the hiring of New York-based brand strategist M.T. Carney as head of marketing. The Los Angeles Times reported Carney is a Hollywood outsider with extensive new-media credentials and no background in movie marketing. As the co-founder of Naked Communications, Carney is known for creating successful global marketing strategies for powerful brands such as Coca-Cola, Johnson & Johnson, Google, Microsoft and Nokia, and will lead the studio's worldwide marketing efforts.

Jakks Pacific Posts Losses in First Quarter. April 22, 2010 — Toy maker Jakks Pacific has reported its financial results for the period ending March 31, 2010. Net sales for the first quarter of 2010 were $77.3 million, compared to $108.7 million the previous year. The company continues to struggle with losses, reporting a first quarter 2010 loss of $5.2 million ($0.19 per share), less than half the $10.8 million loss ($0.40 per share) reported in 2009. The reversal of prior tax accruals generated a tax benefit of $4.9 million and total funds from operations in the first quarter equaled $24.1 million. According to a press release, the company's working capital for the first quarter was $356.1 million and projected revenues for the remainder of 2010 will be based on the sale of Halloween costumes, Disney Princess, Disney Fairies, Toy Story and Phineas and Ferb products, UFC and TNA action figures, and non-licensed product lines.
KidsCom.com Launches Virtual Garden to Teach Kids about Health and Nutrition. April 21, 2010 — A Garden Game has been introduced to KidsCom.com's Idea Seeker virtual world, allowing for a virtual play experience designed to promote environmentalism and healthier kids. The game teaches children about the value of growing their own, locally produced food in home, school or community gardens, and empowers them to make informed choices about nutrition. It is part of the Michigan State University Extension (MSUE) "MyGarden" lessons program being developed for schools that want to incorporate nutrition and gardening into their teaching. The ready to use lessons meet Michigan educational standards and USDA dietary guidelines.
Government Adds Security Features to $100 Bill. April 21, 2010 — The U.S. Department of Treasury and other government officials revealed on Wednesday the new design for the $100 bill, to be issued Feb. 10, 2011. Though keeping with the traditional look of U.S. currency, the note is equipped with two additional security features to combat counterfeiting. A blue 3-D security ribbon on the front show images of bells and 100s that change from one to the other as the note is tilted, and the Bell in the Inkwell, also on the front, changes from copper to green when tilted, seeming to disappear within the inkwell. The government will launch a worldwide education program to ensure that merchants and consumers are aware of the new technology and know how to examine $100 notes. Watch video

2010 RoboGames Set to Begin Friday. April 21, 2010 — The 2010 RoboGames (formerly Robot Olympics) will take place April 23-25 at the San Mateo Fairgrounds in San Francisco, Calif. Robot inventors and robotics fans are invited to compete in more than 50 events, including soccer, kung-fu, sumo wrestling, weight lifting, fire-fighting, stair climbing and more. Tickets are available now for the 7th annual open event and can be purchased online.

Toy Companies Go Green for Earth Day. April 21, 2010 — According to EarthDay.org, more than 1 billion people across the globe take part in Earth Day activities. It's no surprise that toy manufacturers and retailers alike have planned special promotions and activities in celebration of the event's 40th anniversary. Mudpuddles Toys & Books in Sherwood, Ore., for one, is hosting eco-activities for kids on Thursday, including planting seeds and decorating a pot, making a milk carton bird feeder, and learning eco-games. With any Earth Day purchase of YamSlam, Double Shutter or other select games by Blue Orange at Discovery Depot in Cookeville, Tenn., a tree will be planted on behalf of the store. Clay-Mates sent out an email notice about its Endangered Species collection in partnership with Matter Group's Xeko brand, and Barefoot Books gives suggestions for eco-reading materials on its website. On April 22 only, a Learning Express in Sunrise, Fla., is offering customers 20-percent off of anything they can fit into their environmentally friendly totes. Earlier this month, Miss Brittany's Organic Preschool Fun Dough sold limited editions of Earth Dough to celebrate the occasion.
Pixar Launches Vancouver Studio. April 20, 2010 — Disney's Pixar Animation Studio has announced the launch of a Vancouver Studio and hopes to have 75 employees by 2012. Pixar Canada plans to produce short films for distribution on the Disney Channel, theme parks and online, and is currently negotiating for a larger space for the studio. Pixar Canada will produce its first piece in August.

Ad Council Addresses Health Effects of Lead on Children Through Multimedia Campaign. April 20, 2010 — The Ad Council released the results of an online survey conducted nationwide that indicated fewer parents are concerned by the adverse effects of lead on their children, while it exists in 38 million U.S. homes and has poisoned more than 1 million American children. The Ad Council announced in a press release its goal to increase awareness of lead's ability to cause brain and nervous system damage, behavioral problems, learning disabilities, slowed growth and issues with hearing in children through a multimedia public service advertising (PSA) campaign.

Cohn Takes the Helm at Nickelodeon. April 20, 2010 — Marjorie Cohn has been tapped as president of original programming and development for Nickelodeon/MTVNI Kids and Family Group after 23 years with the company as a unit manager and as animation production and development executive on several popular series including "SpongeBob SquarePants," "The Adventures of Jimmy Neutron" and "Avatar: The Last Airbender." According to License! Global, Cohn is charged with the oversight of East and West Coast live-action teams and lead programming for Nick at Nite, TeenNick and Nickelodeon original TV movies.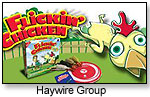 Haywire Group Sponsors Guinness World Record Chicken Toss. April 20, 2010 — The Haywire Group, maker of the Flickin' Chicken game, announced its sponsorship of the Charles River Watershed Association's (CRWA) 28th Run of the Charles Canoe and Kayak Race Finish Line Festival, where attendees will attempt to set a Guinness World Record for the most people throwing rubber chickens simultaneously. Admission is free and donations of $1 or more will get participants an official rubber chicken provided by The Haywire Group for the record-setting toss, set to occur at 3:00 p.m. on April 25.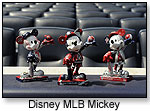 Disney and MLB Release Major League Mickey Collectibles. April 20, 2010 — Major League Baseball Properties and Disney Consumer Products (DCP) have developed 36 MLB-themed Mickey Mouse collectible statuettes for the 2010 MLB All-Star Week festivities beginning July 9 in Anaheim, Calif. The commemorative collectible replicas of boldly designed 7.5' tall, life-size statues placed across Southern California between now and the All-Star Game feature logos of the 30 MLB Clubs, National League, American League and All-Star Game themes. The statuettes have been produced by DCP licensee Forever Collectibles and will be available, along with other Disney MLB All-Star merchandise and apparel, at Walgreens, Dick's Sporting Goods, MLB stadiums, DisneyStore.com and online retailers Tuesday.

Clever Mojo Games Introduces iPhone App. April 20, 2010 — Family board game designer and publisher Clever Mojo Games has released its first mobile gaming application, Jin Li. Players attempt to maneuver koi around obstacles in a pond and as close as possible to other koi to score points, all without getting too close to their opponent's fish. The game has been licensed to NestorGames as a physical board game; however, the mobile app is available for the iPod Touch, iPhone and iPad for $0.99.

Toy Sector Benefits from Consumer Spending Uptrend. April 19, 2010 — The first quarter of 2010 has seen an uptrend in consumer goods spending. A recent report by Rothman Research has evaluated the growing $60 billion toy and gaming industry amid the recession and attributes the industry's expansion to the surging demand for video games and licensed products for blockbuster films of popular brands such as Transformers and G.I. Joe. The growth in consumer spending marks a turnaround in the stagnation of sales in toys and games, as well as a positive outlook on the direction of the economy.


American Mensa Crowns New Mind Games Winners. April 19, 2010 — Following the national American Mensa Mind Games event over the weekend, five games have emerged as the 2010 winners of the coveted Mensa Select seal: Anomia by Anomia Press, Dizios by MindWare, Forbidden Island by Gamewright, Word on the Street by Out of the Box Publishing, and Yikerz! by Wiggles 3D. Dozens of games were played and evaluated by members of American Mensa, who had to score in the top 2 percent on standardized tests in order to qualify.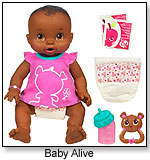 Hasbro Records Major Profit in First Quarter 2010. April 19, 2010 — Hasbro's first-quarter profits nearly tripled as a result of increased revenues across product categories. Hasbro reported net earnings for Q1 2010 at $58.9 million ($0.40 per diluted share), a jump of $39.2 million with the inclusion of a favorable tax adjustment of $21.2 million, and net revenues of $672.4 million, an 8 percent increase of $51 million from the prior year. Hasbro experienced growth across all major product categories worldwide in the first quarter 2010: the Boys product category increased 3 percent to $236.9 million; the Games and Puzzles category increased 7 percent to $227.0 million; the Girls category increased 16 percent to $129.4 million; and the Preschool category grew 18 percent to $78.9 million. Net revenues for the Entertainment and Licensing segment net were $25.1 million compared to $27.2 million, with an operating profit of $9.4 million in comparison with $13.6 million in the first quarter of 2009.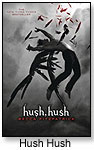 Simon & Schuster Launches Alternative Young Adult Imprint. April 19, 2010 — Simon & Schuster Children's Books is set to launch a paperback-only gothic imprint for young adults following the success of paranormal romance and urban fantasy titles "Hush, Hush" and "Dark Visions." Simon Pulse will publish teen gothic literature from established and debut authors. According to License! Global, the imprint will launch in June with six titles, including the first paperback edition of Becca Fitzpatrick's best-seller, "Hush, Hush."

Hit Entertainment Makes $500M Deal to Regain Financial Security. April 19, 2010 — Hit Entertainment has written down $500 million of its value in an effort to strengthen overall performance after considerable losses in 2009 and debts exceeding $400 million. The non-cash writedown has eradicated the entire investment of private equity owners Apax Partners. Hit owns preschool properties Thomas the Tank Engine, Bob the Builder, Barney & Friends and Angelina Ballerina; however, it recorded a pre-tax loss of $569 million for the 2009 fiscal year. Hit has reached amend and extend lending agreements, as well as an extension to its credit facility, and hopes to combat waning U.S. DVD sales to re-emerge as a leader in the competitive preschool market, the Times reported.



Bring Disney's Alice Home on DVD and Blu-ray. April 16, 2010 — Walt Disney Studios Home Entertainment announced the release of Tim Burton's Alice in Wonderland on Disney Blu-ray and DVD for June 1. The reinvented classic has become Disney's fourth biggest film of all time. The home versions offer nine theatrical bonus features, an extra DVD and Digital Copy of the movie.
Toddler Boys Like Cars, Girls Like Dolls, Study Shows. April 16, 2010 — A new study on the gender-specific selection of toys by infants and toddlers suggests stereotypical gender preferences form before children reach 9 months. Eighty-three children between 9 months and 3 years of age were observed at play with seven different toys for three minutes. Boys were drawn to the car, digger and soccer ball, whereas girls were primarily interested in the doll, teddy bear and miniature cooking set. According to HealthDay, researchers found no link between parents' reported views on gender-appropriate toys or parental roles at home and the toys children chose.
Mattel Releases Positive First-Quarter Results. April 16, 2010 — Mattel's 2010 first-quarter financial results released Friday indicate improved performance across core brands. The company reported a 12-percent increase in worldwide net sales ($880.1 million), domestic gross sales, and international gross sales, respectively, and net income of $24.8 million ($0.07 per share) compared to a net loss of $51.0 million ($0.14 per share) for the same period in 2009. In addition, Mattel reported operating income of $45.2 million in the first quarter, as opposed to the prior year's Q1 operating loss of $55.2 million.
Purrfect Games & Puzzles Launches New Brand. April 15, 2010 — Purrfect Games & Puzzles announced the launch of Purrfect Puzzles and the appointment of game marketer Fritz Gruber as international marketing and PR director. Gruber is known for creating the Goldsieber games brand, running product development and marketing for TM Spiele, as well as consulting for Kosmos. Purrfect Puzzles' first brand products will retail this month at Barnes & Noble and gift and specialty retailers nationwide. The 500- and 1000-piece puzzles will feature Irish Celtic images, international artwork from the British Tate Gallery, and religious architecture photography by Achim Bednorz.
CPSC to Develop Searchable Consumer Product Database. April 15, 2010 — The Consumer Product Safety Commission (CPSC) voted 3-2 Thursday to launch a $20 million searchable database at SaferProducts.gov, scheduled to go live in March 2011. Congress urged the development of the database in 2008 amid a plethora of lead-related toy recalls. While consumers can search the CPSC website for recalls, the database will allow the public to search data, such as consumer injury and potential harm complaints, that typically leads to recalls. Provision 6(b) of the Consumer Product Safety Act requires the CPSC to tell a manufacturer before the agency discloses concerns about a product or company; the company then has 15 days to respond or challenge. When the CPSC receives a complaint for the database, it will still be required to share it with the manufacturer; however, the company will have only 10 days to investigate and object before the data goes public. Toy manufacturers and distributors fear this does not leave enough time to review complaints. The Associated Press reported the Toy Industry Association's concern that inaccurate or malicious information provided to the public could hurt a company's integrity and business.
JAKKS Pacific to Announce Q1 Financials. April 15, 2010 — JAKKS Pacific, Inc. will announce its 2010 first quarter results at 9:00 a.m. EST Thursday, April 22, before the opening bell on Wall Street, and will also share potential future plans via teleconference and webcast. Interested parties should visit investors.jakks.com, where an archive of the teleconference will be available for 30 days.
Le Hing Recalls Baby Walkers for Fall Hazard. April 15, 2010 — The U.S. Consumer Product Safety Commission, in cooperation with Le Hing Inc., has announced a voluntary recall of about 200 baby walkers that can fit through doorways and are not made to stop at the edge of a step, which could potentially cause injury or death of a baby. No incidents have been reported. The walkers were sold at independent and discount stores in California and Arizona from June through August 2009 for $25 to $28. Consumers should stop using the walkers and return them to the place of purchase for a refund.
New Trading Cards for Bandai's Naruto Shippuden Card Game Introduced. April 14, 2010 — VIZ Media announced the addition of three exclusive trading cards for Bandai America's top-selling Naruto Shippuden Collectible Card Game. The first card features the title character, Naruto Uzumaki, and will be included in Bandai's Series 17 Hobby Booster Boxes beginning in April. The exclusive Sakura Haruno card will be published and bundled with Volume 48 of the Naruto manga series in June. The third card will debut in the August issue of Shonen Jump magazine, available July 6, and feature Kakashi Hatake. Collectors of all three exclusive Naruto cards are eligible to receive a fourth exclusive card at a Bandai Shonen Jump Championship Tournament, where attendees at select locations have a chance to win the fourth card autographed by Naruto creator, Masashi Kishimoto.
Battat Develops Eco-friendly Brand. April 14, 2010— Battat Inc. has launched B., a line of environmentally responsible toys with innovative eco-friendly packaging. B. toys come in self-wrapping, reversible packaging; recycled, reusable polypropylene bags; or boxes made from recycled paper with water-based varnishes and soy-based inks. The line of B. toys will be available at Target and specialty stores nationwide.
RC2 Promotes Execs to New Positions. April 14, 2010 — Learning Curve's RC2 Corporation has made some organizational changes to its executive team by promoting from within. Chief Operating Officer Gregory J. Kilrea has been named executive vice president. Kilrea joined RC2 in 2004 as senior vice president of planning and corporate development and became COO in 2007, a role which he will continue to play. RC2 also named Senior Vice President of Marketing Jamie A. Kieffer its chief marketing officer, an expansion of the current position he has held since 2008. RC2 manufactures infant, toddler, and preschool products under its Learning Curve family of brands.
United Legwear to Launch Exclusive Baby Genius Line. April 14, 2010 — Pacific Entertainment has announced an exclusive agreement with United Legwear to produce a Baby Genius brand line of infant and toddler products. The new line of apparel and accessories will include layettes, blankets, bibs, body suits, tanks, socks, tights, leggings, slipper socks and booties. License! Global reported the line will retail this fall in the United States and Canada.

Disney Stores Unveil Eco-friendly Products for Earth Day. April 14, 2010 — Disney stores will celebrate the 40th anniversary of Earth Day by stocking their shelves with a new line of eco-friendly products that feature Toy Story's three-eyed green alien and donating a portion of the proceeds to The Nature Conservancy's Adopt a Coral Reef program. The line will be available through Earth Day, April 22, and includes includes Save Planet Earth totes, 100-percent organic cotton tees, reusable aluminum bottles, and journals made from recycled paper and organic cotton, as well as an exclusive Toy Story plush alien. According to License! Global, Disney also announced its Earth Day premiere of "Oceans," a live-action film that promotes awareness of the world's waterways.
Vornado Reports its Toys R Us Q4 Financials. April 13, 2010 — Vornado Realty Trust will record a 27-percent increase in fourth quarter earnings from Toys R Us. Vornado owns approximately one-third of the giant toy retailer and will include these results with its first-quarter 2010 report, according to the Associated Press. Vornado's reported fourth-quarter 2009 funds from Toys R Us operations totaled $137.2 million (67 cents per share), compared with $107.9 million (60 cents per share) in the same period the previous year. Net income from the Toys R Us holding is $125.9 million (62 cents per share), up dramatically from $97.1 million (54 cents per share) recorded in 2008.
IndiToy Teaches Children Hindi. April 13, 2010 — IndiToy, Inc. has developed a line of educational toys for young learners of Hindi. IndiToy educational teaching toys provide children of any race or culture the opportunity to learn Hindi with the use of flash cards, practice charts and workbooks to write out and sound out letters and words without the need of an instructor. A study indicating the steadily increasing number of Americans who travel to India to study and the growth of the Indian economy was cited in the press release as a factor in IndiToy's decision to develop Hindi language acquisition tools.
CPSC Issues Recall on Children's Snowsuits and Coats. April 13, 2010 — The U.S. Consumer Product Safety Commission, in cooperation with Canadian Firm Deux par Deux Minimome Inc., has announced the recall of approximately 4,500 snowsuits and coats whose drawstrings pose a strangulation hazard. The recalled items sold in boutiques between 2005 and 2010 are of assorted colors and prints in children's sizes 2 through 12 with the brand name Deux par Deux on the neck tag. Consumers are urged to remove the drawstrings or return the product for a full refund.
'Pocoyo' Series Comes to Nick Jr. April 13, 2010 — The popular preschool CGI series "Pocoyo" will debut on Nickelodeon's preschool network, Nick Jr., this spring. Broadcast internationally in more than 100 territories, the multi-award-winning series will air on Nick Jr. License! Global reported that a new line of licensed consumer products by master toy rights holder Bandai America will be released later in the year.
Big Fish Games Publishes Zhu Zhu Pets PC Game. April 13, 2010 — Video game publisher Big Fish Games has released a downloadable Zhu Zhu Pets computer game. The game is based on the robot hamster toys and allows players to race against the clock as one of many different characters making their way through various themed tracks and levels. Casual Gaming reported the game is available for purchase or trial download on the Big Fish website beginning Tuesday.
Aurora Launches Interactive YooHoo & Friends Site. April 12, 2010 — Toy and gift manufacturer Aurora World Inc. has launched a free, interactive virtual world based on its best-selling brand YooHoo & Friends. The site allows children aged 5 to 12 to learn about animals, play games, send e-cards, download wallpapers, and do other creative activities without an activation code. Aurora has also announced its "Design YooHoo's Next Friend Contest," ending May 31, where three winners will receive plush toys from the YooHoo & Friends line and other prizes. Notification of winning entries will go out June 15.
Finn Arnesen to Head Hasbro Studios Expansion. April 12, 2010 — Hasbro Studios has appointed international programming and distribution executive Finn Arnesen to the newly created position of senior VP of international distribution and development. According to a press release, Arnesen is charged with managing Hasbro Studios' global content sales, distribution, channel and program development activities overseas, encompassing all media platforms. Arnesen comes to Hasbro Studios with extensive experience as a 17-year veteran at TBS International — serving as SVP of original series and international development and generating higher ratings and revenues for the network while concurrently overseeing programming and development of Turner-owned networks and managing Cartoon Network's European development and expansion.
Build-A-Bear Workshop CEO Receives $1.7M in Compensation for 2009. April 12, 2010 — A company filing with the Securities and Exchange Commission revealed the 2009 earnings of the make-your-own-stuffed-animal retailer Build-A-Bear Workshop Inc. executive team. Company President John Haugh received compensation of $747,442. Build-A-Bear's General Counsel Eric Fencl brought in $921,266, while Chief Information Officer David Finnegan made $446,932. Chief Operating Officer, Treasurer and Secretary Tina Klocke made $688,836. The St. Louis Business Journal reported Chief Executive Maxine Clark earned a 60-percent increase from 2008, totaling $1,733,032. The CEO's drastic increase in income is attributed to the 2008 stock and option awards added to her 2009 base salary of $600,000.
Think-a-Lot Toys Employs Developmentally Disabled on Think-ets Games Production Line. April 12, 2010 — Think-a-Lot Toys has partnered with Lakewood, Colorado's Developmental Disabilities Resource Center (DDRC) in contributing to the local economy. The partnership between Think-a-Lot and DDRC is aimed at keeping production of Think-ets in the United States while creating employment opportunities for people with developmental disabilities. Think-a-Lot Toys' complete line of imaginative play game pouches are assembled by DDRC workers. According to a press release, the socially-responsible initiative has given support to the local economy and people with disabilities by enabling them to be productive members of the community.

Senario Named Master Global Toy Licensee for TCKL Drip Drops Brand. April 12, 2010 — TCKL, Inc. has appointed Senario, LLC as global master toy licensee for its new line of Drip Drops set to launch in fall 2010. The Drip Drops are a fully-integrated "cause-oriented" property that teach children the significance of color in the world. Kids will be able to play in Tint Town with their favorite Drip Drop characters on the interactive website, as well as with a range of play and activity sets, plush toys and learning materials manufactured and brought to market by Senario.

Fox Revamps "The Simpsons" Licensing Program. April 12, 2010 — Twentieth Century Fox Licensing & Merchandising has redeveloped a mass brand look for "The Simpsons" that incorporates a new logo and product packaging, placing more emphasis on the show's title characters. The brand's new look was designed to attract consumers in retail outlets through its bolder graphic presentation and will be rolled out throughout Europe this fall, according to License! Global.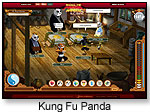 DreamWorks Launches $10M Interactive Kung Fu Panda Site. April 11, 2010 — DreamWorks Animation has spent the past two years developing Kung Fu Panda World, a $10 million interactive website where fans of the property can play games, get a virtual pet, or even learn kung fu. Launching April 12, Kung Fu Panda World is designed for kids aged 8 to 12 and membership is $5.95 monthly. While the business of virtual worlds for children has seen immense growth in recent years, it has also experienced a bit of a decline after flooding the market with sites such as Webkinz.com and Build-a-Bear Workshop that children quickly grow out of. According to the New York Times, DreamWorks believes a window of opportunity exists for slightly older children and has built the site to engage this key demographic. DreamWorks has included advertising on the site, which will also allow for children to play for free for one day after watching a 15-second commercial. DreamWorks has also teamed up with McDonald's on a Happy Meal promotion and plans to develop a similar virtual world for "How to Train Your Dragon."

ASTRA Retailers to Vote on Record Number of "Best Toys" Nominees. April 9, 2010 — The American Specialty Toy Retailing Association has sent a list of 480 products to its retailer members to be voted on for this year's "Best Toys for Kids" program. The product list was whittled down from more than 1,100 nominations from storeowners, manufacturers and reps, and will be further narrowed to a finalist list of 60 items that will be on display at the ASTRA Marketplace & Academy expo in June. The final lineup of 21 winning products will be heavily promoted in specialty stores and via social media for the 2010 holiday season.

ThinkFun's Rush Hour Makes iPad Debut. April 9, 2010 — Game and puzzle manufacturer ThinkFun Inc. is proud to announce the release of its popular award-winning puzzle game Rush Hour for the new Apple iPad. The Rush Hour mobile application features updated game graphics that utilize the large screen and multi-touch user interface of the iPad. Two versions of the game are currently available in the application store — a free download with 35 original challenges and the $2.99 full version including 2,500 challenges ranging from easy to expert levels of difficulty. According to a press release, ThinkFun will release an online, competitive multi-player version of Rush Hour this summer.
Konami Announces Pro Evolution Soccer Licensing Deal. April 9, 2010 — Konami Digital Entertainment, Inc. has obtained an exclusive license to integrate the teams and players of the highly-esteemed Copa Santander Libertadores international soccer club competition into their Pro Evolution Soccer (PES) series. The South American soccer tournament is considered one of the world's biggest international soccer competitions and Konami's addition of Copa Santander Libertadores to PES will appeal to the sport's fan base as well as to fans of the popular video game series.
Winning Moves Releases New Versions of Scrabble. April 8, 2010 — Winning Moves Games has introduced two new versions of the top-selling, classic board game to its Scrabble line, infusing enhanced game boards and scoring methods with traditional game play. Scrabble Me uses the original rules of scoring but features four individual game boards and a prize tile podium that allows for the selection of face-up tiles. In Super Scrabble, players have twice as many letters to use on a super-sized game board featuring quadruple letter and word scoring opportunities. Super Scrabble's deluxe edition is equipped with a rotating game board and raised grid spaces, according to a press release.
"Toyland" Documentary Premieres at Sarasota Film Festival. April 8, 2010 — The world premiere of "Toyland," director Ken Sons' in-depth look into the $22 billion toy industry, will take place April 11 at the 12th Annual Sarasota Film Festival. Sons examines the toy industry by turning his lens to the developers of the biggest toys and games in history: Betty James (Slinky), Eddy Goldfarb (False Chattering Teeth), Burt Meyer (Lite Brite and Mouse Trap), Reyn Guyer (Twister and Nerf), and others. Sons also follows the ups and downs of game designer Tim Walsh as he tries to take his own invention from paper to prototype on the road to Toy Fair.
Fisher-Price Gains Exclusive Rights to HIT Property "Angelina Ballerina." April 8, 2010 — Mattel subsidiary Fisher-Price has been selected by HIT Entertainment to produce a range of toys based on the hit animated series "Angelina Ballerina: The Next Steps." The popular series that debuted in September 2009 currently airs in the United States, Canada, the United Kingdom, Ireland, Australia and France, and will be picked up in 30 more locations worldwide, according to License! Global. The line of Angelina Ballerina figures, dolls, play sets, dollhouses, vehicles, plush toys and preschool toys will be aimed at girls aged 4 to 7, launching this fall exclusively at Target stores nationwide and online.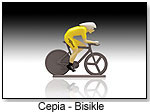 Cepia Announces Partnerships with Distributors in U.S. and Canada. April 7, 2010 — Cepia Inc. announced its full line will be carried by two new distributors, Ilot 307 and ACD Distribution LLC. Furthermore, Cepia plans to release new products this year that incorporate its ZBall precision marble. The ZBall has been used as a racing device in games such as Bisikle, which will be featured at the Las Vegas GAMA Trade show by U.S. distributor ACD and at the Niagara, Vancouver and ASTRA shows by Canadian distributor Ilot 307.
Chorion's Eric Carle Property Snags New Deals and Promos. April 7, 2010 — The World of Eric Carle just got bigger, with new licensing and promotional deals for Chorion with PictureMe, Stride Rite, Google and Kreo. PictureMe Portrait Studios' promotional campaign begins today and ends June 22. This promotion allows parents visiting one of 1,800 Walmart stores to have their kids' portraits framed with new designs featuring "The Very Hungry Caterpillar." License! Global also reported that Stride Rite Children's Group is launching a shoe line this fall with characters from "Brown Bear, Brown Bear" and "The Very Hungry Caterpillar" in The World of Eric Carle collection by Stride Rite for children up to 2 years. An Eric Carle-branded product promotional giveaway from Japan-based licensees Kreo Co., Circle K and Sunkus on baked goods purchases is also underway.
Birth Rates Up for Mothers Over Forty. April 6, 2010 — The Centers for Disease Control and Prevention has released a report on births derived from a thorough review of 2008 birth certificates, the Associated Press reported. While 2008 marked the first full year of the recession, it also indicated the first annual decline in births since 2000. Roughly 4.2 million babies were born in 2008, down 2 percent from the prior year. Birth rates fell for women in their teens, 20s and 30s, however, the birth rate for women in their late 40s slightly rose, while the rate for women in their early 40s jumped 4 percent to its highest mark since 1967. The birth rate for women in their early 40s was 10 births per thousand, whereas it was only one per 1,000 for women in their late 40s, and much less than the rate of 115 per thousand for women in their late twenties. The Pew Research Center also reported that states with the biggest declines in birth rates were among those hit hardest by the recession. Pew also found in an earlier study that 14 percent of women in their prime child-bearing years delayed pregnancy due to the economy.
Greenzy's Make Exclusive Debut at FAO Schwarz. April 6, 2010 — The eco-friendly, literary-based children's educational brand Greenzy's announced its exclusive "Earth Month" launch at FAO Schwarz. The Greenzy's product line includes books, plush toys, animated content and an interactive website available only at FAO Schwarz Fifth Avenue and online at FAO.com throughout the month of April. The Greenzy's are also to be featured in the Fifth Avenue store's window displays.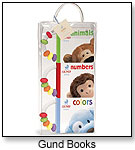 Gund Recalls Baby Books for Choking Hazard. April 6, 2010 — The U.S. Consumer Product Safety Commission, in cooperation with importer Gund, has announced a voluntary recall of about 15,100 Gund Baby Paperboard Books in the United States and 865 in Canada because the styrofoam filling the binding could come off and present a choking or aspiration hazard to babies and young children. Gund has received reports of three instances of kids mouthing the styrofoam, but no injuries have been reported. The "Animals," "Numbers" and "Colors" books retailed at specialty stores from January 2009 through March 2010 for $8 individually and $20 for the set of three. Consumers should remove the books from children and contact Gund at 800-436-3726 for a free replacement.
Nintendo DS Gives Piano Lessons with Easy Piano. April 6, 2010 — Video game publisher Valcon Games has introduced the first handheld piano teaching game, Easy Piano. The game, created by production company Game Life, includes a 13-note, full-octave external peripheral keyboard for the Nintendo DS, as well as a touch screen keyboard. Easy Piano features 36 songs of different genres, 10 comprehensive piano lessons and 10 mini-games, has two modes of difficulty, and allows for users to compose music with five instrument sounds. Easy Piano is available at Wal-Mart, Amazon.com, Toys "R" Us and other retail and online outlets for $39.99.
Second Annual TIF Do Good Stuff-a-thon Registration Opens. April 5, 2010 — The Toy Industry Foundation (TIF) and My Stuff Bags Foundation announced the Do Good Stuff-a-thon for May 7. May is National Foster Care Month and TIF urges companies throughout the industry to come together for the second annual event supporting the more than 300,000 American children in crisis. Participants can contribute to the cause by filling My Stuff duffel bags with toiletries and handmade items for charitable distribution to disadvantaged children nationwide, donating toys to the Toy Bank, or making a monetary contribution of $100 or more. For further information or to register for the event, contact Amanda McDorman at TIF by Friday, April 23.
NRF Projects Retail Imports Up 8 Percent. April 5, 2010 — The monthly National Retail Federation (NRF) Global Port Tracker report projects an 8-percent increase in traffic volume at the nation's major retail container ports during the month of April, as compared to the same period in 2009. The NRF attributes this increase to higher retail sales and higher consumer demand, a trend expected to continue through summer months. Imports for the first half of 2010 are an expected 6.5 million Twenty-foot Equivalent Units (TEU). While this figure is up 10 percent from 2009, the forecasted first-half growth is down from the 17 percent increase projected just one month ago.
Mattel CEO Rakes in $7.9M for 2009. April 5, 2010 — The chairman and CEO of toy giant Mattel Inc. earned $7.9 million for the year 2009. Robert A. Eckert received a base salary and merit bonus totaling $3.75 million; however, stock options and awards generated upwards of $3.7 million in compensation for Eckert. According to a press release, additional compensation for Eckert came in the form of perks, such as $108,628 for personal use of company aircraft, $30,937 for a company car program, $30,646 for tax return preparation, physical exams, a home security system, insurance, country club membership, grants and matching charitable donations. Mattel's profit for 2009 catapulted nearly 40 percent from the previous year to $528.7 million, while the value of its shares went up 25 percent.
Japanese Hope Baby-Bot Increases Country's Birthrate. April 5, 2010 — Yotaro, a balloon-faced robot created to mimic a real baby, has been developed in Japan to help individual's connect as they would with an infant. Developed by engineering students at a lab at Tsukuba University, the baby-bot is hooked up to a computer and can simulate facial expressions, crying, sleeping, giggling and more — even a runny nose. According to an AFP article last month, the designers hope the infant robot will communicate the joys of parenting and thus help curb the country's demographic crisis defined by one of the lowest birth rates and the longest average life expectancy in the world.
New Children's Retail Chain in Development. April 5, 2010 — Former Wal-Mart exec Bill Colaianni and venture capitalist Shane Christensen plan to launch a big-box children's retail chain called "Wonder!" The first Wonder store will open late this year in Deerfield, Ill., touting 85,000 square feet of selling space, restaurant, coffee shop, party rooms and football-field sized indoor park. CEO Colaianni told GlobeSt.com of their plans to open 19 Wonder stores in the next five years, and projects launching up to 120 stores across the country in the future. The stores will carry a variety of children's products including clothing, strollers, diapers and toys for infants, toddlers and older children up to 7 or 8 years old.
Funtastic Follows Suit with Case Against MGA Entertainment. April 5, 2010 — Funtastic has filed a lawsuit against Bratz doll maker MGA Entertainment, attributing a portion of its $57 million loss in 2009 to MGA's failure to supply the popular dolls. Funtastic is seeking damages from MGA, who has allegedly breached a distribution contract with Funtastic for the Bratz fashion dolls after MGA was hit with U.S. copyright infringement legislation from Mattel and supply was subsequently suspended. Funtastic claims in a Herald Sun article it was told by MGA's Hong Kong subsidiary that the Bratz dolls did not infringe upon copyright; however, the company has not supplied the dolls since the end of 2009, nor has it returned an $8.8 million deposit for current and future shipments due to Funtastic. The $20 million lawsuit was filed with the Federal Court of Australia in Melbourne, where a hearing is scheduled for May 18.
Edgmont Press Launches Line with Fashion Designer. April 5, 2010 — Edgmont Press publisher Lara Hancock and brand360 have garnered a strategic partnership with fashion designer Orla Kiely, gaining world rights to develop a range of books for children and babies. The Irish designer is known for her colorful, graphic patterns and has developed her brand across and beyond the fashion industry, from womenswear to handbags and even the Orla Kiely Home Collection for Target. According to License! Global, the first set of Kiely's books will be in bookstores next year.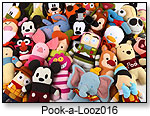 Disney Latches onto Urban Vinyl Trend. April 2, 2010 — Inspired by designs in the urban vinyl toy market, Disney Consumer Products has launched a line of plush called Pook-a-Looz. The soft, quirky characters with stitched detail feature everyone from Dumbo and Snow White to Mickey Mouse himself. Lead designer Jose Zamora revamped the looks of over 30 iconic Disney characters, accentuating and overemphasizing a key trait of each character, such as the Cheshire Cat's grin. In addition to being available at Disney stores and theme parks, the stuffed figures also retail at Toys "R" Us.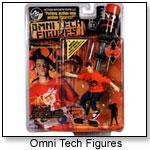 OmniTech Action Toys Licenses Media Corp for Skateboard Action Figure DRTV Campaign. April 2, 2010— Media Corp is to license and handle direct response television (DRTV) media buying and distribution for OmniTech Action Toys' Ryan Scheckler Skate Board Action Figure. The action figure is a fingerskating toy with a highly-engaging marionette-like quality allowing the player to manipulate the figure and the skateboard to create realistic moves. Ed Waldberg, President of Media Corp, noted in a press release, "with the popularity of the X-Games, the phenomena of the skateboard culture and our planned DRTV placement on networks that fit the target consumer, like ESPN, Nickelodeon Teen, Disney and Animal Planet, we expect outstanding results for this very unique product." Media Corp is using social media and DRTV to market the toy directly to the public.

EA Releases Five Popular Titles for Apple's iPad. April 2, 2010— Electronic Arts Inc. has released revamped versions of five best-selling titles through EA Mobile for the Apple iPad. "As one of the leading publishers on the App Store, EA is delivering five games today that take advantage of the unique capabilities of iPad for a broad range of gamers, from the casual to the hardcore, and today's product slate is just the beginning," said Travis Boatman, Vice President of Worldwide Studios, EA Mobile, in a press release. The games available today are classics SCRABBLE, Tetris, and Need for Speed SHIFT, role-playing game Command & Conquer Red Alert, and the award-winning Mirror's Edge.

WTHRA Toy Show Sees 16% Increase in Buyer Attendance. April 1, 2010 — A move to Long Beach proved positive for the Western States Toy & Hobby Show, which saw a 16-percent increase in buyer attendance over 2009 — the year with the lowest retailer attendance on record. The Western Toy & Hobby Representatives Association's annual California show, held March 27-30, welcomed 536 retail stores in 2010, compared to 462 stores in 2009 and 542 stores in 2008, with slightly fewer booths than last year, Show Coordinator Frances Mendez told TDmonthly Magazine. There was a total of 82 exhibitors — a mix of rep groups and individual vendors — in 422 booths, versus 85 exhibitors in 427 booths last year. The show floor lost 29,000 square feet in moving from the Pomona Fairplex to a 76,000-sq.-ft. hall at the Long Beach Convention Center, but the majority of attendees were pleased with the center's proximity to hotels, restaurants and tourist entertainment. The show reached its height with 879 stores in attendance in 2000. (see report on WHTRA expo)
Exclusive Zoobies Released for Lovesac this Easter. April 1, 2010 — Lovesac announced the release of an exclusive Zoobies plush animal online and in its retail stores. Lovesac is known for its furniture focused on comfort and alternative style. The company has partnered with Zoobies to create a blanket-dog called Nooder. Lovesac's founder and chairman Shawn Nelson said, "By combining Zoobies patented technology of the pillow-blanket-animal concept with our obsession for the progressive application of home textiles, this blanket dog is by far the most unique on the planet — a hallmark of LoveSac design."
Chapman and Studio Liddell Enter Licensing Agreement for Preschool Products. April 1, 2010— Chapman Entertainment has licensed their properties Roary the Racing Car and Fifi and the Flowertots to Studio Lidell to produce an iPhone app and Nintendo Wii video games. The Roary iPhone application Rollin' Road is available now, whereas games for both properties on the Wii console will launch in 2011. Ian Liddell, managing director of Studio Liddell, said in a press release, "Roary and Fifi are fantastic properties with huge potential for multi-platform." Their contract with Chapman will conclude in 2013.
CPSC Announces Massive Recall of Bauer Children's Hockey Sticks. April 1, 2010— The U.S. Consumer Product Safety Commission (CPSC) and Health Canada have announced a massive recall of Bauer Hockey, Inc. youth and junior hockey sticks, replacement shafts and replacement blades for lead paint violations. Approximately 127,000 units sold in the United States and Canada since 2005 were found to contain excessive levels of lead in both the paint and decals. The products recalled include:

| | | |
| --- | --- | --- |
| Product Name | Pieces | Countries Sold |
| Nike Bauer Supreme One50 Junior Stick | sticks, shafts and replacement blades | |
| Nike Bauer Supreme One70 Junior Stick | player stick | |
| Nike Bauer Supreme One75 Junior Stick | player and goalie sticks | |
| Bauer Supreme One75 Junior Stick | player stick | |
| Nike Bauer Supreme One90 Youth and Junior Stick | sticks, shafts, and replacement blades | |
| Nike Bauer Vapor XVI Junior Stick | player stick | |
| Nike Bauer Vapor XX Junior Stick | player and goalie sticks | |
| Bauer Vapor XX Junior Stick | player stick | |
| Nike Bauer Apollo Junior Stick | player stick | |
| Nike Bauer Supreme Force Junior Stick | player stick | |
| Nike Bauer Supreme Accel Junior Stick | player stick | |
| Nike Bauer Supreme One40 Junior Stick | player stick | |
| Nike Bauer Supreme OneLTX Junior Stick | player stick | |
Consumers are urged to keep recalled products away from children and to contact Bauer for a replacement or refund.


Spin Master Exec Joins Patch Products Team. March 31, 2010 — Toy and game manufacturer Patch Products announced the addition of a 30-year toy industry veteran to its executive team. Ron Hayes has been appointed Corporate Vice President of Product Development, Design and Engineering at Patch, bringing with him a wealth of knowledge and experience in product development, manufacturing, licensing and brand management. Hayes previously served as Vice President of Product Development for Spin Master Toys, Head of Product Development and Manufacturing at Sababa Toys, Sr. Vice President of Warner Bros. Toys, and Sr. Vice President of Boys Toys Design and Development at Kenner/Hasbro.

MEGA Brands 2009 Financial Results Show Improving Trends. March 31, 2010 — MEGA Brands Inc.'s net sales for the year ending December 31, 2009, were $338.9 million, down from $108.8 million from 2008 annual sales figures. However, net earnings for the year were $10.7 million ($0.29 per share), an improvement in comparison to the net loss of $458.7 million ($12.53 per share) suffered in 2008. The 2009 fourth-quarter net loss was $22.1 million ($0.60 per share) compared to a net loss of $323.3 million ($8.83 per share) during the same period the previous year. Net sales increased 6 percent to $107.3 million from $101 million in Q4 of 2008, marking the first positive variance in year-over-year net sales for MEGA Brands since the first quarter of 2007. These strength indicators and the toy maker's expansive 2010 product lines are favorable to future success. MEGA Brands' recent completion of a recapitalization transaction is considered a subsequent event in 2009 financial statements and will be reported under first quarter 2010 results.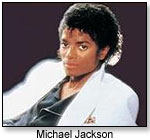 Bravado and University Games Enter Licensing Agreement for Michael Jackson Product Line. March 31, 2010 — Music merchandising company Bravado has appointed University Games to produce a signature line of games, authentic puzzles and Colorforms, expanding on their collectible memorabilia for the world's most successful entertainer, Michael Jackson. Bravado CEO Tom Bennet said, "These new games, puzzles and activities truly celebrate Michael's life and his love of games. Bringing in University Games as a licensee helps commemorate and preserve the legacy that is Michael Jackson" according to License! Global. Games and puzzles will launch this year in the U.S., Canada and across Europe.