TDmonthly Magazine's Julie Jones caught up with Kathleen McHugh, president of the American Specialty Toy Retailing Association, at Toy Fair 2010. ASTRA is encouraged by 2009 holiday sales in the specialty market, McHugh said, has spent the past year increasing its efforts in online social media, and is prepared to help storeowners minimize credit card fees at its annual convention in June.

View TDmonthly's full interview with ASTRA here (transcript below):



Get the Flash Player to see this video.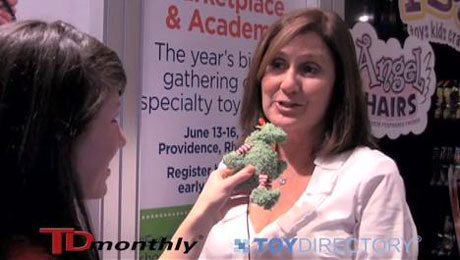 See TDmonthly Magazine's day-by-day coverage of Toy Fair 2010 and follow-up videos and reports in our March 2010 issue.
TDmonthly: Hey, Julie Jones here. I'm with Kathleen McHugh, president of the American Specialty Toy Retailing Association. And
we are at their beautiful booth at Toy Fair 2010. Kathleen, I want to ask you about a few different topics today. First of all, how did holiday sales turn out for the specialty toy market?

ASTRA: Well, we heard a lot of good reports at the end of the year. Retailers were very optimistic. A lot of people reported they were up. The survey that we participated in said the specialty industry was up 2.2 percent, so that was higher than what the retail environment across the country reported. So, we're optimistic. We think it's going to be a great year.

TDmonthly: Great, that's definitely encouraging in a downturned economy, to hear that kind of news.

ASTRA: It certainly is, and I think it means that it's good to be in the toy business.

TDmonthly: I understand, too, Kathleen, that ASTRA is actually helping specialty retailers with how credit card companies and
banks are charging credit cards these days. Can you tell me a little bit about that?

ASTRA: Yeah, because it's a very important topic for retailers. This is a budget-busting issue for them, and the more they know about it, the better they'll be able to position themselves. We're going to do a session at our convention in June, all around this
topic, to help retailers understand that how the credit card companies view the cards they're taking determines the fees that
they're paying, and how they can minimize those charges the best way they possibly can.

TDmonthly: Definitely an important issue for helping storeowners manage their businesses most effectively.

ASTRA: Yes, it is. It's really important to their bottom line.

TDmonthly: And, I have to say, on a more fun note, we really at TDmonthly are having a really fun time connecting with retailers and manufacturers and trade associations via, you know, social networking platforms like Twitter and Facebook and all of that. Where do you see social networking taking the specialty toy industry?

ASTRA: Oh, we've really enjoyed it ourselves. ASTRA put a lot of effort this past year into getting on Facebook, and our members
have also. And I think it is the perfect media for specialty toy retailers because it's talking directly to the moms, the grandparents. It's hitting their target markets. And it's all things that they can do inexpensively, fun, show their personality, show their store off, do product demonstrations, stream video of everything that they've got going in the store. So, it is the perfect media for retailers. So I'm happy about it.

TDmonthly: Wonderful. Well, thanks, Kathleen. It's been so nice talking with you here and we hope you have a great rest of the show.

ASTRA: Thank you, Julie, thanks for stopping by. Bye bye.