---
Retailing Tips: What Matters in Merchandising
Visibility and Playability Make the Sale
"We put the better sellers in an awkward position, since people are already looking for them, and the weaker sellers in a better location to increase sales."
— Candace Williams, The Toy Maven

Thirty-eight specialty toy retailers across the nation were asked about the best merchandising tip they've ever received, or an approach that's been the golden ticket for their store. Let customers play, they told TDmonthly Magazine, and don't be afraid to shake things up by moving inventory around the shop. Have a look at their top-five tips:

1.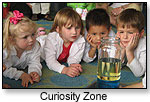 Let Them Play. Nine of 38 retailers advocate taking toys out of the box to let customers experience them.

"Some stores are timid about opening boxes," and mass merchants would never do that, but it works, said Marc Holcomb of Toys & Co. in Greensboro, N.C.

Shanna Frieling, owner of Giggles Toys & More in Bozeman, Mont., built a store with sizeable counters expressly for the purpose of toy demonstration, she told TDmonthly. Ray Goodhart, president of Ages & Stages Toy Box in Golden, Colo., agrees with that method, too.

"The more they can touch, the more you can sell," he said simply.

2. Take It to the Front. Thirteen percent of retailers commented on a product's increased ability to fly out the door once placed at the front counter.

"If it's not selling, I put it up by registers — it will work every time," said Jeanne McCullough, owner of Children's Store Inc. in Boise, Idaho.

3.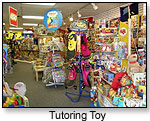 Find the Right Spot. A product's failure to sell doesn't necessarily mean it's a poor product; it may just not be in the best place in your store. Sometimes a toy's hot spot is the least expected, said Sandy Friedman, owner of Accipiter in Raleigh, N.C., but "be willing to shift things around until you find a sweet spot."

There are other benefits, too, to a little movement here and there, pointed out Mary Porter, owner of The Curiosity Zone in Ashburn, Va. "By rotating, you give the impression that you've got new stuff all the time, even when you are simply recycling what you've already got," she told TDmonthly.

"We will use reverse psychology," informed Candace Williams, owner of The Toy Maven in Dallas, Texas. "We put the better sellers in an awkward position, since people are already looking for them, and the weaker sellers in a better location to increase sales. It works."

4.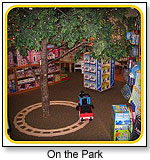 Keep Store Clean and Organized. Tutoring Toy in Salt Lake City, Utah, organizes toys by age, type and function, such as cause-and-effect or pull-push items. "We hear time and time again, the organization is such a big thing for our customers," Owner Bill Sartain told TDmonthly.

"I find it's important to have things together, things that relate to each other," echoed Sandy Challinor, owner of Owl's Nest Toy Store in Southlake, Texas.

On the Park in Kingwood, Texas, couples wide aisles with low lighting to enhance merchandising.

"If [customers] feel cramped and confined in a narrow aisle, they then tend to go through them more quickly. I believe every aisle should have space for a two-person wide stroller or wheel chair," said Owner Fred Rosenberg. "And my lighting is also different — it's not regular retail; it's low lighting or lumens like in a living room, which is more relaxing and gives people a chance to see things in the same light as their homes."

5. Be Enthusiastic, But Not Fake. A sales rep once told Gary Green of Toy Box of Asheville in Asheville, N.C., "It doesn't matter how many toys somebody else sells, if you don't like it, you're not going to sell it."

Other than positioning products on shelf at a height between customers' eyes and knees, said Joe Berardoni, owner of Pun's Toy Shop in Bryn Mawr, Pa., "having your staff talk about an item with genuine enthusiasm is by far the greatest way to merchandise."

Writer's Bio:
Julie L. Jones has written articles for both newspapers and magazines. Before joining the staff of TDmonthly Magazine, she worked as a communications writer and provided editorial support for a market research company.
Read more articles by this author
THIS BANNER IS AN AD:
---
---