---
Summary of Online Toy Reviews
TD Scout Shares Positive Consumer Reviews from Thousands of Websites
TDmonthly Magazine's Review Scout scours the Web weekly for reviews of new and hot products so you don't have to spend your time searching. Out of thousands of blog, retail and other sites, his research uncovers toys, games and other gifts that are worthy of your attention now. Check this space for briefs on reviews and ratings from across the nation and even the globe.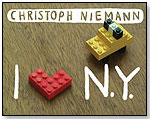 Inspired by his children's LEGO collection and his own love for New York City, author and illustrator Christoph Niemann created several minimalist LEGO representations of daily New York life. His photos and handwritten captions caused an instant sensation when they appeared in the New York Times online. Niemann has since expanded his work into a 32-page board book that is simultaneously sly, cynical, childlike and celebratory. Launch date: March 1, 2010.

—

Geeksugar

loved the book, calling it funny and a great gift. Although kids may not understand some of the wry New Yorker humor of the book, they are sure to find it charming and inspiring, said Vincent Daly of

CuteMonster

.

ToyDirectory Product ID#: 27472

(added 3/4/2010)

.

AD
---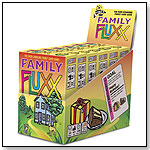 MSRP: $12.00

Age Range: 6 and upLaunch Date: February 2010Gender: Boys And Girls





From Looney Labs comes the latest edition of Family Fluxx, a card game designed for the whole family. Family Fluxx starts with a single rule — draw one card and play one card — but the game gets more complex as cards add rules or goals. Cards like "Grandparent Bonus," "Walk the Dog" and "Happy Birthday" are designed to get everyone in the family playing cards, changing rules, and having fun with Family Fluxx. Launch date: February 26, 2010.

— Jeff Provine of

Blogcritics

tested Family Fluxx and found games to last between two and 30 minutes, though no matter the length, "something is always happening." He also felt the game's balance of luck and skill is perfect to engage older and younger players.

GeekDad

's Jonathan Liu found the game easy to teach to his 6-year-old daughter and an enjoyable experience for them both.

ToyDirectory Product ID#: 27473

(added 3/4/2010)

.

AD
---






Bucky is a soft plush turtle that has 4 colored buckles down his tummy that unbuckle to reveil colored numbers 1-10. There are 6 colored shapes on his shell and down the middle of his shell is a zipper that unzippers to reveil a pouch. Kids can learn their colors, shapes, and numbers while still getting to play with the buckles they love. Can serve as a traveling toy as it can fit in a diaper bag and attach to almost anything. Machine washable.

—

Mass Hole Mommy

found that her son was instantly captivated by the colors and tactile stimulation of Bucky. The turtle proved a safe way for her son to hone his fine motor skills. Christy of Is

It Naptime Yet?

reported that her son was just as captivated by Bucky, eschewing his other, fancier toys in favor of the plush turtle. Though Christy complained that some of the buckles were too difficult for her son,

Mama Cheaps

viewed the difficulty her daughter had with the same buckles as a challenge to be overcome with more practice.

ToyDirectory Product ID#: 27308

(added 2/22/2010)

.

AD
---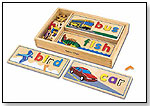 Melissa & Doug put their spin on another classic toy with See & Spell. Eight, two-sided cutout boards feature pictures and empty spots for letters. Kids can use the 64 included wooden letters to fill the empty spots, complete the puzzle, and spell the sight-reading word featured in the picture. The wooden letters can also be used as stencils.

— Cleeo of

cleeo and bea

said the See & Spell is "an excellent tool in helping our tots grasp the concept of reading," though she lamented the lack of a lid to keep all the pieces inside the box.

—

Viewpoints

reviewers praised the product for using lowercase letters instead of the typical uppercase letters found with most spelling products.

— Reviewers on Melissa & Doug's

site

felt that See & Spell might not maintain the interest of children for a sustained period of time and hoped for a word expansion pack to help with this issue.

ToyDirectory Product ID#: 27474

(added 3/4/2010)

.

AD
---

Writer's Bio:
Peter Aoun is a communications professional focused on the toy industry. He has conducted research on the impact of music on learning, as well as the convergence of toys and technology to create new forms of play.
Read more articles by this author
THIS BANNER IS AN AD:
---
---