---
TDmonthly Goes Inside ... Green Genes, Chicago
Online Research Keeps Eco-Friendly Products Flowing
Two-year-old Green Genes in Chicago began with a simple idea: owner Heather Muenstermann wanted to create a one-stop shop for organic and eco-friendly kids' and babies' products.
But Heather doesn't trade in socially responsible products for fun: her toys are unique, engaging and stress open-ended play. The casual, friendly atmosphere she's established in the store and an emphasis on customer service have added to Green Genes' popularity. (Watch Heather's video, below)
Get the Flash Player to see this video.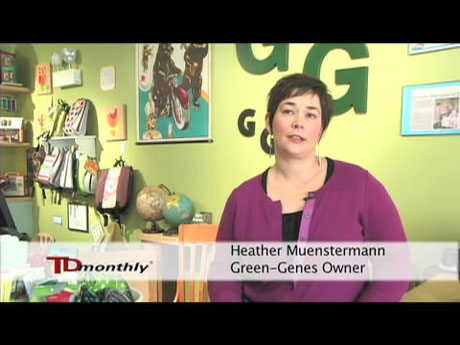 One of Heather's greatest challenges is finding a steady stream of new products that fit in with her mission and the store's theme. She relies heavily on the Internet to scout out smaller companies that offer organic and green products shoppers won't find in any other toy store. This strategy has allowed her to avoid the expense and time of traveling to trade shows throughout the country.

Heather's mission goes beyond finding products that are easy on the earth and fun for kids. By choosing organic clothes and toys processed without fertilizers or chemicals, she's also ensuring that workers in the fields that gather materials for the things she sells aren't harmed by exposure to noxious chemicals. Green Genes is just one store, but Heather hopes her commitment to the future is passed along to her customers and their children to keep the earth and its inhabitants safe for generations.







This layered wooden puzzle teaches kids the stages of a frog's life, from egg to tadpole to juvenile and adult.

.

AD
---






.

AD
---






.

AD
---






.

AD
---






.

AD
---






Make-believe culinary treats benefit the earth when young chefs concoct them with this environmentally friendly Cookware and Dining Set made of natural bioplastic. The 27-piece set comes with a stock pot and lid, a skillet, four plates, four bowls, four cups, and four place settings (fork, spoon and knife). It is made from annually renewable, sustainable resources (such as corn), helping to reduce fossil fuel use and CO2 emissions. This company received a 2008 Green Toy Company Award from Dr. Toy. Launch date: September 2007.

.

AD
---






This rugged playset is constructed of Sprigwood, which is a bio-composite material that blends reclaimed wood and recycled plastic, and is dyed with safe pigments. The set includes explorer and rescue boats, Captain Owen the adventure guide, an interchangeable adventure hat, a life preserver, mother and baby dolphins, and a backpack accessory.

.

AD
---






.

AD
---






.

AD
---






.

AD
---






.

AD
---






Because there is only one way to fit all of the pieces into the box and close the lid, this item makes a nice travel puzzle. Because the pieces are three dimensional, they can be used as an imaginative play toy too.

.

AD
---






These non-toxic, rock-shaped crayons are made in America from natural soy wax derived from American-grown soy beans. Colors include, red, pink, blue, sky, green, grass, dark yellow, light yellow, orange, peach, purple, light purple, brown, tan, black and gray.

.

AD
---






.

AD
---






This natural wood car transporter can tote two chunky vehicles and load and unload them for endless imaginary adventures with its driver Woody Click. A water based paint adds bright colors to playtime that begins with building the vehicles first and then play. It won the Oppenheim Toy Portfolio Gold Seal Award in 2006.

.

AD
---






The Sprig Adventure Series is built around the Discover Rig – a sturdy, battery-free vehicle with a removable push bar. The Discover Rig comes with Adventure Guide Cap Faraday, and can seat up to three Adventure Guide characters at one time. When a child rolls the Discover Rig forward, it triggers the generator that fuels the lights and sounds. Three play modes on the Discover Rig control the electronic features: Search (lights only), Rally (lights and motor sounds), and Adventure (lights, motor, dialog, sound effects and songs). The Discover Rig is the sound enabler for all Adventure Guides who hop in the driver's seat, taking a child on self-powered expeditions of the imagination. Recommended for ages 3 and up.

.

AD
---
Interview, videography and editing by Alaric Rocha
THIS BANNER IS AN AD:
---
---