---
Retailer Spotlight: Club Tabby
Owners' Diverse Talents Balance Lively Tween Franchise
"We laugh about [Christie] needing new folders and filing cabinets and me needing more glitter and tutus." — Natalie Comeaux, co-founder, My Club Tabby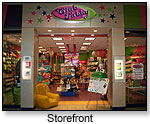 Club Tabby lets little girls' dreams come true for a day. Whether they want to be a movie star, rock star or princess, they can feel pampered and be the center of attention with parties and makeovers, or while shopping in a boutique that offers everything from plush and room décor to a create-your-own line.

BECOMING ONE'S OWN BOSS

The concept was devised by Natalie Comeaux and Christie Harmon, who opened the first Club Tabby store in Lake Charles, La., in 2007 after leaving careers in the health industry.

For Comeaux, the defining moment came when her daughter, Tatum, was entering first grade.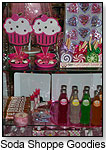 "I asked my boss three months in advance to be about 30 minutes late to work because I wanted to walk my daughter to her first day," she told TDmonthly Magazine. "I was told that I would have to have someone else do it because I would be needed at work. There were many other instances, but this was definitely the day I decided I needed to be my own boss with flexible hours."

HALF-HOUR BREAKS SEAL THE DEAL

Many people thought the two "were throwing [their] careers out the window," she added. "But we both always believed that there was something better for us in the near future. We came up with a business model in my car in the hospital parking lot on our 30-minute lunch breaks. We made phone calls to the IRS, business development centers, sign companies, Department of Labor, the City, and everyone else we needed to contact to open our doors. … With much prayer, enthusiasm and hard work, our dreams became a reality."

The extra legwork paid off, and they were making sales and booking parties even before opening the gates, while they were still painting and merchandising the store. At the grand opening, the line to check out wrapped all the way around the store, and the mayor took notice.

OPENING THE DOORS WIDER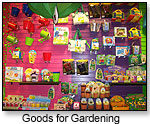 "He couldn't believe that we had done all of it on our own," Comeaux told TDmonthly. "He thought it was a franchise that we bought into. After so many comments and questions about it being a franchise, we thought that since we'd come this far, we'd step it up a notch and franchise this thing. We wanted others to be able to enjoy the exciting atmosphere that Club Tabby creates.

It didn't take long to catch on. A franchising marketing group approached the partners, but before they signed with them, visitors from Indiana came in and loved the store.

"Even more, they loved the story behind the store," Comeaux noted. "I gave them a tour, made lotion with their little girl, and visited with them. Not long after that, they opened our first franchised store in the Eastland Mall (located in Evansville, Indiana)."

The Club Tabby franchise is turnkey, meaning it comes with everything from the build-out, the POS system and support, and a completely furnished and merchandised store, plus training and the knowledge needed to run it.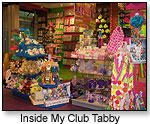 "Our Club Tabby culture is energetic, fun, sassy and friendly," Comeaux said. "We go above and beyond customer service. We treat every customer like family!"

SUPPORTING THE COMMUNITY

The store hosts events such as hula hoop contests, a coupon machine day and a parents' night out.

Club Tabby also donates parties to community schools for auctions, sponsors softball teams, and donates items for the American Heart Association, Volunteers of America, Samaritan counseling, Special Olympics and other organizations.

THRIVING IN BALANCE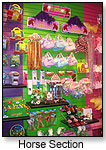 It works out that the partners' strengths complement one another.

"With Christie's organizational skills and my artful spirit, we make a great team. I have a degree in art and have always wanted to utilize my creative freedom," Comeaux said. "Christie enjoys daily office work and filing things. We laugh about her needing new folders and filing cabinets and me needing more glitter and tutus."

Writer's Bio:
Brenda Ruggiero is a freelance writer from western Maryland.
Read more articles by this author
THIS BANNER IS AN AD:
---
---