---
How to Start a Toy Store, Part I: Locations, Teams and Business Plans
Whether It's Your First or Tenth Store, Read This Now
Whether you're a long-time toy retailer considering a second or third location, or a newbie starting out, a few steps can't be omitted if your goal is continued success in the toy business. Before committing to a new location, take off the rose-colored glasses, pick up your magnifying glass, and get to work investigating the viability of your new business.

VERIFYING THOSE "UNMET NEEDS"

How do you determine that the absence of a specialty toy store in the community you're scouting signals a need for one, rather than a lack of interest? Find out how many toy stores recently existed in your community and which are still operating. The United States Census Bureau has statistics on the size and type of retail businesses in neighborhoods across the country (Sidebar - Who's Who in Your Hood), said Sequoia Holifield, assistant manager for business assistance and development at the Los Angeles Economic Development Corporation.

If toy stores have short lives in your community, or if there's a glut of them, you might want to consider another business. However, if one or more stores is doing well, what might be needed is some good, old-fashioned competition … and cooperation.

Bob and Jody Breneman, a brother-and-sister team who co-own G. Willikers in Portsmouth, N.H., open since 1978, welcomed the arrival of a new specialty toy store in their hometown. The Brenemans "absolutely referred people down the street if we couldn't help them. … I would much rather keep them in downtown, which benefits us in the long run," than have customers take their business outside Portsmouth, Bob told TDmonthly.

RESEARCH YOUR DEMOGRAPHIC

To learn about your potential customers, Holifield advised another trip to www.census.gov. Click on "American Fact Finder," and then enter your zip code in the appropriate field. You'll get a breakdown by age, race and ethnicity for the year 2000, the last year for which decennial census data were collected; 2007 stats, based on data collected for a subset of localities included in the decennial survey, are currently available, and 2008 subset data are, too. More information can be found at www.yahoo.com, Holifield added. Type in the zip code, and then click the "neighborhood info" tab to get a rough breakdown of income level, median age and percentage of families in your community.

Face-to-face consultations will give you more current, although possibly less objective, information. Your neighborhood Small Business Administration (SBA) can help you devise business and marketing plans that match your potential customers' needs, said Darrell Luzzo, past president of both the National Career Development Association and Strategic Partnerships LLC.

You can also ask other area businesses about who their average customers are and approximately what income level they represent, Kathleen Morolda of Independent Profit & Management advised retailers at Toy Fair 2007. She and her husband, Nick, own two Cranbury Station Galleries in Monroe Township and Princeton, N.J.

Whatever your method, don't rely on observation alone. For their third store, the Moroldas selected a community that featured oversized homes, assuming that the big houses housed big spenders; they didn't. The couple hadn't talked with storeowners, joined the Chamber of Commerce or gotten to know the community, and the result was a business that had to be shut down.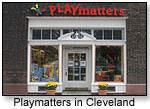 "It's site selection, finding the right location, [finding] the right demographic, and matching it to the right product assortment and service factor," Michael Ziegenhagen, owner of five Playmatters stores in Avon, Cleveland, Mentor, Pepper Pike, and Solon, Ohio, explained to TDmonthly. "I was right on the mark in opening the first location, but in the subsequent locations, I had to sort of fine-tune the staff and the assortment to match the marketplaces."

BUILD A TEAM

Any new entrepreneur can benefit from the SBA's SCORE advisors, composed of retired small-business owners. "For women and minorities there are a lot of advantages with the support of SBA," including special loan programs, said Luzzo.

Mary and Bob Sisson had no prior retail experience when they decided to open Kazoodles in Vancouver, Wash. After a three-week business class at a community college, they took courses from SCORE and were assigned a counselor. Mary also took a job at a neighborhood drug store for seven months to gain retail experience.

"The best part of our homework was visiting stores," she said. "We visited more than 30 from the Northwest to California to New Hampshire to Vermont. Toy-store people are great."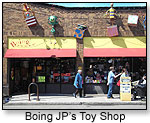 Before Elaine Hackney opened Boing! J.P.'s Toy Shop in Jamaica Plain, Mass., she quizzed nearby storeowners about their businesses, and then worked at their shops one day a week during the holiday season to gain hands-on experience, she said. When she was preparing to open her own business, Elaine went back to the storeowners — by then her good friends — for whom she had worked.

"I hired them as my consultants, and they guided me through the purchasing process, as well as through some of the initial merchandising," she said. "By the time I opened the store, it looked like I'd been doing it for awhile. I avoided a lot of trial and error."

"Make sure you have a lawyer work with you on your lease … a lawyer who specializes in leases," advised Steve Melody, owner of Melody's Choices in Fayetteville, Ark.. "The lease is always in favor of the landlord."

WRITE A BUSINESS PLAN

Many of the retailers TDmonthly has spoken with over the years opened their toy stores spontaneously, without a solid business plan in place, and then later had to scramble to come up with one to guide them through their start-up years. Even if you're not 100-percent certain which direction your store will take, starting with a plan is essential, especially if you need outside funding or are competing for retail space.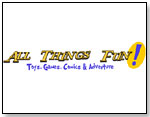 "Things are completely different than the outline in our plan," said Ed and Dina Evans of the business plan they wrote before opening All Things Fun! in West Berlin, N.J., in 2004. "But by having the plan, we were able to make small adjustments as we went."

Michelle and Merrick Smith opened PIccolo Mondo in Portland Oreg. in October 2006, at a time when they were "well capitalized" but were one of two potential toy-store owners vying for the same space.

The owner of the shopping center thought the Smiths had a more detailed business plan than the other contender. "[Our plan] played on the demographics of our target customer with the international theme [of our store] carried throughout," Michelle said.
Ultimately, your plan should do more than cover the first year or two of operation, recommended Patricia Fiedler, owner of Child's Play and Green Frog Toys in Portland, Ore. One of her biggest mistakes, she said, was starting without establishing long-term goals.

"We just went from year to year, and we didn't have a five-year, 10-year or 20-year vision," she explained. See her tips for start-ups in the Sidebar.

Be a Financial Realist

Optimism might serve a toy-store owner well when dealing with customers and building momentum for the store. However, optimism needs to be excised from the financial projections of a business plan.

Melodie Ingwersen, owner of the 22-year-old Creative Kids Toy Shop in Columbia, S.C., advised newcomers to "overestimate your overhead and underestimate your profit." Debbie Scholl, owner of Fundamentally Toys in Houston since 1995, agreed. "If I had to do it all over again … I would have raised the expenses and lowered the volume expectations," she admitted.

"Expenses were conceptually very easy, but took a lot of leg work in tracking down actual costs," said engineer-turned-entrepreneur Adeena Mignogna, author of "Cute Little Store". "For sales, I was very lucky. I was able to get some data from another business very similar to mine in another part of the country that had similar demographics." (Sidebar - Getting Real With Your Business Plan)

SCARE UP FUNDING

How much money does it take to fuel your first toy store? Anywhere from $60,000 to $250,000, volunteered six of 54 retailers interviewed by TDmonthly.

"We learned just how hard it is to get a start-up business loan," Ed Evans shared.

Three storeowners completely self-funded their ventures, two by withdrawing equity from their homes. The rest used a combination of personal loans and begged-and-borrowed cash.

"If you can make it past three years, you're good," said Kim Smith, owner of Red Wagon Toy Co. in Woodstock, Vt. "The startup expense is a lot."

Where does all the money go? Computers, cash registers, point-of-purchase software, display and lighting fixtures, store renovations, logo and signage creation, advertising, rent, utilities, salaries and other overhead costs and, of course, product.

Even once you're done, you might not be done: "Despite a sturdy business plan, we still found the business needed more capital in our first year," admitted Evans.

Don't expect to see the money roll back in, either, warned storeowners. It can take a year to several years before you see a profit.

PAY YOURSELF FIRST

While you're waiting for your store to turn a profit, what do you live on?

"If you are seeking startup financing, make sure that at least six months of working capital, including your payroll, is included," advised Mignogna, who owned her craft store, The Pot and Bead, for five years. "My original plan was to take a (modest) salary from day one. It was included in the working capital and I cut a payroll check for myself along with my employees every two weeks. When sales started to slip and we ran into a couple of unexpected expenses, I cut my salary back and eventually stopped taking a paycheck for a while altogether."

As part of your contingency plan, continued Mignogna, have some back-up savings or decide ahead of time what can be cut from the budget.

STAY OUT OF DEBT

Your goal should be to pay off your original loans as soon as possible and avoid taking on new ones.

"It wasn't until this economic downturn that I realized that no matter how financially sound you think you are, the unthinkable can happen. Because we were doing so well, we opened a new store and completely remodeled our old store," Fiedler said. "We had no idea what was coming in the fall of 2008. Luckily, we had no debt."

GET AND STAY ORGANIZED

Although Melody was reluctant to shift to a point-of-sale system, the staff "found that life without a computer system was unthinkable" and made the change in 1995, he said. "We have around 30,000 items, and tracking them, customers and vendors requires a good POS system."

Read Part II: Find the Right Toys
Other contributors to this article may have included: Julie Adrian · Michaele Birney Arneson · Leigh Au · Christina Chan · Julia Ann Charpentier · Elizabeth Chretien · Virginia Davis · Laurel DiGangi · Zan Dubin Scott · Lisa Durante · Cicely Enright · Margaret H. Evans · Doug Fleener · Diane Franklin · Janie Franz · Dennis Foley · Dennis Furlan · Rosette Gonzalez · Elizabeth Greenspan · Mort Haaz · Sharri Hefner · Terri Hughes-Lazzell · Kyle Hall · Pennie Hoover · Sheri Jobe · Julie L. Jones · Candyce Kornblum · Christine Lebednik · Susan Ledford · Chris Lundy · Susan Maddela · Hans C. Masing · J.D. Meisner · Adeena Mignogna · Catherine Jo Morgan · Claudia Newcorn · Willow Polson · Marie Raven · Kara Revel · Andrew Robinton · Greg Rock · Brenda Ruggiero · Tamara Schuit · Brent Turner · Vanessa VanderZanden · Jodi M. Webb · Stacy Wiebe· Mark Zaslove · Alex Zelikovsky

Writer's Bio:
ALISON MAREK is an award-winning writer, director and cartoonist whose work has been published by Fairchild Publications and DC Comics (Piranha Press), broadcast on Showtime and other cable networks, and viewed worldwide in film festivals. See her short films and print work on www.alisonmarek.com. Watch her nefarious villains in the web series www.MuggsMovers.com. Get inspired by her cartoons "Daily ARFFirmations to Unleash Your Inner Fido" at www.ARFFirmations.com. Phew! And then ...
Read more articles by this author
THIS BANNER IS AN AD:
---
---