---
Manage Your Time, Part I: Create More Time
Hours Spent Planning Can Save You Days … or Years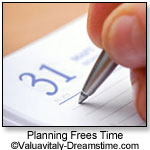 The holidays are coming, there are 400 boxes to unpack, payroll is due, a trade show is around the corner, and your manager just came down with the flu. In situations like this, the last things you have time for are planning, organizing, sleeping and vacationing. Ironically, say experts, those are the very things you should do to function optimally and surmount the obstacles before you.

HOW TO CREATE TIME

"The main thing to do is keep track of all your commitments," advised David Allen, author of "Getting Things Done: The Art of Stress-Free Productivity." He added that most people don't have a clue about how over-committed they actually are. First, get everything "out of your head" and onto paper, where it can be seen, categorized and prioritized. (see table: What I Have Time to Do)


Table: What I Have Time to Do

TDmonthly surveyed 31 storeowners to find out what they were able to do on a weekly or monthly basis.


Read "The Wall Street Journal" [or other financial news] daily?
6%
Read "The Wall Street Journal" [or other financial news] weekly?
13%
Read local paper weekly?
80%
Check stocks daily?
30%
Read a business or how-to book monthly?
23%
Conduct online toy research weekly?
90%
Email customers monthly?
43%
Send out monthly press releases?
23%
Change window display weekly?
10%
Change window display monthly?
79%
Change POP weekly?
65%
Change POP monthly?
86%
Contact new mfrs monthly?
60%
Spy monthly on other toy stores?
46%
Meet with other local storeowners monthly?
48%
Check out kids' blogs?
16%
Read at least one child-related pub monthly?
66%


Here's what he recommends:
Capture – write it i down.
Clarify – decide what actions you're going to take.
Organize – design a system to keep track of all these tasks and action steps.
Reflect – think about what you're doing and why. Schedule two hours a week to go over and revise plans, and then do monthly, quarterly and annual reviews.
Choose – make choices about what you do and when.

How do you implement these steps, and decide how to prioritize tasks?

"You start at big picture, and then drill it down to actions and details. Then you clean up the details and get control of those first," Allen told TDmonthly. "It's hard to think about strategic planning if the network is down, for example. There's a high strategic value to making sure personal processes and systems are intact."

MINIMIZE AND CONSOLIDATE TASKS

Trash Emails



"Most people avoid making decisions about non-crisis stuff when it first shows up, and then it piles up." —David Allen, The David Allen Group

A big time waster is dealing with scores of daily emails.

"Most people avoid making decisions about non-crisis stuff when it first shows up, and then it piles up," Allen said. With emails, "the biggest time waster is the 'huh?' stacks. You open the email, don't know what to do with it, and then don't answer it." So it sits in your box and you open it again.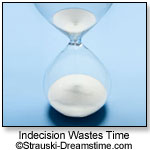 Here are Allen's suggestions:
Decide if it requires action or not.
If not, delete the email.
If so, and it can be done it two minutes, do it then.
If so, and it requires longer, delegate it.
If you can't delegate it, drop it in an "Action" folder.

Do Twice the Work at Once



A blog doesn't cost anything or take much time. It also increases the number of people coming to the website" — Rick Segel, author

Almost half of the retailers surveyed said they send monthly emails to customers, but just 23 percent said they send out monthly press releases.

Rick Segel, author of "The Essential Online Solution: The 5-Step Formula for Small Business Success," recommended creating a blog on your website that could serve both purposes.

"A blog doesn't cost anything or take much time," he told TDmonthly. It also increases the number of people coming to the website." You can also easily send the blog's link to local news outlets and customers.

Here's what he said the blog should contain:
NO sales pitches
Useful information only (see Sidebar 9.1 Keeping Current on Toys)
A photo of you, your store and staff, to establish emotional connections with readers

"I believe the retailer today has to be the source of education and a place of trust," Segel continued. "A mistake that independents make is that it's online, so it must be 'sale sale sale.' That's the kiss of death. It'll get people to unsubscribe."

Streamline Research

Since you need to be online to monitor your website (and you need to be online!), spend a few extra minutes each day scanning the Web for new toys and companies.

Billy Thelander, owner and manager of LittleBits Toys in Wellesley, Mass., uses "TOYDIRECTORY.com (TDmonthly) … Amazon and the ASTRA website. When I'm looking for a manufacturer's phone number, TOYDIRECTORY.com is my first choice, and Amazon has feedback from consumers."

TDmonthly also posts reviews from kids, parents and experts in our TDmonthly Toy Reviews section, plus we upload hundreds of new specialty toys per month in our Notable & New Toys articles — which are divided into "Specialty Only" and "All Toys." We also post daily toy video reviews.

Even if you don't have time to research, don't put it off, warned Peggy Duncan, a personal productivity expert based in Atlanta. "Delegate it to another employee, if necessary."
Other contributors to this article may have included: Julie Adrian • Michaele Birney Arneson • Leigh Au • Christina Chan • Julia Ann Charpentier • Elizabeth Chretien • Virginia Davis • Laurel DiGangi • Zan Dubin Scott • Lisa Durante • Cicely Enright • Margaret H. Evans • Doug Fleener • Diane Franklin • Janie Franz • Dennis Foley • Dennis Furlan • Rosette Gonzalez • Elizabeth Greenspan • Mort Haaz • Sharri Hefner • Terri Hughes-Lazzell • Kyle Hall • Pennie Hoover • Sheri Jobe • Julie L. Jones • Candyce Kornblum • Christine Lebednik • Susan Ledford • Chris Lundy • Susan Maddela • Hans C. Masing • J.D. Meisner • Adeena Mignogna • Catherine Jo Morgan • Claudia Newcorn • Willow Polson • Marie Raven • Kara Revel • Andrew Robinton • Greg Rock • Brenda Ruggiero • Tamara Schuit • Brent Turner • Vanessa VanderZanden • Jodi M. Webb • Stacy Wiebe• Mark Zaslove • Alex Zelikovsky

Writer's Bio:
ALISON MAREK is an award-winning writer, director and cartoonist whose work has been published by Fairchild Publications and DC Comics (Piranha Press), broadcast on Showtime and other cable networks, and viewed worldwide in film festivals. See her short films and print work on www.alisonmarek.com. Watch her nefarious villains in the web series www.MuggsMovers.com. Get inspired by her cartoons "Daily ARFFirmations to Unleash Your Inner Fido" at www.ARFFirmations.com. Phew! And then ...
Read more articles by this author
THIS BANNER IS AN AD:
---
---