---
The Hub Channel And Its Competitors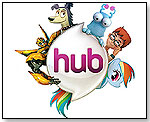 The Hub Channel is a very interesting new venture from the side of Hasbro and very much inline with their strategy to reach the consumer directly by a variety of ways other than just the traditional ones – advertising and showcasing products on retailer shelves. It is simply their fourth link after video games, movies [e.g. Iron Man and Transformers], and their own website.

Their video game tie-in with Electronic Arts is a good example of this strategy. Electronic Arts has over the past few years created 83 video games focused totally on Hasbro board games – Monopoly, Scrabble etc. In addition, EA and Activision created about the same number of video games drawn from other Hasbro properties – Nerf, Transformers, G I Joe etc.

The same strategy was followed in Movies – e.g. Transformers and Iron Man.

As far as their website is concerned, this is how Hasbro is faring in comparison to its other major competitors:




Hasbro is doing ok as far as this goes but they are being beaten soundly by Lego and now, of late, also by Mattel.

Turning to their TV ventures, the Hub Channel was introduced October 2010 as a joint venture between the Discovery Channel and Hasbro for the United States and basically replaced Discovery Kids, a channel that never gained any traction. The Hub delivers 24-hour programming totally focused on children and teenagers. A number of the shows are based on Hasbro's products – Family Game Night, Transformers, G I Joe, Strawberry Shortcake, Little Pony.

Not so surprisingly, this foray into TV by the second largest toy manufacturer attracted a lot of attention and very quickly brought about the entry by another heavyweight into the specific kid audience space – Disney Junior. Disney Junior, formerly Playhouse Disney, is a learning-focused channel specifically designed to appeal to children ages 2-7. The channel immediately attracted a very high audience of its target group and became a major impediment for The Hub in its quest for higher viewership rankings.

These were the most recent numbers generated by Cynopsis Media for the Weekly Top Ten Basic Cable Ad Supported networks, Total Day and Primetime Rankings among K2-11 (000) 4/18-4/24/2011 :


| | |
| --- | --- |
| Channel | Audience |
| Nickelodeon | 1172 |
| Disney | 990 |
| Cartoon Network | 545 |
| NAN | 394 |
| Adult Swim | 210 |
| Disney XD | 206 |
| Nicktoons | 97 |
| Sprout | 53 |
| Teen Nick | 42 |
| The Hub | 30 |

Disney Jr,'s numbers, which are included in Disney above, were for the same period 451,000 kids in the 1 – 5 years bracket. While no numbers were published for the age bracket 6 – 11 years, I understand that Disney Jr had audience numbers which were about 200,000. In other words, The Hub appears to have encountered some heavy-duty competition and a roadblock on their quest to become a major factor in the kid TV space. . This also appears evident from The Hub's web traffic. As per Compete.com, it began to stall as soon as Disney Junior began operations:


| | | | |
| --- | --- | --- | --- |
| Channel | Visits March 2011 | Change from Feb 2011 | Change from March 2010 |
| Nickelodeon | 27,649,393 | +44.28% | +121.15% |
| Cartoon Network | 18,841,816 | +8.42% | +66.51% |
| ADSM | 5,006,545 | +9.75% | +36.13% |
| Sprout | 1,850,325 | +25.60% | +109.32% |
| The Hub | 928,137 | -57.41% | No comps |

Disney Junior's web traffic cannot be isolated out from Disney's overall website so showing that data here would just confuse the picture. Yet, considering that The Hub was the only kid channel showing negative March visit numbers suggests that indeed something happened in February to slow progress.

You will see below two web traffic graphs – one from Compete, the other from Alexa. The former gives you a twelve-month picture which ends in March; the other a three-month graph which ends at the end of April. In both cases I have taken Sprout as the control.

First, Compete.com:




Secondly, Alexa: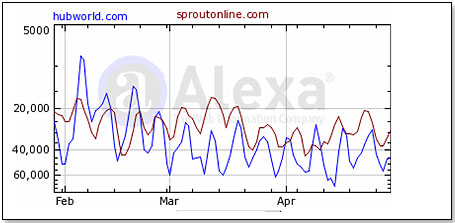 Clearly, something happened in February and the only factor I can identify is the launch of Disney Junior.

When looking at the Blog Sphere, a metric that suggests consumer interest, a comparison by the three children-only channels – The Hub, Disney Junior, and Sprout – suggests that The Hub is also here not doing that famously and that Disney Junior is a clear alternative to The Hub. The astonishing performance in this belongs to Sprout: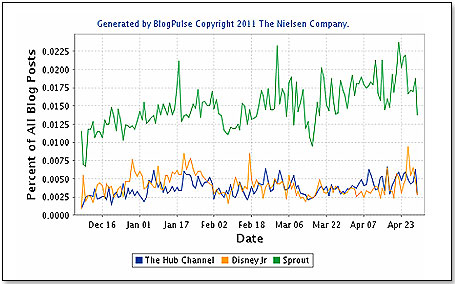 Speaking of Sprout, there are now widespread rumors that yet another major competitor is thinking of entering the kid TV space – Mattel. In the race to capture the consumer, Mattel as the largest toy company in the world, has been very slow to look for ways to build non-traditional bridges to its audience. Unlike Hasbro, who began a very targeted campaign to reach households by means other than just advertising and store shelf presence, Mattel continued to rely on these two approaches virtually exclusively to get its message across. However, they seem to be reconsidering this – vide their tie-up in January with THQ, a second tier video game publisher. THQ and Mattel said the agreement will allow THQ to produce and distribute video games based on Barbie, Hot Wheels, and Fisher-Price toys, as well as other properties like Monster High, Rock 'Em Sock 'Em Robots, Masters of the Universe, Polly Pocket, and others.

There continue to be suggestions that Mattel is planning to bring Barbie to the big screen and a date of 2013 is being mentioned. I am not too sure that this is in fact going to happen since Barbie's ventures into the DVD space have been anything than resounding successes. Last year's Barbie A Fashion Fairy Tale DVD racked up $16 million in sales and was at the #54 position as compared to Disney's Princess And Frog at $45 million and the #9 position.

However, the recent announcement that HIT Entertainment is seeking to be acquired has stirred Mattel into action and industry cognoscenti suggest that the company is now actively seeking to acquire HIT.

There are any number of reasons why they should want to do so – primarily because HIT has toy brands which are either already partly in Mattel's portfolio or which would extremely well fit into it. Also, its business is of an attractive size since an acquisition would add about $500 million to Mattel's top line [since Mattel already has part of the Thomas license fro HIT]. But the real interest is in its little know participation in Sprout, the kid's TV channel.

HIT is a 30% partner in the Sprout Channel together with NBC Universal and Sesame Workshop. Founded in September 2005, the Sprout Channel features programs such as . Sesame Street, Bob the Builder, Barney & Friends, The Wiggles, Thomas & Friends, Caillou, The Berenstain Bears, Roary the Racing Car, dirtgirlworld etc..

Sprout claims to be the first 24-hour preschool destination available on TV, on demand and online for kids ages 2-5, available today at an estimated 48 million unique households. The channel positions itself as the only one that follows the day of a preschooler from breakfast to bedtime with its distinctive programming lineup.

All in all, not a bad place for Mattel to test the waters for new and unorthodox marketing approaches!

As for The Hub, nobody with any insight into the children's TV space had any illusions that this newcomer would make a major difference in the short term. This has not changed and my prognosis for this year is that The Hub will continue to build audience numbers one kid at a time but will not be a major player for a number of years to come. As long as Hasbro has the patience, The Hub will undoubtedly get there. They have excellent management, sufficient funding and great programs. The real challenge for management will be to keep their advertisers in the fold and to not let them migrate their dollars to upstarts like Disney Junior because this would immediately raise red flags at Hasbro's headquarters in Pawtucket, RI.

Writer's Bio:
Lutz Muller is a Swiss who has lived on five continents. In the United States, he was the CEO for four manufacturing companies, including two in the toy industry. Since 2002, he has provided competitive intelligence on the toy and video game market to manufacturers and financial institutions coast-to-coast. He gets his information from his retailer panel, from big-box buyers and his many friends in the industry. If anything happens, he is usually the first to know. Read more on his website at www.klosterstrading.com.
Read more articles by this author
THIS BANNER IS AN AD:
---
---