---
How to Turn Motherhood Into Money
Mompreneurs Transform Daily Challenges Into Businesses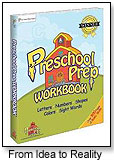 Reading the Future
Kathy Oxley, a former investment banker, mother of four, and now president of Preschool Prep, realized that when her son began having trouble learning his letters in preschool, she'd already found the solution years earlier. She'd been sitting with her 14-month-old daughter, watching a video meant to expose kids to classical music and interesting objects.

"As the letters appeared on the screen, I would say them, and after a short number of viewings my daughter learned all of her upper-case letters,'' Oxley told TDmonthly.

Oxley utilized an electronic toy to help her daughter learn lower-case letters. ''Once it clicked — before she was 3 — she started reading. Letters were words, and they were her friends."

Oxley replicated the process by designing a video that taught upper- and lower-case letters separately. Preschool Prep was formed in April 2004. Seven years later, the company is still helping kids get a head start on reading.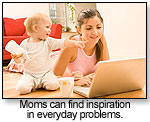 Politeness Pays
Aimee Symington, founder of Successful Kids, had been a corporate etiquette consultant before becoming a full-time mom. Despite her expertise, she found that instilling good manners in her own children was a challenge. She knew that good manners didn't just make parents' lives more pleasant, but actually increased children's likelihood of success.

''Polite children are more liked by peers and adults, and therefore more likely to be given opportunities throughout their lives,'' she told TDmonthly.

She designed an etiquette seminar for kids, but couldn't find an appropriate, fun manners game to continue the lessons at home. So she designed one herself. She and her husband plundered their savings and raised outside money to bring her game to market.

In the Blunders™ board game, children enjoy correcting the Blunder kids' bad habits and, in the process, reinforcing their own good behavior. Blunders debuted at Toy Fair 2008, where Symington took part in the beginning stages of TDmonthly's upcoming documentary on first-time inventors, "Toy Frenzy." She's since expanded the company, adding the new Manners Mats disposable placemats to her line in 2010.



Messy Money
Mecinna Price of Price Products had five children within 7 years, perhaps increasing the pressure on her to be extra inventive. When she noticed she spent an inordinate amount of time wiping up drips and stains from the popsicles that both she and her kids craved, she invented the Dripstik – a plastic popsicle-holding device that collected the popsicle drippings in a reservoir.

With financing from her in-laws, she began producing her invention and added other products to her line as well. "All of our products have been invented by parents, for parents," she said.

Clean Cash
Missy Cohen-Fyffe of Babe Ease LLC came up with the idea for her Clean Shopper portable cloth infant seat in 1991 to protect her own kids from germy shopping carts. Since then, she's grown her business to include toys, organic clothes and other safe baby products.

The lesson to be learned from these moms is simple, and has applied to entrepreneurs and inventors throughout history: whatever problem you encounter has a solution and that solution can be profitable.

Learn more about the mompreneurs' inventive products below. And to meet more mompreneurs, be sure to attend the ABC Kids Expo, held this year from September 23 to 26 in Louisville, KY.







This pad of 38 placemats gives kids and parents games, activities and puzzles to improve manners and social skills. Placemats can be removed for use.

.

AD
---






.

AD
---






Wee BE Organic baby blankets, Clean Burpers and baby caps are 100% organic and unbelievably soft for baby. For families who want only the purest of fabrics touching baby's sensitive skin, the Wee BE Organic brand is the natural choice. MSRP starting at $6.00!

.

AD
---






The new Luxe Minky Clean Shopper is the lavish way to keep germs away! Two luscious layers of minky fabric filled with thick and fluffy padding for extra comfort. Available in Brown and Pink swirls with matching minky drawstring tote! Also available in matching minky Clean Burpers and Baby Blankets!

.

AD
---






The Camouflage Super-Soft Clean Shopper is the latest way to keep shopping-cart germs away. The Clean Shopper's unique one-piece design covers the entire seating-area of a shopping cart so baby's sensitive skin is not exposed to disease-causing metal. The Super-Soft Clean Shopper comes complete with two toy loops for attaching toys or teethers; two pockets for storing sippy cups, coupons or keys; a safety strap to help baby sit more securely; and a drawstring carrying tote for convenient storage. It is suitable for ages eight months and up. This product is an iParenting Media Award winner. Launch date: 2007.

.

AD
---






Ice cream can be even more fun with these shaped scoops. Kids can have cones filled with circles or squares of their favorite frozen treat.

.

AD
---






.

AD
---






.

AD
---






.

AD
---
THIS BANNER IS AN AD:
---
---