---
Schoenhut Toy Pianos: History in Music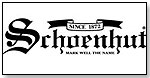 Founded in 1872 by Albert Schoenhut, the award-winning Schoenhut Toy Piano Company has moved into the 21st century with finesse. No longer just a toy piano company, Schoenhut's offerings have expanded to guitars, harps, and even non-stringed instruments such as drum kits. A focus on stringent safety standards in their toys, as well as the heirloom-quality of their instruments for children, have set this company apart.

When Schoenhut was for sale in 1996, president Renee Trinca says it wasn't a difficult decision to purchase the company. Her goal is to enhance the tradition of craftsmanship and fine-tuning Albert Schoenhut established. The company offers only products they would want their own children or grandchildren to enjoy.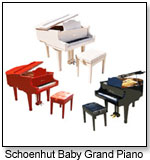 In spite of a market that is trending towards increasingly high-tech toys, Schoenhut has flourished since TDmonthly first interviewed Trinca in 2004. Today, she says "The market has changed toward high-tech, but fortunately this has not had a negative impact on our sales. Since Schoenhut was established in 1872, there are generations of parents, grandparents, and great grandparents who remember the happiness of playing a toy piano, and want their children to experience it, too. In addition, Dr. Toy, a leading expert in toy selection, has been "instrumental" in promoting the classics. She emphasizes the importance of using them as part of a child's healthy development."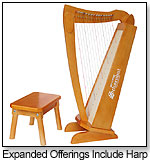 When we interviewed Trinca in 2004, Schoenhut designed pianos exclusively, with the exception of a xylophone. Since then, however, the company has been able to expand their offerings. "My husband Len and I had long discussed offering additional products. Since toy piano sales peak during the holiday season, we decided to produce a wider assortment of musical instruments to offer throughout the year (guitars, harps, drum sets, Melodicas, folk instruments, etc.). While toy pianos have, and always will be, our main focus, the response to these new instruments has been phenomenal."

A lot of things have changed on the manufacturing end since 2004, especially in regards to toy safety and testing. However, Trinca says that as toy safety has always been a priority for the company, "The only negative impact is the high expense of testing, which increases every year."

Trinca attributes Schoenhut's longevity in the industry to the company's "emphasis on high quality, safety, and customer service." Her advice to those new to the industry? "Develop an innovative product that you believe in… work hard to promote the toy. Engage in creative marketing, have a strong presence at trade shows," and, "Most importantly, listen to the children!"
This is an update of an article previously published in TDmonthly in Nov. of 2004. The original article can be read here.
Writer's Bio:
Julia Ann Charpentier is a Milwaukee-based freelance writer and an editor for book publishers. Justina Huddleston graduated Magna Cum Laude from Emerson College with a BA in Writing, Literature, and Publishing in 2009. She then moved from Boston to Los Angeles, where she is Editorial Assistant at
TDmonthly
.
Read more articles by this author
THIS BANNER IS AN AD:
---
---