---
Play Sets
Recently Added Specialty and Mass-Market Play Sets
See these recently added specialty and mass-market Play Sets.
B. Critter Clinic Toy Vet Play Set by BATTAT INC.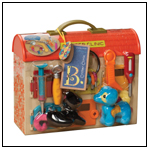 Our B. Critter Clinic features a hospital with 6 private rooms, 2 cute plush patients, color match keys and 5 tools. The stethoscope, mirror, syringe, tweezers and thermometer give you everything you need to make your "critter" all well. 10/26/2015 (Price: $39.99; Age: 2 and up)



Calico Critters Hopper Kangaroo Family by INTERNATIONAL PLAYTHINGS LLC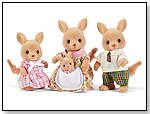 Father, Richie is a huge sports fan and works as a sports writer for the Cloverleaf Corners newspaper. Sister, Isabella is the most popular girl in school. She is a member of several clubs including gymnastics and tennis. Baby girl, Katie loves to take a lot of naps and listen to lullabies.
— Barbara Fineblum, owner of Barstons Childs Play in Rockville, Md., told TDmonthly in a December 2014 interview that the Calico Critters Hopper Kangaroo Family was a best-selling play set at their store. 12/30/2014



Alpine Cable Car by PLAYMOBIL INC.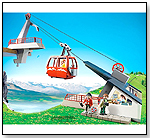 Cable has a maximum distance of 6.6 feet. Dimensions of the Valley Station: 15.2 x 12.2 x 9.4 inches (LxWxH). Dimensions of the Mountain Station: 13.4 x 7.7 x 13.4 inches (LxWxH). The average construction time is approximately 60 minutes.
— Paula Bolte, owner of Imaginations Toy & Furniture Co. in Blacksburg, Va., told TDmonthly in a November 2014 survey that Playmbil is her best category - almost 10% of her store's sales come from Playmobil. 8/28/2014 (Price: $61.59) [Add to my Inquiry Basket][?]



SnowTime Anytime Snowballs by PLAY VISIONS INC.


Snow Time Any Time is the only product on the market that allows kids to have wintry snowy fun anytime they want, even on hot August days! These specially designed snowballs are light and fluffy and feel like a real snowball. Soft and safe, they even crunch with you squeeze them! Item# 7500 count suggested retail $30.00. Item#7501 15 count suggested retail $20.00. 4/29/2014 [Add to my Inquiry Basket][?]



GoGo City Fire Station Playset by KID GALAXY INC.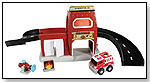 Create your own GoGo City with this Fire station play set. Includes building, detachable ramps, water cannon and a soft, safe and squeezable fire engine with a powerful pull-back friction motor. 18 months and up. 9/26/2013 (Price: $29.99; Age: 1 and up)



Skylanders Arkeyan Copter Attack by MEGA BRANDS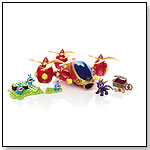 Take the battle to the skies with the buildable Mega Bloks Skylanders Giants Arkeyan Copter Attack (95418). The Frigid Chompies are no match for Spyro when he attacks from above using the Arkeyan Copter's working missile launchers. Once his foes have been defeated, Spyro can swoop in to collect the treasure. Help Spyro and his friends save the Skylands. 11/15/2012 (Price: $34.99)



Fortune Cookie Maker by Moose Enterprise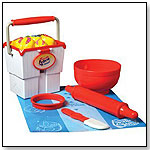 The Fortune Cookie Maker lets children write, create and decorate fortune cookies right at home. Children just write down their fortune, combine the included mix with water, heat in the microwave for a few seconds, knead and roll out their dough and then place it in the Fortune Cookie Machine. With the push of a button, their fortune is deliciously sealed and is ready to decorate and eat within 10 minutes. The Fortune Cookie Machine makes up to 12 cookies, and is fun for the entire family. 11/15/2012 (Price: $27.99; Age: 5 and up) [Add to my Inquiry Basket][?]



Cool Baker Cake Pop Maker by SPIN MASTER TOYS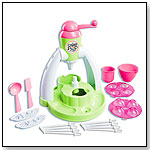 With the Spin Master Cool Baker Cake Pop Maker, kids ages six and up can make and decorate vanilla-flavored cake pops. The kit's cake-pop maker helps kids fill the included molds to make perfect, no-bake pops, which set up in the refrigerator and are ready to decorate in just 15 minutes. Kids can personalize their pops with white or brown icing and pink, blue, and rainbow sprinkles. Sprinkle stencils and brightly colored paper tags add extra flair. 11/15/2012 (Price: $24.99; Age: 5 to 10) [Add to my Inquiry Basket][?]



Care for Our World Play Set by COMPENDIUM INC.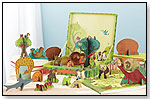 As children turn the pages of Care for Our World, they'll encounter dozens of playful creatures, and will learn the importance of caring for all the plants, animals, and people that call planet Earth their home. The whimsical animals come to life with this punch-out-and-play set, which includes everything kids need to create and explore their own wildlife habitat. Simply punch out and assemble the pre-cut animals and plants, and use the habitat box as a backdrop for hours of imaginative play. Launch date: May 2012.
Awards: 2012 Mom's Choice Award; 2012 Silver Medal in Book with Merchandise (plush toy, etc.), Moonbeam Children's Book Award; 2012 Playset of the Year, Creative Child Awards; 2012 Top Toy of the Year, Creative Child Awards; 2012 Runner-up in the Children's Books Category, Green Book Festival 11/14/2012 (Price: $34.95; Age: 2 to 8) [Add to my Inquiry Basket][?]



Spider-Man Stuntacular City Playset by HASBRO INC.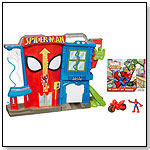 This awesome Spider-Man Stunt City playset is the perfect home for the amazing wall-crawling hero. Kids' Spider-Man figure will do his most heroic stunts when he takes on his enemies in the Spider-Man Stunt City playset. Will he climb down the wall or spin down the pole? He can swing on his web line, slide down the lizard tail ramp or cling upside down to escape his enemies, and he can dodge their lunges and drive right through the door on his speedy motorcycle. Press the button for lights and sounds and cool Spider-Man phrases. When playtime is over, kids can read the special value storybook "The Lizard's Lost Treasure."
— As of 11/5/2012 this product had 3.9 out of 5 stars from Amazon.com. Pros: Spiderman can climb up the side;lots of different sections on the play set offer different types of play. Cons: A few users reported that the electronic functions in the toy stopped working shortly after purchase. 11/5/2012 (Price: $54.99; Age: 3 and up) [Add to my Inquiry Basket][?]



THIS BANNER IS AN AD:
---
---